TV Fashion Recap is a biweekly column featuring the best of TV fashion. Every other week, we recreate our favorite outfits from the most recent episodes of all of the hottest shows. Stay tuned; we may feature your favorite show next!

Every other week, I break down the best of TV fashion, featuring my favorite looks from the last two weeks. This week, I was inspired by Girls and The Mindy Project. Read on to see both looks:
1. Girls (Season 4, Episode 1): Marnie's Striped Maxi Dress and Moto Jacket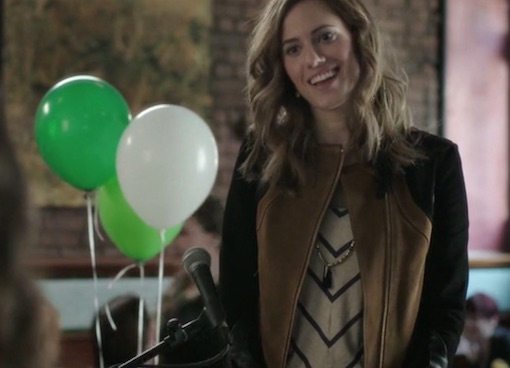 Photo Credit – Screenshot
I tried watching HBO's Girls once – I turned it on in the middle of a sex scene while in the same room as my mother and then promptly changed it to another channel where that was not happening. Since then, I've heard that it's an amazing show and that Lena Dunham, one of the series creators and stars, is the voice, or at least a voice, of our generation. Those are some pretty big claims, and I'm determined to investigate (without my family members nearby).
I tuned in to the season premiere, which was probably a mistake because I had approximately zero idea what was going on. That said, it looked fun and quirky, kind of like a more mature New Girl (I swear I'm not just saying that because they both have the word "girl" in the title). What do you guys think about the show? Should I watch all of the previous seasons?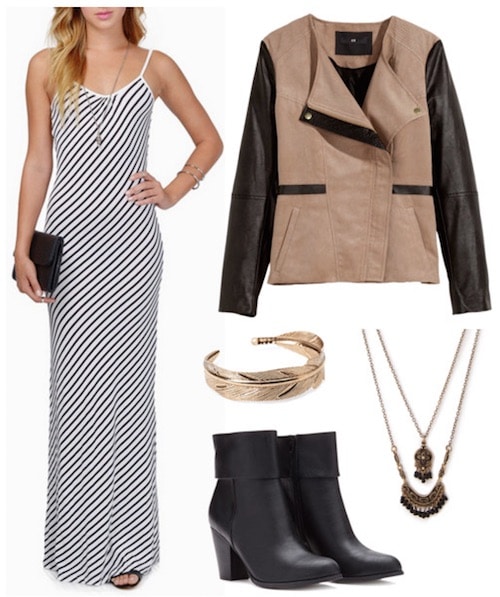 Dress, Jacket, Bracelet, Boots, Necklace
Marine's casual chic look is comfortable enough for an 8am class, but cute enough that it doesn't look like you actually went. That's my favorite kind of outfit, and it's super easy to recreate. Start with a striped maxi dress and a color-blocked moto jacket. If you, like me, live in Michigan/the Arctic Tundra, feel free to add black fleece tights.
Slip on a pair of cute black booties and a quirky pendant necklace. If Marnie's headband with dangling gold feathers is a little too out there for you (I admit, I don't think I could pull it off), instead grab a cute feather bracelet to complete the look.
2. The Mindy Project (Season 3, Episode 13): Mindy's Plaid Jacket and Patterned Scarf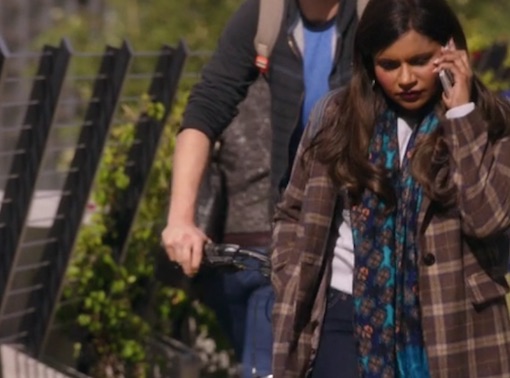 Photo Credit – Screenshot
I have a confession: I'm obsessed with Mindy Kaling. Okay, if you've ever read any of my articles, you'd know that it isn't exactly a secret. I gush about her constantly. I'm not quite at the fangirl level where I could write sonnets about her hair, but I'm pretty sure I could manage at least a haiku.
But seriously, what's not to love about her? She's witty, intelligent, and incredibly talented. If you don't believe me, here's 19 (hilarious) reasons that Mindy Kaling needs to be your BFF. She's also got a great and unique sense of style, on and off-screen, which makes her even better because in the magical dream world where we're all best friends, you and I could raid her closet all the time.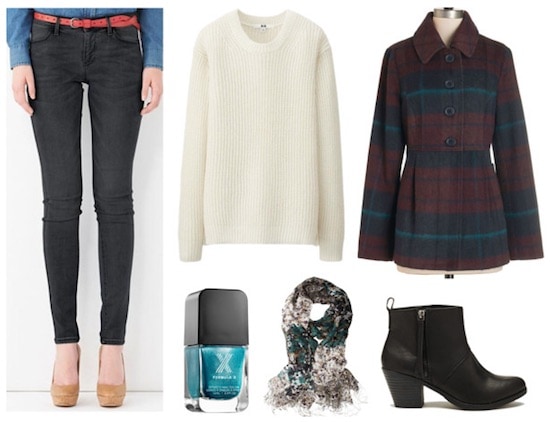 Jeans, Sweater, Coat, Nail Polish, Scarf, Boots
Mindy's look is cozy and cute – perfect for class or a lunch date with friends. To recreate the ensemble, start with a thick white sweater and dark wash skinny jeans. Add a plaid peacoat and a pair of black heeled booties to dress up the look a little.
Wrap a blue patterned scarf around your neck to keep fashionably warm. Make sure that the scarf stands out, but doesn't clash with the plaid jacket. A good way to mix patterns is to incorporate at least one similar color in both pieces, like this outfit does with the teal and Mindy's outfit does with light brown.
Don't forget to finish the look with a bright, glittery nail polish for a fun pop of color that Mindy would definitely approve of.
Your thoughts?
What do you think of these looks? Did we miss any amazing outfits from the past week of TV? Which shows do you think deserve a spot on the next TV Fashion Recap post? Leave a comment below and tell us what you think!