This post may contain affiliate links, which means we may receive a commission if you purchase through our links. Please
read our full disclosure here
.
I remember the incident vividly. It began approximately one year ago, during finals week, when I entered the six-floor campus library with one of my closest friends. Filled with determination and pride, we sat down in a booth and pulled out our microeconomics and calculus notes. I recall the sheer terror I felt as I studied my old exams and all I could see were red X's. It was then that I decided to take a Starbucks break. And a sandwich break. Maybe a BuzzFeed break. Or two. Hours passed. I found the motivation to resume studying. I know pizzas were ordered for dinner. Two large pizzas for two girls – finished in a mere half hour.
I remember not leaving the library for 12 hours and 37 minutes.
I wish I was making up that number. I wish this behavior was unusual for college students. Unfortunately, almost everyone I've talked to has an experience similar to this one. I did better next semester, when I decided to space out my studying over a week. The same feelings were there, but I was better equipped to cope with them.
Those feelings are best summarized by this BuzzFeed article (which I found during those 12+ hours). What's interesting is that I notice that the way I dress is impacted by which of these stages I'm in. If I'm ready to get down to business, I'm totally professional chic. If I feel lost and desperate, I wear my pajamas all day.
This year, I decided to create my own fashion-related interpretation of the stages of finals week. A lot of you can probably relate to these stages (if you're lucky, though, you'll always stay in stage 1), so here are some outfit ideas to guide you as you navigate through your own hell week(s).
Prepared and Polished
This is when you're on it. You feel pumped, refreshed, maybe even excited. If you're like me, you have a fresh notebook and a package of cute pens ready. You assume you'll do nothing but study diligently for an appropriate amount of time each day for the next week. There's no time to be sloppy – your grade is on the line.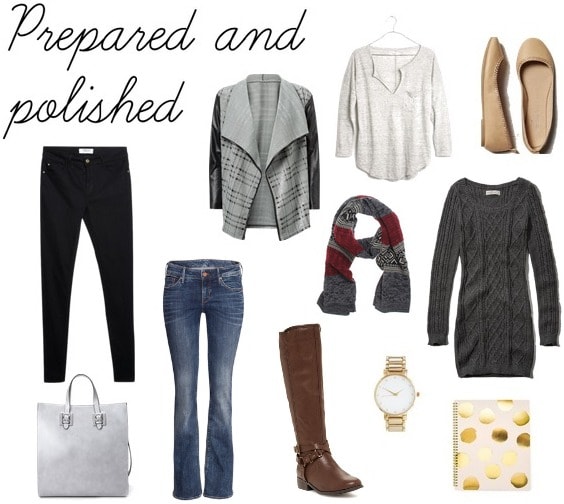 Product Information: Jacket – New Look, Light Tee – Madewell, Flats – American Eagle, Black Pants – Mango, Jeans – H&M, Tote – Forever 21, Riding Boots – Nordstrom Rack, Scarf – PacSun, Sweater Dress – Abercrombie & Fitch, Watch – ASOS, Notebook – Saks Fifth Avenue
I decided to give a lot of options for this one, so mix and match! For me, this phase is one of the last times I have fun with my outfits during the semester. After that, I literally just want to find clothes in the morning. Embrace your inner working girl and channel your energy into being a superstar studier.
Sidenote: I just bought the Madewell t-shirt over Thanksgiving Break and it is now my favorite thing ever. Go try it.
Couches and Carbs
This is me 90% of the time. When you've done everything you can for the day (or so you tell yourself) and you just want to relax. After all, you deserve it. Find a good movie, make snacks your best friends, and curl up on the couch. The best part is that you can stay warm and wear lounge clothes!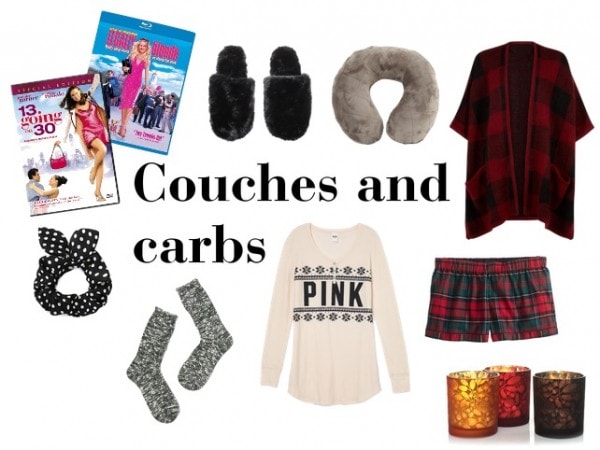 Product Information: Slippers – 6pm, Neck Pillow – Kirklands, Cardigan – New Look, Pajama Bottoms – J.Crew, Candles – Yankee Candle, Sleep Tee – Victoria's Secret, Socks – Madewell, Scrunchie – Forever 21
Stressed and Pressed for Time
This is my panic phase. You know the exam is practically moments away, yet for some reason all concepts and formulas have fallen out of your head. You might deal with this by binge-eating, crying, pulling an all-nighter, sleeping, calling your parents, or all of the above. Either way, you want something easy enough to put on, but cute enough to leave the house in.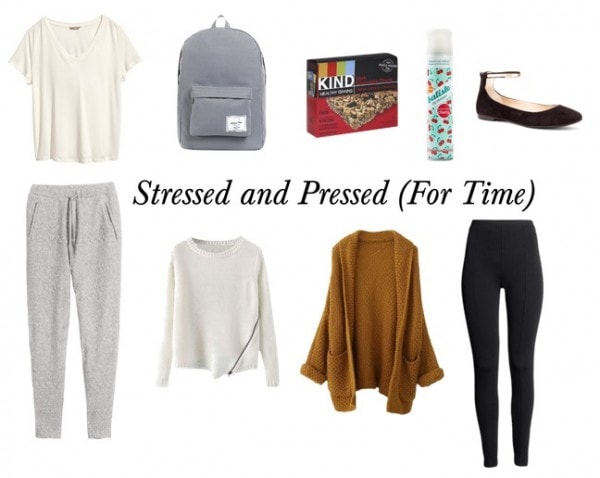 Product Information: Tee – H&M, Backpack – Karmaloop, KIND Bars – Target, Dry Shampoo – Amazon, Leggings – H&M, Cardigan – Blackfive, Sweater – Blackfive, Joggers – H&M
Dry shampoo and small breakfast snacks to carry on-the-go are supremely important here.
Exam Day
It's here. The big day. You either know your stuff or you don't. Regardless of how much information you've absorbed thus far, you want to be comfy while you take your test so you aren't distracted by itchy fabrics or too tight pants. But don't forget to find the balance between comfy and chic – looking good leads to feeling good, which can help you do better on your exam!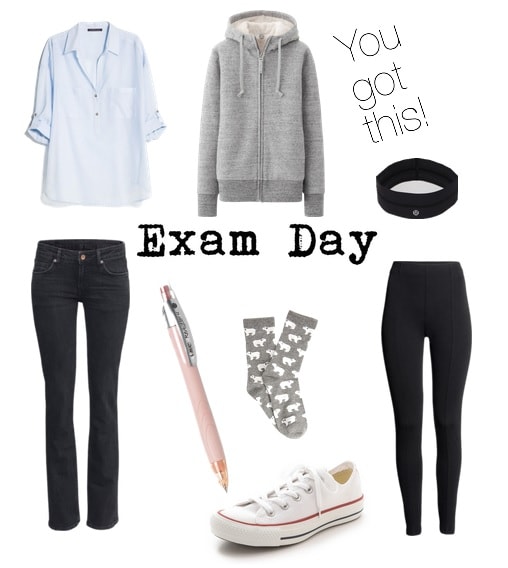 Product Information: Chambray Blouse – Mango, Hoodie – Uniqlo, Headband – Lululemon, Leggings – H&M, Sneakers – Converse, Socks – Forever 21, Pencil – Staples, Jeans – H&M
I love wearing fun socks on test days. I don't know what it is, but I have a bounce in my step when I know the secret beneath my shoes. I recommend jeans or leggings rather than a dress, because those exam rooms can get cold!
That's also why I always bring a hoodie or jacket that I can take off or put on depending on the heat level. Secure your hair back somehow – it's super distracting to keep pushing your bangs out of your eyes. And lastly, don't forget a pencil or any other required materials (calculator, black pen, index card of formulas if your professor is nice enough to allow one, etc.)
It's over!
Go out and play! If you've made it through all your exams, you deserve a pat on the back and possibly a margarita (for the 21+). Dress up and go out, get your winter gear out and go ice skating, or embrace the trench coat and take a stroll through the park. Heck, take a nap. Recharge now, because next semester is right around the corner.
What do you wear during finals week?
Do you find yourself switching up your finals week outfits? Or are you (miraculously) consistent with your wardrobe during this rather stressful time? Share your experience in the comments!