This fashionista took her color theory class seriously. Yellow and blue are contrasting colors, meaning if you wear them together, you're bound to turn heads.
Carol is every college girl's fashion dream. Her look is casual in essence, but meticulously styled. By pairing two unlikely staples together – a white lace bodysuit and mustard yellow palazzo pants – Carol creates a stylish outfit.
Confidence and bold teal hair are her two best accessories for the best lace bodysuit outfit we've ever seen.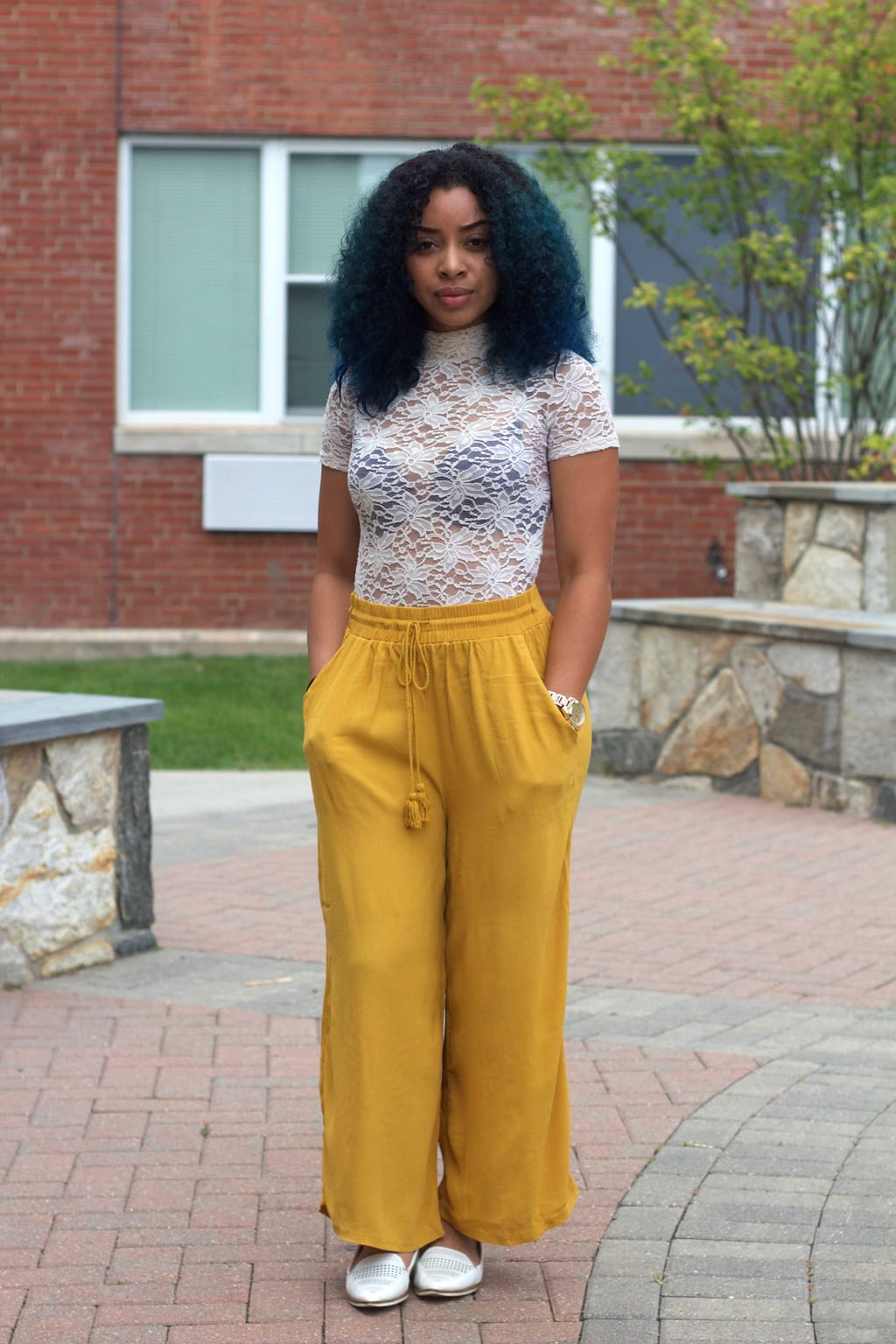 Carol 101
Name: Carol
School: University of Bridgeport
Year: Senior
Major: Fashion Merchandising
Hometown: Fairfield, CA
Let's Talk Fashion
Who or what inspires your style? "Not so much who, but the '80s and '90s play a huge part in my style. I'm a very vibrant person, from neon to pastel, I've probably worn every color. And that's how it was then. Growing up, my mother had a lot of clothes that resembled [clothes from those eras], especially the shoulder pads and sequin dresses [and] two piece suits."
Where do you like to shop? "[I] love thrift shopping especially when I'm thinking retro or vintage. I don't really shop as much as I used to, but when I do I'm either on ASOS, H&M, or even New York & Co… [I] love their business casual wear and Gabrielle Union line."
How would you describe your sense of style? "My sense of style is hard to explain; colorful but well put-together. I can look really urban one day and clean up nicely for a formal dinner the next."
Why did you choose this particular outfit? "For this particular outfit I was thinking subtle yet sexy with the laced top. I chose a little gold to accessorize which balances the look between classy and sexy. The mustard yellow color is really trending now especially in fashion, and personally it complements my complexion, and is a very beautiful color!"
What fashion advice would you give to other students looking to improve their style? "I would say pick and choose which colors complement each other well and what colors go nicely with the current weather. Once you've decided on that, it's easy to put together an outfit because that's your own personal style."
What are your favorite trends right now? "I always love accessories but [I] especially [love] choker necklaces. I wear them religiously! And I love how denim is slowly making a comeback. I see a lot of women wearing denim skirts again and it reminds me of my childhood."
Do you have any favorite fashion designers? "One designer that I thought was very inspiring was Versace in his earlier years. His designs and choice of colors are very intriguing, especially how he'd sometimes add that gold lining in his work."
What do you do for fun – do you have any unique hobbies or interests? "I like to do gymnastics [in] my free time and hang out with friends."
If you could raid anyone's closet, who would it be, and why? "It would def have to be Rihanna. That may sound cliché but literally I adore her style. She hasn't changed it one bit and most of her famous looks are laid back and chill-sexy at the same time. She adds her Caribbean lifestyle into some of her clothing which [showcases] her personality a lot."
Elements of Carol's Outfit
1. Lace Bodysuit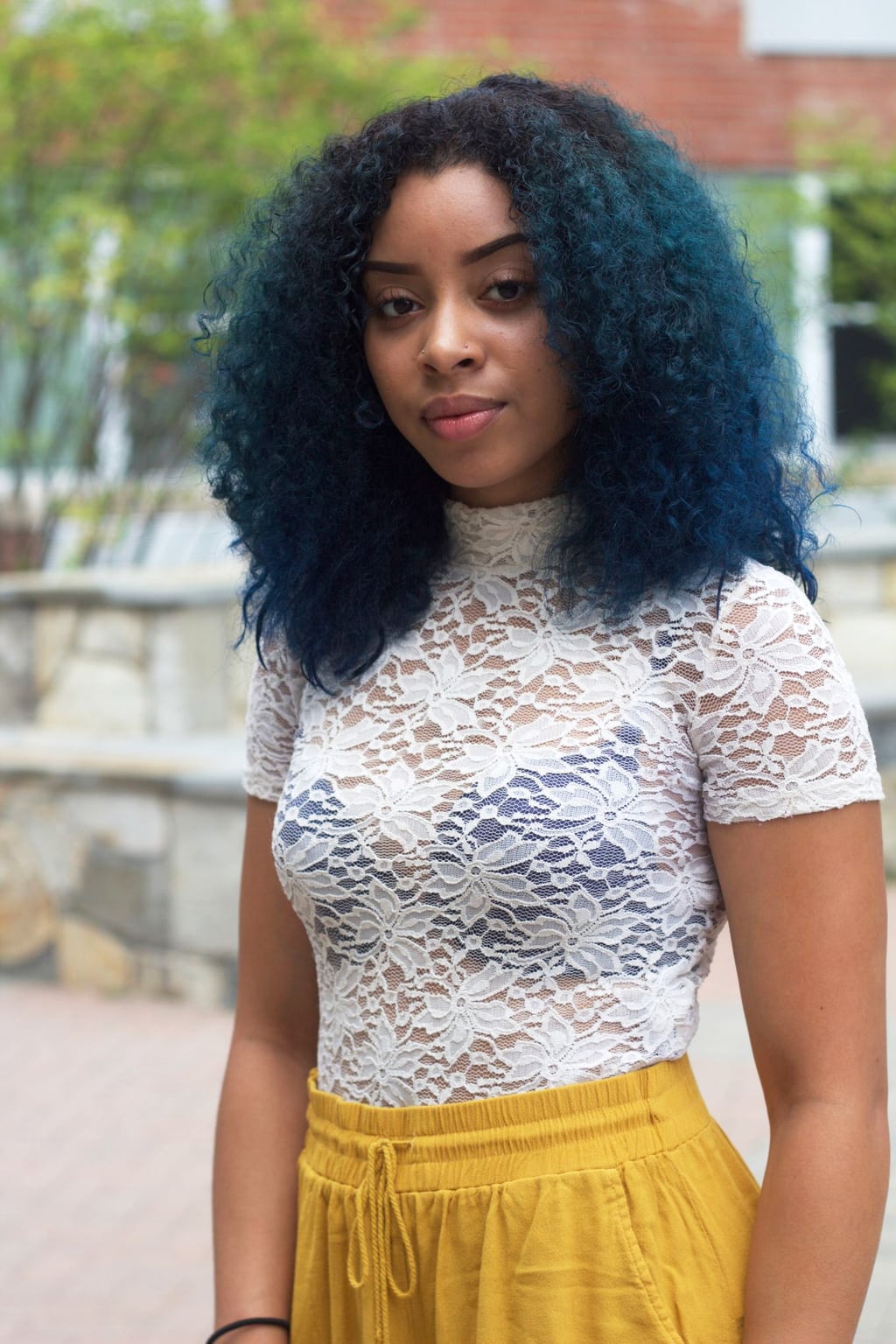 Carol's white lace bodysuit may not be one you'd think to pair with mustard yellow pants, but her style should have you thinking twice. The two work together effortlessly. Her top is sheer enough to allow a bralette to peek through underneath without being too sexy.
2. Backpack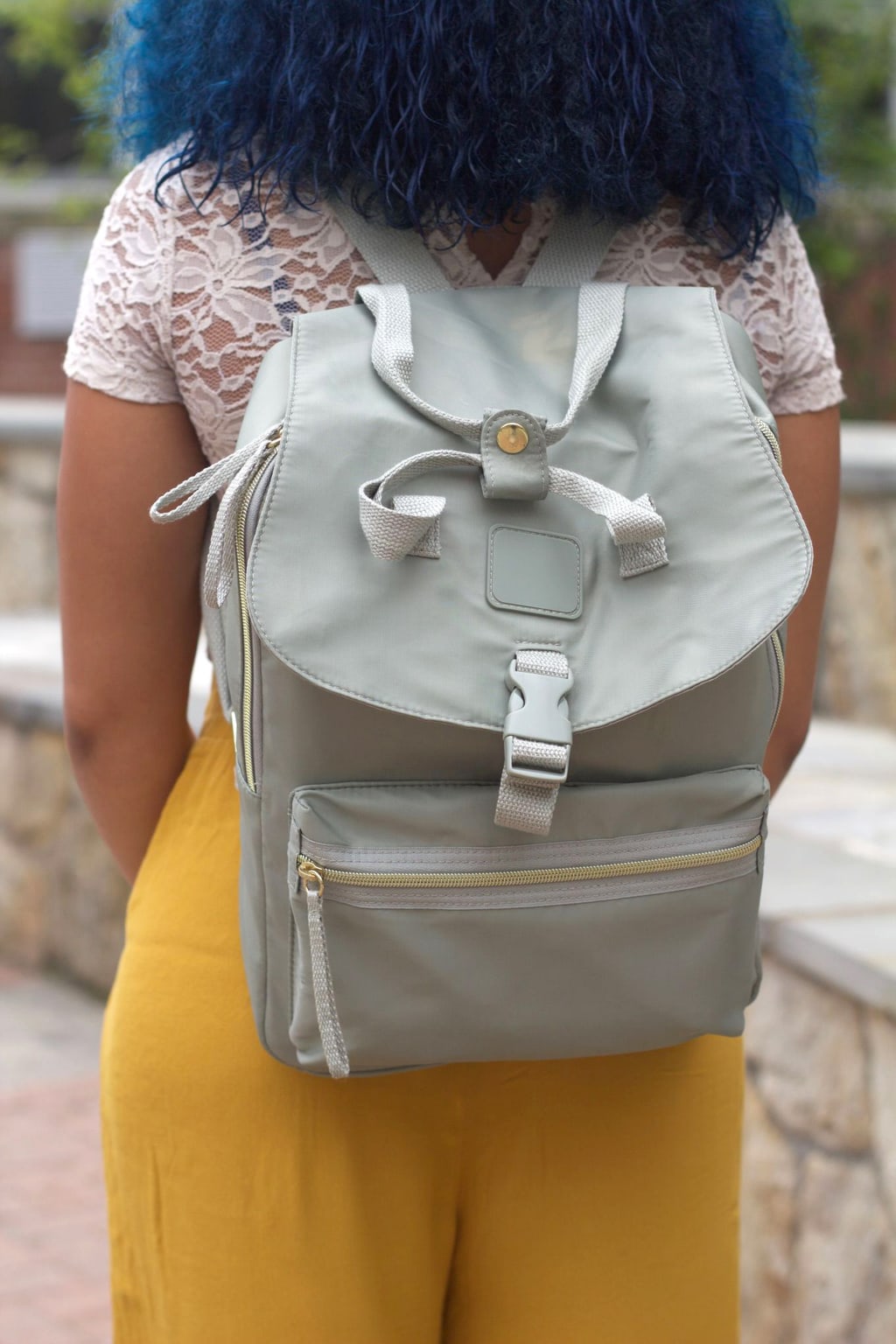 Backpacks are a wardrobe staple for all college students. Carol's grey carryall has a variety of gold zippers which highlight the other gold accents in her look.
3. Showstopper Hair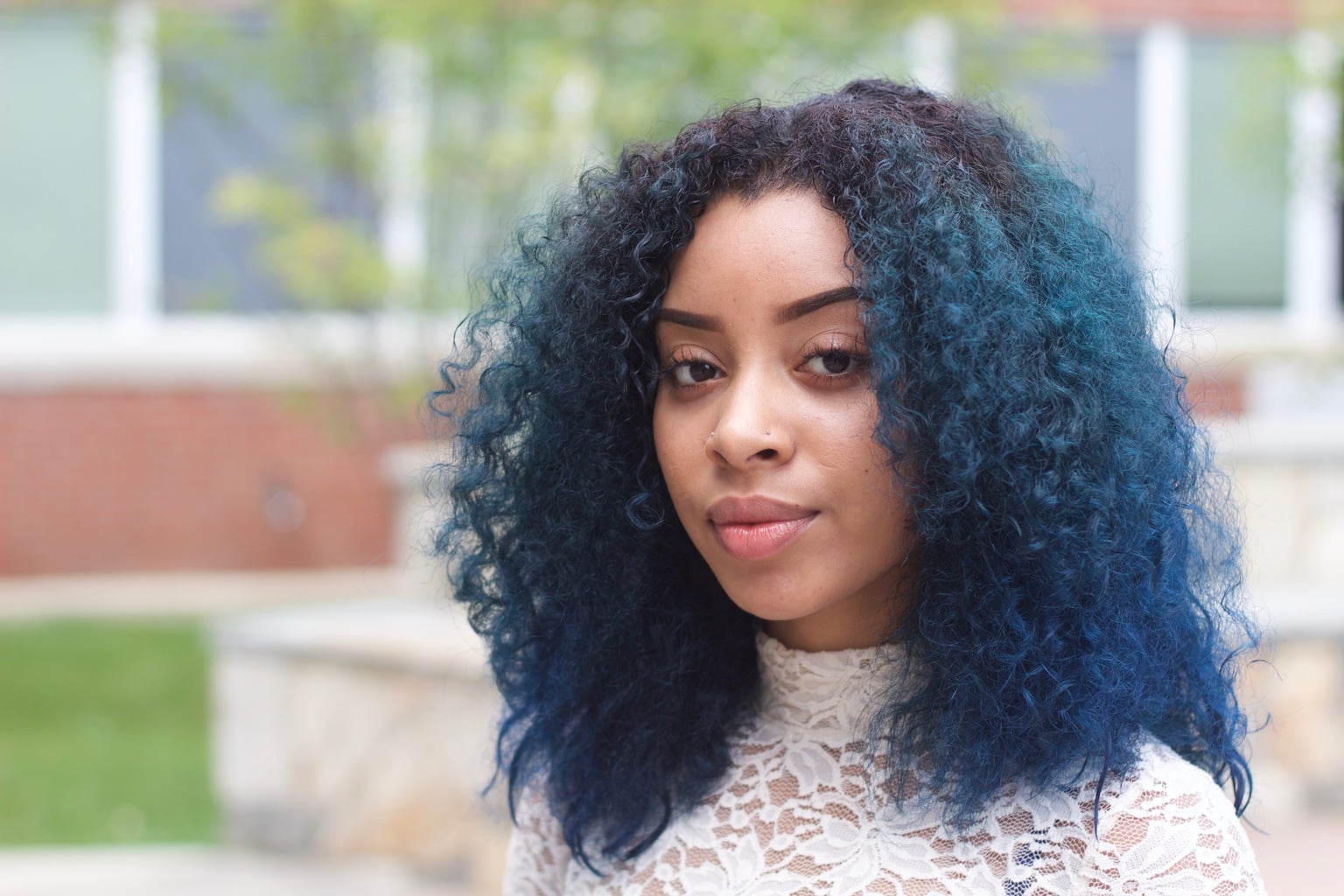 Last but certainly not least, Carol's hair is an incredible shade of teal. I love, love, love how she lets her hair be the statement of her entire outfit.
What do you think?
Mustard yellow drawstring trousers: are you obsessed with them? What do you think of Carol's fabulous hair? Leave us a note in the comments!