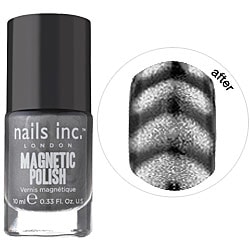 There's always a new trend in the world of nail polish – greige! Yellow! Konad! Neon! Crackle! Duochrome! Nail Polish Strips! Ombre! – and it can get hard to keep track of all of them. However, when Vogue dedicates an entire article in its October issue to one of these trends, you know it's here to stay – cue magnetic nail polish.
Although it's been available in Europe for the past few years, it only recently became available stateside. The formula actually has magnetic particles in it, and when you hold a magnet (conveniently located on the polish bottle cap) over your nail, the polish ripples and creates a 3-D effect. Yeah, yeah, that's all great, but does it actually work?  Here is my review of nails. inc. Magnetic Nail Polish:
The Product: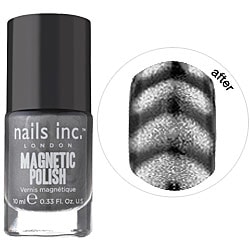 I purchased the nails. inc polish from Sephora- at $16 a bottle, it is definitely not cheap so I hoped it would be great to justify eating up my weekly coffee budget. There were only two options on Sephora's site – "Houses of Parliament", a purple, and "Trafalgar Square", a silver chrome, the latter of which I bought. The bottle itself comes with an overcap with a magnet on top, which makes it easy to apply.
My only issue with the bottle is that the directions on the bottle are solely in French, so they're useless for the majority of US customers – thankfully, that's what this instructional video, on the Sephora YouTube channel, is for.
Magnetic Nail Polish – My Attempt:
Applying this product is simple. You apply the first coat like any other polish – and as I hoped, the nails, inc. formula was opaque, pigmented and quick-drying. The next part is trickier. After your first coat is dry, apply a liberal amount of polish for your second coat. Immediately after, take the overcap with the magnet and place it above your nail – making sure not to touch your wet polish – and wait for 10-20 seconds, and poof! Instead of silver nails, you'll have 3D-ish black chevron-patterned nails: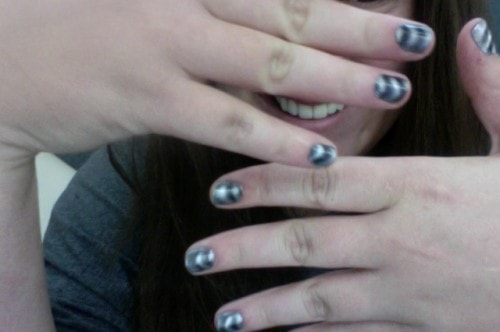 Obviously, you repeat the process with each nail. It sounds time-consuming but I promise, it isn't – it'll take maybe 10 minutes longer than another manicure. I'd wait twice as long as you usually do before putting a top coat on, though, as putting it on too soon can ruin the design.
My Verdict:
I absolutely love, love, love the magnetic effect – literally, I have not been able to stop staring at my nails. If you're adventurous with your polish, then I'd totally splurge on this. I promise, people will want to know what's on your nail and how you did it.
However, I did have some complaints with the product, though. One, the magnet will basically make the same pattern on each nail- moving the magnet around won't yield any results. Also, you only really have one chance to do it right – if you mess up somehow, you have to take off both layers and start from the beginning.
Is it worth the $16? Yes, if you're into flashy nails. Personally, I really love this trend and I'll definitely be rocking this in the fall/winter- will you?
What do you think about magnetic nail polish?
Would you try this trend? What's your favorite crazy nail trend? Tell me everything in the comments!