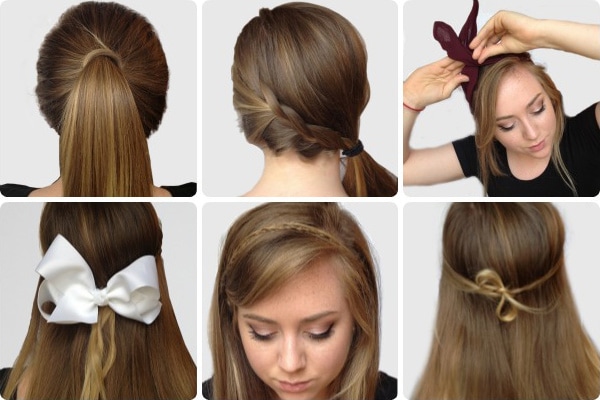 If you're like me, finals week is the time to turn in your cute boots for moccasins, skinny jeans for leggings, and cute blouses for long, slouchy. boring tees. Oh, and don't even get me started on how my hair looks. Honestly, the last thing that I want to do during finals is spend extra time in the morning to look cute for an exam.
This year, however, I'm challenging myself (and you!) to still look somewhat presentable for finals week.
So, here are six easy and cute hairstyles for finals week that will make you look flawless and put together on those days when you just want to sleep, cry, and eat (which is basically every day for me)…
Psst! If your finals are already over, these hairstyles are good to have in your arsenal for anytime you need to rush out the door in a hurry!
1. Fancy & Elegant Ponytail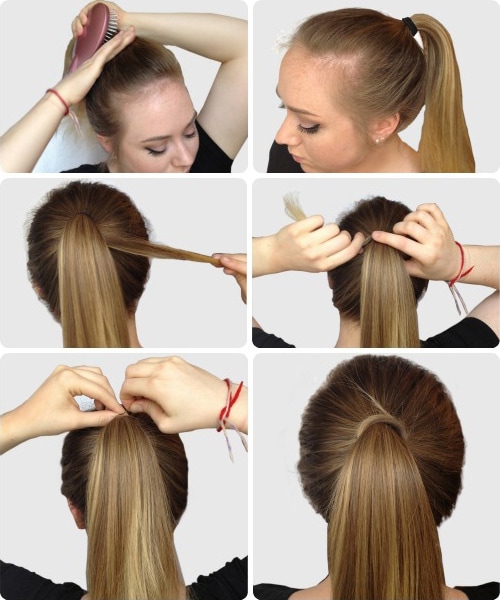 This hairstyle is inspired by Blake Lively's Serena van der Woodsen on Gossip Girl – she always wore this hairstyle and it's so easy to recreate!
All you have to do is brush your hair back into a sleek ponytail, grab a little piece of hair from the underside of the ponytail, wrap it around the hair tie, and secure it with a bobby pin. I love doing this hairstyle since concealing the hair tie instantly makes an average ponytail more elegant and put-together.
2) Braided Side Ponytail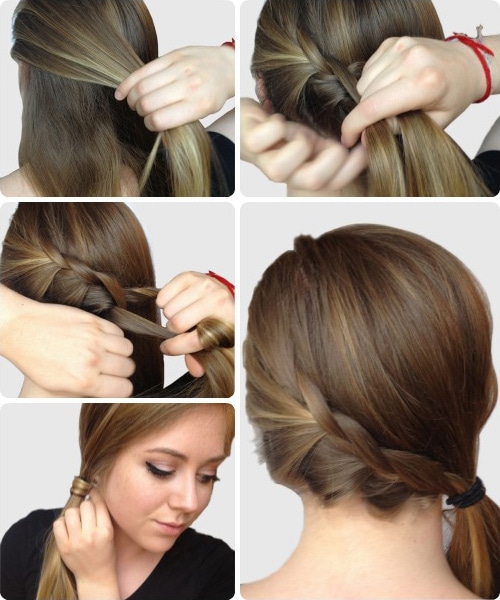 This one may take some practice to get the hang of, since mastering the side braid is a little tricky at first. I promise, though, practice will make perfect!
To create this side braid ponytail, start with a small french braid at the side of your hair (behind your ear). In regular french braid style, as you continue braiding, add more pieces to the braid from the top and bottom, making it thicker as it goes towards the other side of your head. Once your braid hits behind your other ear, secure the braid with a hair tie.
Optional: I like to wrap a small piece of hair around the elastic to once again create that put-together look.
3) Messy Ponytail w/ Head Wrap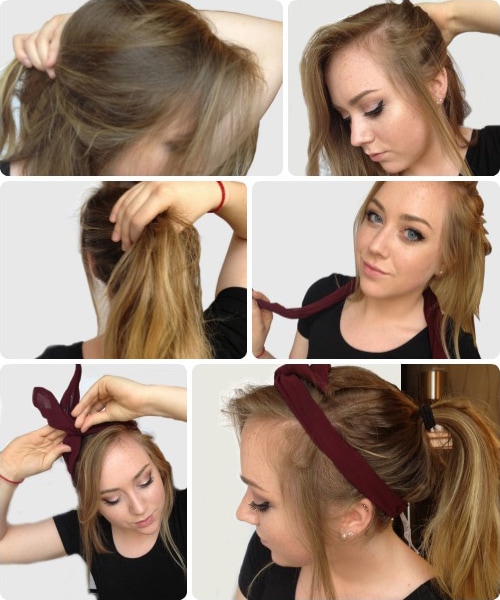 This hairstyle takes mere seconds to do, and you don't even need a mirror!
First, pull your hair up into a very messy ponytail – I like to leave a few pieces out to enhance the messiness. Next, take any hair ribbon you have, wrap it around your head, and tie it in a bow. The ribbon I used is from American Apparel and has a metal wire in it, so it's easy to create a bow. This low-maintenance look has such an effortlessly cool vibe – it's very Rihanna-esque.
4) Braids and Hair Bows Galore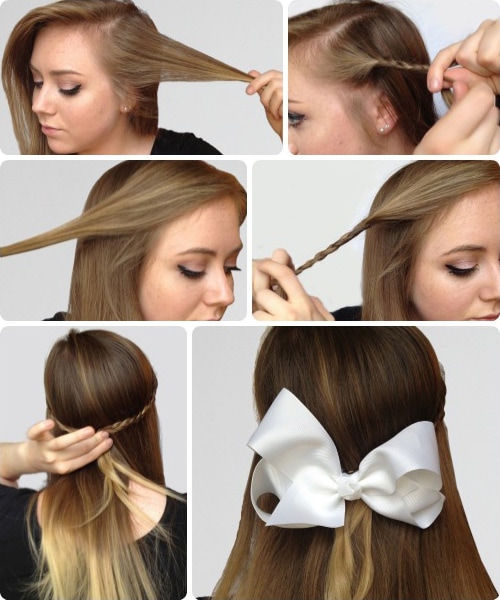 Bows before bros, am I right? This hairstyle is one that I do all the time because I'm obsessed with wearing bows in my hair!
To do this simple style, take two pieces of hair (from each side of your face) and create small braids that are long enough to reach behind your head. Once you bring the two braided pieces back, pin them together with bobby pins and secure the two bobby pins with an adorable bow. I got mine at the fashion district in LA, but this one from Dorothy Perkins is really similar.
5) Braided Headband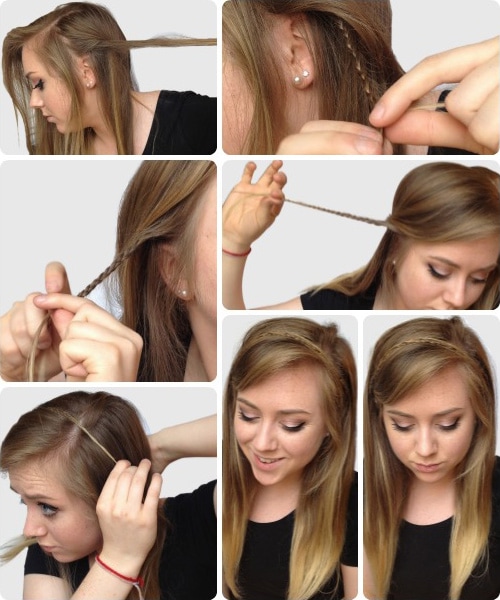 Again, this hairstyle seems a lot harder than it actually is, but if you have trouble with it (I know I did at first), just try, try again.
To get this look, take a little piece of hair from above each ear and tightly braid them, making sure the pieces are long enough to wrap around the top of your head. Once you've braided both pieces, reach one up and over your head and secure it with bobby pins under your hair, so the end of the braid and the bobby pins aren't showing. Then, repeat the process on the other side and you have yourself a braided headband.
I love this hairstyle – I think it is so pretty and it really looks like you spent a lot of time on this 'do. (Don't tell anyone it just took a minute!)
6) More Bows, Please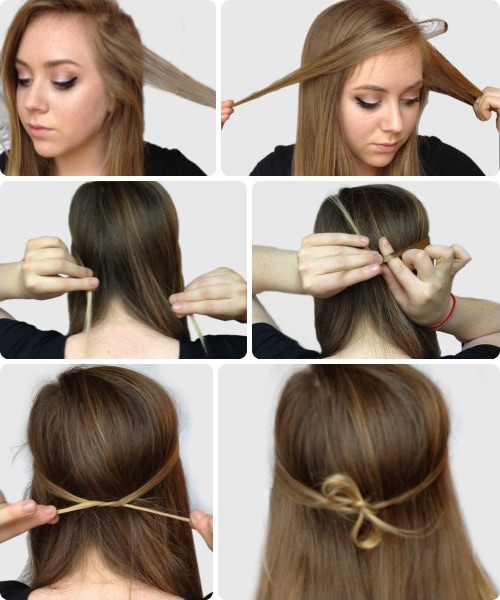 This last hairstyle is incredibly easy, adorable and unique!
To get this look, take two pieces of hair from the front of your head and bring them around to the back of your head. Then, tie the strands together as if you're tying a shoe lace or a bow. Secure with a bobby pin, and you're done. This hairstyle is such a head-turner, plus, you can do it in less than five minutes. It's perfect for rushing out the door during exam week.
Thoughts?
What do you think of these hairstyles? Which one is your favorite? Will you be recreating any of these looks? What's your go-to hairstyle when you're in a rush? Would you like to see more posts like this one? I'd love to know what you think, so leave a comment below and tell me!