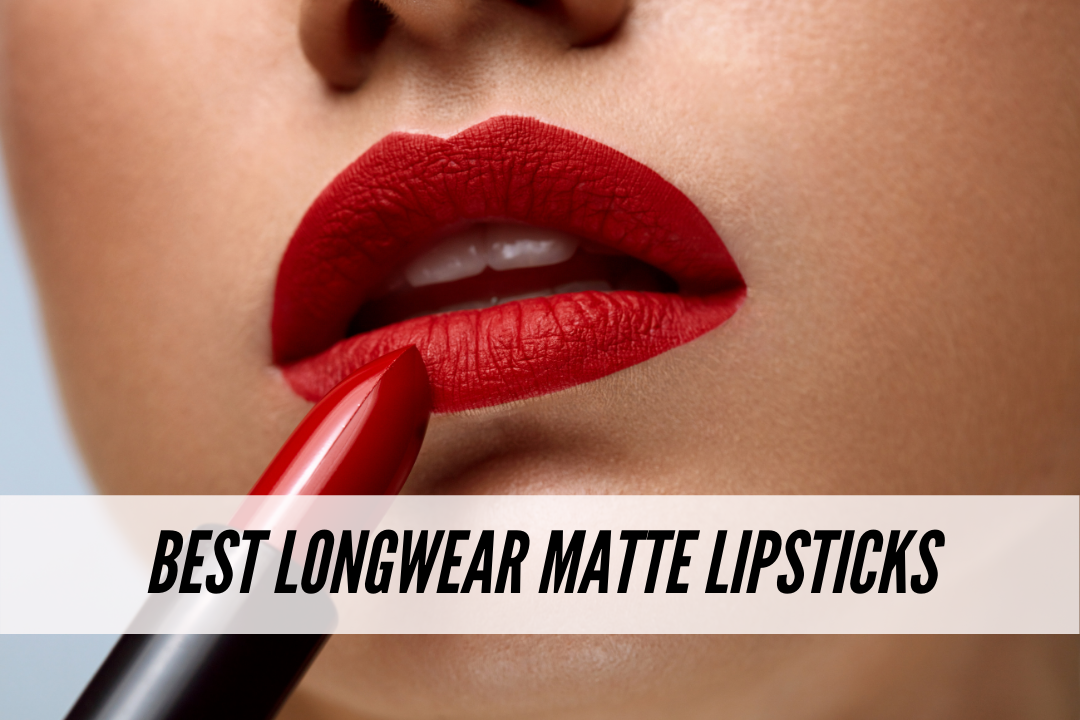 Over the past few years, I've developed a serious obsession with lipsticks. While I'm not adventurous enough to try out any truly out-there colors (shoutout to those brave enough to rock blue lipstick!), I have amassed a collection of products in what I'm fairly sure is more than 50 shades of pink, red, and berry/wine. I'm too scared to count how many I actually have, to be honest.
I have really dry and flaky lips, so I might not seem like the ideal candidate for long-wear matte lipsticks. I am, however, extremely averse to constant touch-ups and I hate it when my long hair gets stuck to lip gloss or balms.
Here's how I make my longwear matte lipsticks work for me, as well as some of the best longwear matte lipsticks to try.
How to Prepare Your Lips for Matte Lipstick:
1. Exfoliate
Long-wear lipsticks tend to be drying, so you want to eliminate all that flaky dead skin first. I don't wash my face in the morning (more on my skincare routine here), so I typically exfoliate my lips before I go to bed. I like to exfoliate gently with either a clean toothbrush or a hand towel. You can also use a lip scrub!
2. Moisturize
After you've exfoliated, apply a thick balm and let it sink in for a few minutes/overnight. (Lansinoh, Vaseline, and Aquaphor are some of my favorites.)
3. Wipe off any extra
If you apply lipstick over too much slippery balm, it can make your lipstick feather easily and decrease the efficacy of the formula. Blot your lips with a tissue or paper towel until they no longer feel sticky/wet.
Matte Lipstick Application Tips:
1. Apply lip primer or lip liner (optional)
I don't always use a primer or lip liner, but it does help with the longevity of the lipstick! If you have problems with your lipstick feathering or fading quickly, you might want to try adding this step to your routine. If you're using lip liner, don't just outline your lips: make sure you also fill in or you'll wind up with the dreaded outer lip ring!
2. Fill in lips
I have plump lips so I can usually get away with applying lipstick straight from the tube. However if you have thinner/smaller lips, fine lines, or just want ultra-precision, it's best to use a lip brush to apply, especially if you're using a liquid formula.
Since long-wear formulas are typically rather dry and won't really spread the way that a gloss or creamy lipstick would, make sure to smile/stretch your lips when you apply, so that you don't end up with little vertical lines with no product on them.
3. Clean up smudges with concealer
Be careful when rubbing lips together to spread the product, since you can easily smear the lipstick outside of your actual lip line.  But if you do, don't worry! Use a stick concealer to carefully cover the smudge and tap gently to blend. Don't rub, as you might end up creating even worse smudges!
4. Powder + Tissue (optional)
If you want a truly matte look, blot your lips gently with a one-ply tissue and gently tap some loose face powder over the tissue.
Tips for Making Matte Lipstick Last All Day:
1. Avoid super-greasy or messy foods
In an ideal world, long-wear lipstick would be so bulletproof you could go bobbing for apples in a tub of lard and still emerge with flawless lips. But a) that would be really gross and b) even long-wear lipsticks have their limitations.
I'm not saying that you should deprive yourself of your fast-food fix, but I do suggest that you go for a lower-maintenance lip product if you know that you're going to participating in your school's annual barbecue rib and Sloppy Joe eating contest that day.
2. Carry Backup
Okay, so you ignored #1 and now your lipstick is half-faded. Time for a touch-up!
If you used a solid lip pencil, keep it on hand with you if you need to touch up throughout the day. Liquid lipsticks can be more difficult to reapply since too much product can look clumpy or caked-on. What I do in that case is to carry around a tinted lip balm (my go-to is a Revlon Lip Butter) that matches the original color. If you apply that and rub your lips together, the remaining liquid lipstick will often spread to the parts that have faded. You'll lose the matte effect but you won't have to suffer through outer-lip-ring!
My Favorite Long-Wear Matte Lip Products
Treat Yo'self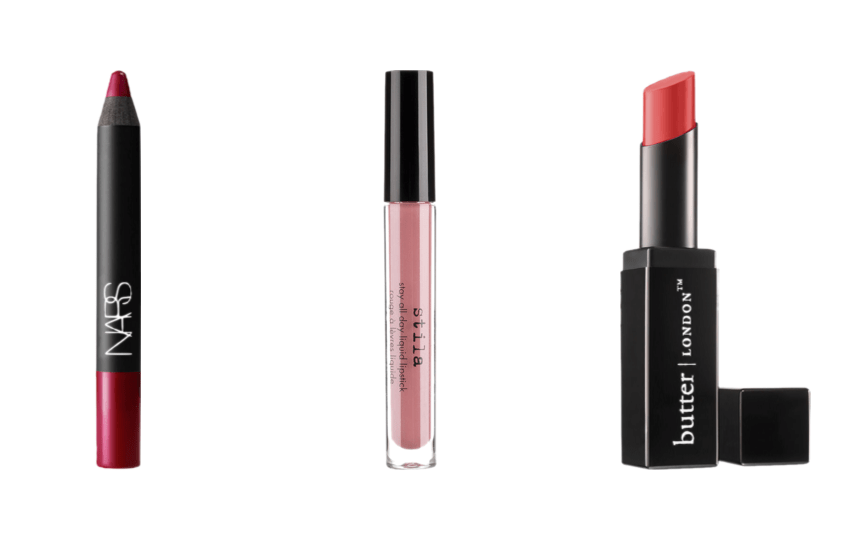 1. NARS Velvet Matte Lip Pencil ($26)
I have this in Cruella (classic scarlet, it was the Sephora b-day gift last year) and Damned (a really pretty, super wearable magenta).
Pros: Easy to apply, creamy, non-drying, great color selection, fades evenly
Cons: $$$, not as long-lasting as liquid lipsticks, the cap pops off easily (careful when you put it in your purse!), needs to be sharpened
2. Stila Stay All Day Liquid Lipstick ($24) 
I have this in Patina (a taupe-ish pink that's very Kylie) and Beso (a perfect true red).
Pros: Does not budge, great color selection, very pigmented, non-drying
Cons: $$$, can be difficult to re-apply
3. Butter London Lippy Moisture Matte Lipstick ($22, on sale for $10!) 
I have this in Loved Up (raspberry-pink) and Old Blighty (brick red), but now that I know it's on sale, there might be a couple more in my online shopping cart…
Pros: Hydrating, very pigmented, easy to apply, good color selection
Cons: They do have a slight sheen, so they're not truly matte.
On a Budget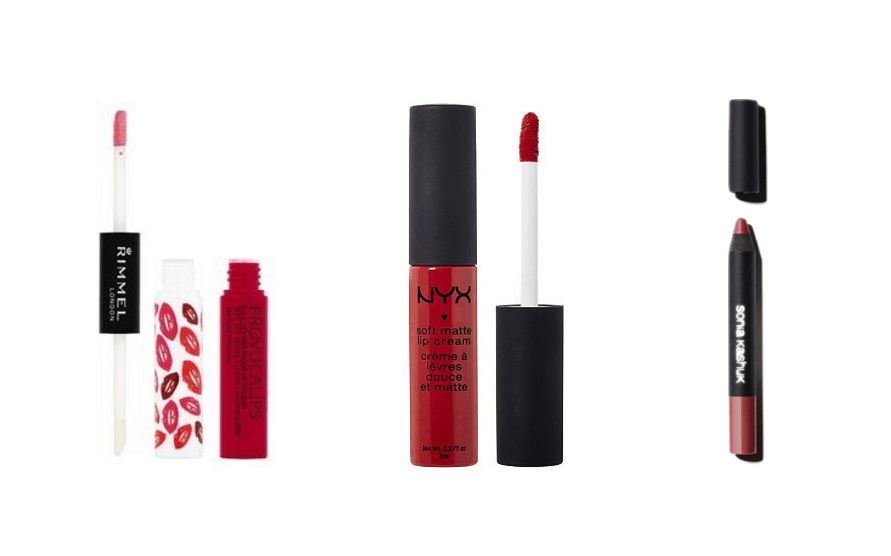 1. Rimmel London Provocalips 16 Hour Kiss Proof Lip Colour ($7)
I have this in Make Your Move, which is a perfect MLBB shade on me, and Kiss Me You Fool, a bold red. This also comes with a clear gloss/balm that helps to set the color and is miraculously not sticky!
Pros: Does not budge, non-drying, comes with hydrating gloss
Cons: More colors, please!
2. Nyx Soft Matte Lip Cream ($6)
I have this in Amsterdam, a bright red that leans towards hot pink on me, and Antwerp, a pinkish coral. I really want to try out Copenhagen, a vampy plum color, and Madrid, a cranberry red!
Pros: Great color selection (it comes in blue and purple!), inexpensive, vanilla scent (might be a con for some)
Cons: lighter shades like Antwerp really accentuate flakes, does dry out lips after an hour or two of wear
3. Sonia Kashuk Velvety Matte Lip Crayon ($7) 
During a recent Target run, I spotted this great dupe for the NARS Velvet Matte lip pencil and picked it up in Corally Nude. For some reason, all of the names have the word "nude" in them, which is quite the misnomer since "Corally Nude" is actually a pretty bright orange.
Pros: Inexpensive, easy to apply, similar to the NARS pencils, an excuse to go to Target
Cons: Limited color selection, the cap pops off easily, needs to be sharpened
What did you think?
Did these tips help? Are you also a lipstick fiend? What are your favorite tips for making your lipstick last?