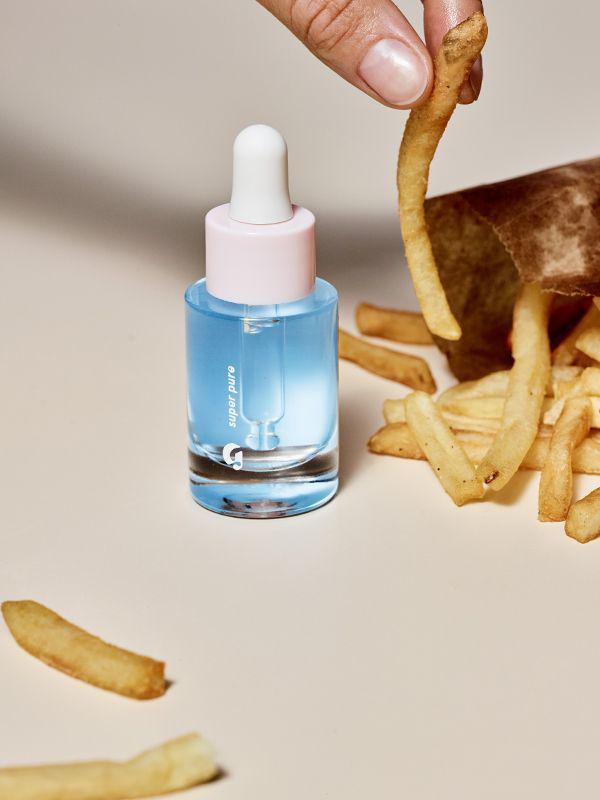 The beauty/fashion community is absolutely lousy with insincere product placement, so I'm always skeptical when I see lists like this. "Can't live without" feels like such a hyperbole – there are so many products out there, surely you could, idk, survive? without that Drunk Elephant polypeptide cream or whatever.
And then it happened.
I went to place my regular Glossier order and Super Pure was sold out.
Immediately, my lizard brain hissed and I started calculating how much I had left. I literally started rationing it in my head. And…I was angry. How could Glossier be sold. out. of. this. product. that. I. needed. I even started thinking about what thicc concealer I was going to have to buy because I knew my skin was going to freak out without this serum in my routine.
And that's when I realized there are totally products that fall into this category for me. Would I die if they were ever discontinued? No. I would live. You would live.
But would I totally cry? Oh yes. I would cry. A lot. And my skin/hair/makeup would never be the same.
I've written a little bit about the products I've repurchased, and a lot of those would fall into this category, along with the products in my makeup routine. But here are five (more) products from my regular routine that I would have a real struggle without:
Glossier Super Pure
The ish that started this whole spiral, AKA skin crack. I swear my skin is addicted to this stuff; if I stop using it, I break out immediately.
It does an excellent job of keeping breakouts at bay (even period pimples) and for an effective serum, it's hella cheap.
I use a couple of drops twice a day, and one bottle lasts me a month or so. I literally will buy two or three of these in one purchase because I will just barrel through them.
Alba Botanica Refining Aloe & Green Tea Moisturizer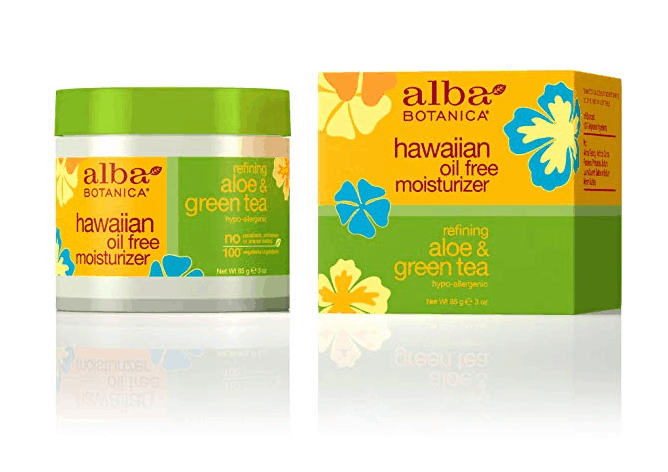 Alba Botanica Refining Aloe & Green Tea Moisturizer
I went through a period of time in college was I was seriously disloyal to moisturizers, shelling out the big bucks for stuff from Lush or Kiehls or Philosophy, but I always came back to this surprising little $10 gem.
It reduces redness like magic, and I can't even describe the texture of my skin after I use it – silky and smooth and bouncy, exactly what I imagine chok-chok skin to feel like.
And did I mention…it's only $9?
Coola Sunscreen Products
Coola Classic Face Sunscreen in Cucumber
I used to haaaate wearing sunscreen. Hate it. It broke me out, it made my makeup slide off, it often left a gross white cast (even on my pale af skin). I would try to stack products with spf in them, like my moisturizers and foundations, hoping that would be enough to protect my skin. (Not the best idea and didn't work that well.)
And then, I got a sample of this moisturizing sunscreen in my birchbox and I was hooked. It almost feels like cheating, like I'm just moisturizing twice and not wearing sunscreen at all.
Win-win, y'all.
Ouai Hair Wave Spray
Listen. This is a very bougie product and I'm not even going to pretend like it's not expensive. But I bleach the ever loving crap out of my hair, I never heat-style it, and it's in a pixie right now. Plus, I barely know how to style my hair when I really want to try. I need something that makes my hair styling life easier and this is one such product.
I've tried so many 'spray' products that make the work 'easy', and this is one of the only products that actually gives me "effortless" waves that look natural and don't feel crunchy. This is literally an everyday product for me, and it plays nicely with dry shampoo. (And not all wave sprays do!)
The nice thing about this is, with how short my hair is, I only need a few sprays to get the job done. I bought my full size bottle in January, and I've barely made a dent in it with everyday use, so I know it's going to last me a while.
Flowerbomb
I know, I know, I can live without perfume. But do you have those perfumes that you wear and you just…feel like yourself? Or they evoke memories for you that just make you so, so happy?
I've worn Flowerbomb since I was a teenager, and it's my partner's favorite perfume on me, so if we couldn't ever get our hands on it again, I think we both would cry!
What do you think?
Are there beauty products you can't live without? Do you agree with any on this list? Let me know in the comments below!