As a person on the internet ™, I've seen a couple of beauty videos in my time. Don't get me wrong – I love the beauty community and I have my gurus that I turn to when I'm in need of a review on a product I'm eyeing, but with #sponcon and #ads being so prevalent in the beauty community now, I do sometimes wonder how genuine those reviews are.
That is, until a guru says, "I spent my own money on this product."
We all work hard for our paper – especially beauty gurus – so there is no better endorsement of a product than multiple repeat buys. So today, I'm going to share with you the beauty products that I buy over and over and over again, including some that I've bought and re-bought for almost 10 years.
On to my best beauty products of all time!
Glossier Milky Jelly Cleanser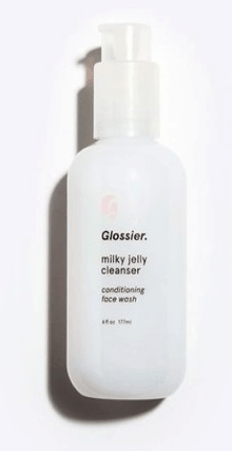 Cleanser: Glossier
When it comes to cleansers, I've tried just about every product under the sun in hopes that it would help clear up my acne – from St Ives Apricot Scrub to Neutrogena's Grapefruit Cleanser to any number of Yes To cleansers. I was also notoriously unfaithful to cleansers – I would even have three or four products open on my sink at any given time. Since I started using Glossier products about a year ago, I've reordered the Milky Jelly Cleanser four(ish?) times, and I haven't used anything else.
My favorite thing about the Milky Jelly Cleanser is that it is super gentle on my skin but is really good at removing makeup, even waterproof mascara or stuff that really stays put, like Kat Von D eyeliner. It also smells amazing and leaves my skin feeling super soft, not tight or sensitive, but also thoroughly cleansed.
It is a little more expensive than your average drugstore cleanser, but I get about 3 months use out of one bottle and I use it morning and night, so for me, the juice is worth the squeeze.
Thayers Witch Hazel Alcohol Free Toner in Rose Petal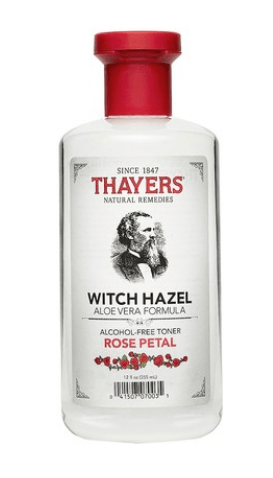 Toner: Target
This toner is a cult-favorite and gets a lot of lip service, and I've used it for about four years now. The smell is absolutely amazing and it is a miracle product when it comes to controlling oil and breakouts. I used to get big stress breakouts on my cheeks in college, but ever since I started using this product, I haven't really broken out on my cheeks at all. It also lasts quite some time – one 12 oz bottle lasts me about four to six months.
My favorite part about this product is that you can find practically anywhere, from Target to Whole Foods to Amazon. They even sell it in travel sizes, so I can even take it with me when I'm flying.
Origins GinZing Refreshing Eye Cream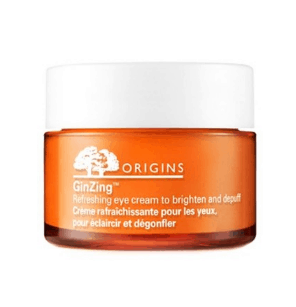 Eye Cream: Origins
This eye cream from Origins is a product that I've used since high school, and I've never found a more effective eye cream at combating undereye circles.
My undereye area can be pretty gnarly – I have dark, almost purple circles and thin skin that's on the drier side. This eye cream delivers the depuffing results as soon as it's applied, but the real effectiveness comes from continued use – I notice that if I use this regularly, my dark circles are much, much less prominent.
One little pot of this lasts me about 4 to 6 months if I use it once daily. It is on the pricier side, so I don't always repurchase it when I run out, but I always miss the eff out of it when I don't. So there's that.
Lush's The Olive Branch Shower Gel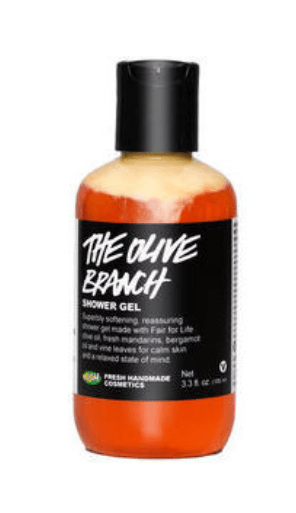 Shower Gel: Lush
Just to get it out of the way – $35 dollars is a LOT to spend on shower gel, I get it. But this shower gel is unlike any other I've ever tried, even other shower gels from Lush.
I hate products that feel like they've left a gummy or powdery residue or stripped my skin too much, like a lot of drugstore shower gels – this shower gel neither leaves a residue nor strips the skin too much. It also lasts quite some time – a 16.9 oz bottle lasts me about 6 months (and that's with the husdude using it, too!). I've used this product since high school, and very rarely do I have to buy it more than twice in a year.
It's also super moisturizing – it's made with olive oil, but it's not greasy or super thick, and it doesn't break me out. I swear that it reduces razor burn on my pits and legs, and it helps a ton with dry elbows or the little bumps I get on my arms during the winter.
But, I would recommend this product just for the smell alone. It's unlike anything I've ever smelled before – it's slightly musky, but also citrusy and bright, making showers an almost spa-like experience. The scent also lingers on your skin for a loooong time – I specifically choose perfumes with similar base notes so they compliment the smell of this shower gel.
Tonlymoly I'm Real Sheet Masks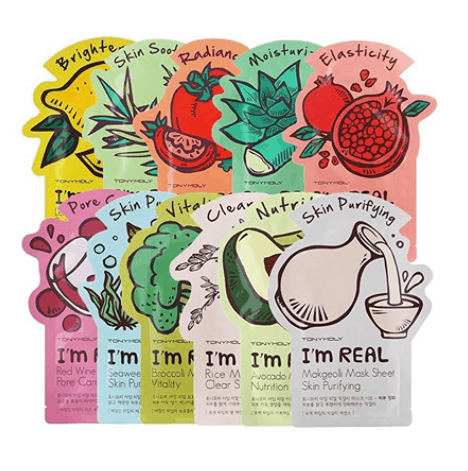 Sheet Masks: TONYMOLY
I won't wax too poetic about this product, considering I reviewed them all earlier this year, but let's just say I've repurchased them enough that I've considered setting up a regular delivery of them because I go through them so quickly.
What I love the most about these masks is that there are sooo many of them, but they're similar enough that you can mix and match them to address specific skin needs without wrecking your skin. Plus, how cute is the packaging?
Living Proof: Perfect Hair Day Dry Shampoo

Dry shampoo: Living proof
For the longest time I sort of felt like expensive dry shampoos were a scam – there's no way a product that's basically pressurized talcum powder or cornstarch could be worth more than what it costs for a can of Batiste, right? Wrong.
I received a travel size of this dry shampoo in a Birchbox a couple of years ago and I've never looked back. It doesn't leave a crazy amount of weird residue on your scalp, it doesn't make your hair really stiff, and it doesn't have an overpowering smell. It's just really good in every way. I have short hair, so I find that one 4 oz can lasts me about 2 months with regular use. For a while, I even had a mini size of one of these for my gym bag.
Neutrogena Triple Moisture Deep Recovery Hair Mask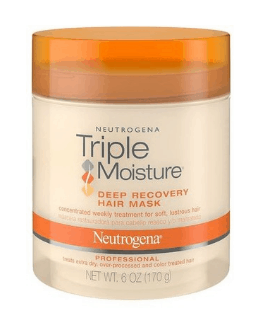 Hair mask: Target
Ok so this is the product I've used since I was 16. When I started dyeing my hair regularly, my mom turned me on to this product so that I could keep my hair healthy and hydrated. Now, no matter what other hair masks I try, I always end up coming back to this one.
This mask is thick and sweet-smelling and leaves my hair feeling so soft and gorgeous, without weighing my hair down significantly like some hair masks can. For the last year, I've been bleaching my hair regularly, and this has been my absolute secret weapon at keeping my hair soft and healthy.
The best part about this mask is that it's super cheap and easy to find at drugstores or stores like Target. Even when my hair was to my waist, one six-oz pot would last me six months or so, with one mask every one to two weeks.
What do you think?
Do you guys like more personal content like this? Do you use any of these products, and if so, are you as fanatical about them as I am? Which products do you swear by and repurchase regularly? Let me know in the comments below!