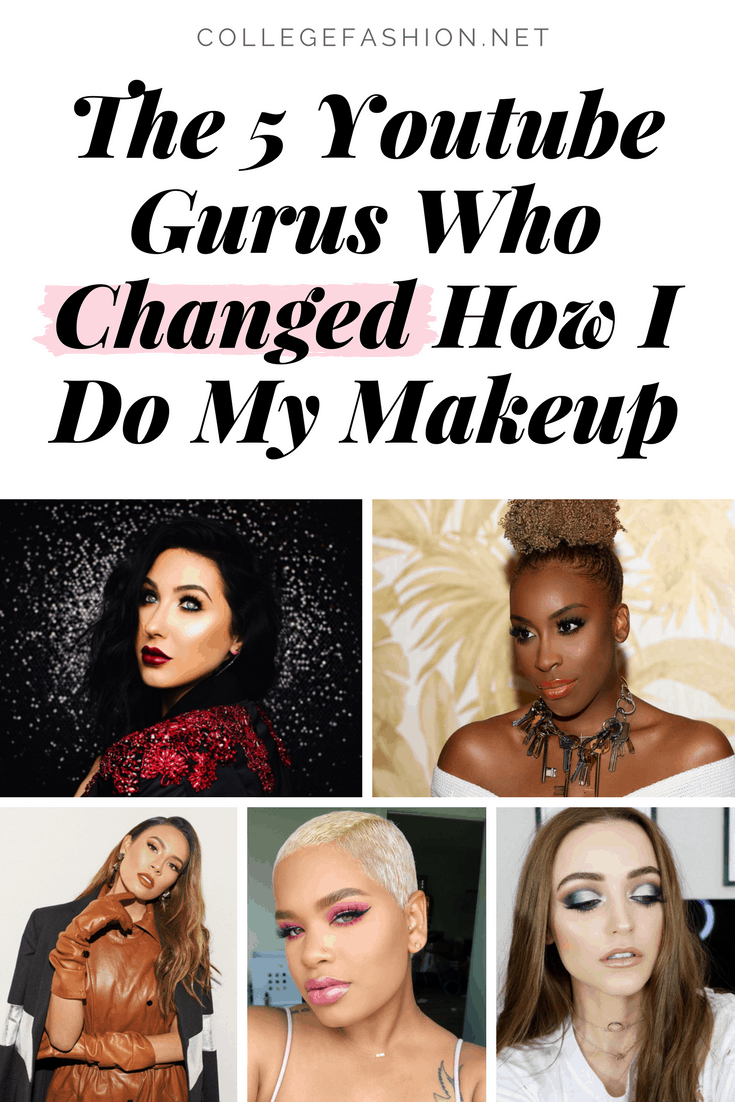 There was a time when makeup and beauty trends were made and passed around without the aid of the internet.
I know, it's hard to picture, but that's the way it was.
Now, with Instagram, Twitter, Snapchat, Tumblr and a number of other social media platforms, we're flooded with beauty products and images constantly. And yet, with all of these online options, nothing seems quite as personal as the YouTube beauty community.
YouTube has been a hugely influential part of the beauty world, especially in the past few years. Social media giants like NikkieTutorials and Manny MUA have dominated this platform, influencing trends for both beauty brands and consumers alike.
The great thing about this platform is that there's something for everyone. Women of color, men, beginners, and skilled makeup artists have the opportunity to follow and learn from talented YouTubers that they really connect with.
I myself have a short list of gurus that I subscribe to, for a myriad of different reasons.
To learn all about these top faves and why they're so amazing, keep on reading:
Jackie Aina (lilpumpkinpie05)
Jackie Aina is hands-down the funniest beauty influencer in the game. Her sparkling personality and killer instinct with makeup are only part of the reason behind her success.
As a woman of color in the beauty community, Ms. Aina takes no BS from people (and even brands) who undervalue and fail to see the importance of representation and catering to darker skin tones as well as lighter ones.
I trust Jackie's opinion, and I always look forward to hearing her unique and refreshing viewpoint that sometimes contradicts what's "popular" or "trendy".
And most importantly, I wanted to give kudos to Jackie Aina for staying true to herself and her culture in a community that isn't always the most beautiful.
Maybelline Lip Pythons?! Watch This Video First | Jackie Aina
Jaclyn Hill (Jaclynhill1)
Jaclyn Hill's popularity has skyrocketed in the past two years, making her one of the most well-known beauty YouTubers in the game. You might have heard of the über-popular Jaclyn Hill Palette by Morphe?
Through all this success and celebrity, Jaclyn has remained the down-to-earth, quirky girl who first started her channel many moons ago.
Her expertise and enthusiasm about makeup and fashion is infectious, yet she always keeps it real and reminds her followers of the important things in life: family and friends.
There isn't much to say about Jaclyn that hasn't already been said, so I'll just stick with this: the hype is real.
My Radiant Glow Foundation Routine | Jaclyn Hill
Alissa Ashley (itsalissaweekly)
If I had one word to describe Alissa's personality, it would be "cute". Not in a child-like or condescending way, but in a refreshing, genuine way that is rarely seen anymore.
Her positivity and the ever-present smile on her face make her personable and sweet, yet she's fierce and triumphant when she needs to be.
Alissa is not afraid to be herself in any of her videos, and tends to relay some valuable tips and information on makeup "dos" and "don'ts".
You can definitely learn a lot from Alissa's channel. I know I have!
https://www.youtube.com/watch?v=qOBpaH1_ma8
Desi Perkins (DesireePerkinsMakeup)
Desi Perkins is extremely chill, and very knowledgeable about makeup and all things beauty (having been a former freelance makeup artist). Her ability to make complex beauty techniques seem effortless and possible for even us little people to achieve is borderline magical.
When it's October and other YouTubers are showing you how to achieve basic vampire or mermaid looks, Desi brings her A-game for some truly gruesome looks that are sure to win any costume contest.
Throughout the rest of the year, however, expect Desi to slay in all things makeup and fashion. If you follow her on Instagram too, you'll have an entire lifetime of chic outfit inspo. (We even did a whole article on how to copy Desi's style!)
FLAWLESS SKIN WITH ACNE BREAKOUTS | DESI PERKINS
Kathleen Fuentes (KathleenLights)
And last but certainly not least, we have Miss KathleenLights. By far my favorite beauty YouTuber, Kathleen is relatable, entertaining, slightly awkward, and completely mesmerizing.
Even after just watching one video, her personality makes it feel like she's a friend that you've known and loved for years.
Kathleen is passionate about all things makeup, skincare, hair care, and even nail polish (she even has her own brand, KL Polish!)
Unlike many YouTubers who gravitate towards higher-end and expensive makeup, Kathleen has always been a die-hard fan of affordable brands like e.l.f., Wet n Wild, and Colourpop, because she understands her fans don't have the money or connections that beauty YouTubers do. This is just another thing I love about her!
DISAPPOINTING PRODUCTS | Feb. 2018
Which beauty gurus do you follow on Youtube?
If you want more youtube channels to follow, be sure to see our guide to the best college youtubers we love.
Even though this list is full of some of the greats, it is definitely missing some great people that even I haven't discovered yet.
So what are some of your favorite beauty gurus? Let me know in the comments section, I can't wait to add more to my list!