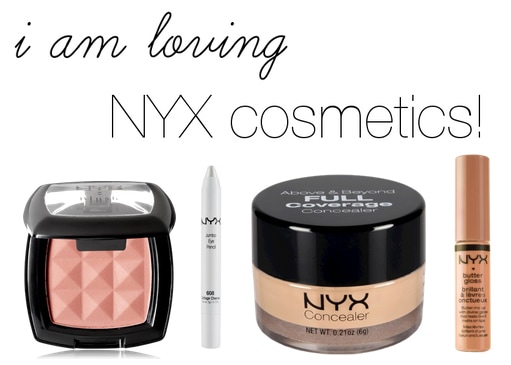 One of my favorite things to do is try out new beauty brands that I'm not too familiar with, and I was so happy to find out that I loved Soap and Glory and The Body Shop. This week, I decided to get my hands on a whole bunch of items from NYX Cosmetics and test them out.
Since it's so affordable – most of their makeup is in the $3 to $8 range – I figured it wasn't going to be good makeup. However, I was SO wrong! Read on to discover four of my favorite NYX products:
Blush in Summer Peach
$5 at NYXCosmetics.com
NYX's blushes are the only product I owned before I made a haul from their website. I knew I loved the color called "Pinched," which is a dupe for NARS Orgasm, but this blush, called "Summer Peach," is definitely my new favorite for spring and summer.
As you can see in the picture, the blush is a beautiful light pink with tiny gold flecks, which are not offensive or too sparkly at all. I use this product almost as a blush/highlight combo and dust it all over my cheeks and on my cheekbones. I'm a bit of a blush addict, and I can see myself using this one all season long.
Full Coverage Concealer Jar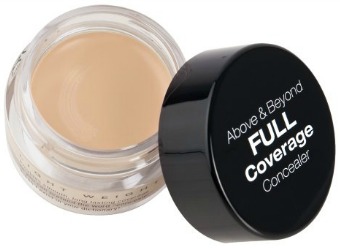 $5 at NYXCosmetics.com
I'm a sucker for anything that says "full coverage" because I have skin that doesn't get along with anything labeled "light coverage". I love this concealer for many reasons; for one, it's 5 bucks. This product is also perfect to use under the eyes or on stubborn red patches, like around the nose.
I like to apply this concealer with a small brush, like a tiny, clean eyeshadow brush. It's more hygienic that way, and you get a smoother coverage. I carry this concealer around in my purse because it's very small and compact – perfect for on-the-go touch-ups!

Jumbo Eye Pencil

$4.50 at NYXCosmetics.com
The all-in-one eye pencil is not a new idea, but I love the color range of NYX's version, so I had to pick up a few. My personal favorite is the one above, called "Iced Mocha." It's the perfect color for lining your bottom lash line or smudging into the crease. It's a beautiful color, and the pigment is rich, but not so rich that it's not blendable.
I also love the color "Sparkle Nude," which is a light gold color with small flecks of light gold glitter. I apply this all over my lid, or just in the inner corners to highlight. I also like to smudge some of it on the back of my hand and use it as an actual face highlighter! Sounds weird, but it just goes to show you how versatile this product is.
Butter Gloss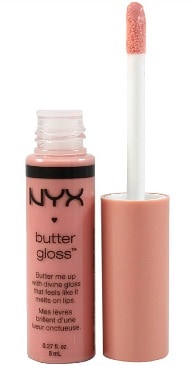 $5 at NYXCosmetics.com
Okay, let me preface this by saying that I never wear lip gloss. Like never. I rarely like the way it looks on my lips, and I just don't like the stickiness it normally has. However, these Butter Glosses are the only lip glosses that I wear!
They aren't too shiny, and almost have that "your lips but better" look. I'm all about the natural, light, pinky-beige colored lip, and the shade pictured above, called "Creme Brulee," is the perfect shade to do just that!
More shades I love are "Tiramisu" and "Maple Blondie." Yes, the names are basically all delicious desserts. Who doesn't love that? The scents are dessert-like as well, but they aren't too strong! I actually have never found a high-end lip gloss that I love as much as these. I'm so obsessed!
What do you think?
Have you ever tried any NYX products? Have you tried any of these ones, or do you have favorites you want to share? Let me know in the comments!