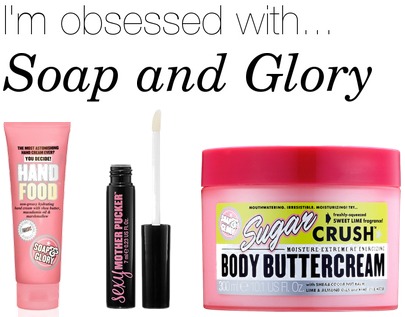 For this week's beauty post, I wanted to talk about a new line of beauty products that I can't get enough of: Soap and Glory. (Okay, it's not exactly "new," but it is new for me!) Soap and Glory is a line of beauty, skin, and bath products from British skincare expert and the creator of Bliss Spa, Marcia Kilgore.
I'd seen Soap and Glory products before at places like at Target and Sephora, and was always so intrigued by the fun, bright pink packaging and sassy product names. It took me a while, but I finally got my hands on some of the products.
I ended up purchasing three products, all of which are considered the "cult favorites." And I have to say, I'm obsessed with all three! Read on to see my thoughts on each one:
Sexy Mother Pucker Lip Plumping Gloss

$16 at Sephora
This is the product that Soap and Glory is known for, so of course I had to pick it up. Yes, the name is a little obnoxious…but hey, this gloss works.I bought the sheer pink shade "Baby Doll" to wear as an everyday color – it's quite natural, but has a high shine.
This gloss tingles, but not in a bad way. Basically, what this product does is fill in the little lines on your lips and plump them using natural oils and "microspheres" that becomes 10 times larger, which increases the volume of your lips.
If you're looking for fuller lips, this gloss is a must-have! Unlike other "plumping" glosses I've tried, this one actually works and the effects last for about an hour. I will be repurchasing this for a long time!
Hand Food Hand Cream

$5 for 1.7 oz or $12 for 4.2 oz at Sephora
This hand cream is another must-have Soap and Glory product. It's non-greasy, which is always appreciated, and formulated with shea butter, macadamia oil, and marshmallow. Yes, marshmallow – but it's not sticky at all!
A little goes a long way, and the size of the container fits perfectly in a purse. The best part, though, is the scent. It's like a fruity rosewater, if that makes any sense! This fragrance is mild and it's not overpowering.
I have about a thousand and six hand creams, so I don't know if I'll be repurchasing it anytime soon, but right now, it's definitely a frontrunner in my collection!
Sugar Crush Moisture Extreme Body Buttercream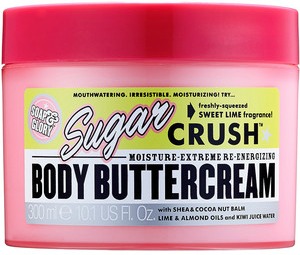 $20 at Sephora
As many of you might know, I'm pretty obsessed with YouTube beauty vloggers. A lot of them talk about this body butter, and by a lot I mean pretty much all of my favorites!
First things first, this body butter smells amazing. It's like a sugary citrus scent, which may sound weird, but it's perfect for a body butter. It's not too sweet and it's not too citrus-y. This product is so fantastic, that I could go on like the beauty vloggers go on and on about it.
I use this body butter right after I shower. It doesn't make my skin greasy, but instead leaves it super-hydrated all day long. I love this one more than some of the other body butters Soap and Glory makes, but mostly because of the scent – the formulation isn't any different. Definitely give this one a try!
What do you think?
What do you think of Soap and Glory? Have you tried any of the products above or have used any ones that you love? Leave a comment below and let us know!