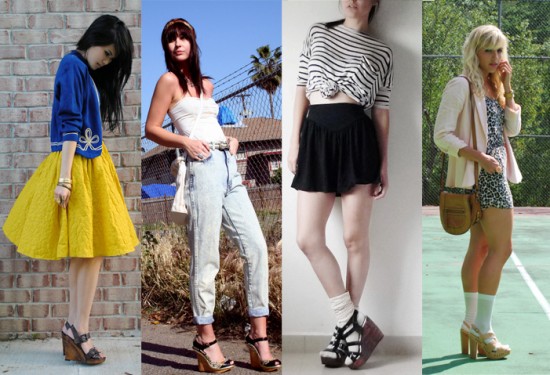 Street style looks featuring wooden platforms. Credits: 1, 2, 3, 4
With summer practically around the corner, it's time to start focusing on warm-weather looks. That transition time from February to March and April always calls for spring colors, lots of layers, and footwear that looks forward to the warmer months. Here at FIDM, girls are getting into the spirit by rocking wooden platforms like crazy.
Like many of the trends we're seeing this season, wooden platforms represent a nod to 1970s fashion. While their style gives you height, their natural, organic feel offers a perfect way to add some boho chic to any look.
There are many ways to wear wooden platforms. Some of the girls pictured above rock them with socks, which I find to be absolutely adorable! Other girls wear them with cuffed jeans, while others pair theirs with a pretty dress – no matter how you wear them, it's hard to go wrong. Either way, this fresh new footwear look welcomes in spring (and I couldn't be happier about it!).
What do you think about wooden platforms?
Is this look trendy and cute or not your taste? Do you think wooden platforms will be around for a while or go out of style fast? Do you own any? If so, how do you wear them? Leave a comment and weigh in on this trend!