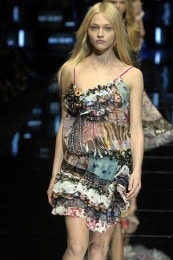 Sasha Pivarova in a D&G mini dress.
If you've been keeping up with the posts here on CF, you might think that I have a serious case of memory loss after reading this one. That's because I just talked about the long dress trend a few weeks ago, and now I'm going to talk about another equally hot summer trend – super-short skirts and minidresses.
This isn't a case of forgetfulness on my part – it's just a taste of the fashion industry's sense of humor. Yes, it's true: two completely contradictory looks can both be "in style" at the same time.
While the above might be a little frustrating, here's the good news: you don't have to pick a side on the hem-length debate. To me it's like choosing between chocolate and vanilla ice cream – you don't have to pick when you can just get twist!
Hem lengths are a perfect example of fashion indecision that's fun to play with. This summer, whether mini is your thing, or you'd rather wear a long dress, fashion is offering you options. I recommend taking advantage of them all!
Short Skirts & Mini Dresses
You've already heard all about long dresses for summer if you read CF on a regular basis, but now it's time to learn why short skirts and dresses are just as fabulous, if you aren't already loving them.
Short dresses and mini skirts are the perfect clothing for summer. You can throw a mini dress on over a bikini with flip flops for day, or wear one with layers of necklaces and heels for night. Short skirts are great too – you can wear them with longer sleeved tops to cover up your shoulders without feeling too hot, or rock them with a simple tank and jewelry for an effortlessly cute outfit.
My favorite part: leg-baring styles allow you to show off your great (hopefully faux) summer tan!
Runway Inspiration
While bare legs are always a mainstay of summer fashion, they're especially fashionable this year. That's because they were all over the Spring 2008 Ready-To-Wear runways. Here are a few examples of the designer looks (photos courtesy of Style.com):
Roberto Cavalli: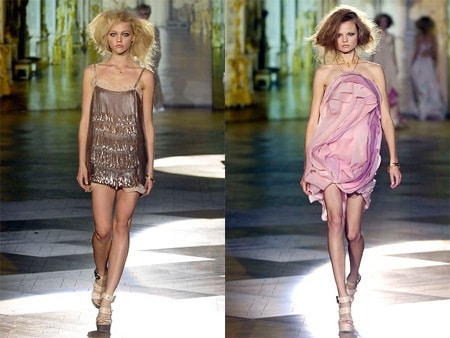 Givenchy: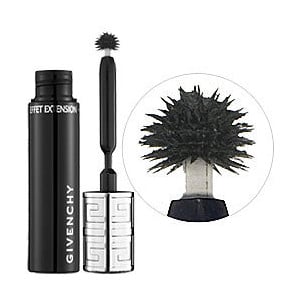 Luella: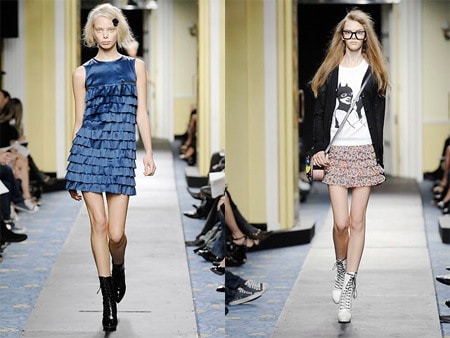 Marc Jacobs: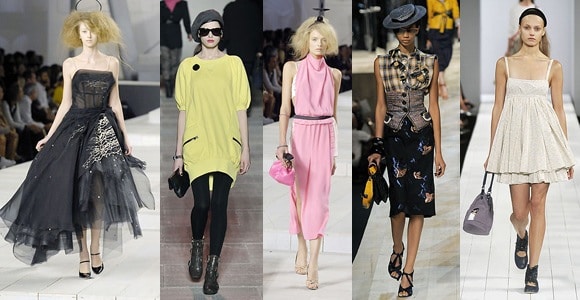 Proenza Schouler: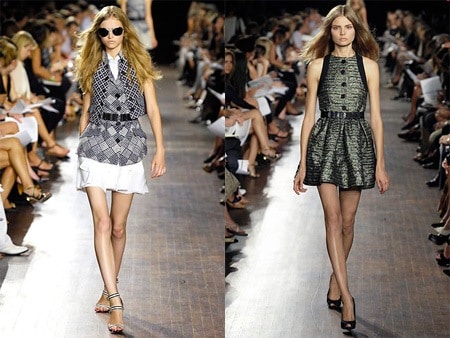 How To Wear Short Skirts & Minidresses
While this trend is super-hot, it also has the potential to look super-unflattering if worn wrong, which is never cute or fashionable. Keep your look high-fashion and classy with these easy tips:
Know your body type. The mini skirt's greatest strength and weakness is that it shows off your legs. If you have great legs, why not flaunt them? If that's one body part you'd rather not bare all the way, wear a skirt or mini dress with tights or decide not to wear them at all. It's better to feel confident in your clothes than wear something you know doesn't flatter you.
Apply self-tanner. Even ladies with legs that resemble Heidi Klum's can still benefit from this step. Tanned legs automatically look slimmer and more toned, which is essential if you're wearing a mini dress or short skirt. My favorite self-tanner is Tan Towel brand.
Balance the skirt out. Wear something baggy up top if your skirt is tight. This is a fashion proportion basic, and a good way to safeguard against looking slutty as opposed to fashion forward. If the skirt is tiny and tight, wear something loose that covers you up a little more on top. I like loose racerback tanks from American Apparel for this purpose, but any loose top will do.
Get high – with your footwear. Wear some type of heel or open sandal, not a sneaker or ballet flat. A flat shoe with a short skirt makes your legs look shorter and wider than they normally would, which is not what most girls want to do to themselves. Heels lengthen your legs and make you look skinnier and more modelesque. For a really trendy look, rock a short skirt with a gladiator heel.
Trendy Mini Skirts and Dresses Under $50
If you're loving this summer trend, here are some cute mini dresses and short skirts to fit a college student budget. Yes, that's right – all are under fifty dollars. Who says fashion can't be affordable?
Mini Dresses Under Fifty Dollars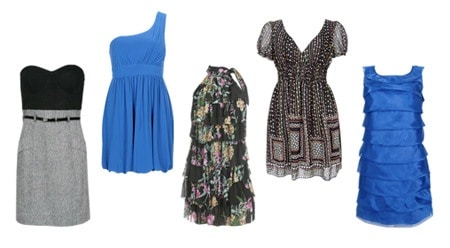 From Left: Tweed Tube Dress – $26.99 at Charlotte Russe, Single Shoulder Minidress – $24.80 at Forever 21, Mesh High-Neck Dress – $32.50 at Wet Seal, Elena Floral Dress – $22.80 at Forever 21, Chiffon Tier Dress – $27.80 at Forever 21
Short Skirts Under Fifty Dollars

From Left: Floral Mini Swing Skirt – 19.80 at Forever 21, Plaid Mini Skirt – $16.99 at Charlotte Russe, Animal Print Miniskirt – $17.50 at Wet Seal, Ditsy Tiered Skirt – $22.99 at Charlotte Russe
What Do You Think?
Whether you love 'em or hate 'em, tiny skirts and mini dresses are definitely here to stay in fashion.
Are you liking these super-short pieces, or would you rather not show so much leg this summer? Do you think long dresses or short dresses look better?
Let me know your thoughts by discussing in the comments.