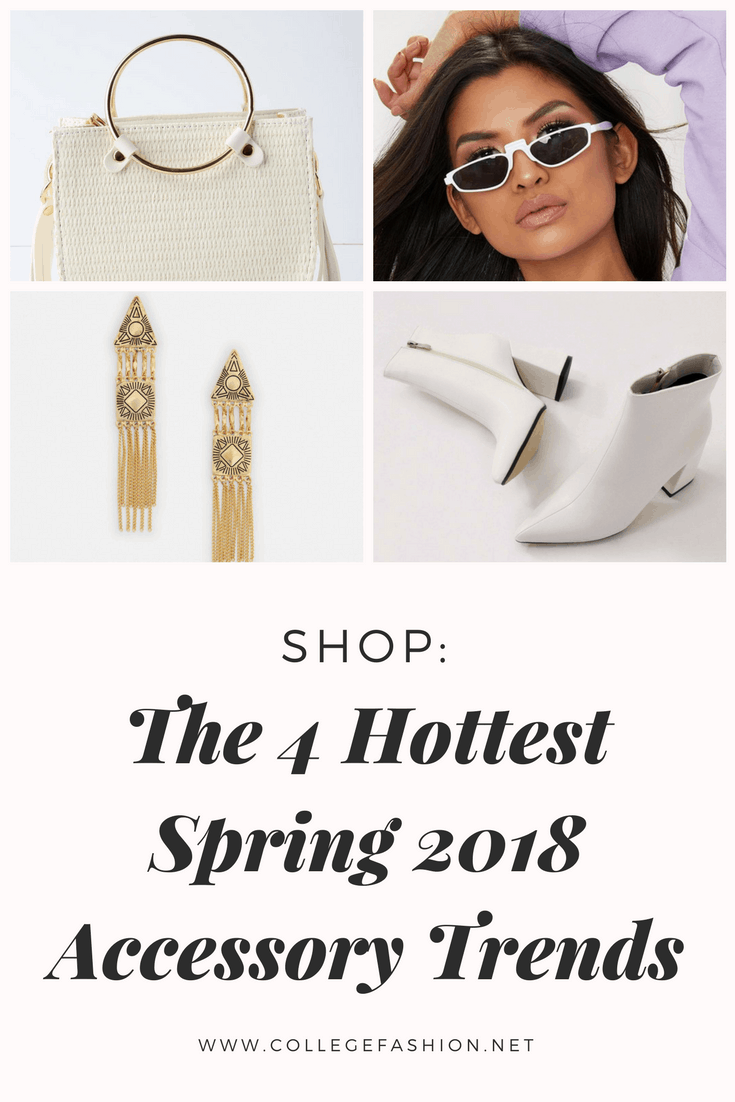 Spring is quickly approaching and I'm sure we are all ready for it! Warmer weather is almost here, summer break is closer than ever, and best of all it's the perfect time to add to your wardrobe and embrace all the fun spring 2018 fashion trends.
The winter months tend to put us in a style rut, so it's time to refresh and renew your look. And as every girl on a budget knows, the perfect way to change up your wardrobe without breaking the bank is the addition of statement accessories.
Below are four of the top Spring 2018 accessory trends that will transform your current closet.
'90s Small Frame Sunglasses
Oversized sunglasses have been the trend for the past few years, but this year we are doing the exact opposite! This season we are taking it back to the '90s with super small frames. Celebs like Aaliyah and Lisa Bonet rocked these frames decades ago and now they are here to shine again.
The bright colors and geometric shapes mean that there is a pair for every person and every outfit. Popping on a pair of these tiny frames gives you an instant "it girl" street style vibe.
Long Statement Earrings
The past year has been all about the simple oversized hoops. But now it's time to make a statement with your earrings. Spring 2018 will be full of long and bold earrings. This trend is perfect for the girl who wants to make a subtle statement with pieces featuring bright tassels (still trending from seasons past), mixed metals, and geometric shapes.
Even the simplest outfit becomes a little more glam with statement jewelry. Throw on a pair of these earrings with a sleek bun or pony for the perfect effortless glam look.
Straw Bags
I was hesitant about this trend at first. When many of us hear straw bags we think of picnic baskets, which doesn't sound like the most appealing accessory. However, this trend adds so much fun to an outfit. The straw materials allow you to play with texture, which is something that isn't common with typical leather handbags.
A straw bag is the perfect accessory for your spring break adventures and will carry over perfectly to summer!
White Ankle Boots
If there is one trend that is going to completely take over this season, it will be the white ankle boot. When Kaia Gerber strutted down the runway at Paris Fashion Week in this look, we knew this trend was here to stay.
When you think of a bold shoe, you may think of the bright red over-the-knee boots or a glitter stiletto, but few shoes turn heads like a pair of bright white booties. They are so simple, yet so bold and give off the perfect '60s mod vibe.
Pair these with a pair of cropped ankle jeans and a cute tee for the perfect casual slay.
What Did You Think?
Which trend was your favorite? Will you be trying any of them? What would you like to see next?