Around the time August rolls around, I start to get the itch. I scope out the September issues of all my favorite magazines, I start browsing for bargains at my favorite shops, I'm checking all my favorite blogs and Instagram accounts for inspo. My own wardrobe starts to feel stale, especially the stuff I wear to work (at this point in my life, I've developed a pretty solid ~werk~ uniform, but even I am not immune to the blahs). It's going to be fall soon, and fall means fall fashion.
I think the reason we're so primed to focus on fashion at this time of the year is that for the last 20 or so years of our lives, we do our back-to-school shopping, but once you enter the working world, it's not necessarily a given. So here's my secret – I do a little "back-to-school" shopping for myself, even now that I'm years out of school. It satisfies my itch for new clothes around this time while I refresh my wardrobe during the (arguably) most fashionable time of year.
This year's "BTS" trends are a little all over the place, if you ask me – from '80s throwbacks to holographic plastic to oversize errything to ski masks (??), all of which are going to be hard sells for even the most casual of offices. The good news is, there are a few solid trends that are perfect for freshening up any working woman's wardrobe, no matter what your style may be.
Oversize Bag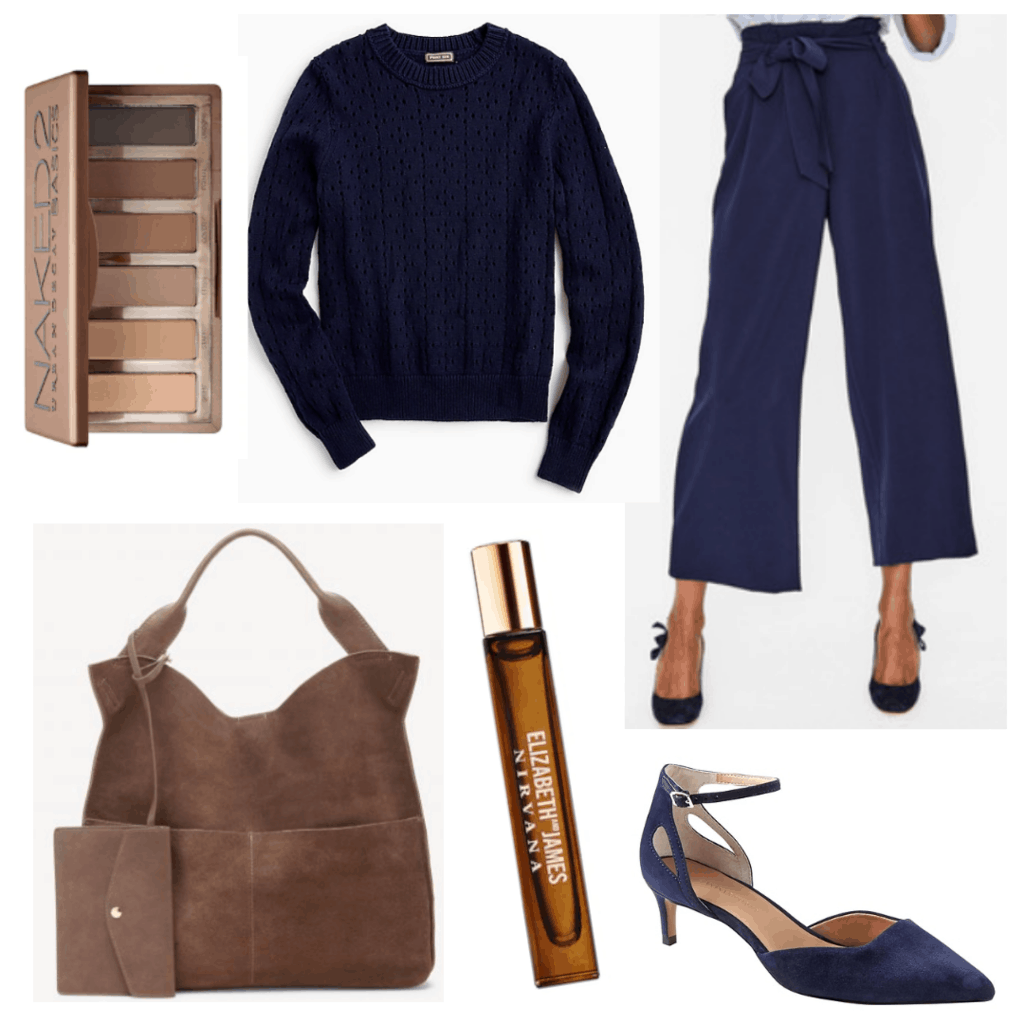 Products: Eyeshadow – Sephora, Sweater – J. Crew, Pants – Boden, Bag – Sole Society, Perfume – Sephora, Heels – Banana Republic
Okay, let's be honest, the oversized bag really never went away, but to see it on the runways of designers like Coach and Victoria Beckham is hella validating, right? Working girls don't have time to fuss with tiny purses when you have appointment books, laptops, and folios to lug around. Now is the time to splurge on a brand new oversize bag – try out a luxe neutral color, like the taupey-mauvey-mushroomy color here, or a texture that screams fall, like suede or snakeskin.
As a canvas for your brand new take-everywhere bag, try a monochromatic outfit of work staples like a sweater, paper-bag waist pants, and kitten heels, in a of-the-moment neutral like navy. Finish the look with a subtly sexy fall scent (I'm currently loving Elizabeth & James Nirvana Bourbon, because bourbon) and a subtle neutral smoky eye. This outfit is comfy and perfect for a mid-week moment.
Western Booties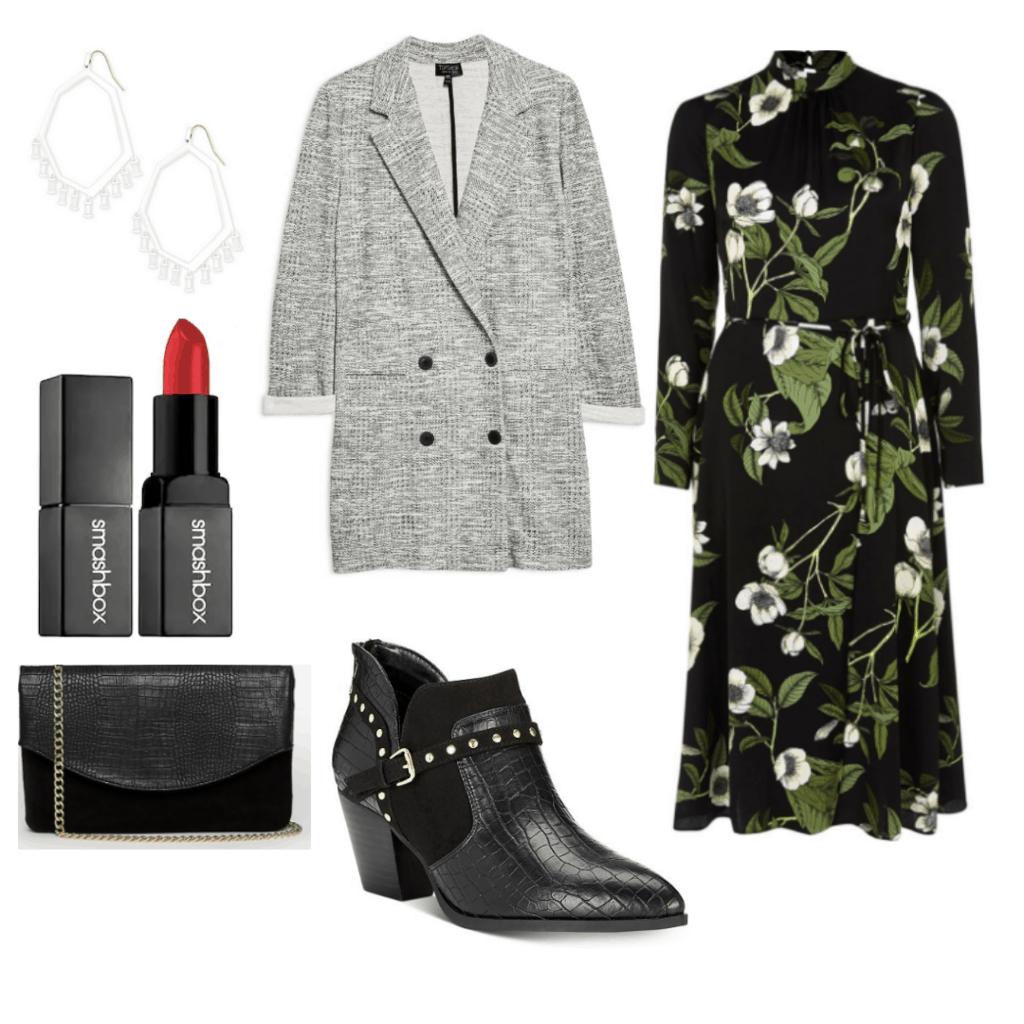 Products: Earrings – Kendra Scott, Blazer – Nordstrom, Dress – River Island, Lipstick – Sephora, Booties – Macy's, Bag – Express
Another trend that just won't quit is the western trend – after a few springs and summers full of embroidered denim, tassels, and tan suede, this fall again brought us prairie dresses and western booties. Though these trends can read very costumey to me, I love the look of western-accented booties, and I think they're the perfect thing to refresh one of your favorite staples – the black bootie.
Obviously, you can wear a black bootie with western accents with just about anything, but I love the look of low-slung booties with dresses – especially floral dresses. This high-necked dress is both modest and bold, with its large floral print but high neckline, and when paired with a tweed blazer it reads total boss. Fun geometric earrings bring a playful element, and a classic red lip brings in a touch of color.
'90s Plaid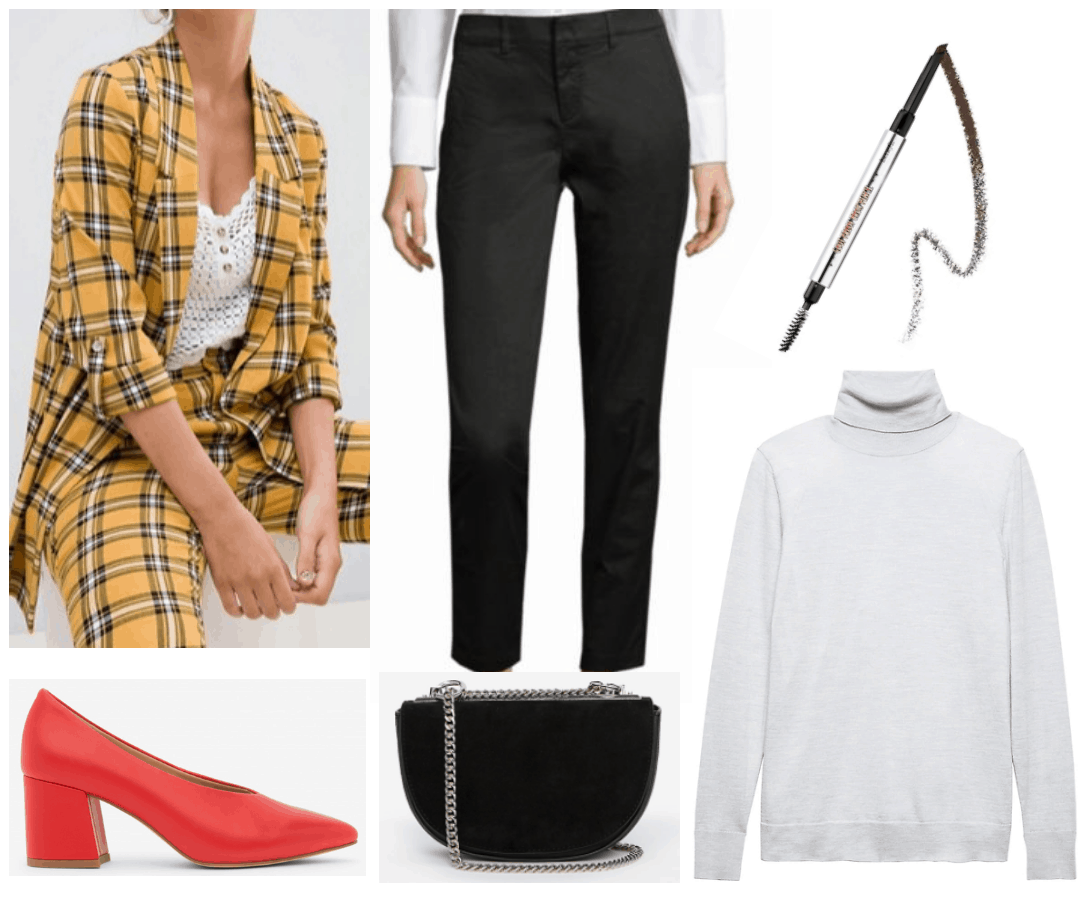 Products: Blazer – ASOS, Pants – Saks Off Fifth, Brow Pencil – Sephora, Heels – Matt & Nat, Bag – Express, Turtleneck – Banana Republic
You can pretty much always bet on seeing plaids on the runway when fall collections are shown, but who could have expected the re-emergence of this sunny yellow number, à la Cher Horowitz in Clueless? Versions of this plaid were seen at both Michael Kors and Versace, and they play nicely with a lot of the '90s trends that have been ruling the fashion set for the last couple of years now, including work staples like cropped pants, turtlenecks, and vintage-reading heels.
Since this plaid is so iconic and bright, keep the rest of your outfit fairly neutral – a cool gray turtleneck, black pants, and a black bag. A pair of red heels brings a classic counterpoint, while a big brow pays tribute to Cher herself – who you never saw without a pair of full, youthful, and shapely eyebrows. This is a perfect work look for a brainstorming meeting or a creative presentation, and it transitions seamlessly to dinner or drinks after work.
What do you think?
What are your favorite fall trends this year? What trends are you wearing work? How would you wear the trends we listed here? Let me know in the comments below!