Though necklaces are usually my go-to jewelry, this season I can't get enough of earrings. Namely, bold and colorful statement earrings, which just seem to scream "summer!!" (IMO, the more eye-catching they are, the better.)
This week, I've rounded up 10 of my favorite earring pairs for summer 2017. Whether you prefer studs, drops or hoops, I've got ya covered. Scroll down to see them all:
1. Blue Ombré Drops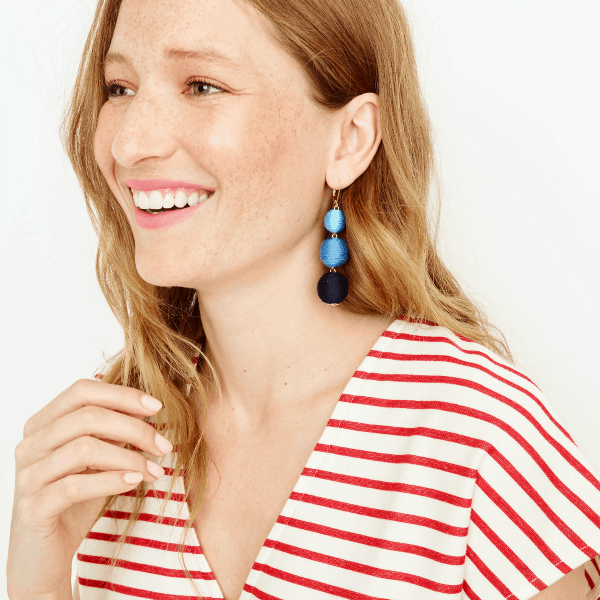 $17.50 at J.Crew Factory
Featuring blue hues, these earrings remind us of ocean waves and summer skies. Try styling them with denim shorts or a chambray dress for a chic, tone-on-tone look.
2. Pineapple Stud Earrings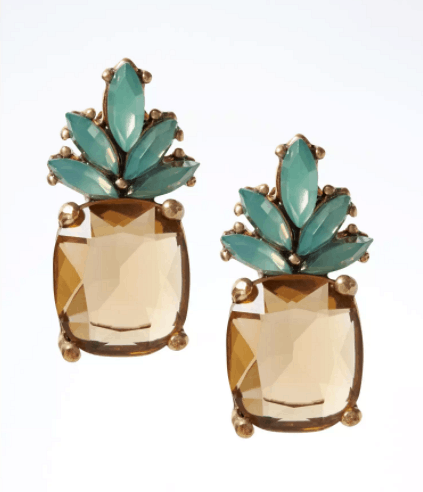 $28 at Banana Republic
Get in on the fruit-inspired fashion trend with these bejeweled studs. We'd totally wear them poolside while sipping a piña colada and dreaming of tropical vacays.
3. Beaded Square Drop Earrings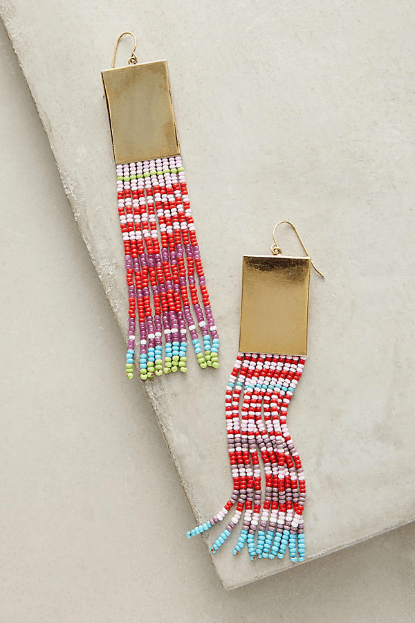 $29.95 (on sale!) at Anthropologie
A little contrast can be a very cool thing, like this blend of shiny metal and colorful seed beads. Style these drops with a printed sundress and sneakers for an adorable summer outfit.
4. Geometric Stud Earrings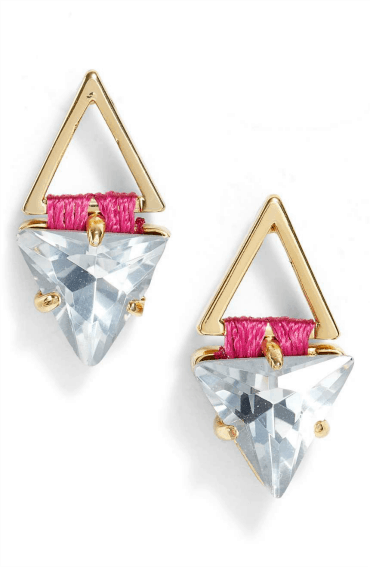 $48 at Nordstrom
The sharp lines on these earrings offer a sleek, contemporary take on your typical studs. Factor in that hint of fuchsia, and you've found a fab pair of earrings for this season and beyond.
5. Hammered Disc Tassel Earrings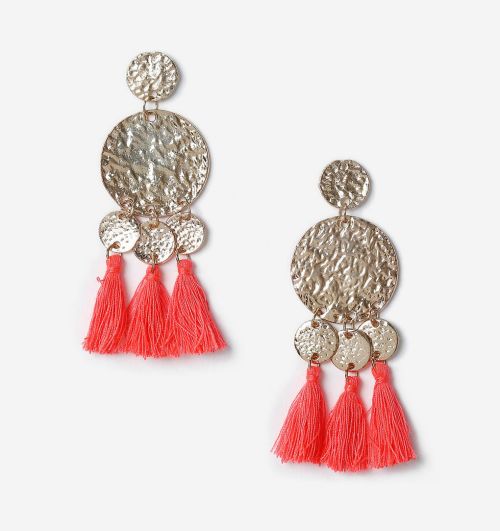 $18 at Topshop
Boho-cool and festival-ready, these earrings combine texture, color and shine to create a bold, attention-grabbing accessory.
6. Turquoise Stone Hoop Earrings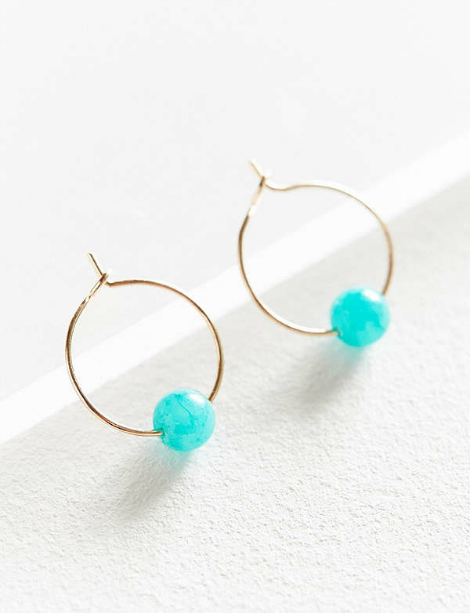 $12 at Urban Outfitters
If you're a minimalist at heart, these hoops are for you. Vibrant turquoise-colored beads provide the perfect pop of color.
7. Yellow Fringe Earrings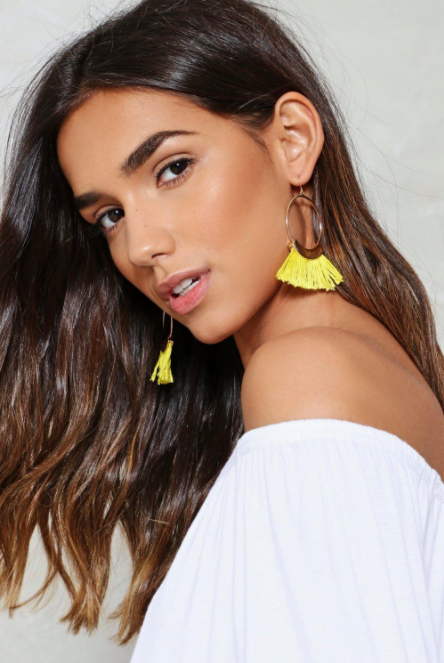 $10 at Nasty Gal
Summer weather calls for sunny yellow accessories, like these fringe earrings. And that price?! Can't be beat.
8. Sushi Stud Earring Set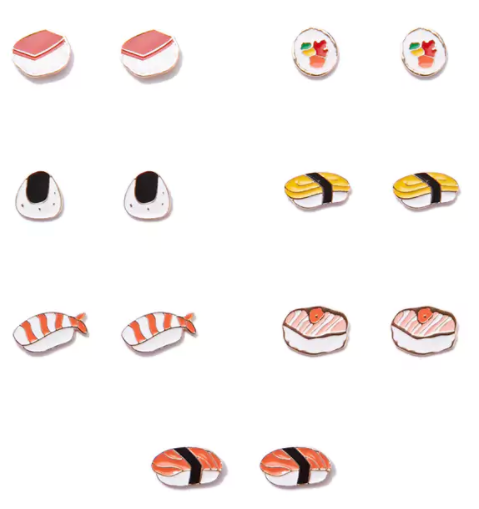 $8.90 at Forever 21
This set is for all my fellow foodies out there. Mix and match these earring pairs, and know that everyone will want to take a closer look at your lobes.
9. Pom Pom Drop Earrings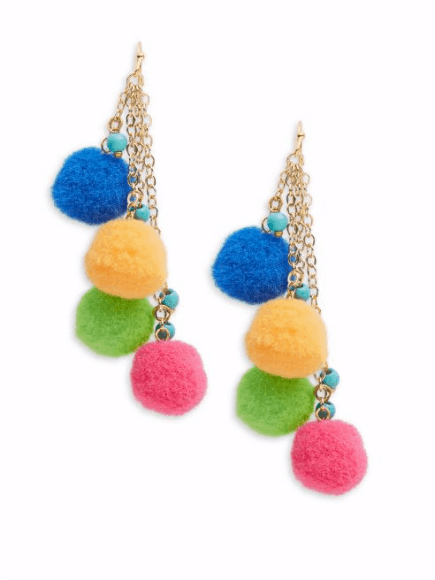 $18 at Lord & Taylor
These fun and flouncy earrings are definite statement makers. We say pair 'em with neutrals to truly make them the centerpiece of your summer ensemble.
10. Multigem Drop Earrings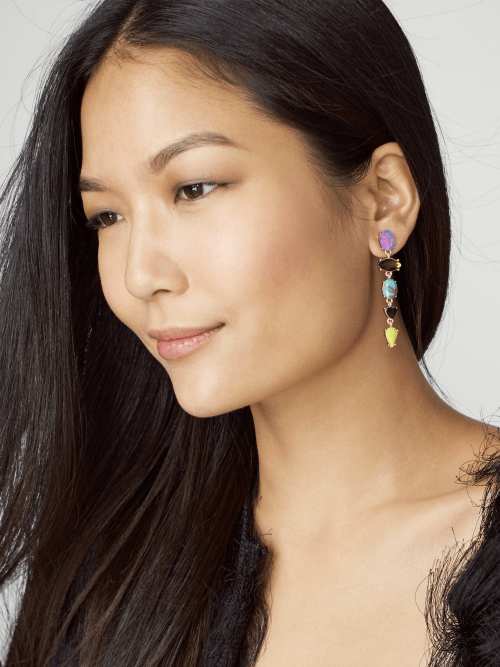 $32 at Baublebar
Spice things up with this bold mix of (faux) gems. Eclectic and oh-so-cool, they'll be your go-to pair for a night out… and daytime, too.
11. Snake Stud Earrings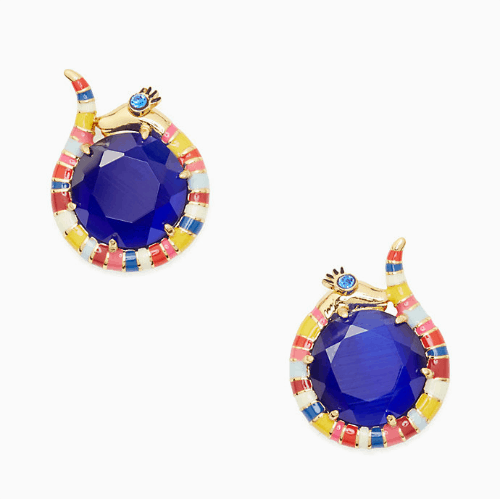 $48 (on sale!) at Kate Spade
Slither into chic with these whimsical Kate Spade studs. They're just the thing to accent an off-the-shoulder blouse and sandal combo.
12. Tassel Hoop Earrings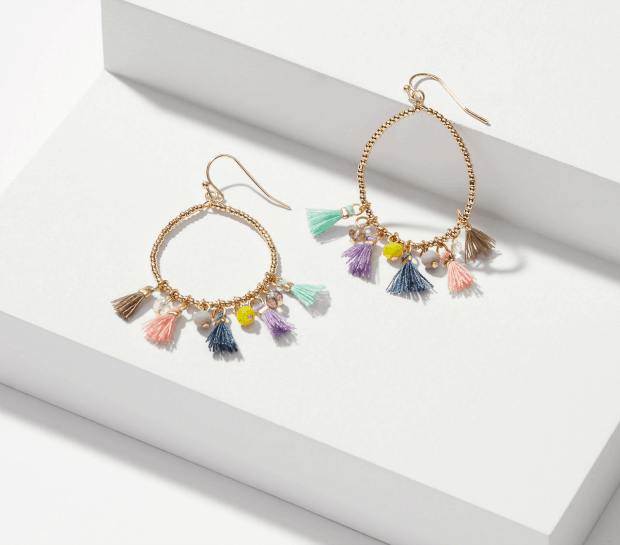 $24.50 at LOFT
As you might have guessed, tassels and pom poms are major trends this season, and these drop hoops combine the two for a pastel-hued, fashion-forward look.
Your turn!
Which earrings are your favorite? Are you into bold earrings, or do you prefer a more subtle look? Would you like to see more posts like this? Let us know your thoughts by dropping a comment below.