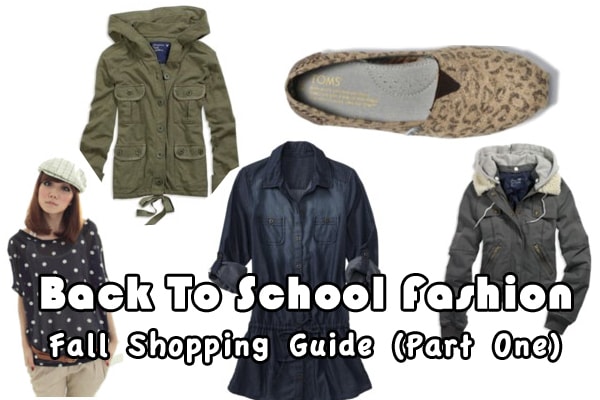 It's that time of year again… say goodbye to beach days and road trips and hello to club lib and some serious quality time with your physics book. That's right… school is back. (Woo…) But have no fear, there's still a bright side to back to school- fall fashion follows. (WOO!)
Want to know what will be hot in the months to come? Well wonder no further, because I have compiled a list of "it" items for fall and winter 2010. So whether you're looking for a new jacket, blouse, or pair of shoes, you'll know what to look for at your favorite thrift store or at the mall. Interested? Read on!
1. Army Jackets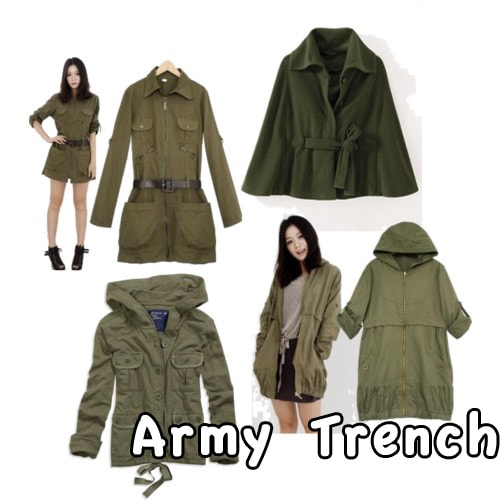 (Belted, Capelet, Button Up, Zippered)
Army jackets were all over the runways for fall and you can be sure that you'll see them at the mall and on campus this winter.
Army jackets are great because they're warm but not too heavy, and come in a variety of styles: Whether you want a long one, short one, or something in-between, you'll be covered for winter (literally). Another thing I love about this trend is its accessibility. While you can always spend a lot in department stores or malls, you can also find these gems for cheap at thrift stores (always fun).
2. Assorted Warm Jackets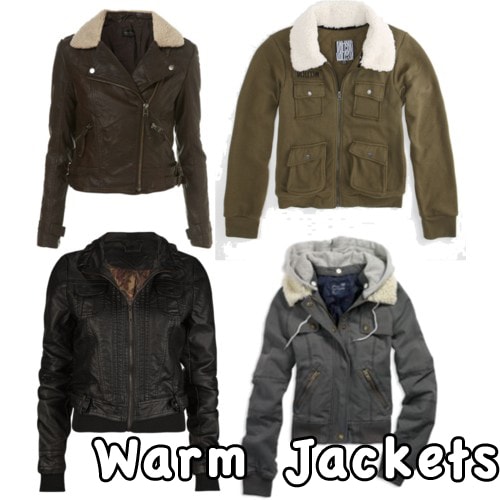 (Brown Leather, Shearling Lined Bomber, Leather Jacket, Hooded Bomber)
Obviously since Fall means colder weather, you're going to need a warm jacket that you can throw on easily. Well lucky for you, this fall there are plenty of different styles out there for every taste.
Bomber jackets are a hot style for fall- whether in leather or faux leather, shearling-lined (a la Burberry F/W 2010) or not, a cute bomber will give you style points AND keep you warm through fall. Also, leather jackets in general will be big this fall, but instead of the whole "studded" thing that we saw last fall, we'll be seeing simpler, more straightforward cuts and styles.
3. Chambray Shirts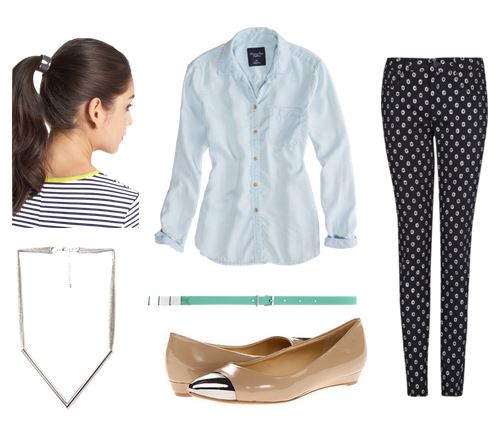 (Light Blue, Dark Blue, Drop Waist)
If you love cardigans, you'll love chambray shirts. Light, flowy, and perfectly Americana-chic, they can be worn alone or layered up like cardigans.
Chambray shirts are great for lazy days because they're easy to throw on over anything. Or you can wear them alone: all you have to do is throw on a long, loose one with a pair of tights and you're totally channeling Jackie O and Audrey Hepburn. Even better, like the army jackets above, thrift stores have these babies up the wazoo, so before you go hunting for them at the mall, check out your local goodwill – I guarantee you will find one for cheap.
4. Animal Print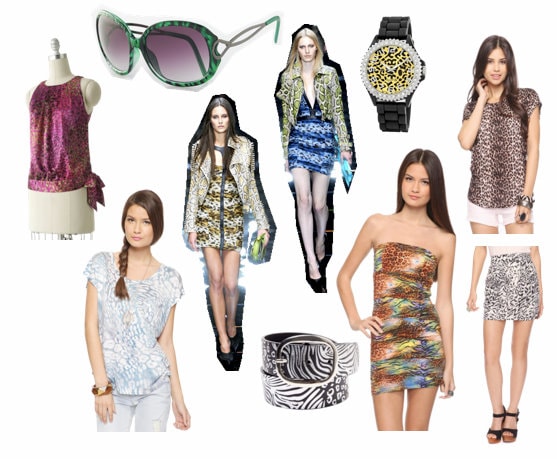 (Bow Skirt, Toms, Cardigan, Wedge, Skirt)
Reow! Animal print is back and still as catty as ever. Whether you're a white leopard kinda girl or a cheetah sister, you'll have plenty of hot prints to suit up in this fall.
Just be careful with this trend – when it comes to wearing animal prints, there is a thin line between classy and trashy. (See our guide to wearing leopard print for dos and don'ts!) If you want to play it safe, let the animal prowl on one part of your outfit only, be it on your shoes, your skirt, or your top. But at the same time, if you want to go wild, go for it- it's only fashion, after all.
5. Polka Dots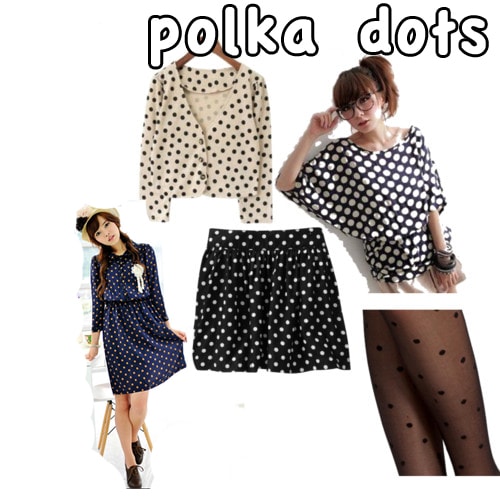 (Cardigan, Skirt, Black Tunic, Blue Dress,Tights)
All you Minnie Mouses out there will be happy to hear that polka dots are back this fall! And I for one am psyched! Big or small, black and white or colorful, these adorable dots are way too cute to not wear.
To pull off this pattern, just follow the same rules you learned for animal prints. Pick one polka dot place and let it be the focus of your look. Too many polka dots in one outfit will look costume-y and silly. So wear polka dots on your hair accessories, your shirt, your skirt, or even your tights! Just don't wear them everywhere at once.
Thoughts?
This is only part one of my list, so check in next week to see even more hot trends for Fall 2010!
Now I want to know – what do you guys think so far? What are your favorite trends for fall? Will you be wearing any of this stuff? Where are you going to shop for your fall clothes? Have you already done your fall shopping? Whatever your thoughts, let me know in the comments!