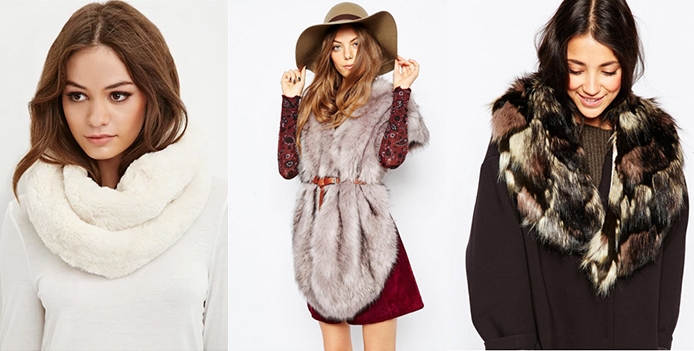 I have a confession to make: This is the point in the semester where I start phoning it in when I'm getting dressed for class. And while I enjoy the ease of my go-to outfit combos, I've found myself forgetting what it's like to have fun with what I wear.
Therefore, I decided to buy a new accessory for days when I'm too tired to stretch my sartorial imagination. Enter the faux fur scarf: Affordable and cozy, it's an easy way to upgrade an outfit by making it look more complex than it actually is.
Below, I have created four ways to wear a faux fur scarf (#4 features plus-size items). Don't worry if you're on a budget — all four looks ring in at under $100 (and include items you may already own).
Look 1 – $97.86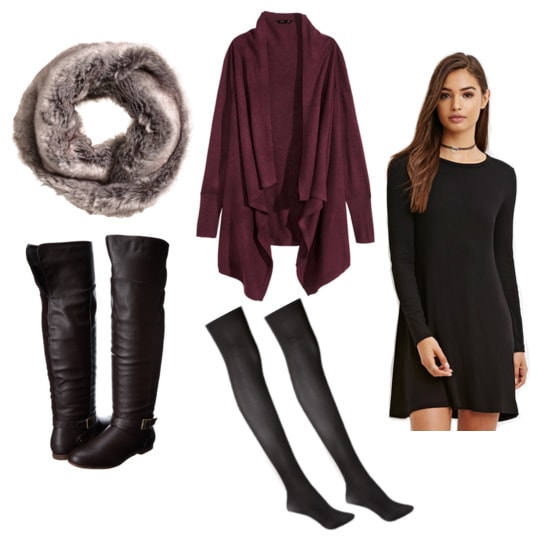 Products: Scarf, Boots, Dress, Cardigan, Tights
If your style leans toward luxe, opt for deep jewel tones and soft layers with this draped burgundy cardigan over a simple black dress. The faux fur and slouchy knee-high boots add sophistication while tights protect your legs from the cold.
Look 2 – $92.78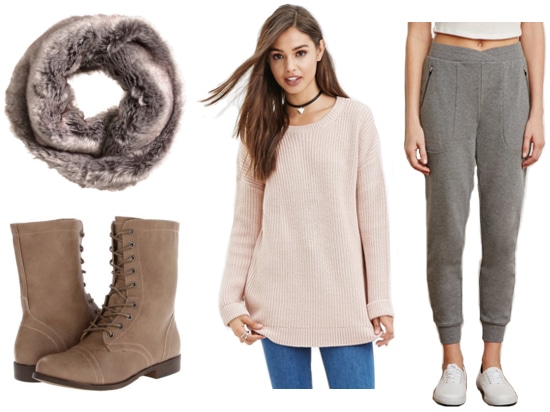 Products: Scarf, Sweater, Joggers, Boots
I saw this outfit on a guy the other day, but it's great inspiration for any lady. This student mixed long, lean layers in neutral tones with utilitarian boots, and the proportions reminded me of outfits I'd see in France.
An oversized sweater, slim-cut joggers, and flat boots are perfect for days when you can't be bothered but don't want to wear the same combination as the last five days in a row. The faux fur serves as a fun (if not a little showy) topper.
Look 3 – $95.87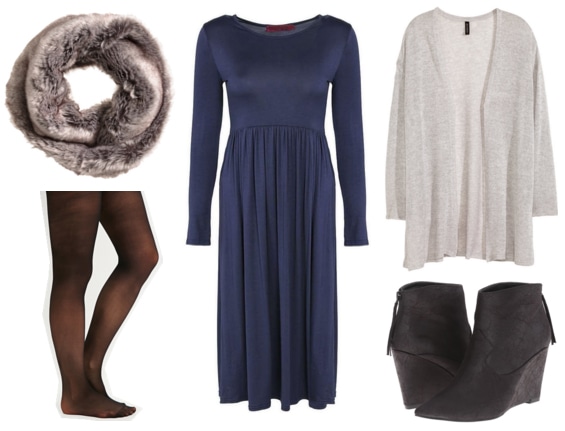 Products: Scarf, Dress, Tights, Boots, Cardigan
If you pair a midi dress with black wedge booties, you get cool edge without sacrificing comfort. Double style points if you layer on black knee-high socks. Throw on black tights and a long film cardigan for a boho vibe, or accessorize with just the faux fur scarf for an eclectic look.
Look 4 – $99.87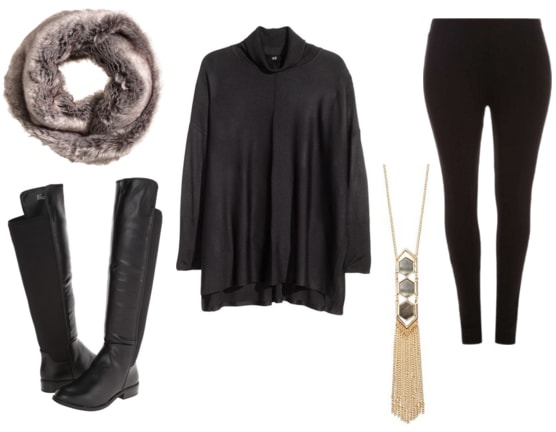 Products: Scarf, Sweater, Leggings, Boots, Necklace
Let the scarf be the centerpiece with an all-black ensemble. Layer a long black turtleneck sweater over high-waisted leggings, and for warmth, pull on knee-high paneled black boots. Under the scarf, add some glitz with a gold geometric necklace. Sunglasses, a gamine haircut, and fatalistic film noir dialogue are optional.
What do you think?
What did you think of these looks? Would you try faux fur? What other textures/trends are you thinking of trying? Let us know in the comments below!