This post may contain affiliate links, which means we may receive a commission if you purchase through our links. Please
read our full disclosure here
.
With about a month left before some of us start heading off to college, enjoying summer weather while you can is more important than ever. If you're in search of the perfect beach day, here's my list of the top 10 seaside must-haves, from amazing swimwear to fabulous beachside reading.
Oh, and if there's no beach where you are this summer, don't worry! This list works just as well for the pool (with the added benefit of no annoying sand in your bikini)..
The 10 Beach Day Essentials:
1. An amazing bathing suit.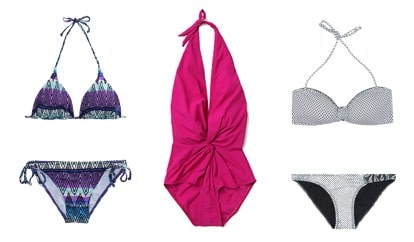 Product Information (from left): Billabong Bikini ($80 total) – Pacsun.com, Outeniqua One-Piece ($198) – Anthropologie, Volcom "The Mixer" Bikini ($74.98 total) – Tilly's
Perhaps the most important piece of any beach ensemble, a flattering swimsuit is SUCH a summer essential. The right one will cover you up in the right places, showcase your best assets, flatter your skintone, and make you look hot! If you still haven't found the right one, don't worry!
For tips on choosing the best bathing suit for you, read How to Buy the Best Bathing Suit for Your Body Shape.
Once you know what you're looking for in your swimwear, check out my picks for cute bikinis as well as my list of this summer's hottest tankinis, monokinis, and one-pieces.
2. Sunblock, sunblock, and more sunblock.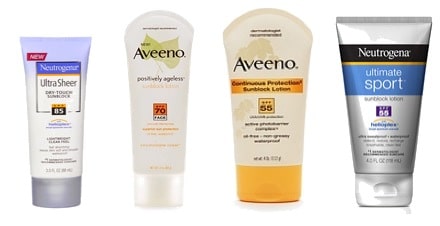 Product Information (from left): Neutrogena Ultra Sheer Dry-Touch Sunblock SPF 85, Aveeno Positively Ageless Sunblock Lotion SPF 70, Aveeno Continuous Protection Sunblock Lotion SPF 55, Neutrogena Ultimate Sport Sunblock Lotion SPF 55 – all available at drugstore.com
Alright, I have to admit it – this one is even MORE important than the right bathing suit! Sunblock is THE most important summer beauty product and wearing it is non-negotiable on a beach day.
For sun protection that's good for your skin, I recommend picking up two different types of sunblock – one for your face and one for your body. This is especially important if you're acne prone – some body sunblocks can clog pores & cause breakouts. I had the chance to try out some of Aveeno's new sunblocks, and they've quickly replaced my old bottle of Coppertone. Neutrogena makes some great sunscreens I love as well.
Remember: always wear at least an SPF 30 anytime you're in the sun. It will help prevent wrinkles and skin cancer. If you want to get a tan this summer, sunless tanning is the only way to go. For tips on getting a perfect faux tan, see College Fashion's Guide to Self Tanners.
3. A cute coverup.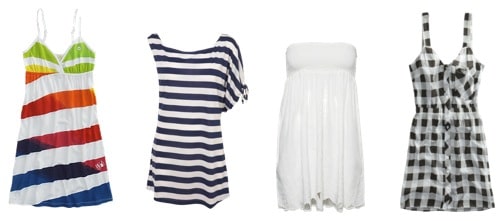 Product Information (from left): Billabong Brights Cover Up Dress ($29.50) – Pacsun.com, One Shoulder Stripe Cover Up – TopShop, Shirred Bandeau Cover Up – TopShop, RVCA Clover Cover Up Dress ($49.50) – Pacsun.com
You've got your bikini and your sunblock… but what do you wear on top of it all? A cute beach coverup is the perfect thing. Just throw it on over your bikini, add some sandals, and you're good to go. No accessorizing or strategizing required. Perfect for those days when you don't want to put much effort in but still want to look cute.
If beach coverups aren't really your thing and you want to get more creative with your beach outfits, check back here tomorrow for some stylish beach and pool outfit ideas.
4. A colorful beach towel.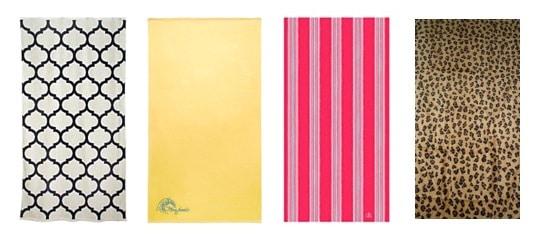 Product Information (from left): Summer Oasis "Ogee" Beach Towel ($10) – Dillard's, Marc Jacobs Beach Towel ($39) – Marc by Marc Jacobs, Lauren Ralph Lauren "Batik Stripe" Beach Towel ($10) – Dillard's, Leopard Beach Towel – Character's Outlet
I love buying cute beach towels because they're inexpensive and fun. Plus you really get more use out of them than you think, and it's nice to have different ones for each day if you'll be vacationing at the beach for a week.
Also, I recommend trying to find an extra large beach towel (the Marc by Marc Jacobs one above is wider than normal towels). This way, you have more room to stretch out and less of you touching the hot sand on a scorching day.
5. Sunglasses.

Product Information (clockwise from top): Blues Brothers Wayfarer Style Sunglasses ($2.25) – Amazon.com, Future Flat Top Sunglasses ($15) – TopShop, Matt Neon Heart Sunglasses ($25) – TopShop, Cindy Sunglasses ($12.50) – dELiA*s
Do I really need to spell out the many reasons sunglasses are amazing? Well, alright: Shield your eyes from the sun's rays while flattering your face, accessorizing your outfit AND concealing any dark circles or tired eyes you may have from a late night out. Seriously, what's not to love about sunglasses?
If you want to find sunglasses that will look the best on you, check out How to Buy Sunglasses that Flatter Your Face.
6. A beach bag.
Product Information (from left): Paula Convertible Beach Tote ($14.99) – dELiA*s, Jacobs by Marc Jacobs Mesh Beach Bag ($9) – Marc by Marc Jacobs, Nike Canvas Beach Tote ($39) – Nike.com, Tote Beach Nylon Tote Bag ($12.99) – Amazon.com
Why bring your favorite leather bag to the beach and risk runing it when you can tote around a cute beach bag instead? There are so many cheap and cute options out there that there's no excuse not to own one.
Here's a quick tip: I personally picked up the exact Marc Jacobs beach bag pictured above for ONE DOLLAR on sale at a Marc by Marc Jacobs store this past weekend! If you have a Marc by Marc store near you, I highly recommend stopping by and seeing if they have any totes left. So cute and perfect for the beach.
7. Sandals or flip flops.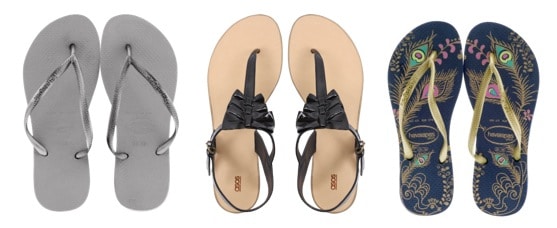 Product Information (from left): Havaianas Women's Slim in Silver ($22) – Piperlime, Three Bow Flat Sandals ($24) – Asos, Havaianas Women's Slim Peacock in Navy Blue ($22) – Piperlime
When you think about going to the beach or pool, sandals and flip flops are the only acceptable footwear choice! Show off your cute pedicure with a pair of trendy gladiator sandals or metallic Havaianas (the comfiest flip flops EVER). The best part about wearing sandals to the beach? They're easy to slip off and carry around when you want to dig your toes into the sand.
8. Waterproof Mascara

Product Information: Maybelline Full N' Soft Waterproof Mascara – drugstore.com, Benefit Bad Gal Lash Waterproof Mascara – Sephora.com
Waterproof mascara is so important if you're going to be at the beach all day and are even considering stepping in the water. Benefit Bad Gal Waterproof mascara and Maybelline Full N' Soft waterproof will both last all day and won't run down your face if you decide to splash around in the waves. It's true – I've tested them both!
Just be sure to have some eye makeup remover on hand if you decide to wear waterproof mascara. I've found that even regular soap and water usually won't be enough to get it off at the end of the day! Sleeping with eye makeup on is no good.
9. Something fabulous to read.
What beach day would be complete without a great book?
There are so many fabulous reads to choose from this summer, but I'm always a fan of a good fashion or style-related book. For a list of some great fashion books, see The Top 5 Must-Read Fashion Books.
If you've read all the books featured above or just want even more summer book ideas, check back later this week for a list of newer fashion books that would make some great beach reading.
10. A water bottle.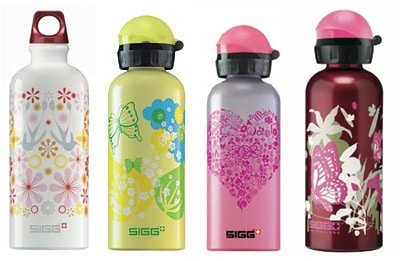 Product Information: Sigg Bottles, all available at MySigg.com
It's easy to get dehydrated out in the sun, and it's so important that you drink enough water when you hit the beach!
Skip the store-bought plastic bottles of water. First of all, they're bad for the environment. Second of all, the chemicals leached from the plastic may increase your risk of breast cancer! If that's not enough to get you to stop, I don't know what is. Instead, sip from an environmentally friendly reusable aluminum bottle. Sigg makes some great ones with pretty designs and color-coordinated lids.
Your Thoughts?
You've seen my beach day must-have's. Now I want to know.. What are your summer beach essentials?