This name might be new to some of you, but if you follow instagram fashion influencers and spend time watching youtube 'hauls', chances are you've came across Sayeh Sharelo before, or Sayehfbaby, as she is known on Instagram.
The Vancouver based fashion influencer is a fashion Youtuber and Instagrammer, and she also has a makeup Instagram account, as well as doing makeup tutorials and vlogs.
If you have a look at her instagram, you'll quickly realize she is obsessed with sneakers and has a really cool sporty vibe! She even was the subject of an article profile entitled "Female sneakerhead." Indeed, this description is apt. Her Instagram photos' background is literally a wall with the tons of shoes she owns — goals!
Sayeh's style is eclectic. She can be seen wearing thigh high boots and a bodycon dress one minute, and sneakers with an oversized hoodie the next. What always stay constant though, are the girly touches she adds to her outfits. She always has colorful nails, fabulous makeup, and when she goes for an all black outfit she'll usually add a touch of color with a bag or hair accessories.
Because she's known to rock designer pieces, I decided to look for some budget-friendly versions of Sayeh's fabulous outfits. (Be sure to subscribe to Sayeh's Youtube channel for exact details on her outfits, though!)
Keep on reading to discover 3 outfits inspired by Sayeh Sharelo's style:
Outfit 1: All Black Everything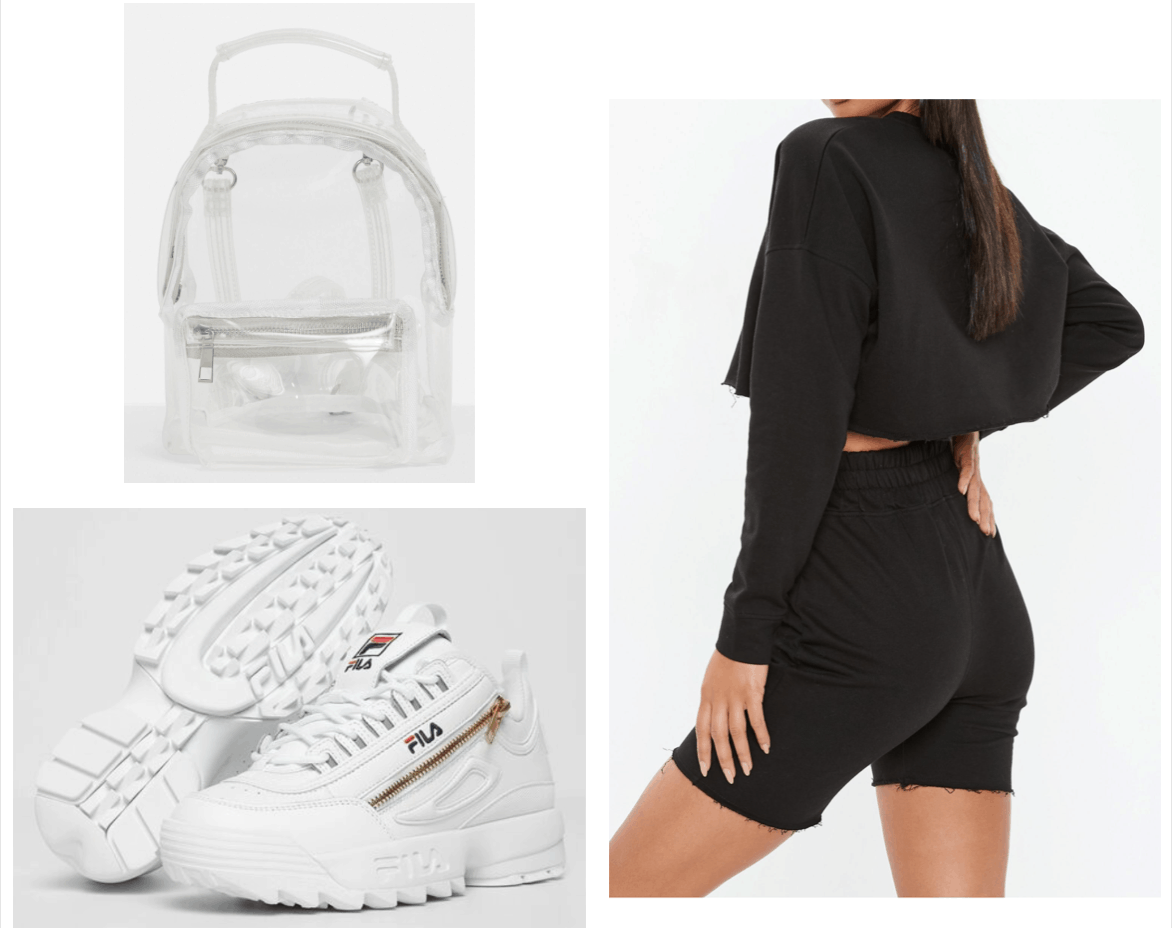 Products: Black 2-Piece Set – Missguided, Clear Backpack – Missguided, Sneakers – Fila
For this first outfit, I decided to go with that I would say is a classic on Sayeh's instagram. It's an athleisure outfit featuring every influencer's favourite sneaker, the Fila Disruptors, a black crop top and cycling shorts set, and a clear backpack.
This is such a great outfit because it combines this season's biggest trends, while still being comfortable and easy to wear!
Outfit 2: Classy Night Out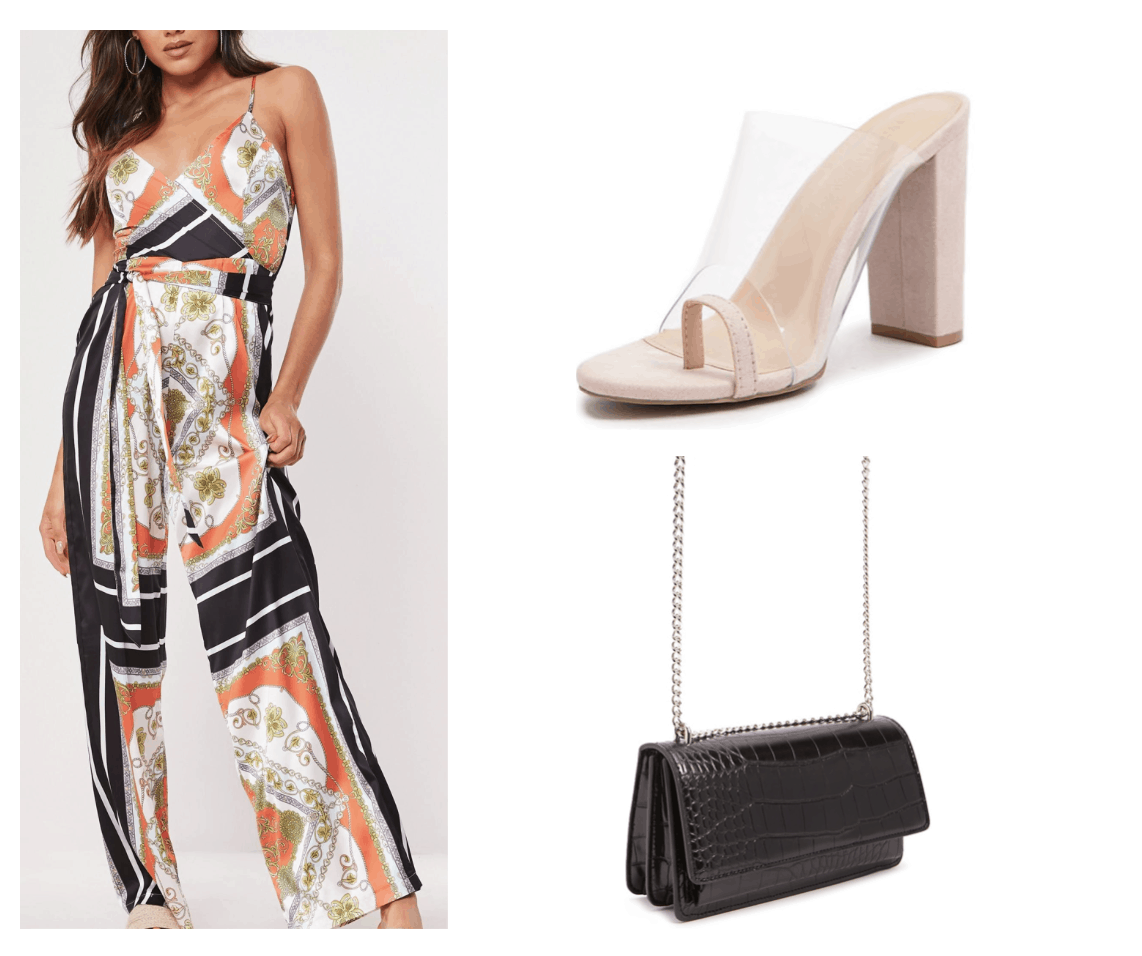 Products: Jumpsuit – Missguided, Heels – Forever 21, Bag – Forever 21
If you have a look at Sayeh's instagram feed, you'll see she loves to dress up for dinner or drinks. I had that in mind when I created this outfit composed of a print wrap jumpsuit, a black faux croc leather bag, and these transparent heels.
Again, it's still a comfortable outfit to wear, that is perfect for fancy drinks or dinner with friends.
The shoes are a bold choice, but Sayeh is a fan of these kind of shoes, and if you're still not convinced, browsing her instagram will show you that she definitely makes these shoes work!
Outfit 3: Sunday Brunch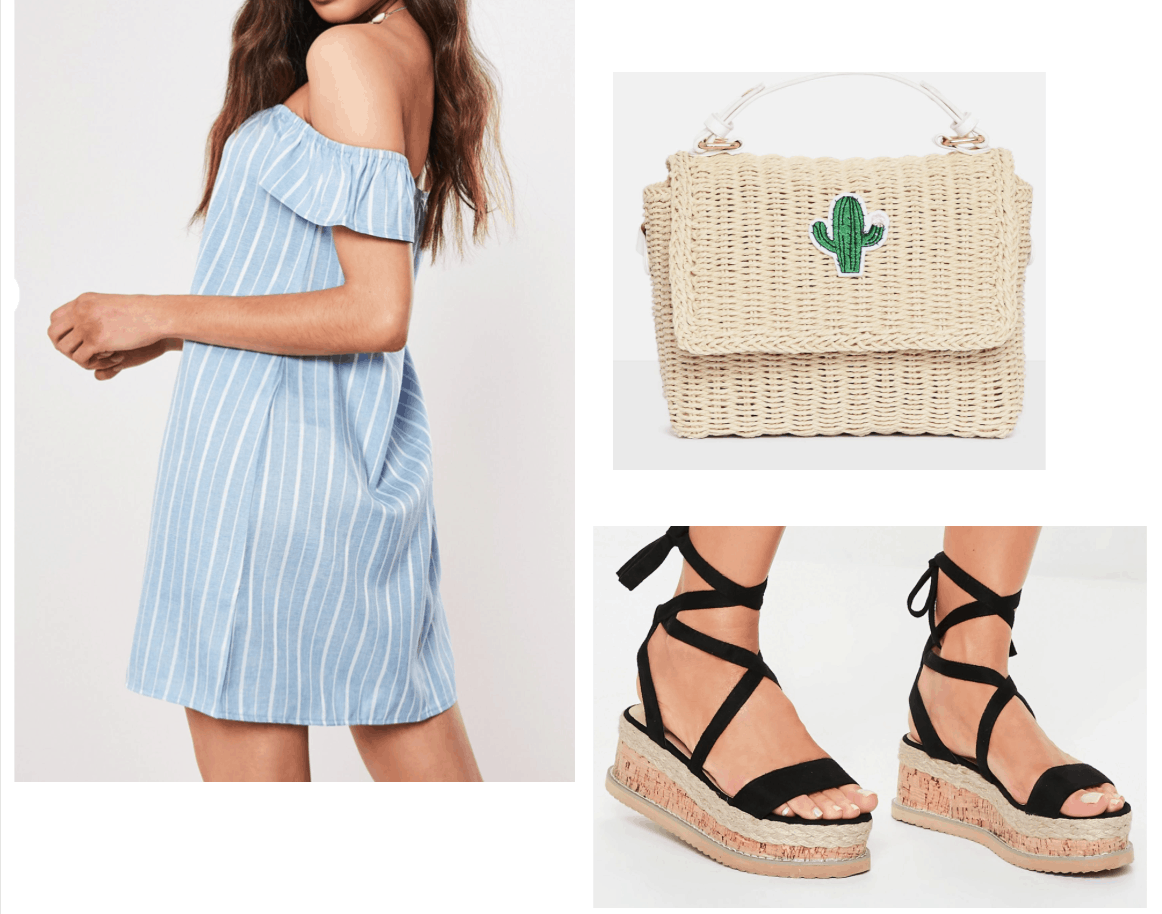 Products: Dress – Missguided, Heels – Missguided, Bag – Missguided
For this last outfit, I wanted to go for a cute yet casual vibe, which is definitely Sayeh's style. (That is, when she wants to switch it up from her usual sneakers and hoodie uniform.)
It's a perfect outfit for a Sunday brunch or family gathering for the spring weather. Since Sayeh is really into quirky accessories, I decided to add this cactus cross body bag to make this outfit a little bit more fun!
What do you think of Sayeh's style?
Have you heard of Sayeh Sharelo before? What is your favorite outfit? Are you following Sayeh yet? (If not, follow her her fashion Insta, her makeup Insta, and be sure to subscribe to her Youtube channel.) Let me know in the comments section, I'd love to know!