The "Fabulous Find of the Week" column gives you the heads up on all the hottest, most affordable items at your favorite stores!
For this week's Fabulous Find I have an amazing piece that is both incredibly affordable and beautiful, namely a rose gold watch. You might be thinking… who needs a watch these days? Indeed, with smartphones at the ready, most people don't wear watches as much as they used to — and that's a shame.
While they are no longer the main method of keeping time, watches remain elegant statement pieces that always add extra sophistication to your outfit. I love watches and firmly believe that they ought to still be worn and celebrated in our modern world.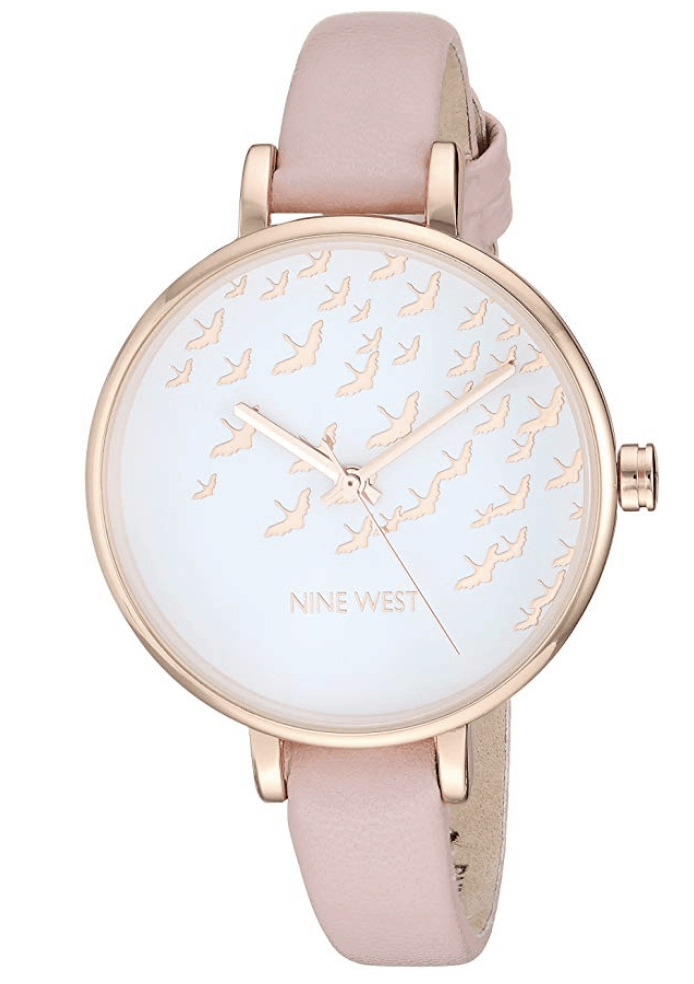 Take a look at this STUNNING piece: It's a Nine West watch that has a beautiful bird design with a crystal lens and Japanese quartz.
I know what you're thinking: this must cost a fortune! Not so. This gorgeous watch is only $36.75 on Amazon! For a watch that you'll wear forever, it's an amazing deal. For you Prime members that also means free shipping. (For those of you who aren't Prime members I definitely recommend signing up for Prime Student, Amazon's discounted prime service for college students!)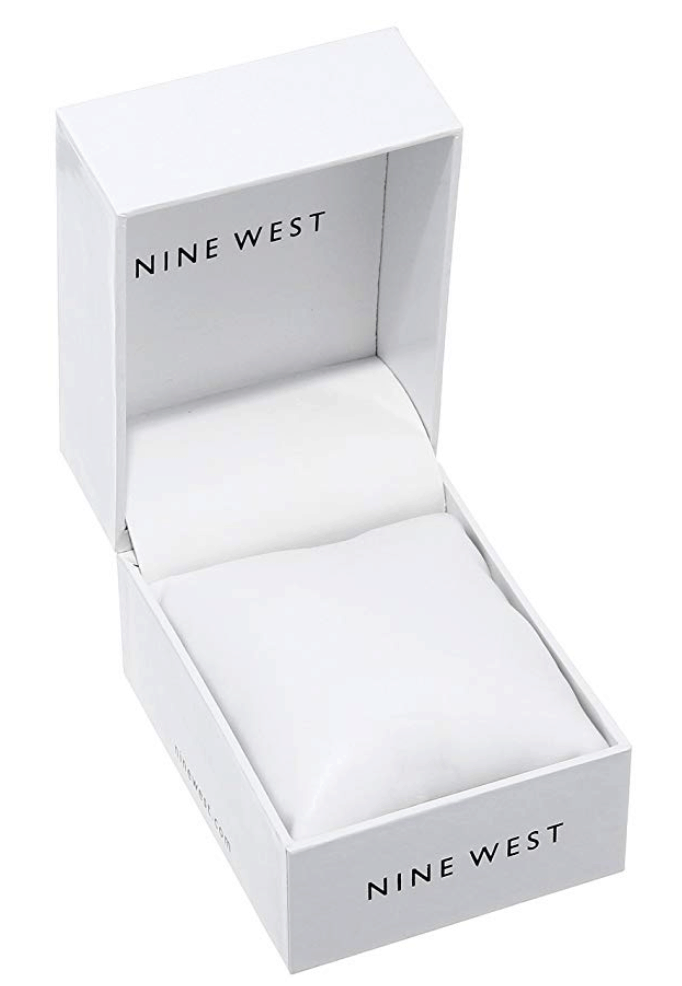 I'd also like to add this the watch comes with this cute box! It'll be an awesome place to store it when you're not wearing it. Not to mention that it is very elegant. Rest assured your watch will always be well taken care of.
Now, for the outfits — here's how I'd style this pretty rose gold watch:
Rose Gold is Always Appropriate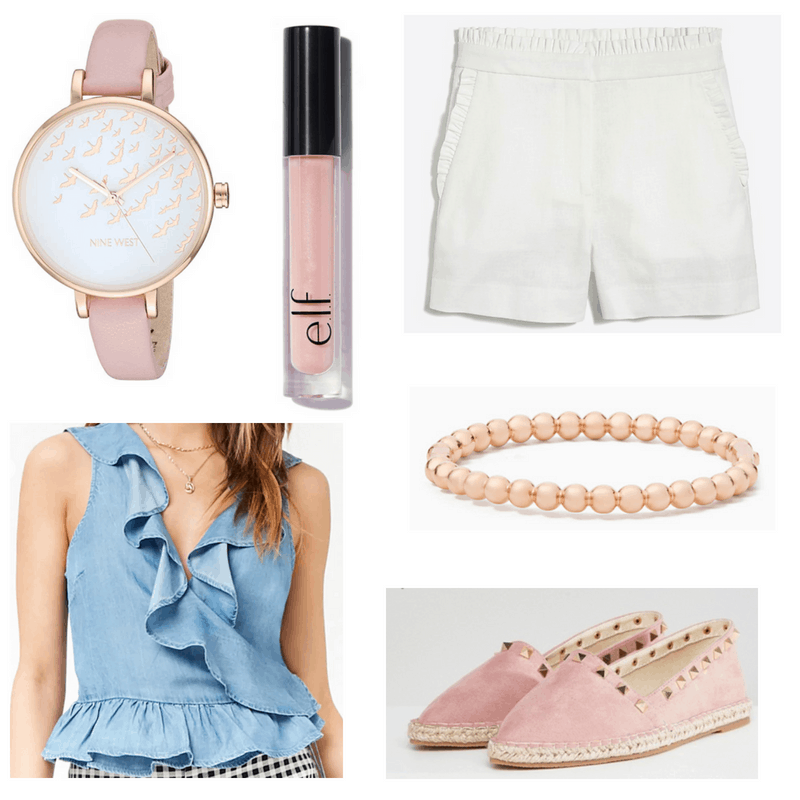 Products: Espadrilles – ASOS, Shorts – J.Crew Factory, Watch – Nine West (Amazon), Lipgloss – elf, Top – Forever 21, Bracelet – Kate Spade
To me, a pop of rose gold is the perfect way to make any outfit more interesting. For instance, in this simple white shorts and denim top outfit, the accessories make all the difference. I love both the high-waisted shorts and the denim top. The simple, clean cut of the J.Crew Factory piece pairs perfectly with the ruffle peplum Forever 21 stunner.
I love the espadrille shoes. ASOS is by far my favorite place to get them! Not only are they incredibly well-priced but they are so comfortable. I own several pairs myself and they are durable and last a long time! You can get them in simple styles or with fun prints or embellishments, so you're sure to find something to fit your aesthetic.
Tulle Me Not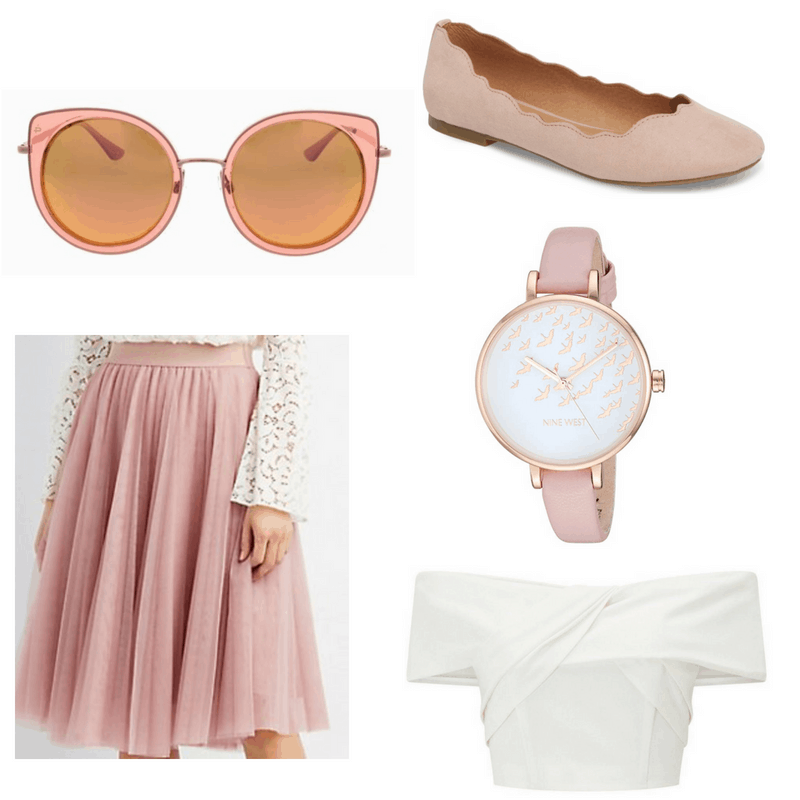 Products: Sunglasses – Privé Revaux, Watch – Nine West (Amazon), Skirt – Charlotte Russe, Flats – Athena Alexander (Nordstrom), Top – Miss Selfridge
I love tulle — from tulle dresses to skirts, I'm a fan of just about anything made from this amazing material. It is girly, fun, and moves beautifully when you walk. So naturally, I adore this beautiful skirt from Charlotte Russe. It is a stunning statement piece that you can pair with a variety of different tops for different occasions.
The sunglasses are definitely 10/10! I'm a MAJOR fan of Privé Revaux and have featured them in other CF articles before. I own several pairs myself and can guarantee their amazing quality. Not to mention all the pairs are only $29.95 and have FREE SHIPPING nationwide! (Psst: Right now you can get 20% off with the code "top20." Be sure to check that amazing deal out.)
Eyes on that Eyelet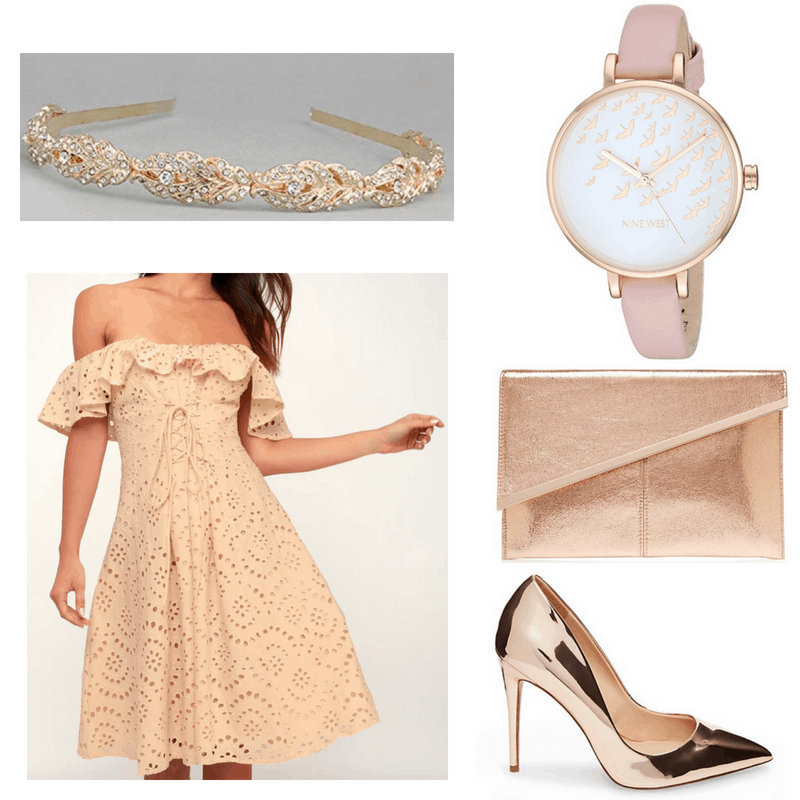 Products: Watch – Nine West (Amazon), Heels – Steve Madden, Clutch – Forever New, Dress – Lulu's, Headband – Ammei Headpiece (Amazon)
I can't get enough of headbands. They're my favorite accessory and so preppy! I love this floral crystal and rhinestone headband. It's perfect for elegant dinners or parties. This gold headband goes perfectly with the heels and clutch and of course our fabulous watch.
The dress boasts a gorgeous lace-up corset design that gives off vintage vibes and is so elegant. Plus, its eyelet material is beautiful and feminine. Finally, I love the fact that this dress is off the shoulder! The off-shoulder detailing makes it extra summery and looks stunning with the ruffles.
What did you think about this week's fabulous find?
Do you like this watch? Do you own a watch? Are you a fan of Nine West? Do you believe watches have a place in modern fashion? Start the convo below!