Hey girls! How are you? I hope everyone has been enjoying their summer! Whether you're taking classes, interning, working or traveling, remember to have fun and enjoy this amazing time of year.
For this week's Fabulous Find I am featuring a stunning pleated dress from Zara. I just adore Zara and can't get enough of it. They have so many beautiful pieces for incredible prices.
This is the perfect dress for pretty much any summer occasion. It's classic, stylish, unique, and well-priced. Check it out below: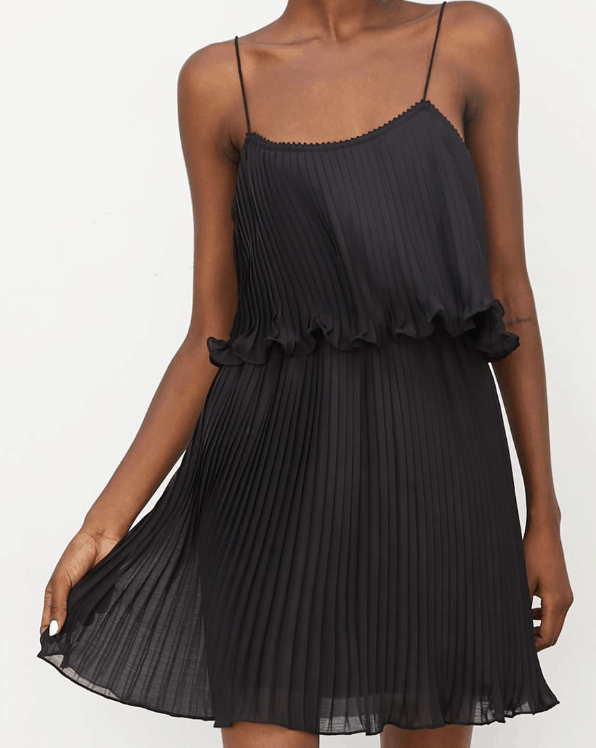 There's a lot to love about this dress. Spaghetti straps are perfect for summer and will keep you cool in the heat. The pleated design is so classic and I love the ruffle detailing on the bottom of the bodice. Plus, it's black, the most classic color of all.
Whether you're grabbing a coffee in the morning or going out with friends, this dress will keep you looking great.
The best part? It's currently priced for $39.99, which is a great price for a high-quality dress you'll wear time and time again.
Pleated and Pink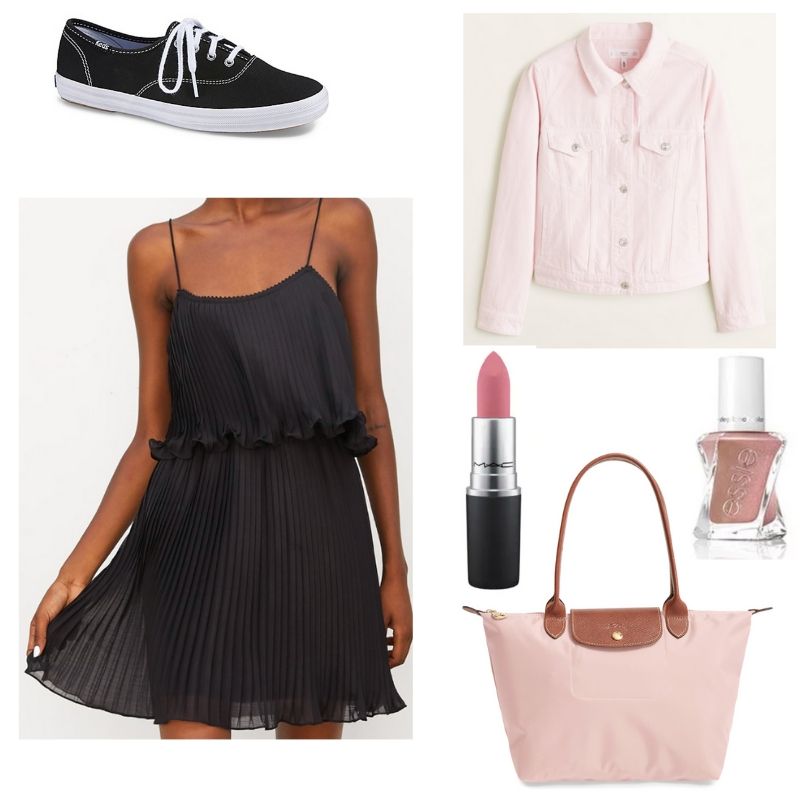 Products: Lipstick – MAC, Jacket – Mango, Sneakers – Keds, Tote Bag – Longchamp (Nordstrom), Dress – Zara, Nail Polish – Essie
This outfit is a perfect casual twist on this dress. The jean jacket is a classic piece that is comfortable and works for all times of year! It'll keep you warm during the chilly summer nights and is really pretty.
I love Longchamp tote bags. The canvas material is really durable and you'll have yours for years. Whether you're taking it to class, work, or out with friends, it'll keep you stylish.
You're Golden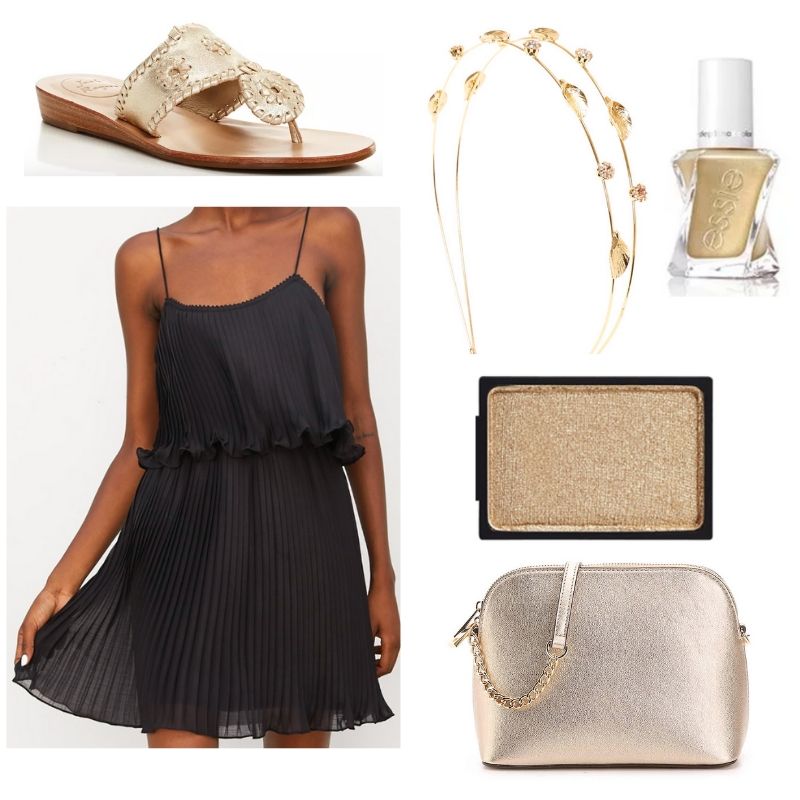 Products: Eyeshadow – Buxom (Ulta), Dress – Zara, Headband – Icing, Sandals – Jack Rogers (Bloomingdales), Crossbody Bag – Kelly & Katie (DSW), Nail Polish – Essie
This dress is perfect for brunch with friends! Headbands are my favorite preppy accessory and they go perfectly with any outfit. The gold accents are very elegant and will make you look fabulous.
I'm a HUGE fan of Jack Rogers sandals. They're another preppy fashion staple that every girl should have in her closet! Whether you're going to the beach, lunch or a date this summer, they're the perfect shoe.
Woman in Black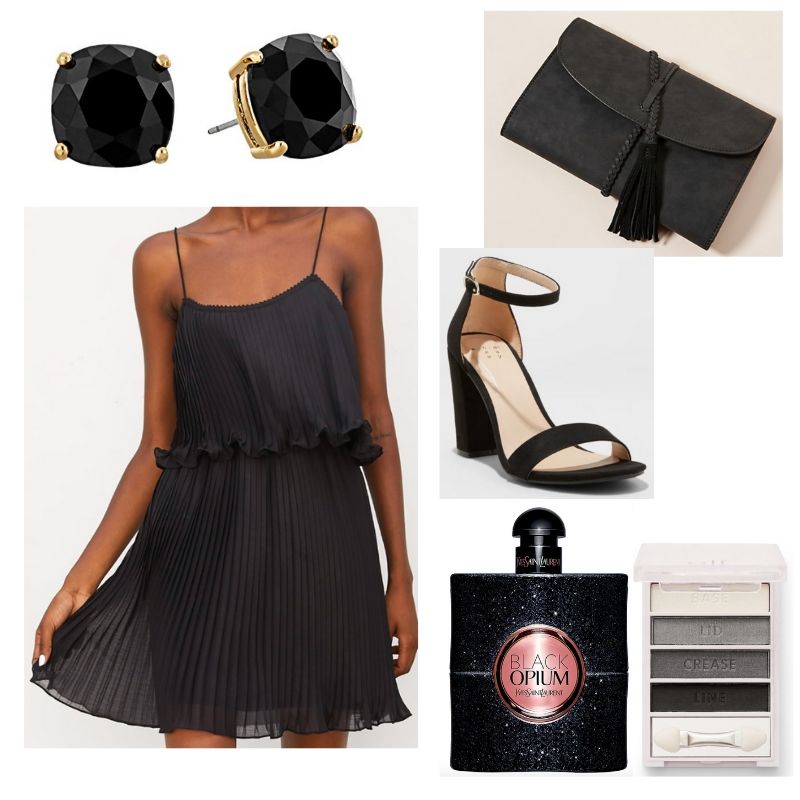 Products: Earrings – Kate Spade (Zappos), Perfume – Yves Saint Laurent (Bloomingdales), Eyeshadow – e.l.f., Heels – A New Day (Target), Clutch – Anthropologie, Dress – Zara
This outfit is perfect for a night out on the town! It will literally look great on everyone, no matter your sense of style.
I'm obsessed with e.l.f. eyeshadow. This little palette teaches you which shades to apply to give you the perfect blended, smokey effect. Wanna hear the best part? This palette is only $2! Yes, you heard me right. Plus it comes in many different shades, so you're sure to find one that works for you.
I'm also a big fan of the Anthropologie clutch. It's a tasteful and classy accessory and I love the tassel detailing and overall look.
What did you think about this week's Fabulous Find?
Do you like this dress? Are you a fan of Zara? What are your favorite styles of dresses? What have been your favorite Summer trends so far? Start the convo below!