This post may contain affiliate links, which means we may receive a commission if you purchase through our links. Please
read our full disclosure here
.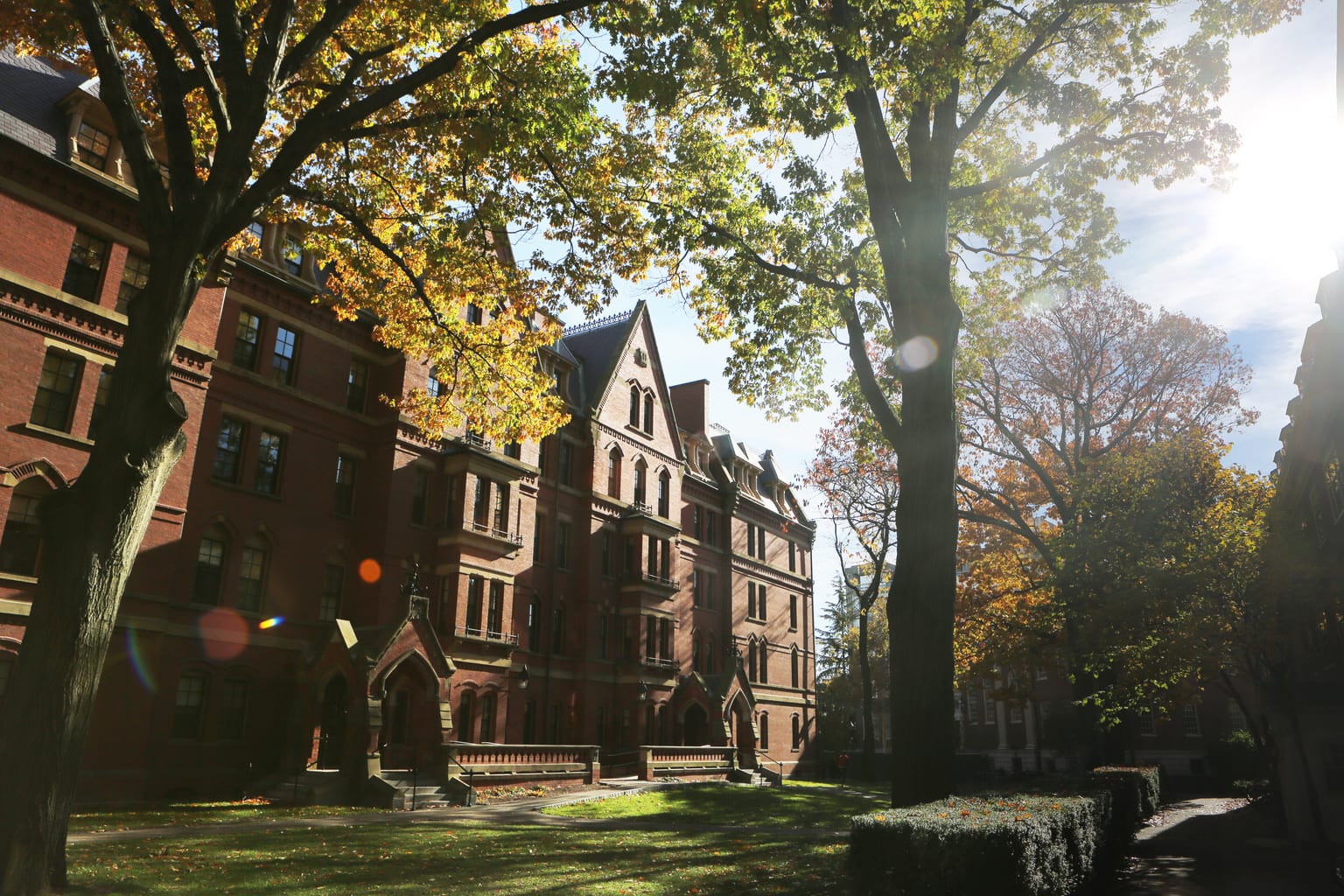 You've graduated high school and now you're on to bigger and better things… like college! But before you can move into your new 15 x 15 ft. home, eat ice cream for dinner, or go to a kegger on a school night (not encouraged, but hey, those are perks of a parent-free domain!), you've got to get through college orientation.
Most of your time spent at orientation will involve reviewing the details of college life, campus activities, and signing up for classes; the rest of the time is an opportunity to chat up potential new friends and explore your campus. Here are some tips on what to wear, along with inexpensive yet chic outfit options to start college off on a fashionable foot:
Tips on What to Wear for Orientation:
Dress comfortably and appropriately! More than likely you will be outside in the heat, walking a lot around campus, sitting on the ground and partaking in physical activities (I once witnessed forced line dancing at a college orientation — shudder!), so consider these things when choosing your outfits. A tight, short skirt might look cute, but it'll probably be more pain than it's worth.
Consider leaving the collegiate clothes at home. Everyone attending orientation with you will obviously be going to your school, so there's no need to advertise your admission. Instead, show off your personality and unique style in your outfits.
On a similar note, forget your high school t-shirts, too — leave high school in the past!
Your college might give you a t-shirt to wear for orientation — in this case, accessories become really important! Show your style with unique jewelry and embellished footwear.
If you'll be meeting with an adviser or faculty member, change into something more professional. This doesn't mean you have to dress business casual, but perhaps you could swap your Daisy Dukes for clean-cut khaki shorts or switch out your tube top for a nice blouse.
If you're staying overnight in a dorm, pack flip-flops for the shower, a robe for the trek from the bathroom to your room, and cute pajamas — you never know who you might bump into!
Stumped? You can't go wrong with basic shorts, sandals and a cute top! (See our summer outfit formulas for more on this.) As easy as 1-2-3.
Your most important accessory at orientation? A smile! Grin, be friendly, and meet people!
Outfit #1: Meet & Greet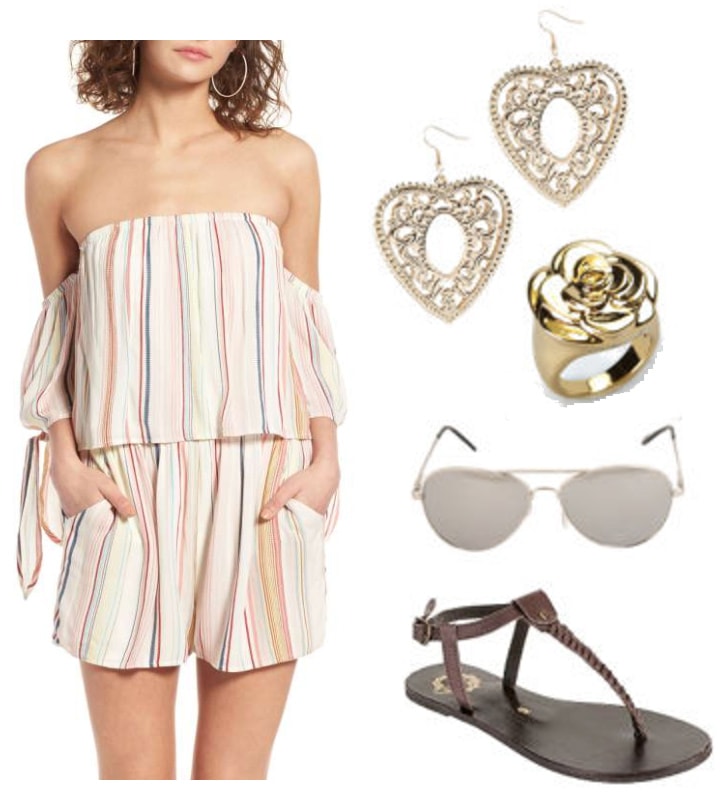 Products: Romper – Nordstrom, Belt – Forever 21, Earrings – Forever 21, Ring – Fred Flare, Sunglasses – Forever 21, Sandals – Urban Outfitters
The bulk of orientation will be group discussion, ice-breaker games, and explanation about campus life. So you'll want an outfit that makes a good first impression, but is also flexible for different activities, easy to move in, and comfortable in the summer heat. Consider a romper: It combines the adorable look of a sundress with the versatility of shorts.
Outfit #2: Campus Tour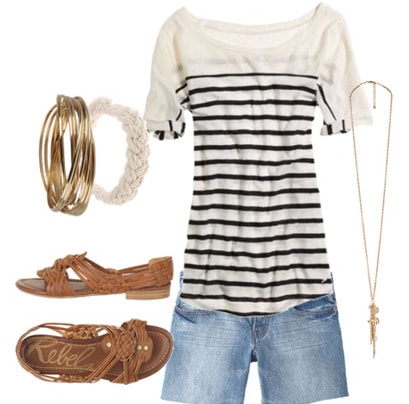 Products: Shirt – Aerie, Shorts – Alloy, Necklace – Forever 21, Sailor Bracelet – Urban Outfitters, Bangles – Forever 21, Sandals – dELiAs
Whether your orientation includes a formal tour or just some free time to venture out on your own, you'll want to explore your new campus in comfort and style. A loose-fitting nautical shirt with denim cut-offs and cognac sandals is an on-trend look that's both comfy and affordable. This outfit — paired with a dainty gold pendant, gold bangles, and a rope bracelet — is summery but could also be easily transitioned for fall.
Outfit #3: Advising Appointment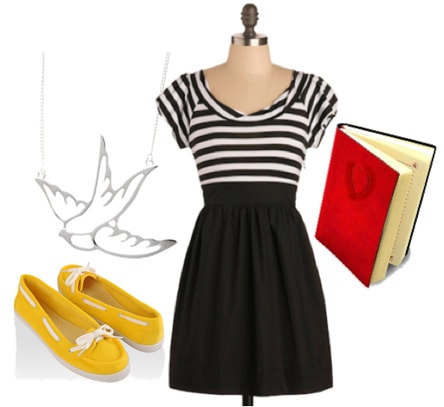 Products: Dress – ModCloth, Necklace – ModCloth, Shoes – Forever 21, Journal – Barnes & Noble
When you meet with your academic adviser, you don't need to dress up formally… but it doesn't hurt to look polished. In most cases, the adviser you begin with freshman year will see you through college — so it's important to make a good first impression and form a good relationship. Don't forget to bring your agenda book or journal along to the meeting to take notes and write down important dates!
Outfit #4: Lights Out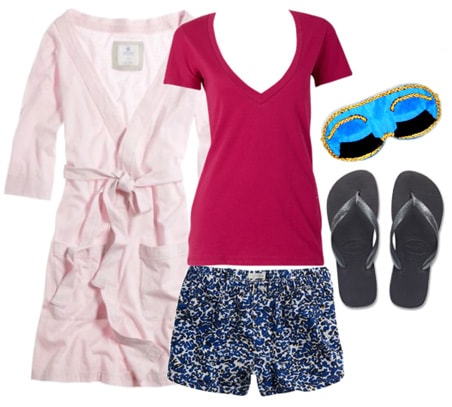 Products: Robe – Aerie, Shirt – Alloy, Boxers – Aerie, Mask – Fred Flare, Flip Flops – Havaianas
Some orientations span multiple days, and thus, colleges offer incoming students the opportunity to spend the night in a dorm room. Think of it as a trial run — you'll get a taste of dorm-life — and a slumber party: Spending the night in the dorm is another great chance to meet people and hang out with your fellow co-eds. Remember to pack a robe and flip-flops for the shower!
More Orientation Outfit Ideas:
We've covered this topic a lot on CF. For more ideas on what to wear to orientation, see the following posts:
What do you think?
Did you like this post? Are you heading off to college for the first time and attending orientation this summer? What do you plan to wear? Any tips or tricks I forgot to mention? I'd love for you to leave a comment!