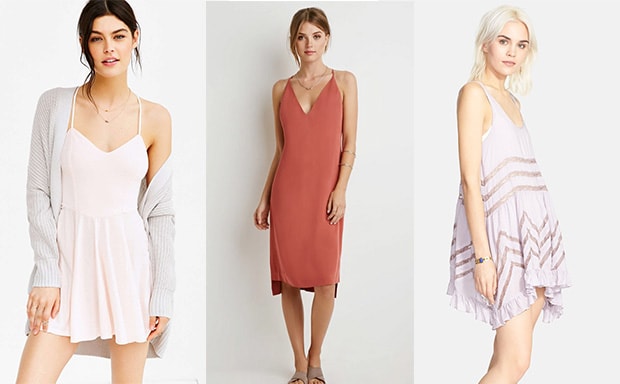 Product Info: Urban Outfitters, Forever 21, Nordstrom
You have somewhere to be, but in this mid-July heat wave, trying on and tossing off clothes is enough to make you break into a frizzy sweat. You think maybe looking cute isn't in the cards today and struggle into your favorite style-rut shorts.
Repeat after me: No pants. No fear. Slip/cami dresses in stores today have evolved from the second layer you could "slip" under see-through dresses, and are light enough for summer without sacrificing coverage. This airy style comes in varying lengths, cuts, and materials— a perfect foundation piece for layering without the bulk.
Tips & Tricks for Wearing a Slip Dress:
Material sets the tone. Ribbed cotton suits a model-off-duty look, while a silky material in a jewel tone (like gunmetal gray or sapphire) works on a night out. For your internship, try a longer midi style in a fun print, then add a lightweight blazer or structured cotton jacket.
Rethink what you can layer on top. Thin cropped sweaters, cropped tees, long dolman sleeve cardigans, and even button-down shirts left open are all fair game.
Real slip dresses might not be as versatile. Usually found in the intimates section of department stores, these are more like fancy pajamas with lace hemlines, which is cool for an edgy, Rihanna-inspired look but is very occasion-specific. Try searching for "cami dresses" if you're having trouble finding a suitable option.
Ready to give these dresses a try? I've got you covered with four outfits (including a plus size look!) featuring slip dresses. And don't worry if you're on a budget— each outfit rings in at less than $100.
Look #1 – $80.77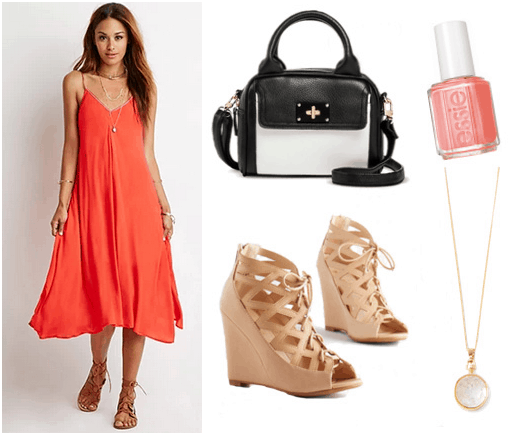 Product Info: Dress, Crossbody, Wedges, Nail Polish, Necklace
Dressing for summer can be as easy as throwing on a statement piece in an eye-popping hue, like this mid-length coral dress. Contrast its boho hemline with a luscious black-and-white colorblocked satchel. Slip on lattice wedges, swipe on a watermelon-hued nail polish, accessorize with a long pendant necklace, and you're out the door.
Look #2 – $98.49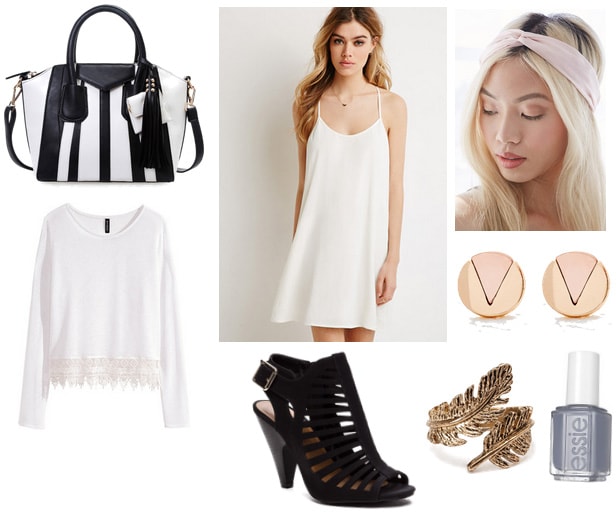 Product Info: Dress, Bag, Sweater, Heels, Hairband, Earrings, Ring, Nail Polish
For this look, start with a breezy slip dress (this one has cute crochet detail on the back) and add edge with a structured striped satchel and caged black heels. Soften the look with a satin pink headwrap, jewelry in rose gold tones, and slate blue nail polish. On cooler days, layer a thin white sweater with a crochet hemline for texture.
Look #3 – $99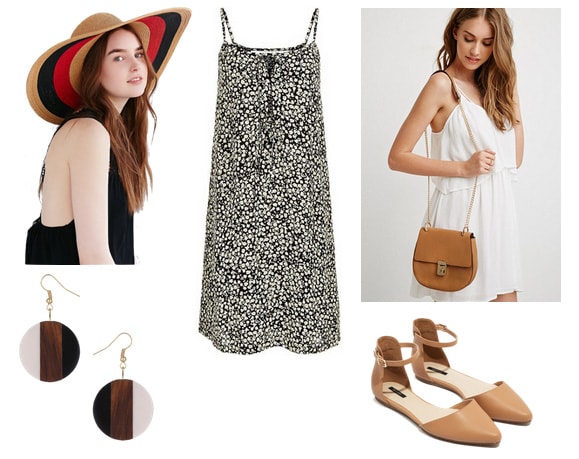 Product Info: Dress, Hat, Earrings, Crossbody, Flats
To be honest, this is my favorite look out of the four. Switch gears and go retro with a speckled slip dress, bringing in a Marc by Marc Jacobs circa spring 2011 vibe with this fantastic striped wide-brim hat. Instead of the usual metal tones, try earrings with wood detail. Saddle bags are trending this summer, so pick one in an earthy tone, and slip on ankle-strap flats for comfort.
Look #4 – $95.50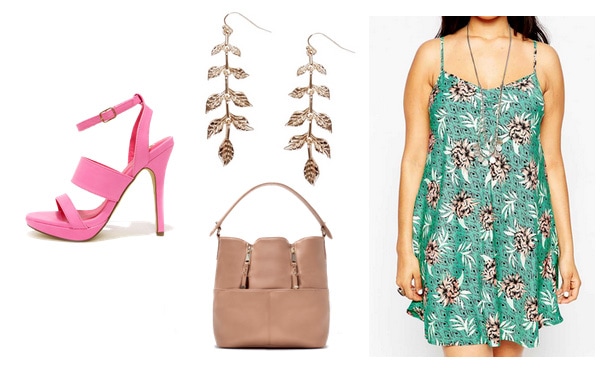 Product Info: Dress, Earrings, Heels, Bag
Like bright colors, vibrant prints are essential for summer. I'm not sure if the print on this dress is made up of flying pine cones or feathers, but I do know this beautiful aqua green piece comes from ASOS Curve, a favorite among plus size fashion bloggers. Match the print's organic shapes with delicate leaf earrings, and pull out its softer shades with a plush bucket bag. Add bold pink heels for contrast, and you're good to go.
Your thoughts?
As always, what did you think of the looks above? Which one is your favorite? We featured a plus size look with the usual three, so what did you think? If you'd like to see more, let us know in the comments!