This post may contain affiliate links, which means we may receive a commission if you purchase through our links. Please
read our full disclosure here
.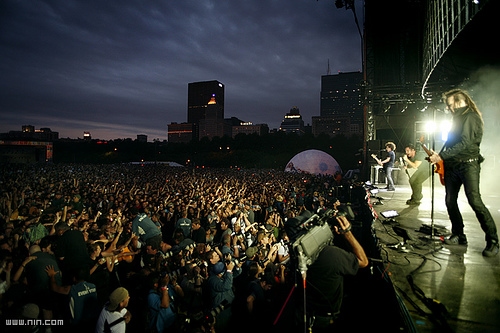 Lollapalooza, the long-running annual music festival in Chicago, is this weekend, and while I'm not going this year (sadly), it got me thinking about what to wear to summer's many outdoor music festivals and concerts. While we've covered music festival fashion before, today I wanted to focus solely on summer music festivals.
At music events, there's always a mix of people and styles — some attendees go the costume route (a la Lady Gaga's Monster Ball), some dress as if they're heading to Woodstock (a la Coachella), some dress up as if they're going to a rave, and others… are more normal. If you're pressed for what to wear to an upcoming outdoor concert or to this weekend's Lolla, here are some cheap and chic outfit options along with tips:
Tips for Staying Cool at an Outdoor Concert in Summer:
Prepare to be hot! You will die of discomfort if you're outside in the blazing sun for hours wearing jeans. So steer clear of heavy layers and fabrics, and stick to breathable fabrics like cotton.
Pack plenty of water (or cash for water at the event), don't forget sunscreen and bring a pocket fan or spray bottle (like Evian's water spray) to cool yourself off in the heat.
Use a cross-body bag or backpack to store your stuff. You'll likely be outside for most of the day, crammed into a thick crowd, or dancing your heart out. The last thing you want is a bag that's a burden (or worse, a lost bag).
Try to lighten your load. Pack only the essentials (cash, ID, tickets/wristband, cell, camera) and keep it compact.
Be prepared for bad weather! Usually at music festivals, the show must go regardless of the rain. Pack ponchos in case of stormy skies. Umbrellas are too cumbersome, likely to break and an annoyance to your fellow concertgoers.
For footwear, comfort is key.Forget heels or wedges; flat sandals are the way to go. Flip-flops are OK, but sandals that strap on more securely (like gladiators) are ideal because they're less likely to break than flip-flops. Sneakers or summer boots are solid choices, too (especially if you're going to be packed into a dancing crowd), but they're not as breathable, so you may be hot in them.
You will probably get dirty, so don't wear or bring anything you'd be upset to ruin. You can still look stylish without wearing your most expensive or sentimental clothes.
Outfit #1: Madras Mädchen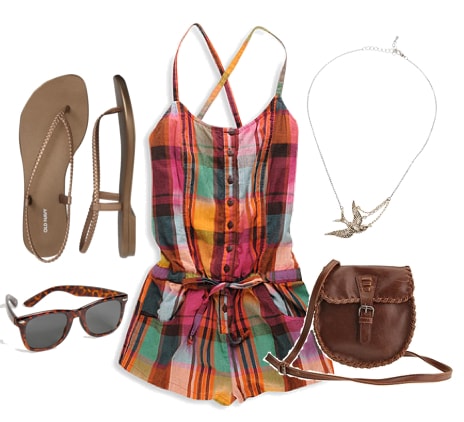 Product Info: Romper – Heritage 1981, Necklace – Urban Outfitters, Bag – Urban Outfitters, Sunglasses – Fred Flare, Sandals – Old Navy
When it comes to easy summer dressing, rompers are the way to go. Some ladies have yet to be won over by the playsuit phenomenon, but naysayers should consider the perks: Rompers pack the cute punch of a sundress with the convenience of shorts. The madras print of the above romper has a retro vibe that's accentuated with a vintage-esque cross-body bag, tortoise wayfarers and a charming bird necklace.
I do have one caveat, however: as we discussed in our last post on music festival attire, rompers can be awkward when it comes to using the restroom. If you're going to be spending all day at the festival and will be taking bathroom breaks often, a romper might not be the most practical choice. Your plans will dictate whether or not a romper will be right for you, but keep this issue in mind when deciding what to wear!
Outfit #2: Hippie Chick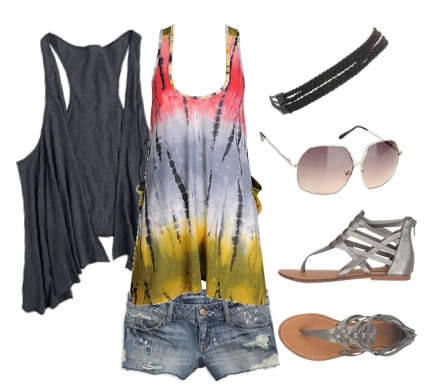 Product Info: Tank – Forever 21, Vest – dELiAs, Shorts – American Eagle Outfitters, Headwrap – Forever 21, Sunglasses – Urban Outfitters, Sandals – Alloy
Play up your inner hippie with a tie-dye tank — tie-dye is actually very trendy at the moment — paired with boho accessories. I mentioned avoiding heavy layers, but that doesn't mean you can't layer at all; layering adds dimension and interest to an outfit. Just keep your layers light — like this sleeveless vest or a bandeau under a shirt — because it's hot outside! Dare to wear a braided headwrap and Penny Lane-esque sunnies to finish off this hippie-chic ensemble.
Outfit #3: Pretty Prepster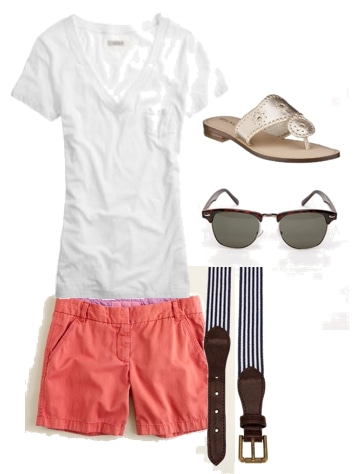 Product Info: Shirt – Aerie, Shorts – J.Crew, Sandals – Target, Belt – Urban Outfitters, Sunglasses – Urban Outfitters
Preppies can't go wrong with colorful chino shorts: They're comfortable, clean-cut and boost any outfit with an unexpected spot of color. Add a nautical belt, Jack Rogers-style sandals and wire-rimmed wayfarers and the result is a laid-back albeit stylish look.
What do you think?
Have you been to any music festivals this summer, or are you planning to attend one? Did you spot any wacky outfits there? What would you wear to an outdoor concert? Remember to leave me a comment; I'd love to hear from you!