Hi ladies! How is everybody doing? For those of you who have finished final exams: CONGRATS! For those of you who are still finishing up: KEEP CRUSHING IT! I turned in my last final today and am so excited. I still have to move out all my stuff but I can't believe that summer break is already here.
As a preppy girl, I love all things monogrammed! They're so elegant and personalized and a monogram goes great on anything whether it's a pillow, tote, or in this case a monogrammed quarter zip. I found the perfect one for you that's only $24.99!
Check it out below: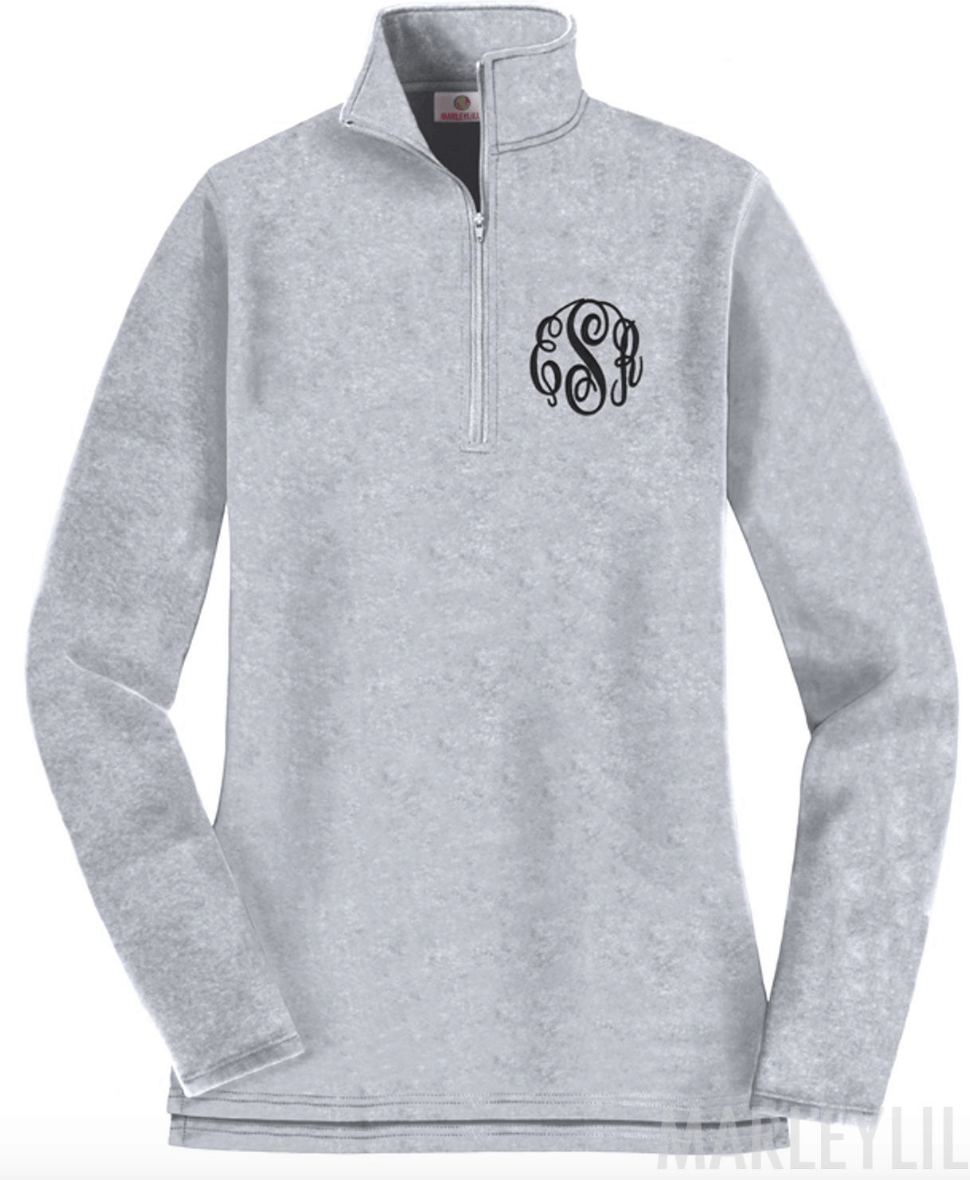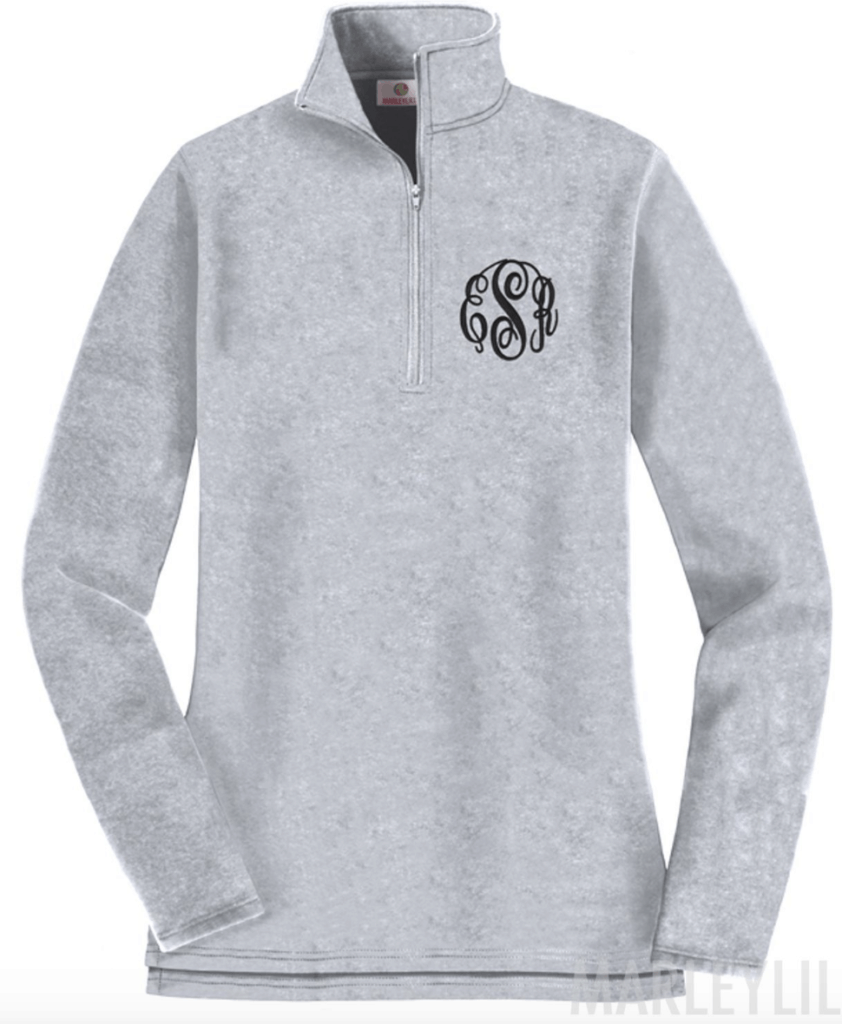 This quarter zip is incredible! For this post, I'll be focusing on the light grey color, but it also comes in a beautiful shade of pink.
You can monogram this piece in 12 different fonts and over 20 font colors! It's also very comfortable and is perfect for the fall and spring. Not to mention it's machine-washable which is so important for college girls who can't afford dry cleaning.
Not sure how to style it? Here are three preppy girl-approved quarter-zip outfits:
Grey Skies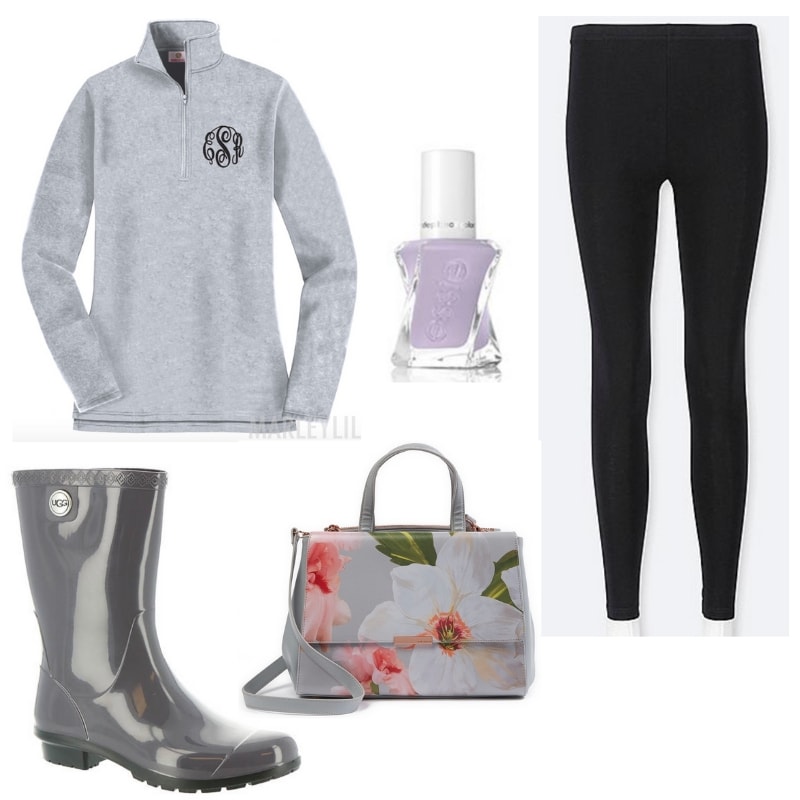 Products: Rain Boots – Ugg (Shoe Mall), Quarter Zip – Marley Lilly, Nail Polish – Essie, Leggings – Uniqlo, Handbag – Ted Baker (Nordstrom Rack)
While we may be in the spring, we're still having lots of rainy days! This outfit is perfect because it'll keep you comfy but also won't get ruined in the rain. These Ugg rain boots are perfect because they're very durable but also on sale for only $34.99.
I'm a big fan of Uniqlo leggings. They're so comfortable and flattering on any body type. Not to mention they're such a great price! You can get them for only $9.90. You'll want tons of pairs in your closet.
Pink Scalloped Preppy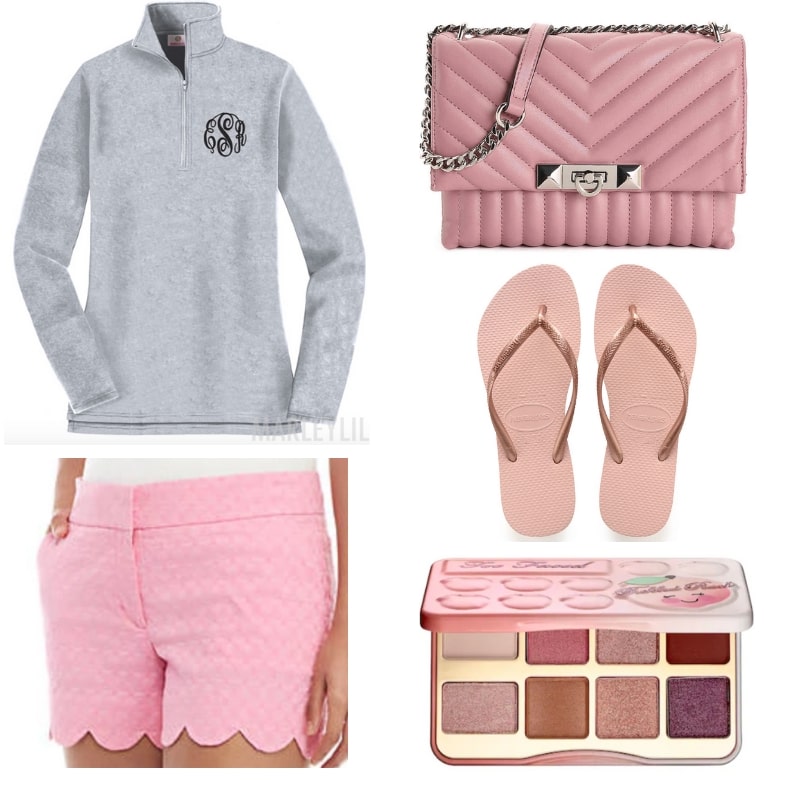 Products: Quarter Zip – Marley Lilly, Flip Flops – Havaianas, Eyeshadow Palette – Too Faced (Sephora), Shorts – Crown & Ivy (Belk), Crossbody – Aldo (DSW)
Pink and grey go so well together! I love scalloped shorts, they're also so preppy and are a great twist on the classic chino shorts. I own some pairs myself and know they're such a great style.
Being from Brazil, I adore Havaianas flip flops. They're inexpensive, durable and very comfortable. I personally prefer the slim variation because they're the most flattering and pretty!
Monogram Like a Lady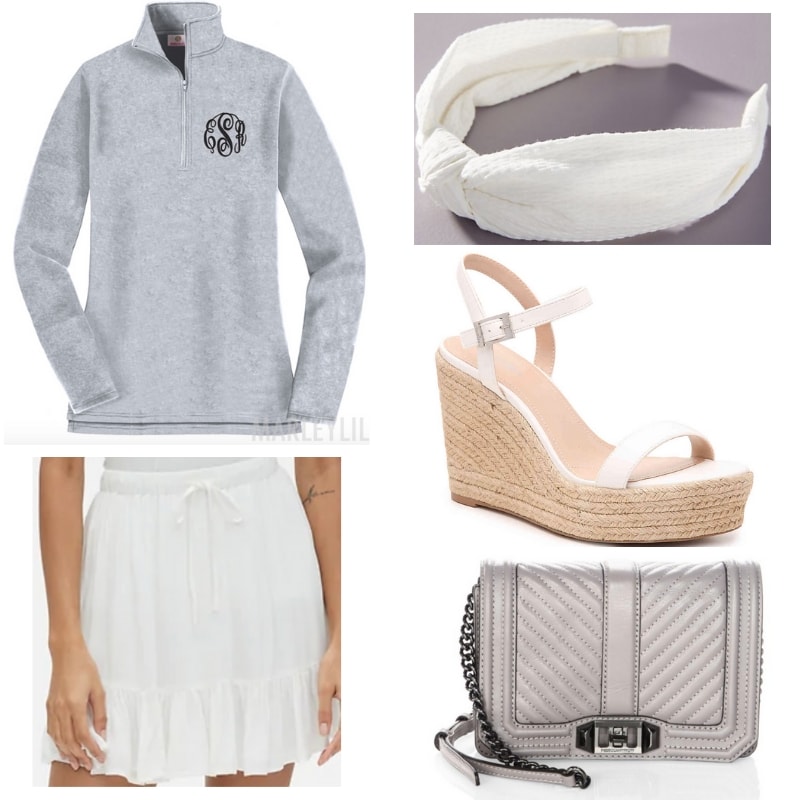 Products: Headband – Anthropologie, Skirt – Gap, Wedges – Charles David (DSW), Quarter Zip – Marley Lilly, Crossbody – Rebecca Minkoff (Saks 5th Avenue)
This outfit is effortlessly preppy. I love the simple white skirt. The ruffle design is so ladylike and the material is so light and airy. It's perfect for warm spring and summer days.
Wedges are one of my favorite style of shoe. They have the heel which is great but they're also so easy to walk in. You don't have the same difficulty that comes with pumps and stilettos but you still get a fantastic look!
What did you think about this week's Fabulous Find?
Do you like this quarter-zip? Are you a fan of Marley Lilly? What are your favorite styles of sweaters? What have been your favorite Spring trends so far? Start the convo below!