This post may contain affiliate links, which means we may receive a commission if you purchase through our links. Please
read our full disclosure here
.
Home is where the pants aren't. Am I right or am I right? Now that you're home for winter break, you can get away with wearing your old slouchy middle school swim meet tee and slippers with a hole in the toe around the house. But when the year starts afresh, it's time to rethink your loungewear game, particularly if you are one of the lucky ones rooming in a dorm next semester.
If you are a freshman, it may have been easy in the fall to slip on jeans each time you needed to head down to the hallway bathroom. There is a new freshman enthusiasm that will fade as soon as the hard classes start to set in and college isn't a shiny new experience anymore.
Now is the time to rethink your dormwear (and maybe even get inspired by celebs). Late night studying, girl's nights, and weekends spent practicing your persuasive argument for speech class simply do not require a business-ready wardrobe.
Below are 5 key items you need to look fresh and feel comfortable while kicking it in the dorms.
Living off campus this semester? Don't click away – we all need lazy time clothes.
Bandeaus & Bralettes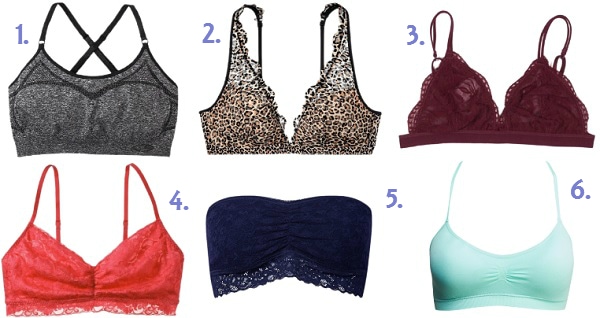 Product Information: 1 – Target, 2 – Victoria's Secret, 3 – Amazon, 4 – Target, 5 – Forever 21, 6 – Wet Seal
I don't know about you, but when I come home the first item of clothing to come off is my daytime bra. The best at home underpinnings are bandeaus and bralettes. You can hardly feel them, yet they still do their utilitarian job.
Brightly colored or patterned ones are a must-have item for your shopping list. When they peek out of a tank top, they act as a darling accessory. If you're a girl that prefers to keep covered up, it's amazing how much of a difference wearing bold skivvies underneath your clothes will make you feel. Don't believe me? Try it.
Comfy Tops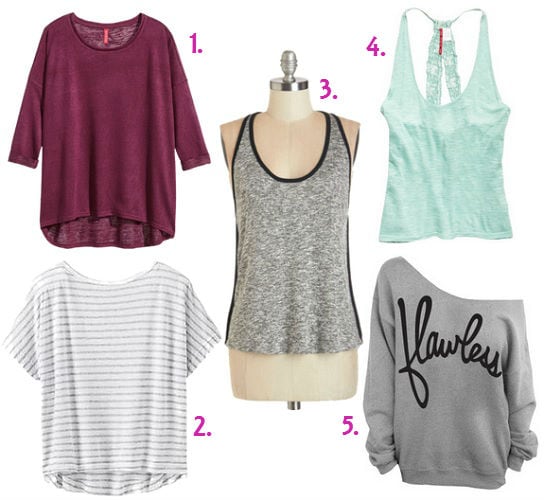 Product Information: 1 – H&M, 2 – Athleta 3 – Modcloth, 4 – Back Country, 5 – Etsy
Knit tops are a must for dormwear. The theme here is loose-fitted, flowing fabrics. Whether you're a tank, tee, or sweatshirt kind of gal, we suggest investing in a mix of all styles. Dorms can be freezing cold in the summer and hot in the winter, so plan accordingly.
Casual Bottoms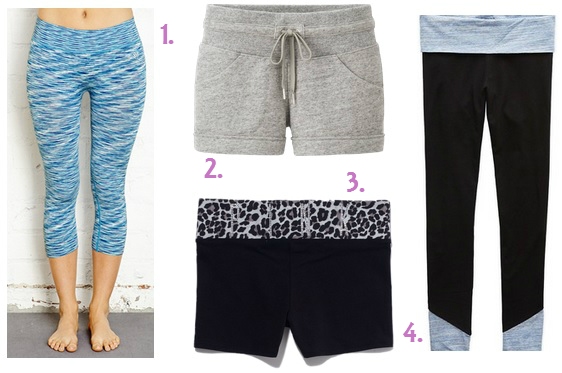 Product Information: 1 – Forever 21, 2 – UNIQLO, 3 – Victoria's Secret, 4 – American Eagle Outfitters
Any evening in a dorm, you'll spot several people wearing sweatpants. Personally, we think workout pants are more luxurious feeling and looking than baggy sweats. A pop of a color or leopard print will have the entire floor coveting your style.
A pair of shorts and a pair of yoga pants are both key items to have in your loungewear rotation.
Outerwear Layers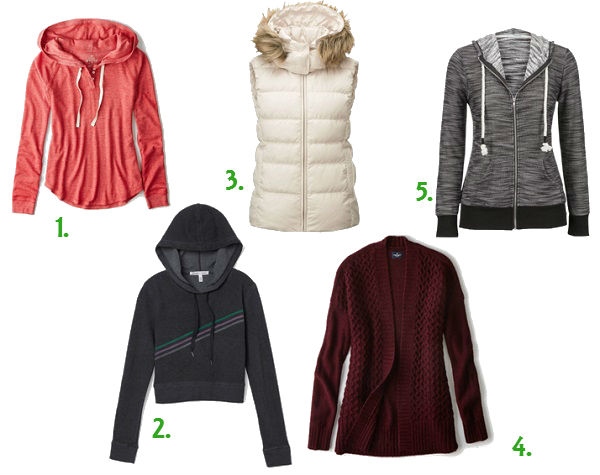 Product Information: 1 – American Eagle Outfitters,  2 – Victoria's Secret, 3 – UNIQLO, 4 – American Eagle Outfitters, 5 – Maurice's
No matter how hot it may be in a few months, dorms tend to blast the chilly AC. We suggest having a hoodie, a go-to cardigan to throw on, and even a vest to combat the temperature changes. Sweatshirts are innately casual, but can be ideal for late night studies and early mornings. Cardigans and vests are a little more classy if you are having a few friends over in the evening or studying in a common area.
Accessories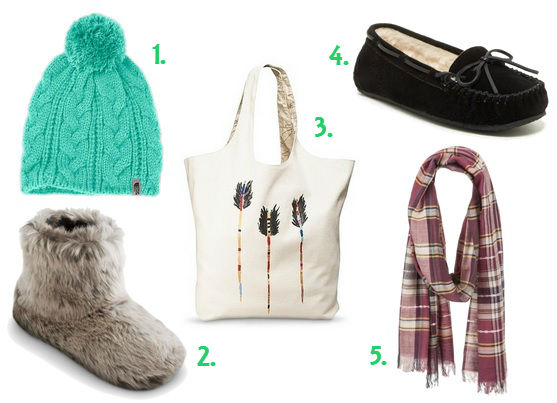 Product Information: 1 – The North Face, 2 – Target, 3 – Target, 4 – Nordstrom Rack, 5 – Maurice's
If you are living in a dorm, you need slippers. Period. As wonderful of a job as cleaning crews do, it's hard to imagine the floors that thousands of students have walked across where you currently live are 100% clean. Besides, who doesn't want to wear warm, comfy slippers all the time?
We also suggest having a carryall tote just for carting around your dorm. You can put the essentials in it that you need for studying downstairs or cooking in the kitchen area.
Are you living in a dorm this semester or have you in the past?
What do you recommend wearing in a dorm? What are your favorite loungewear items? Let us know by commenting below!