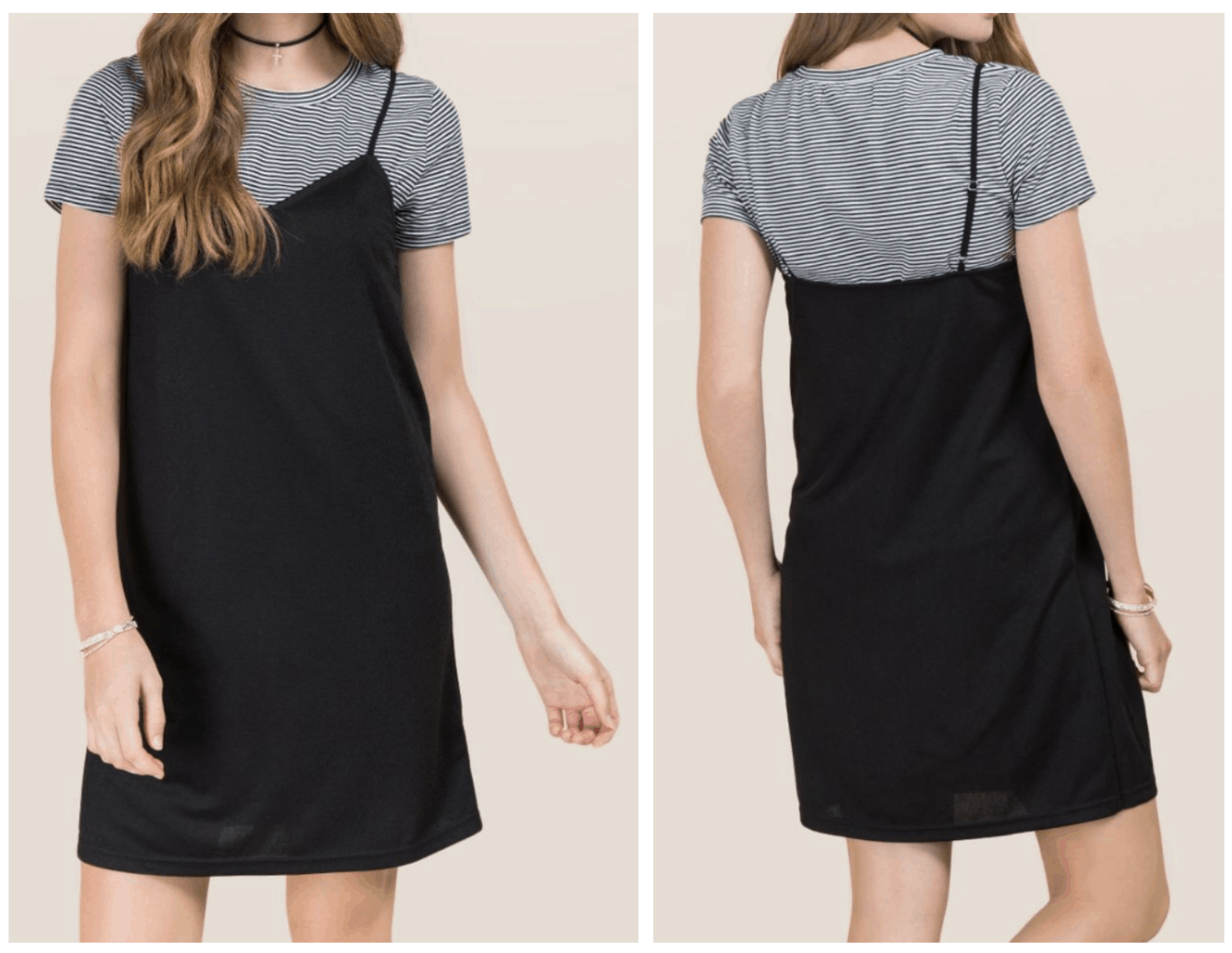 The "Fabulous Find of the Week" column gives you the heads up on all the hottest, most affordable items at your favorite stores!
This week, I'm super excited to share this crazzzzy amazing dress.
I know I'm not alone when I say that winter makes me crave dresses. This $10 dress from Francesca's is perfect for those strange days of winter when Mother Nature decides to be merciful and crank up the thermostat. It's also a great buy for spring, which will be here before we know it!
This dress, which consists of a striped shirt portion and a black slip dress portion both connected, is super casual and uber comfortable, a true '90s throwback. For those days when you roll out of bed and feel blah, throw this on and you'll still look A1. Keep it cute and sweet OR run with the edgy look to let people know you mean business!
I put together 3 outfit ideas for some inspiration just in case you're feeling a little stuck…
Layered Slip Dress Outfit #1: Sunday Window Shopping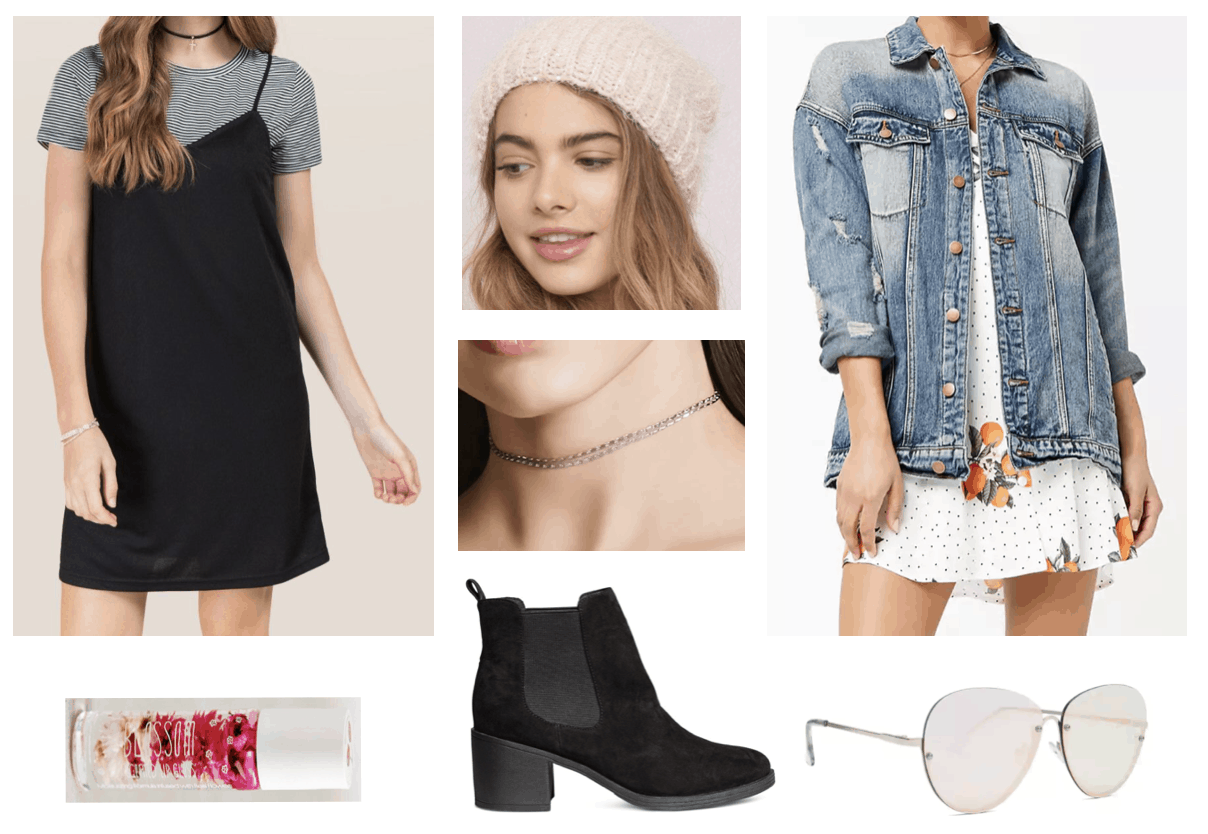 Products: Dress – Francesca's, Beanie – Garage, Jacket – Forever 21, Necklace – Forever 21, Lip Gloss – Urban Outfitters, Booties – H&M, Sunglasses – Forever 21
Keeping it cool and simple, this outfit is perfect for a calm Sunday walking around town, running errands and maybe doing some shopping… window shopping, that is. I love being a college student with tons of money, don't you?!
Put on this cozy beanie from Garage and throw on your fave denim jacket. (I recommend shopping secondhand for the best denim jackets!) Pick up a nice silver choker to add a little sparkle.
Keep the pink undertones and use this super fashionable, super moisturizing flower lip gloss from Urban Outfitters and throw on a pair of reflective sunglasses to give off that I don't care attitude.
Add a slight curl in your hair, simple makeup, and these amazing little booties (that should totalllly be in everyone's wardrobe) and you're ready for the day!
Layered Slip Dress Outfit #2: Punk Skater for the Day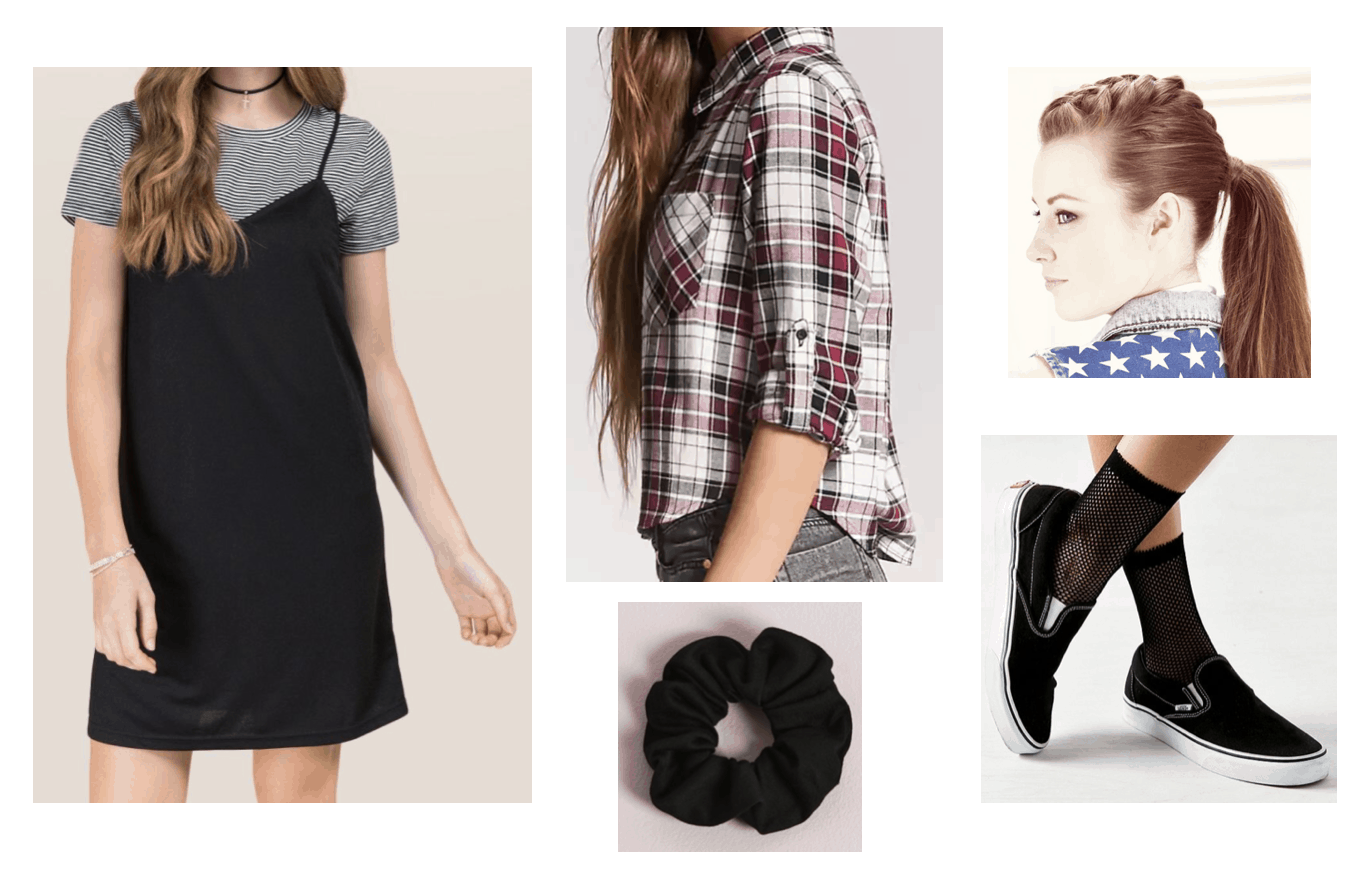 Products: Dress – Francesca's, Plaid Shirt – Forever 21, Scrunchie – Garage, Pony Tail Tutorial – Bobby Glam, Crew Socks – Urban Outfitters, Sneakers – Vans
If you're feeling a bit edgy, this dress is perfect for you! It goes so well with the '90s grunge aesthetic.
Tie any old plaid shirt around your waist and throw on your favorite pair of slip-on sneaks with these trendy sheer socks. They'll add a bit of texture and keep your outfit interesting.
Throw up your hair in this punk pony, explained here by Bobby Glam! Top it off with a classic scrunchie or keep one on your wrist for style points. For your makeup, I'd keep it simple with a black liner and a clean wing.
Layered Slip Dress Outfit #3: Two Birds with One Stone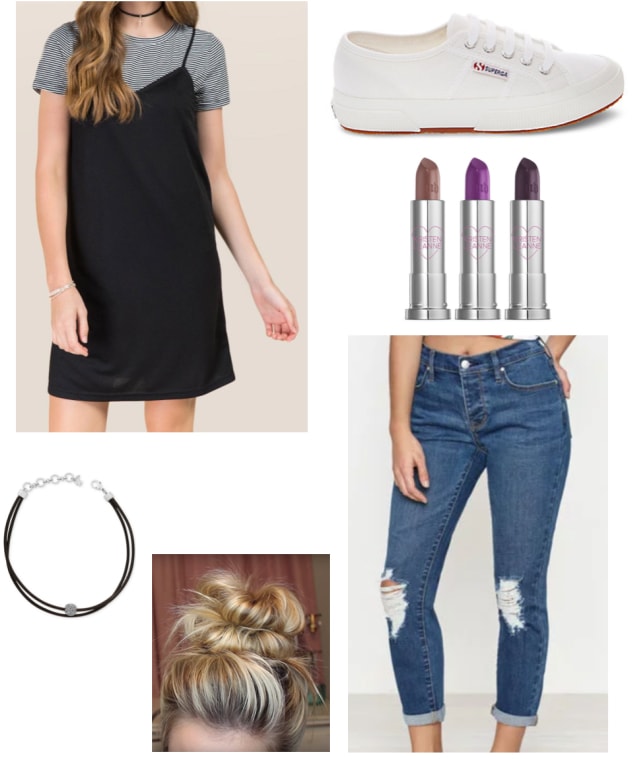 Products: Dress – Francesca's, Sneakers – Superga, Lip Stick – Urban Decay, Choker – Macy's, Jeans – PacSun, Bun Tutorial – Kathryn Ann
If you're looking at this outfit and thinking wtf is this girl doing rn?! I get where you're coming from. Jeans underneath a dress can seem a little bizzare. But the more you look at it, the more this look grows on you and before you know it you're back in the '90s living it up with Screech, Zack, and all your other after-school friends.
These sneakers are actually the best things ever (straight outta Italy) and depending on the color you choose, you can get them for as little as $30. They last forever and keep your feet comfy and stylish allllll day long.
Pick a dark lip like the purple one from Kristen Leanne x Urban Decay for a pop of color. A choker adds that edgy feeling. Finish with a messy bun that you def spent 10 minutes on while trying to perfect the, I put no time into this look, look.
Try this idea out and it could just end up being your go-to layered outfit!
Are you a fan of this week's Fab Find?
How do you feel about layered dresses? Can you see yourself downtown in look #1? What's your favorite accessory to mix up your look? Let me know below!