There's nothing I love more than a relaxing pedicure. Being a college student, however, I rarely have the time or money for that luxury, so I have to make do with Maybelline 60-Second Quick Dry Nail Polish and a loofah. That's why I was excited when this Christmas, my mom graciously got me the Ped Egg to add to my pedicure arsenal.
What is the Ped Egg?
Its makers tout it as "The Ultimate Foot File," and "the ultimate way to smooth, beautiful feet." I'm sure you've probably seen the commercial on TV more than a few times, but in case you haven't, here it is:
I recently gave the Ped Egg a try and here is what happened:
My Experience: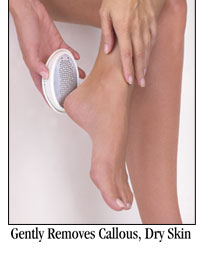 Let me just start by saying I don't have the prettiest feet- I go barefoot a lot, and, thanks to uncomfortable shoes, I usually have a few blisters and callouses. So that's why I was psyched to try the Ped Egg. I figured any improvement would be worth the time and effort!
The Ped Egg is as soft as it says it is- you won't get cut by running your fingers over it. But beware: you need to use the Ped Egg on dry feet- if you don't, it'll feel like you're cutting your feet up. I used the Ped Egg for about 5-10 minutes on each foot. If you do this while watching TV, it'll probably go by quickly, but I didn't – and was pretty bored after the first few minutes, especially since it took those full 8-10 minutes to see any results. On the plus side, it truly wasn't messy, which I liked.
My Results:
My feet looked much better after using the Ped Egg- my calluses were pretty close to being gone. My feet didn't look as good as they do post-pedicure, but I did see a clear improvement. I was scared to try the Ped Egg over my blisters, however, so I can't really account for how well it would have worked on them.
Cleanup was less pleasant. I really did not like throwing the dead skin away- it doesn't make a mess, but the skin looks like loose powder. Maybe it's my queasy stomach, but I thought the dead skin was really, really gross.
My Overall Review: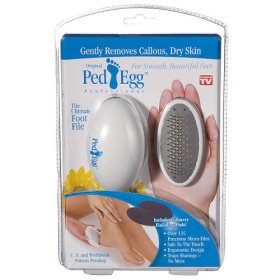 The Ped Egg did make my feet look much better. They didn't look as good as they would after a pedicure, but I saw a visible improvement.
However, I won't be using the Ped Egg again. Overall, I thought the process was too time-consuming: if you don't vigorously rub each foot for upwards of 5 minutes, you won't see any improvement. I don't know about you, but I'm not going through all that effort when my feet will just be dirty again in two days. Also, the dead-skin powder was a turn-off in my eyes, but many of you might not feel that way.
For those of you who really want pristine feet and don't mind putting the time in to get them- purchase this ASAP. The Ped Egg is great for that in-between pedicure time. At $10, it's not a bad investment, and it's a fairly useful product. As far as As Seen On TV products go, this is definitely one of the better ones- if you want to put in the time to use it.
What do you guys think of the Ped Egg?
Have any of you tried the Ped Egg? Will you be buying it? What other As Seen On TV products have you tried? Tell me everything and more in the comments!