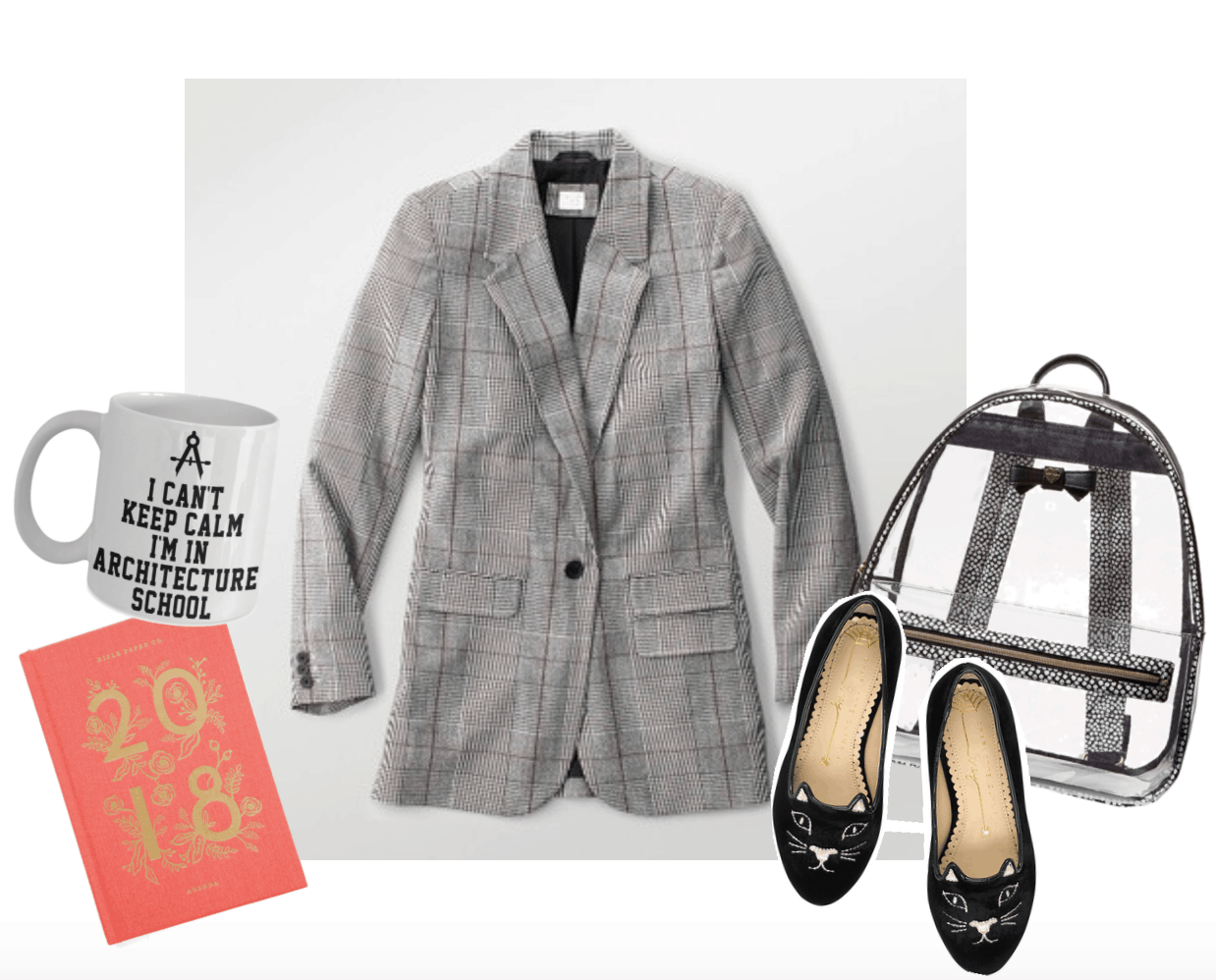 Blazer, Mug, Planner, Flats, Backpack
The "Fabulous Find of the Week" column brings you a new style steal weekly that will both keep some cash in your wallet and keep you looking, well, fabulous.
Sooo flexibility (noun) is defined as "the willingness to change or compromise" and "the ability to be easily modified".
Well, at least it is according to the New Oxford American Dictionary.
I say flexibility (as well as adaptability, versatility, multiusefulness…) = this grey plaid blazer. Seriously.
For this week's Fab Find, I stumbled across this Target boyfriend blazer that is the perfect take on menswear. Though it is structured in style, it fits loosely and gently sits on your frame to accentuate your features and complement your outfit.
It also is a bit longer than typical blazers, meaning it will be a SUITable (get it?) overcoat for light, windy days that don't require a heavier jacket. Not to mention that the classic grey pattern goes with pretty much everything. Oh, and it's a decent dupe for the boyfriend blazer Kendall Jenner wore last week.
Okay, so enough with the blabber. Let me just show you how wonderful this blazer is. Keep scrolling for 3 examples of how to wear a plaid blazer.
Related reading: What to Wear with a Blazer: 10+ Outfit Ideas for Women
Grey Plaid Blazer Outfit 1: Classtime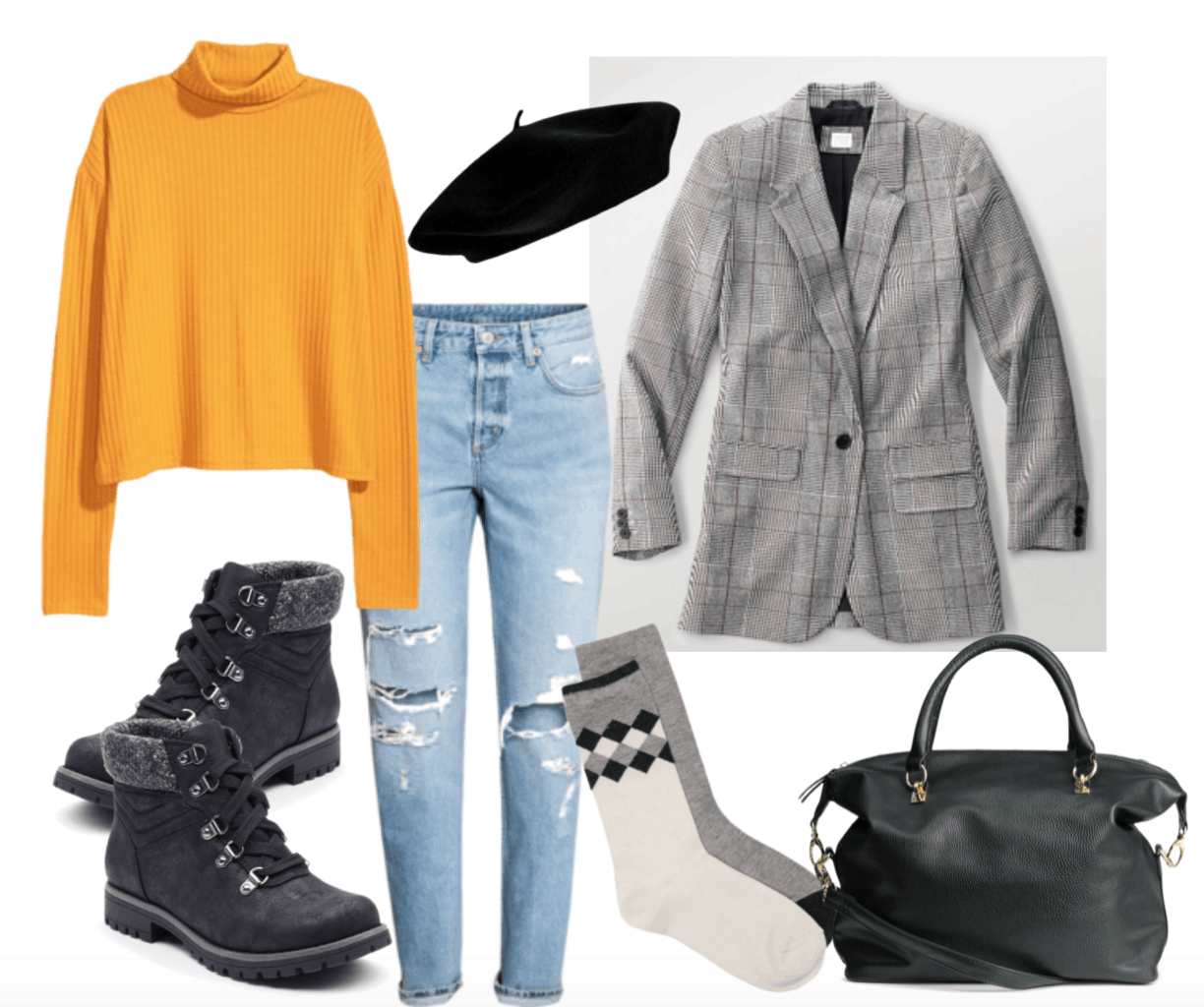 Products: Blazer – Target, Jeans – H&M, Sweater – H&M, Beret – Amazon, Boots – Kohl's, Socks – DSW, Handbag – H&M 
Soooo for the first flexibility test, I curated a look for class time. Because of its muted colors, this blazer goes with almost anything — including this bright mustard turtleneck sweater. Pair it with your favorite pair of distressed boyfriend jeans, and you've already got that relaxed-yet-put-together vibe goin' on.
Grab some cozy grey cashmere socks to keep your feet warm and slip them into these sturdy black ankle boots. Bring your stuff along in this classic black handbag.
Curl your hair so the ringlets hang loosely and place a lovely black beret on your locks. Pretty Parisian, no? Now go take those notes, girl.
Grey Plaid Blazer Outfit 2: Worktime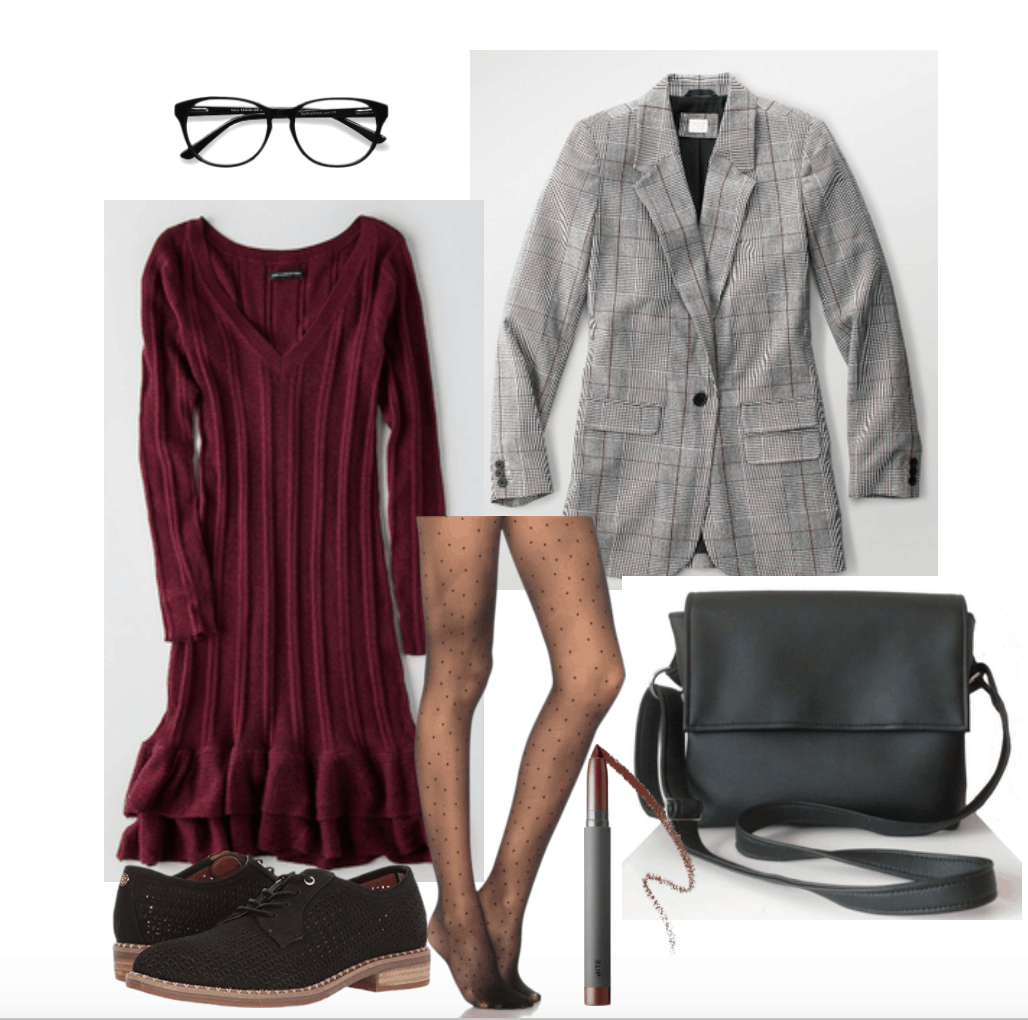 Products: Blazer – Target, Dress – American Eagle, Eyeglasses – EyeBuyDirect, Tights – Revolve, Oxfords – Amazon, Bag – Etsy, Lip Crayon – Amazon
Flexibility test two (and this is the real kicker!), can it work for work? Yup, definitely.
Pull your blazer over this super adorable burgundy sweater dress – do you see those hemline ruffles?! Slip on polka dot tights because you don't care about mixing prints. Then snatch your classiest shoe, like these black oxfords.
Pile your belongings in a black leather bag, and slip on some glasses if you need them (so professional!). Twist your hair into a ballerina bun, and swipe on some burgundy lipstick to give you that extra confidence. Look good, do good – that's my motto.
Grey Plaid Blazer Outfit 3: Datetime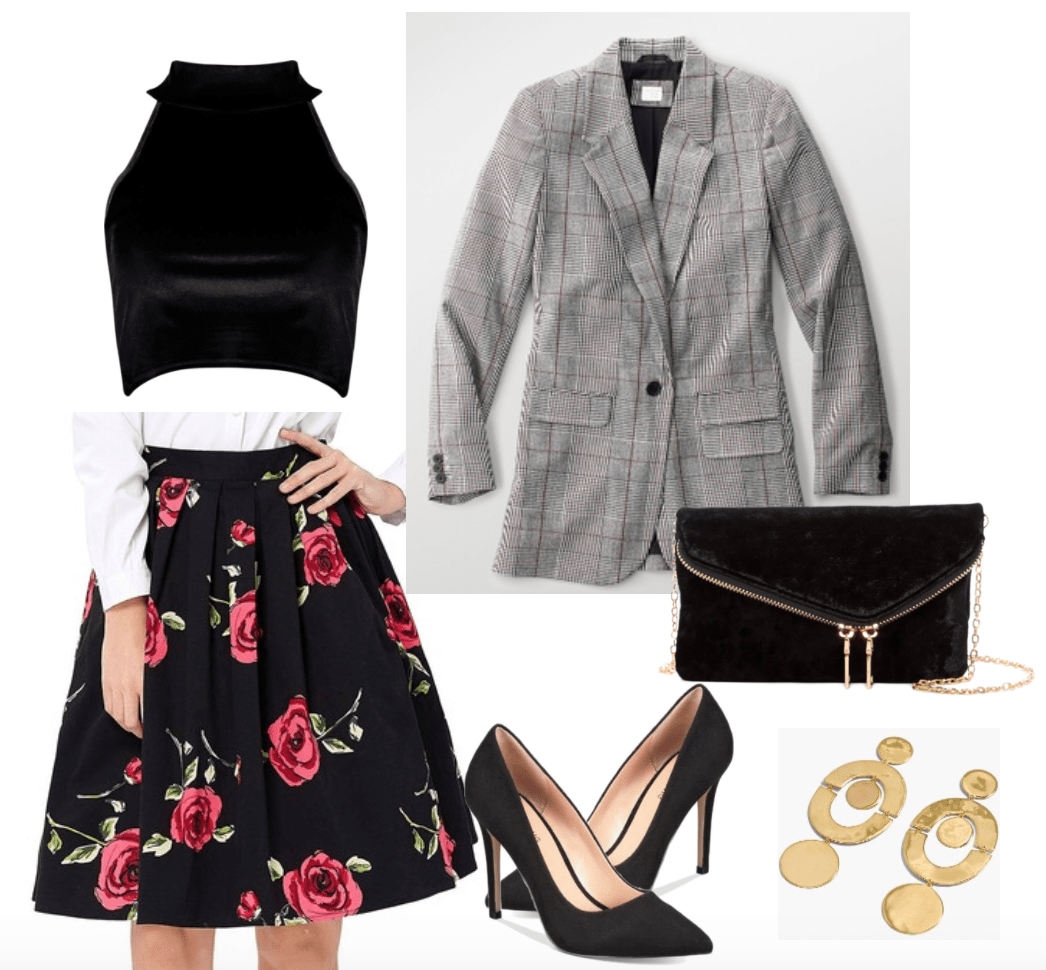 Products: Blazer – Target, Top – Boohoo, Skirt – Amazon, Pumps – Amazon, Clutch – Nordstrom Rack, Earrings – J.Crew
Ah, yes, the most fun flexibility test of the three: will it work for date time? Well, you tell me!
In this look, we're mixing up prints and textures. Pair your blazer with a black velvet crop top and high-waisted floral skirt to draw all eyes to you. Gorgeous. Slip on some classic black pumps to elevate your height and your confidence level.
Curl your hair for this look and accessorize with these gold statement earrings. A black velvet clutch completes this outfit (listen – you can never have too much velvet). Be ready to woo your partner, girlie.
Thoughts, pls.
What do you think of this week's Fab Find? How do you feel about blazers? Do you think this one passed the flexibility test(s)? Let me know below!