Graphic-printed shoes are an easy, fun way to add some personality to your look. Whether striped sneakers or embellished flats are your thing, there's sure to be a pair of fun, printed shoes out there for you!
Not sure where to find graphic sneakers? This week's Fabulous Find caught my eye as I was scrolling through the Forever 21 shoe section. Not only they are a steal at under $15, but these comfy canvas sneakers are covered in an adorable cactus print! What more could you want?
The Shoes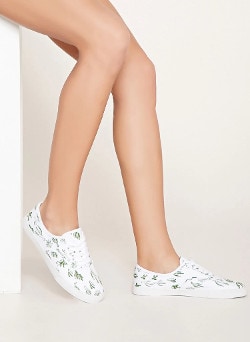 Cactus Print Canvas Plimsolls – $14.90 at Forever 21
Outfit Inspiration
Not sure how to wear these sneakers? Here are a few ideas to get you started:
Outfit #1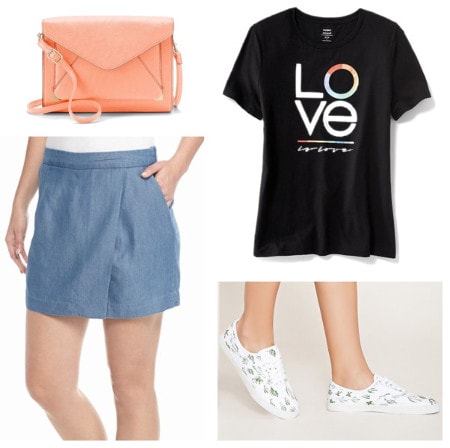 Products: Sneakers, Tee, Skirt, Bag
For a cute, casual look inspired by your kindergarten days, try pairing these fun sneakers with a graphic tee and chambray skirt. These comfy staples are perfect for a day of exploring the city or strolling the boardwalk. Don't forget a coral crossbody bag to carry your stuff!
Outfit #2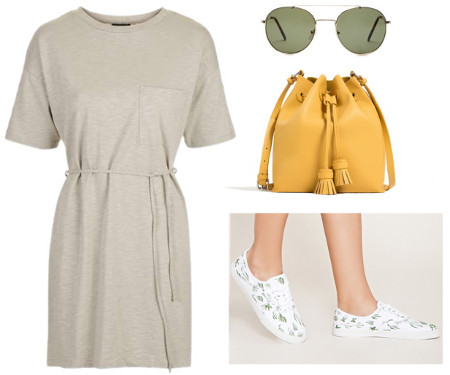 Products: Sneakers, Dress, Bag, Sunglasses
For a trendy, street-style-inspired outfit, pair these sneakers with a super casual tee shirt dress. Keep the look simple with just a couple of modern accessories, like a yellow bucket bag and round aviator sunglasses.
Outfit #3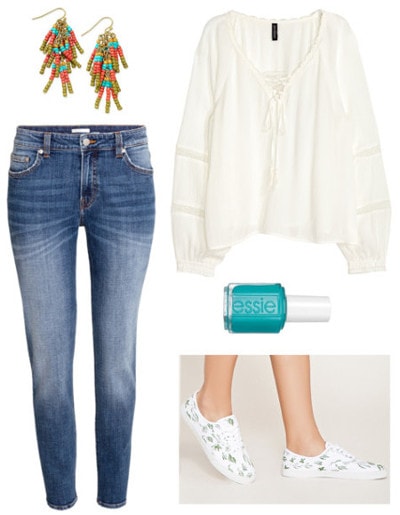 Products: Sneakers, Blouse, Jeans, Earrings, Nail Polish
Try this cute look for a casual outdoor concert or lunch date. Throw on a white lace-up blouse with straight leg jeans, then slip on your printed sneakers. Beaded earrings and aqua nail polish add some fun pops of color, too.
Thoughts?
What do you think of this week's Find? Do graphic sneakers have a place in your closet? How would you style them? Let us know in the comments!