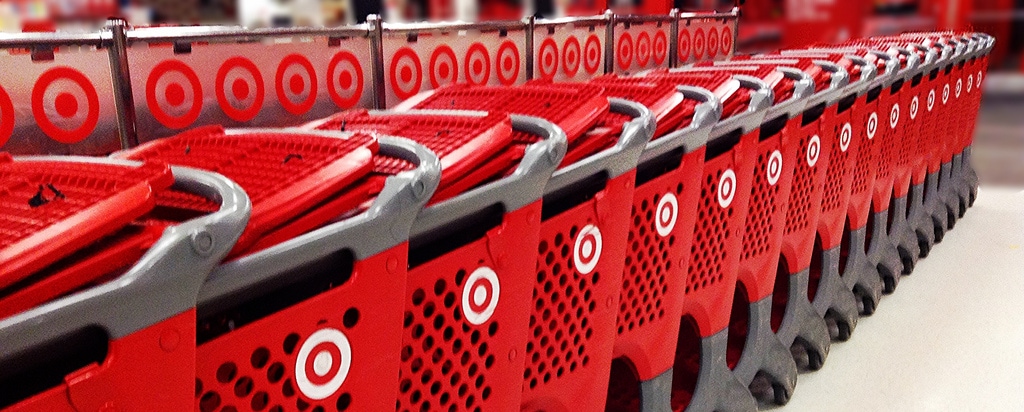 Back in high school, I had a pair of beige flats I wore to death. (Quite literally, too. I had to toss them in the bin two years later when they were nearly green and practically shedding.)
Pre-deterioration, they were sophisticated and expensive-looking, so it was no surprise that everyone wanted to know where I got them from. What did shock was the fact that I didn't acquire the stylish, mature flats from Nordstrom or even Nordstrom Rack. Oh, no. Like our favorite bargain shoppers on Instagram, I acquired the flats from an unlikely source: Target.
That's right, my dear reader: Target, land of the suburban moms and home to the ever-reliable $1 section that stored my favorite seasonal items and stationary products, is also Target: home to the Most Stylish (soon-to-be-gone) Shoes on the block.
Don't believe me? See for yourself if Target's best-loved shoe brand, Merona, can't give designer brands a run for their money. Here are our favorite designer shoe dupes at Target right now:
Black slide sandals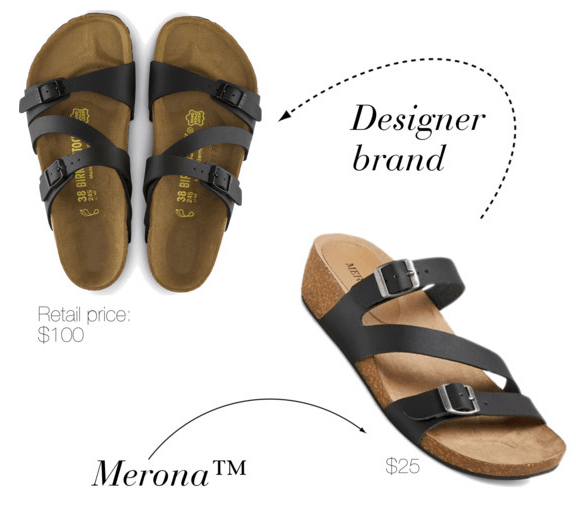 Designer brand: "Salina Birko-Flor" by Birkenstock. Available for $99.95.
Merona: "Madeline Slide Sandals" ($24.99) at Target.
In the case of orthopedic Birkenstock sandals, comfort does come at a price. (And a very steep one at that — these plain Birkenstocks are marked at $99.95.)
Target offers a similar design at a much better price. Their Merona sandal is equally as functional as the Birkenstocks but nearly four times cheaper. You can guess which one my Christmas cash will be going towards!
Promising review:
"I bought these in pewter and the similar style by Mad Love to compare – I liked these a lot better. My foot is kind of skinny and I thought these looked better on my feet and the faux leather was softer. I also like that they have a bit of a wedge. I usually wear a 6.5 or 7 and 6.5 was perfect for me. Cute sandal, good price! "
— Verified purchaser "B"
Backless loafer mules in silver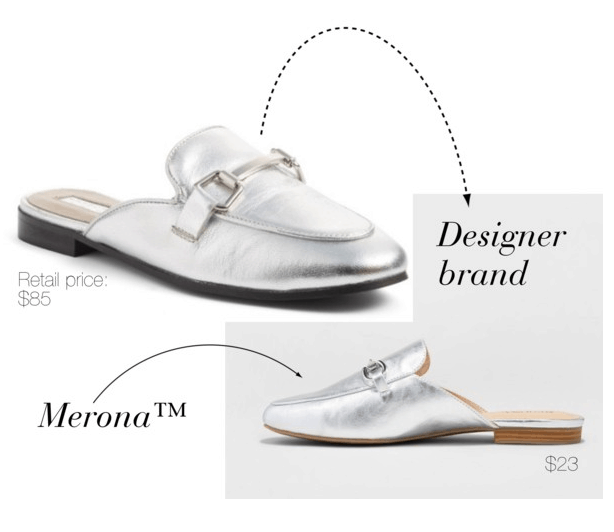 Designer brand: "Kylie Loafer Mule" by Topshop. Available (on sale!) at Nordstrom for $50.98.
Merona: "Kona Backless Mule Loafers" ($22.99) at Target.
Reviewer Shelley007 claims that these silver loafer mules are a "nearly identical" dupe of the $680 Gucci Princetown Loafer, but I think they look more like a pair of $85 Topshop mules sold at Nordstrom.
Either way, you're getting a promising bargain with the $23 Target buy. The Merona option is sleek, luxe, affordable; it leaves you room in the budget to buy just one more pair (preferably, the sandals listed below)!
Promising review:
"I love these slides! I bought a pair of Gucci ones and compared the two – this one wins by far! They have some cushion (Gucci didn't) so they're super comfortable! […] They fit like a glove. I bought these in black as well. Must have for this Fall!!"
— Verified purchaser "Shoelvr"
Strappy leather brown sandals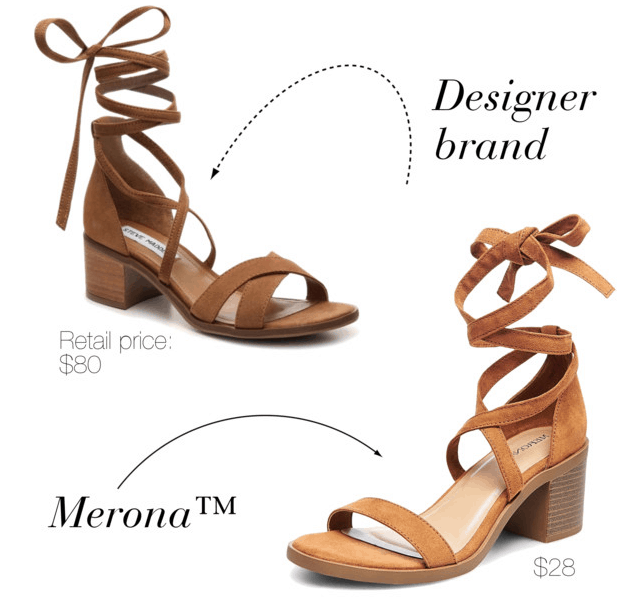 Designer brand: "Kanzley Sandal" by Steve Madden. Available (on sale!) at DSW for $54.98.
Merona: "Matilda Lace Up Heeled Quarter Strap Sandals" ($27.99) at Target.
The lace-up element of these Merona shoes adds whimsicality to an otherwise plain but elegant design. Combine that with a lighter suede color and you've got the makings of a sandal that's fit for paradise (AKA your spring break vacation).
Promising review:
"I've been looking for a neutral block heel that wouldn't break the bank, but that I'd still love. This shoe fits the bill! They are heavy and seemingly well made. They have a good padding. The straps are very soft and didn't cut into my feet. The block heel is rubbery, so they are quiet and even more comfortable to walk in. These are perfect for chasing littles around in!"
— Verified purchaser "Shannin M"
Block heel pumps in tan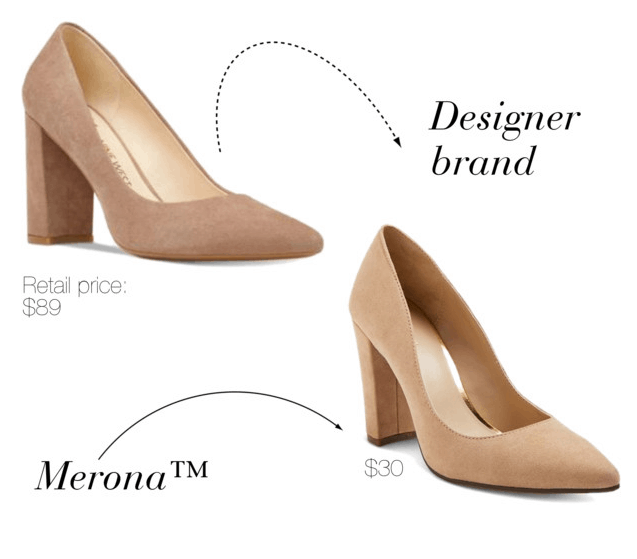 Designer brand: "Astoria Block-Heel Pumps" by Nine West. Available at Macy's for $89.
Merona: "Brie Block Heel Pumps" ($29.99) at Target.
You could pay three times the price of a Merona Brie for a Nine West Astoria, but why would you? These Target block heel pumps are durable, practical, and (we hear) perfect for weddings.
Promising review:
"I love them! I got my normal size 7 and they fit well even when I added foot petals […] I wore them to a wedding and had zero problems all night. Plus, they're super cute and made my legs look long. Bonus, the block heel makes it a whole lot easier to walk in especially when walking on grass where the ceremony was held. I have had a lot of good luck with the Merona brand so far."
— Verified purchaser "Momofthree619"
Pearl slide sandals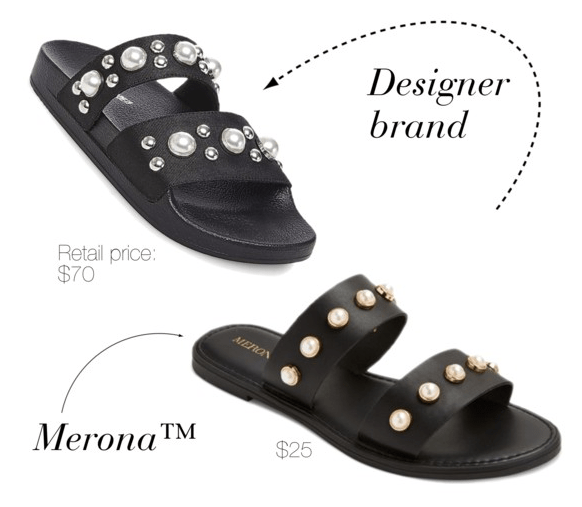 Designer brand: "Polite" by Steve Madden. Available for $69.95.
Merona: "Margo Pearl Slide Sandals" ($24.99) at Target.
If you've got your heart set on the Steve Maddens, then by all means take them. Of the designer shoes, they are among the cheaper options, and the extra metal ball adornments truly make the design.
I, for one, will stick to the Merona interpretation of a pearl slide sandal. Its gold tones match my warm undertones, and I'd rather spend the extra cash on killer Christmas gifts, anyway!
Promising review:
"I just received these in the mail and I'm obsessed!!!! I purchased them in the black as well. Very comfy and very well-made. I would recommend the shoes to anyone. I usually wear a 7 1/2 to an 8 and I bought the 8 and it fits perfect. Very satisfied with my purchase."
— Verified purchaser "SaraS"
Thoughts?
Are you a fan of Target? Do you own a pair of Merona shoes yourself? After reading this post, would you like to? (And which of these über fashionable picks would you purchase if so?)
Comment below!