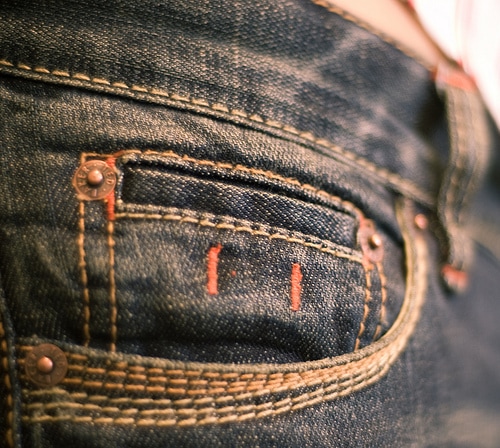 Denim is the arguably the one wardrobe essential that can be found in every college student's closet. The right pair of jeans can easily take you from the classroom to date night, making them the ultimate wardrobe must-have. Jeans are comfortable and flattering, and with so many different washes and cuts out there, the choices are endless.
Because we all love our jeans so much, we've decided to put together the ultimate back-to-school denim guide for fall 2011. Keep reading to discover the hottest jeans, most popular trends and over 50 cute and affordable denim picks for fall:
The 4 Hottest Denim Cuts for Fall 2011
Four of the most popular denim cuts for Fall 2011 are flares, skinny, wide-leg, and boyfriend jeans. Since you'll be seeing these cuts everywhere this season, scroll on down to learn a little more about each one.
1. Flared Jeans
Flares are — without a doubt — this season's "it" jean. The '70s trend that was popular throughout spring and summer is still going strong and this denim cut reflects the aesthetic of that time period. Flared jeans have the same fitted look as bootcut jeans, albeit with a slightly larger leg opening at the bottom. So, if you're a girl who normally wears bootcut jeans, swap 'em out this season for a flared pair.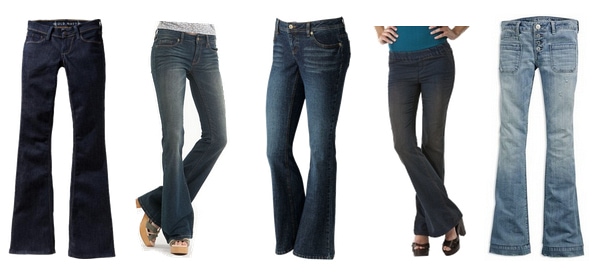 Product Info: Skinny Mini-Flare- Old Navy, Vintage Flare Explorer Jeans- PacSun, Crosshatch Flares- Kohl's, Antique Wash Flares- Target, Vintage Flares- American Eagle Outfitters
2. Skinny Jeans
Skinnies are the denim trend that just keeps on going. They've been popular for such a long time now that we think they may have gone from a fleeting trend to a bona fide wardrobe staple. Still haven't rocked a pair of skinny jeans yet? Try them out — you might be pleasantly surprised!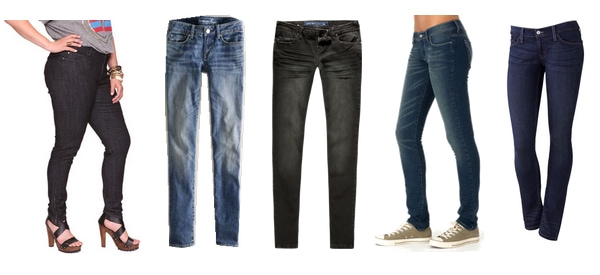 Product Info: Ankle Zip Skinny Jeans- Forever 21+, Antique Skinny Jeans- American Eagle Outfitters, Almost Famous Skinny Jeans- Tilly's, Low Rise Super Skinny Jeans- Delia's, Superlow Faded Skinny Jeans- Kohl's
3. Wide-Leg Trouser Jeans
This is another type of denim cut with a distinct '70s vibe. However, unlike flares, which are fitted throughout the hip and leg, wide-leg jeans have a loose, body-skimming fit. These jeans look super-chic whether you wear them with ballet flats and a tee or a pretty blouse and sky-high heels.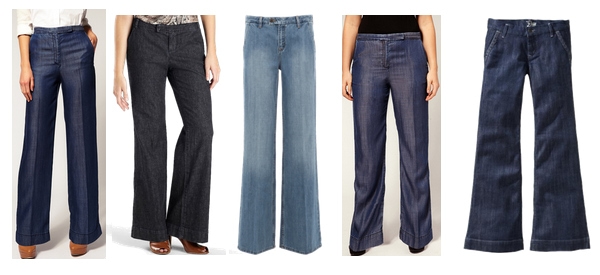 Product Info: Tailored Wide-Leg Jean- ASOS, Trouser Jean- JCPenney, '70s Wide Leg Jeans- Oasis, High Waisted Wide-Leg Jean- ASOS Curve, Braided Trim Trouser Jeans- Old Navy
4. Boyfriend Jeans
Menswear-inspired fashion is going to be huge this autumn and boyfriend-style jeans fall under this category. These slouchy jeans are super laid-back, making them perfect for casual days. Just remember to pair them with fitted tops for balance!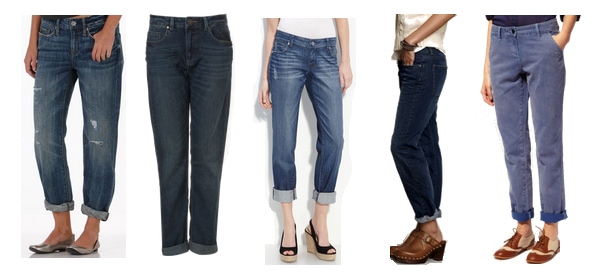 Product Info: Ex-Boyfriend Jeans- American Eagle Outfitters, Vintage Wash Boyfriend Jeans- Topshop, Roll-up Boyfriend Jeans- Nordstrom, Rigid Boyfriend Jeans- Land's End, Washed Boyfriend Jeans- ASOS
The Top 3 Jean Trends for Fall 2011
If you're looking for something different than your basic old blue jeans, check out these three denim trends that will be popular for fall.
1. Colored Skinnies
Colored denim was trendy a few years ago and now it's back in a big way for fall and winter. This season is all about the colorful skinny jeans, which are available in pretty much every hue imaginable. To make them fall-appropriate, though, we suggest picking up a pair in a rich, autumnal hue like the ones below.
Not sure how to wear them? Pairing them with neutrals is a no-brainer, but you could also wear these jeans with a colorful top for a bold, color-blocked look.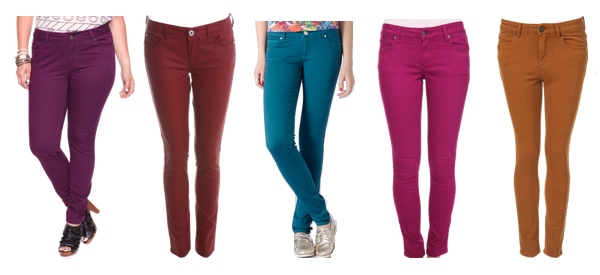 Product Info: Purple- Forever 21+, Dark Red- Miss Selfridge, Teal- Delia's, Magenta- Forever 21, Mustard- Topshop
2. White Denim
Since we all know that the silly little rule regarding "no white after Labor Day" is outdated, bright, white denim is slated to be a popular denim wash throughout fall and winter. Wearing white during colder months definitely makes a bold statement, but white jeans can be one of the trickier denim styles to pull off. These babies definitely best accessorized with tons of confidence!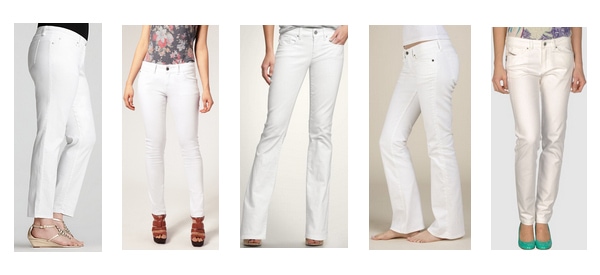 Product Info: Straight Leg Jeans- Bloomingdales, Skinny Jeans- ASOS, 1969 Curvy Jeans- Gap, Charlie Flare White Jeans- Lucky Brand, Diesel Skinny Jeans- YOOX
3. Patched Jeans
Love destroyed denim? Then you'll probably love this season's patched jeans, which are exactly what they sound like — jeans with sewn-on patches. While they're definitely not for everyone, these jeans give off a cool, grungy vibe that's sure to be noticed. If you aren't up for buying a pair of ready-made patched jeans, you could easily DIY your own with an old pair!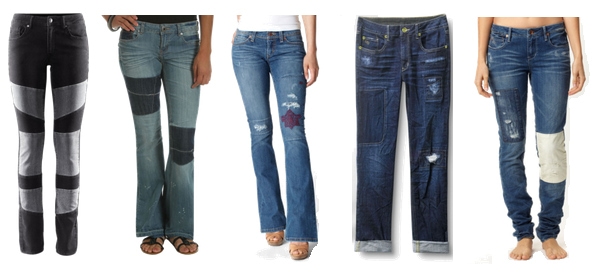 Product Info: Contrast Patch Jeans- H&M, Patched Grunge Flares- Wet Seal, Crafted Skinny Flare Jean- Levi's, Patched Boyfriend Jean- Quicksilver, Pacific Patchwork Jean- Quicksilver
4 Jean-Free Ways to Wear Denim
Jeans aren't the only denim style that will be popular for fall! Check out these four other denim trends for back-to-school:
1. Skirts
Denim skirts are going to be huge, and we mean H-U-G-E this season. That said, we're not talking about those basic denim mini-skirts you wore to death in middle and high school. This fall, denim skirts have gotten a chic makeover. Every type of skirt imaginable has a denim version out there right now, so whether you like A-line, midi or pencil skirts, there's sure to be a denim skirt that matches your personal aesthetic.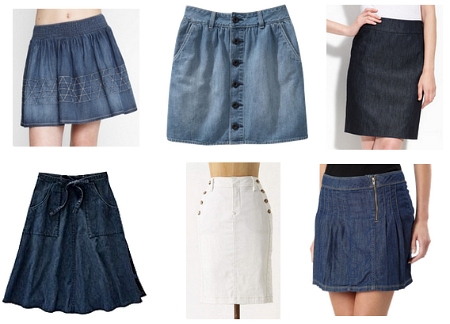 Product Info: Stitched Detail Skirt- BCBGeneration, Button-Front Skirt- Old Navy, Pencil Skirt- Nordstrom, Midi Skirt- Madewell, White Skirt- Anthropologie, Side Zip Skirt- Debenhams
2. Jackets
Jean jackets are classic pieces that are perfect for cooler weather – even better, they're having a major fashion comeback this fall. You can easily throw a denim jacket over your favorite dress to create an instant effortless, all-American look. Invest in a good denim jacket and you'll have a stylish option that will last you years. However, if you want an of-the-moment moto or cropped denim jacket, look for cheaper alternatives at places like Forever 21 or H&M.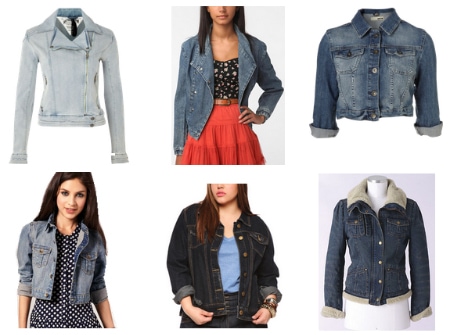 Product Info: Denim Biker Jacket- House of Fraser, Double Breasted Denim Jacket- Urban Outfitters, Cropped Denim Jacket- Topshop, Denim Western Jacket- ASOS, Destroyed Denim Jacket- Forever 21+, Denim Sherpa Jacket- Delia's
3. Dresses
Denim dresses were popular throughout the summer and they'll still be trendy for fall. Just like jeans, denim dresses are available in tons of cuts, washes and styles, so find one you love and rock it all winter long.
As far as styling a denim dress goes, wear one with flats and a lightweight cardigan while the weather is still nice, then layer on some thick tights and your favorite coat once it gets cold outside. The denim dress is a super-versatile piece, if you ask us.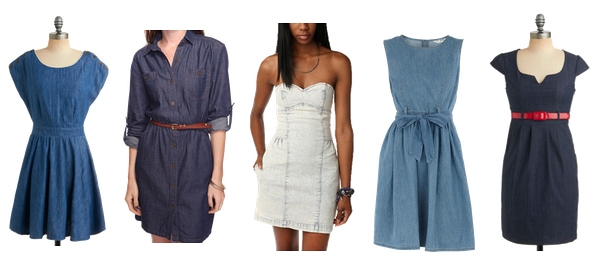 Product Info: Coy in Denim Dress- ModCloth, Belted Denim Shirtdress- Forever 21, Faded Strapless Dress- Urban Outfitters, Bleached Denim Prom Dress- Dorothy Perkins, Charmin' Sandiego Dress- ModCloth
4. Shirts
Since jeans are such a common way to wear denim, shirts made out of this material are a somewhat out-of-the-box way to wear denim for fall. Pair a denim shirt with a nice pair of trousers or a pretty skirt for a sleek look, or be brave and wear some stylish double denim. (PS- Check out our guide for rocking denim-on-denim!)
Not ready to rock a full-on denim shirt? Try one out made out of denim's easy-to-wear cousin, chambray.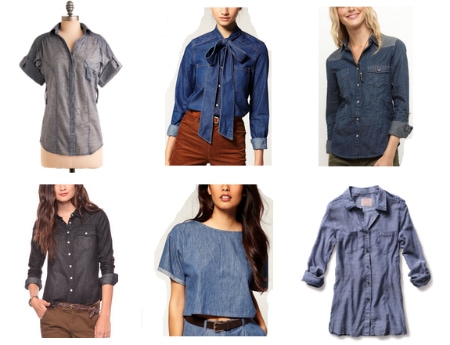 Product Info: Just as You Are Top- ModCloth, Bow Blouse- ASOS, Pioneer Shirt- Roxy, Snap Up Denim Shirt- Forever 21, Denim Cropped T-Shirt- ASOS, Sunset Chambray Shirt- Quicksilver
What do you think?
What's your favorite kind of denim? Which of these denim trends will you be rocking this fall? Any trends you'll be skipping? Remember to leave a comment below and let us know your thoughts!