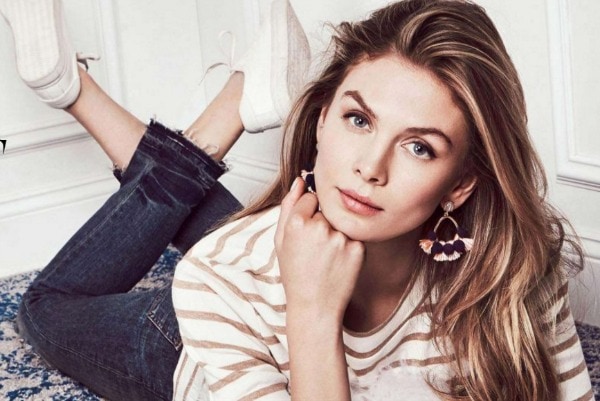 I am a fairly unabashed girly-girl, albeit one that loves rocker-chic studs and fabulous menswear ensembles. When it comes to accessories of any kind — jewelry, school supplies, wallets, whatever — my picks have to have major personality. I mean, why not add a statement necklace to a look? And why go for vanilla essentials, like notebooks and phone cases, when there are so many fun, quirky, unique options out there?
If you share these opinions with me, you will love the two brands I'm featuring this week. Accessory labels ban.do and Baublebar are all about F-U-N. Here's all the scoop on these two brands to help you add a little extra glam to your life.
ban.do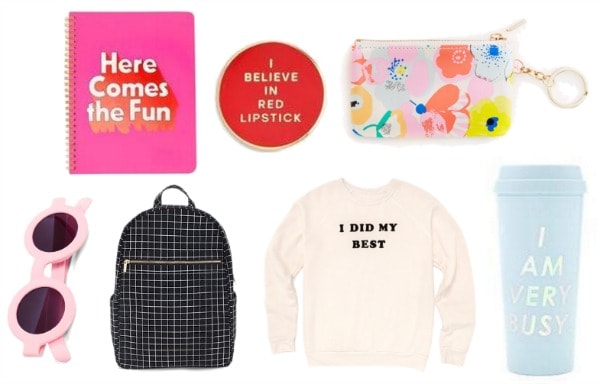 Products (all ban.do): Notebook, Pin, Pouch, Sunglasses, Backpack, Sweatshirt, Mug.
Typical price range: $15-$200
I call ban.do an accessory company, but their website really has a bit of everything, including cozy sweatshirts with sassy phrases to quirky clothes and jewels by indie designers, as well as the brand's own signature pins, planners, and travel accessories.
Their school supplies are so cute and make any class more fun (especially the organizers that come with adorable stickers), and their website is full of hidden, random gems like goofy sunglasses, pool floaties, and quirky party supplies.
I also love ban.do's huge selection of pins, patches, and iron-on letters that can help you customize the coolest jean jacket ever (my fave is the "I believe in red lipstick" pin above). Price-wise, some of the accessories can seem a bit overpriced, but most little things are relatively affordable, while the clothing is more expensive.
Where to buy: Macy's, boutiques, bando.com
Baublebar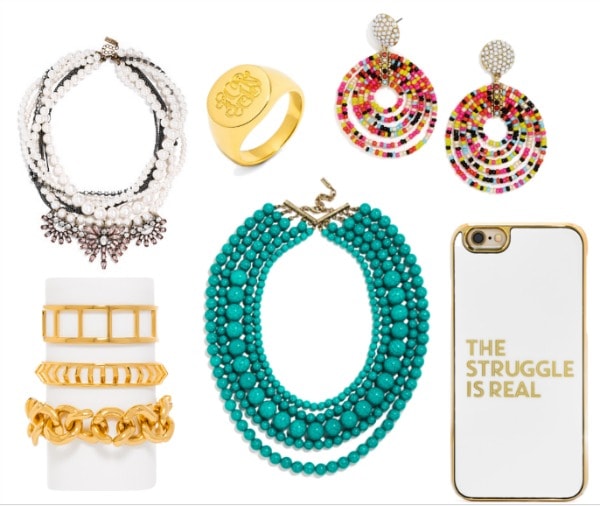 Products (all Baublebar): Pearl necklace, Bracelets, Ring, Turquoise necklace, Earrings, Phone case.
Typical price range: $30-100
Baublebar is my go-to brand when I need a great piece of statement jewelry. Their major earrings are so much fun, and their stacking bracelets, rings, and sparkly necklaces should be considered wardrobe essentials for any fashionista.
The site is also awesome for making a street style-worthy accessory game totally attainable. You can mix and match your own custom set of earrings, necklaces, or bracelets for a totally eclectic look. Plus, they have a killer selection of of personalized jewelry, featuring everything from your initials to your horoscope to your home state. Some personal pieces can get a lot more pricey, around $250, but almost everything on the site is under $100.
Finally, Baublebar has a great membership program where you get rewards points when you make a purchase, and they often have celeb "guest bartenders" who curate a jewelry collection for the site. The most recent bartender? Style queen Shay Mitchell.
Where to buy: Nordstrom, Nordstrom Rack, Bloomingdale's, Baublebar.com.
Look for Less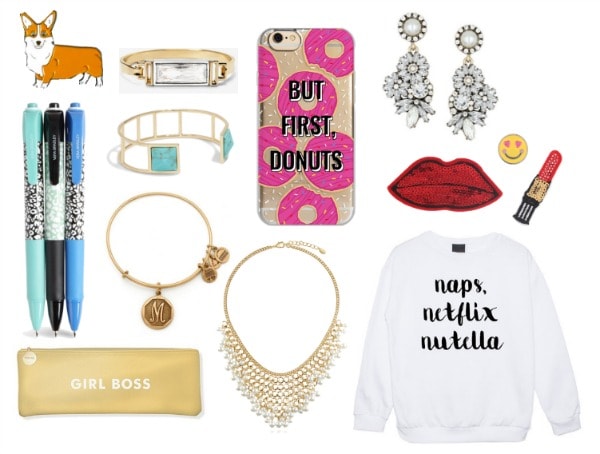 Products: Corgi pin, Sweatshirt – Etsy, Pens, Turquoise cuff – Vera Bradley, Crystal bracelet – White House Black Market, Initial bangle – Lord & Taylor, Pouch – Nordstrom, Phone case – Nordstrom Rack, Necklace – Berricle, Earrings – Pearls and Rocks, Pin set – JCPenney.
While you can find many awesome goodies by both of these brands for under $50, I rounded up some similar finds from other stores in case your budget is extra tight.
When trying to get the vibe of ban.do and/or Baublebar, look for:
Clothes and accessories featuring quirky phrases
Bright colors
Major statement necklaces and earrings
Fun school and office supplies
Enamel pins or fashion-y patches
Initial jewelry
Stackable bracelets
Novelty sunglasses
Cozy sweatshirts
Wild prints
Vintage-inspired clothes
What do you think?
Are you into either of these brands? Have you shopped either of them before? Which is your fave? Let me know in the comments!