This post may contain affiliate links, which means we may receive a commission if you purchase through our links. Please
read our full disclosure here
.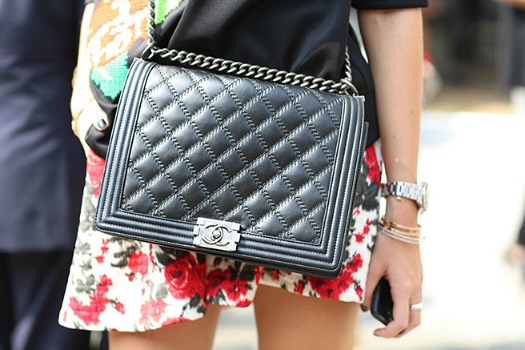 Photo: ELLE
One of my favorite ways to spice up my wardrobe is through accessories. While I love lusting over the season's typical (and yet, somehow, never tired) parade of plaid shirts and skater skirts, a much easier and wallet-friendly attitude towards back-to-school shopping is to alter your daily look by swapping out jewelry, phone cases, and bags.
Below are three looks that incorporate some of the season's best little extras. I used the same basic pieces (a tank top, jeans, and boots) for each outfit to emphasize how much of an impact accessories can make.
The Classic Collegiate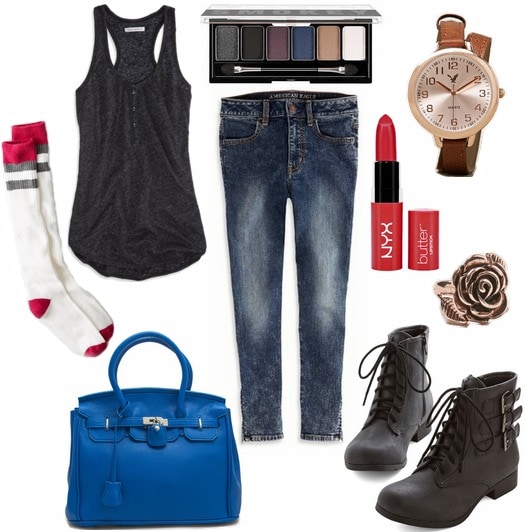 Product Info: Tank, Jeans, Boots, Bag, Socks, Lipstick in "Juju", Eyeshadow, Ring, Watch
The first getup is a revamped classic collegiate look. The classically-shaped bag and timeless appeal of a neutral wristwatch are the accessory staples of the outfit. These socks are a fun addition to black combat boots, and their stripes have such a "varsity" vibe to to them
And can any outfit truly be labeled "classic" without the addition of red lipstick? That and the dark yet pretty eyeshadow palette are both prime examples of how makeup can give an otherwise basic outfit a cool and collegiate feel.
The Metal Minimalist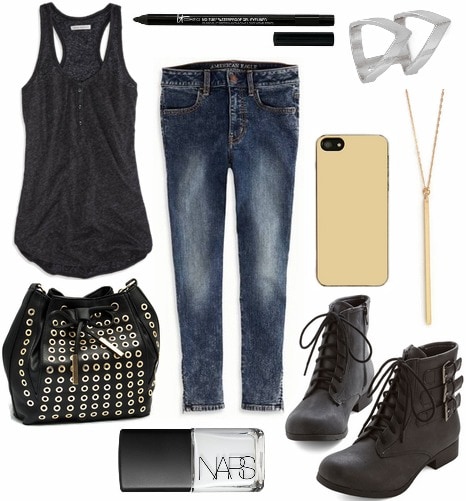 Product Info: Tank, Jeans, Boots, Bag, Necklace, Ring, Eyeliner, Phone Case, Nail Polish in "Ecume"
This second look uses the same basic outfit mechanics with a little bit of minimalist flair. One would think that minimalist would mean bare bones or scanty, but this season's basics pack a lot of punch with an appeal to shiny metals and elegant shapes.
I love the grommets and gilded tassels on what would be an otherwise no-frills bucket bag. The metal motif is echoed through the necklace and ring, and the reflective phone case is a fun yet unconventional way to show your minimalist mood.
Take this trend the extra mile with your beauty look: a stark white mani and black eyeliner. Please refer to Pinterest and/or The Beauty Department for cool ways to apply liner, in case ye old straight line just doesn't cut it.
The Bejeweled Bohemian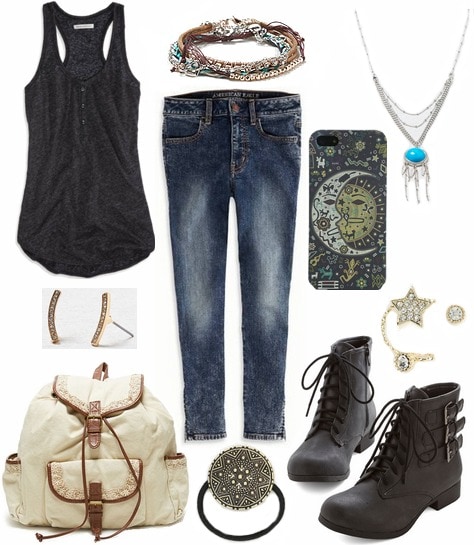 Product Info: Tank, Jeans, Boots, Backpack, Ear Cuff, Hair Tie, Necklace, Phone Case, Earrings, Bracelet
This last ensemble is an updated take on the boho trend. It is more understated than summer's boho look, which featured heavy fringe and floral crowns. The outfit above is intricate and craftsman-oriented with lots of layers of delicate pieces of jewelry.
Bright teal stones and pops of diamante gems give these pieces their well-traveled, bohemian vibe. The bag is rustic-looking, and because apparently there's one for every mood, an Aztec-inspired sun and moon phone case. Don't lecture me on how bohemians and Aztecs would never share accessories. This is fashion. We do what we want here.
Your thoughts?
What do you think of these accessory trends? Or how about the basics? The jeans are on sale, by the way. No such luck with the boots – they're full price. I just couldn't help myself. I was sucked into the wallet-draining vortex that is Modcloth and I was lost there for a very long time. But I digress.
Critique or applaud away below – and happy accessories shopping to you!