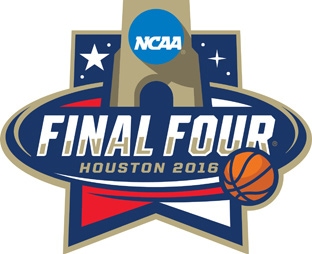 Ah, March Madness, one of the best times of the year, and sadly it will be coming to an end tomorrow. Whether or not you're actually going to the final games of March Madness, watching it at a bar with all your friends, or staying in with your roommates, you have got to show your team spirit for these games.
Villanova vs. Oklahoma
When these 2nd seeds go head to head, it's bound to be a tough game.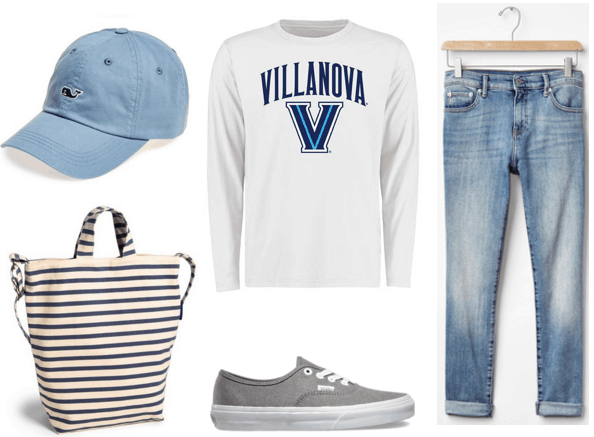 Products: Hat, Shirt, Jeans, Bag, Shoes
Cheer for your Wildcats by wearing a Nova long sleeve, light wash jeans, gray Vans, and a matching powder blue baseball hat. Showing your love for this Philly team with their logo is the way to go.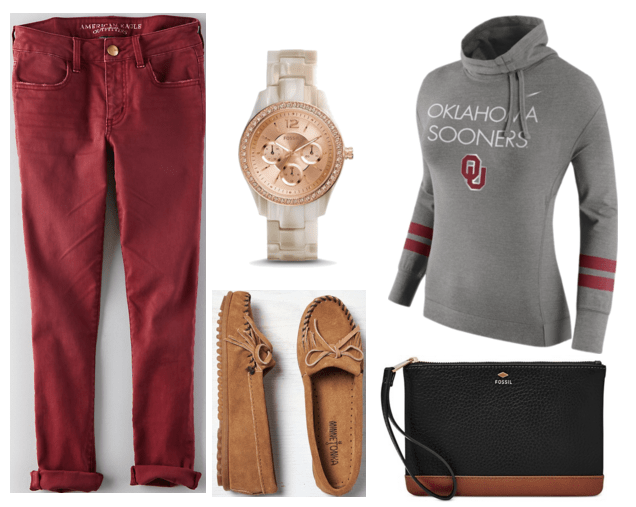 Products: Jeans, Watch, Moccasins, Sweatshirt, Wristlet
If you're a Sooners fan, support your team with some crimson jeans. Crimson bottoms are in style whether it's spring or not, so your team's colors will never be out of season. Finish the look off with a matching Oklahoma sweatshirt, moccasins, a wristlet, and a neutral watch. You'll be ready to cheer Oklahoma into the final game.
UNC vs. Syracuse
After beating a number 1 seed, 'Cuse might give UNC a run for their money.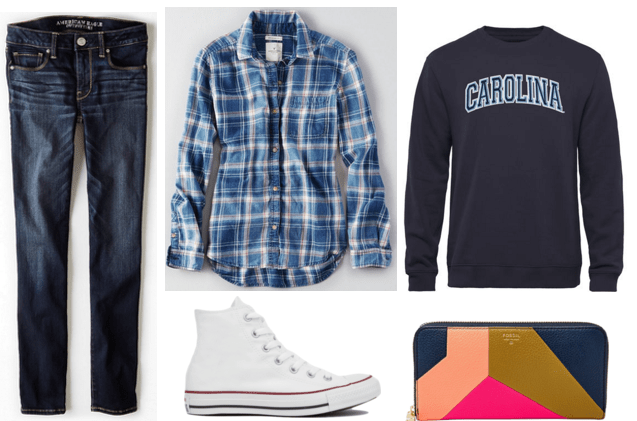 Products: Jeans, Flannel, Sweatshirt, Converse, Wallet
Pairing the dark jeans with the navy sweatshirt might seem odd, but breaking it up with the light blue plaid will break it up perfectly. Any Tar Heels fan would be proud to wear that Carolina Blue. The Fossil wallet adds to the navy, but breaks it up with the spring colors. Lastly, The Converse contribute to breaking up all that heavy blue.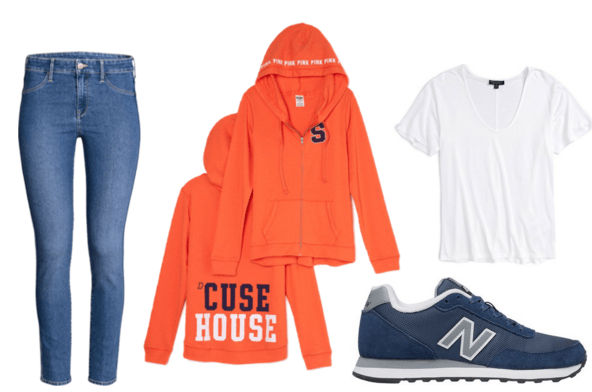 Products: Jeans, Sweatshirt, T-Shirt, Sneakers
For the 'Cuse fans: sporting orange might be a dare in a normal setting, but not wearing orange at a game is nearly criminal. Victoria's Secret PINK offers tons of cool collegiate apparel, and this sweatshirt reps Syracuse in style. It looks great paired with a white t-shirt, blue jeans, and navy sneakers to match.
What do you think?
Whoever you're routing for in the Final Four, be sure to rep your teams, even if your bracket is busted like most of America's. (Sob!)
Are you going to the Final Four in Houston? Where are you watching the games tomorrow? Who are you supporting? Tell us in the comments.