This post may contain affiliate links, which means we may receive a commission if you purchase through our links. Please
read our full disclosure here
.
Miu Miu display in London at Flagship store on Bond Street | Photo Credit
Prada is undoubtedly one of the most recognizable names in fashion. What began as a small leather bag manufacturer in Italy is now a household name synonymous with style and luxury. And behind it all is one name – Miuccia Prada. If you keep tabs on our runway fashion trend updates, you'll be sure to find the latest looks from her main brand Prada, as well as those from her more funky line, Miu Miu, mentioned often.
Miuccia Prada and Jessica Alba at the launching of the New London Flagship
10 Fun Facts About Miuccia Prada & Her Brands:
Prada first began as an Italian leather bag manufacturer in 1913, created by Mario Prada. But the Prada name is most famous due to the success of his grand-daughter, Miuccia, born 1949.
While it was Mario Prada who started creating the magnificent bags we know and love today, it was Miuccia who introduced the men and women's clothing lines in the early 90s. Since then, Prada has become known not only for its bags, but clothes as well.
Before taking over the family business, Miuccia earned a PhD in Political science and even spent some time performing as a mime!
Prada is very famous for its idea of "inward luxury", meaning they don't use very flashy logos on their merchandise; Prada's understated type of luxury is meant to be recognized only by those who are "in the know." The most you will usually see as far as designer labeling goes is the famous upside down triangle logo.
There are only 250 Prada-owned shops worldwide.
Prada's branch lines include: Miu Miu, Granello, Prada Uomo, and Prada Donna.
Miu Miu was introduced in 1992 – "Miu Miu" being Miuccia's nickname; the line is based off of her own personal style.
A year after that, she won a Council of Fashion Designers of America International Award. How prestigious!
Miuccia's husband, Patrizio Bertelli, is responsible for Prada's commercial and retail strategies. He happens to love sailing.
Even with her fame, Miuccia always makes sure to stay grounded, saying, "I love fashion, but I think it should stay in its place, not rule your life. It's a very nice part of your life, but I think it should be fun."
Outfit Inspired by Miuccia Prada
Wanna get the Prada look for yourself? Here's an outfit inspired by Miu Miu's Spring 2011 resort collection!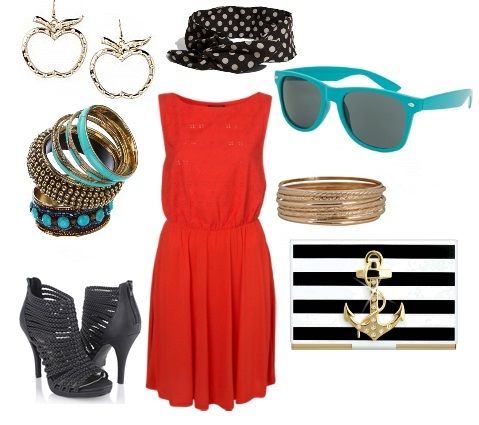 Product Information: Earrings – Apple Bottom, Headband – Nordstrom, Sunglasses – Tilly's, Teal bangles – Dorothy Perkins, Dress – Topshop, Gold bangles – Forever21, Shoes – Forever21, Card holder – Unique Vintage
Since Miuccia's line Miu Miu is meant to reflect her own tastes – bright colors, bold prints – I took her Spring 2011 Resort collection and toned it down for a college girl walking to class. The vibrant red dress and teal shades provide an easy way for even the biggest neutral lover to step out of her comfort zone. The fun earrings are a must-have for a true Miuccia vibe (see photo above!) and the apples were favorites in her newest Spring line. The polka dotted head-scarf and striped ID case (with the anchor to reflect Bertelli's hobby) highlight Miuccia's love for loud prints. Finally, remember: stack up on those bracelets!
Extra for Experts:
For more insider information on the fascinating life of Miuccia Prada – she went from Political Science scolar to mime to fashion icon! – check out these books that highlight the woman who made her family's leather bags into a socialite must-have!
Thoughts About Prada?
Do you have any other facts on Miuccia Prada you think are worth noting? Do you know any other books that are about Prada or feature the designer's name? Please share them with a comment. Also, feel free to suggest any designers you'd like to read about next!