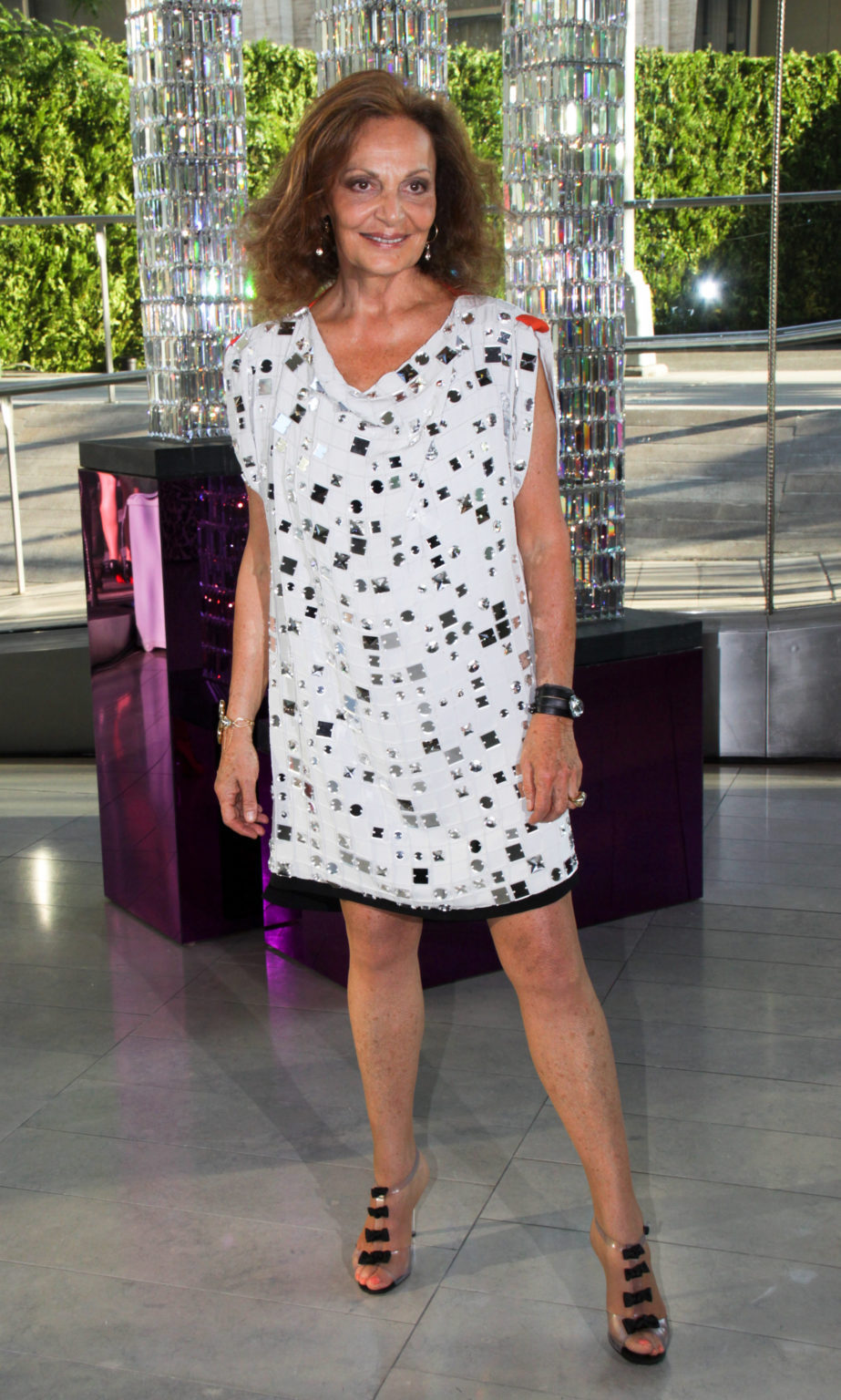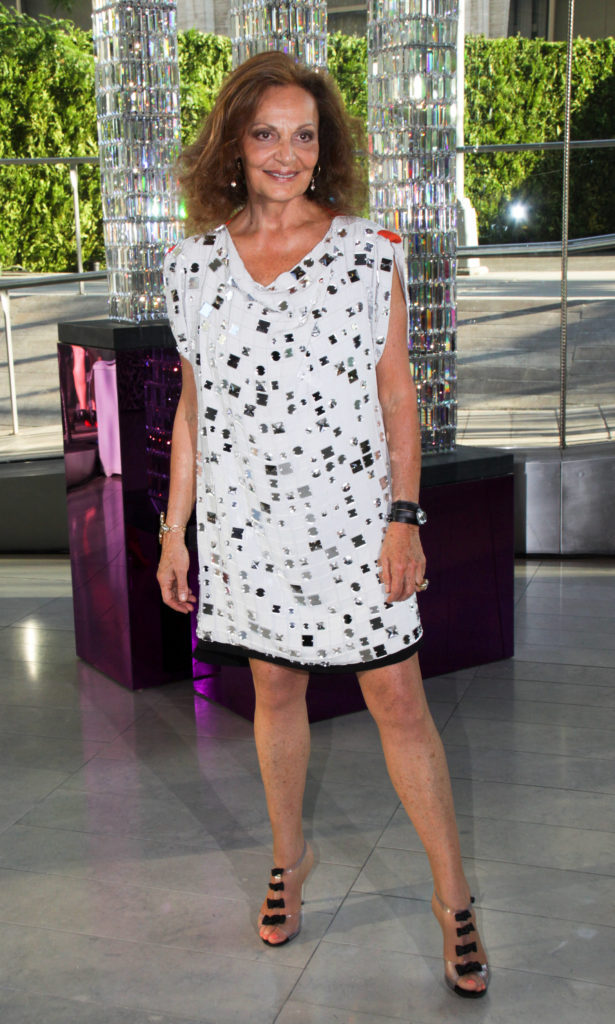 Moving forward with CF's Know Your Fashion Designers series, this week we're spotlighting Diane von Furstenberg, the designer who brought us the universally flattering wrap dress.
Not only did Diane change the fashion world by introducing another staple for every girl's wardrobe, but she remains a very active member of the fashion community.
A leader of the women-empowering Vital Voices organization and a board member of the Housatonic Valley Association, Diane is also the president of the Council of Fashion Designers of America (CFDA).
In her neighborhood – the Meatpacking District in Manhattan – Diane frequently hosts cultural events in her own studio.
It's clear that she's earned her reputation as a designer who gives back.
Want to know more? Read on to learn about the life of Diane von Furstenberg.
10 Fun Facts about Diane von Furstenberg:
1. Diane Simone Michelle Halfi (whew!) was born in Brussels, Belgium on December 31st, 1946.
2. She met her first husband, Prince Egon of Furstenberg at the University of Geneva in Switzerland where she studied Economics. They were married in 1969.
3. Diane had two children with Prince Egon, Alexander and Tatiana. Both were born in New York City and Diane named a fragrance after Tatiana in 1975.
4. After her divorce from Prince Egon in 1972, Diane was not allowed to use her previous title of "Princess Diane of Furstenberg". Nevertheless, she has been happily married to media mogul Barry Dillor since 2001. She and Prince Egon remained amiable toward each other until his death in 2004.
5. Diane first made her mark on the fashion world in 1972 when she introduced the iconic wrap dress; 5 million were sold in 1976 alone. Its timeless nature was further proven when she came back in 1997 after a fashion hiatus and re-launched the wrap dress to the next generation of buyers.
6. In 1993, Diane became a contributing editor for Vanity Fair magazine.
7. Diane won the Lifetime Achievement Award from the Council of Fashion Designers of America in 2005. In 2006, she was elected the new CFDA president.
8. Beyond the wrap dress, DVF is known for large and small floral and unique graphic prints and cinch-waisted skirts. The DVF look has the conservative and feminine feel of the 1940s with a highlighted flair of 1970s hippie chic.
9. Aside from clothing, the DVF empire has expanded to sell sportswear, beauty products, and fragrances.
10. In a 2007 interview with Harper's Bazaar, Diane von Furstenberg had some very inspiring words concerning her success:
"You know, when I was young, I loved to be intimidating. I loved it because I wasn't that secure maybe. As I've gotten more secure, it hasn't seemed as necessary…I've really tried to use success to grow. I think you can use success in two ways. You can either become arrogant, or you can become more humble and pay more attention to other people. I hope I do that."
Outfit Inspired by Diane von Furstenberg: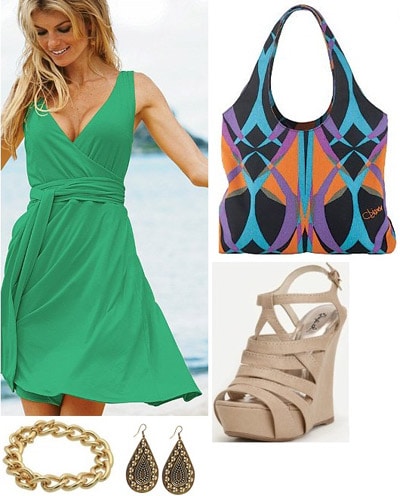 Product Information: wrap dress, bag, bracelet,earrings, shoes
Spring is just around the corner, bringing with it the perfect weather to whip out your light, breezy, and bold-colored wrap dress! (Add a cardigan if you're somewhere chilly!) Since Diane von Furstenberg is all about fun, statement-making prints, I chose a printed bag that's actually from her own line. Also, in nearly every picture I found of Diane, she was frequently wearing a beautiful gold chain bracelet (see photo above), so I found one of those as well. Finish off the look with wedge sandals and exotic earrings and you've got the true DVF vibe.
For another outfit idea inspired by this designer, check out our post, 5 Looks Inspired by Fashion Designers' Personal Styles. It's no coincidence that the outfit mirrors this one with the bright colors and wedge sandals – that's quintessential DVF!
Extra for Experts:
Want to learn more about the life of a princess-gone-fashion-designer? Check out these reads – they'll definitely come in handy this spring break.
Thoughts on Diane von Furstenberg?
Do you know any other fun facts about DVF? Do you own a wrap dress? If not, has this article convinced to you try one on next time you're at the mall? Your thoughts are always welcome! And as usual, please suggest future KYFD posts!