This post may contain affiliate links, which means we may receive a commission if you purchase through our links. Please
read our full disclosure here
.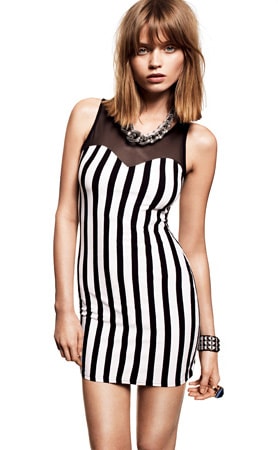 While some clothing retailers may be forced to raise clothing prices due to production costs next year, H&M is vowing to do the opposite.
Vogue Daily is reporting that H&M, which already carries clothing fairly inexpensive clothing, will begin lowering prices, starting with their fall line.
Jennifer Uglialoro, the H&M's PR manager, explained the company's decision to lower prices:
"This season, we bumped up the fashion and lowered the prices even more. It's the same business concept we've had for over 60 years, but this season we're focused even more on a lower price. We're very cost-conscious; for fall you'll be seeing trench coats for $20."
In addition to $20 trenches, stores will also start carrying dresses that cost less than $5. The dress pictured above retails for $4.95 at H&M, a price point which The Cut compared to the cost of a Starbucks frappuccino.
Uglialoro also explained how the company can produce such inexpensive clothes, while other retailers are raising their prices:
"We have over 2,000 stores in 37 countries. This provides high volume and there is no middleman. We have our own team of over 100 in-house designers and we do all our own production."
Thoughts?
Do you shop at H&M? If so, have you seen their lower-priced items in stores? Would you buy a dress for $5? As always, be sure to leave a comment and let us know your thoughts!