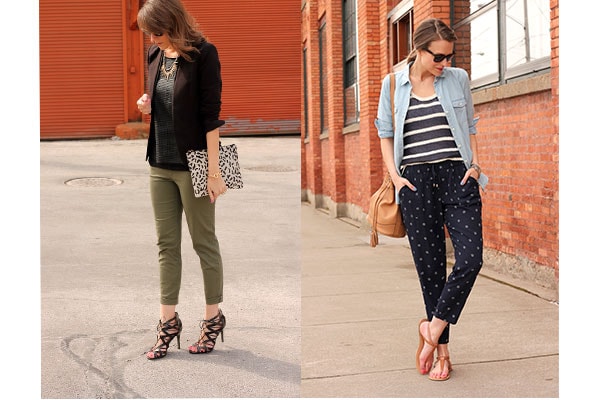 Photos Courtesy of Kimberly Smith
Ever since CF blogger Katarina listed Penny Pincher Fashion as a must-follow blog, I knew I had to interview Kimberly Smith. As a college student, I'm always looking for a pieces that only look expensive, and Kimberly's queen at putting together pieces that won't break the bank.
This week, Kimberly shares her tips for attracting readers to your blog via Pinterest, how her move to New York changed her sense of style, and her tricks for creating – and keeping – a budget you can stick to!
The Interview:
College Fashion: Tell us a little bit about yourself.
Kimberly Smith: I've been married to my husband for 14 years (we're high school sweethearts). I have two kids – my daughter is 10 and my son is 6. We live in upstate NY in a quaint village along the Erie Canal.
CF: How would you define your style?
KS: My style is classic and feminine, but I try to put a modern twist on my looks. I want to be current with trends, while still remaining true to my own personal aesthetic.
CF: How did you find your style?
KS: It's been an interesting journey, shaped mostly by where I have lived. I was born and raised in Oregon, so my look started as very casual/relaxed. Then my husband got a job offer in North Carolina, and we moved to Charlotte where I really shifted to a more preppy/polished look – I think a lot of this was "trying to fit in" with all the Southern Belles and make new friends. When we came to New York, I finally felt the freedom to dress how I wanted to, and I was able to really determine what I love.
CF: What inspired you to start a style blog? What motivates you?
KS: My friends and family encouraged me to start my blog – they were always asking me for advice on fashion and beauty. Also, after having gone through a long period of unemployment (my husband lost his job during layoffs at Rubbermaid), I had learned so much about how to save money when buying clothes and how to find the best deals. I wanted to share that with other women.
What motivates me the most is being able to help and connect with others. My site will never become just a personal style blog, because at its core, it isn't about me. It's about educating, encouraging and inspiring other women to find great fashion for less, make the most of what they already own, and look and feel their best.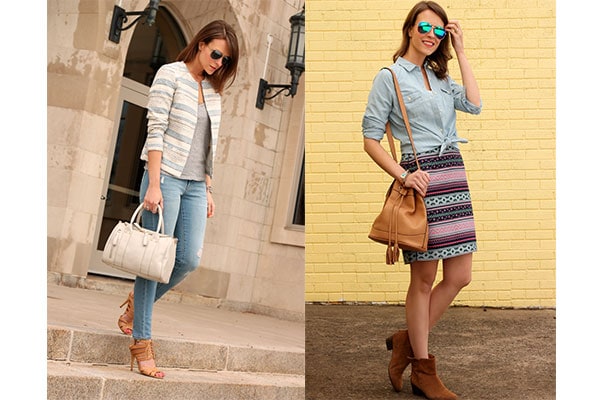 Photos Courtesy of Kimberly Smith
CF: Did you go to college? If so, where did you go to school and what did you study? What was your college experience like?
KS: I attended Multnomah University in Portland, Oregon, and my major was English. Because it is a very small private school, it wasn't your typical college experience. But I definitely learned a lot about myself during that time and it served as a springboard to help me determine what I wanted my career to be.
CF: Where do you like to shop?
KS: I love Gap, Joe Fresh and Old Navy for basics. Forever 21, ASOS, Zara and H&M for more trendy pieces.
CF: What advice do you have for being stylish on a college budget?
KS: Play around in your closet – you never know what cute combinations you can create with items you already own unless you try! Some of my best looks have some from putting pieces together in an unexpected way. When you are looking to buy something, shop smart – set a budget for yourself and stick to a specific "wish list" so you don't get derailed by impulse purchases. Even if something is a great deal, it won't be worth your money if you never wear it.
CF: What are your favorite pieces in your wardrobe?
KS: My black blazer, Breton-striped shirt, boyfriend jeans, flat oxfords, cargo vest, lace-up heels and white button down – all so versatile and comfortable!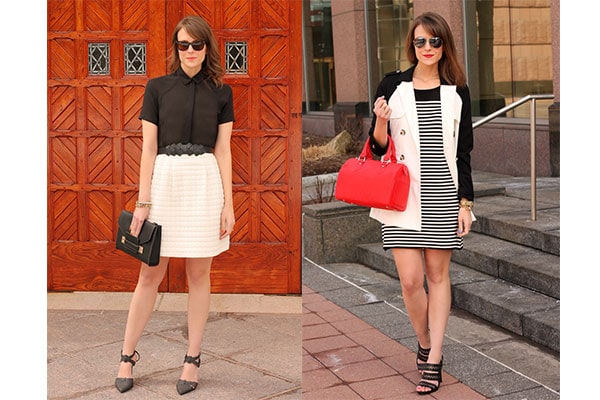 Photos Courtesy of Kimberly Smith
CF: Who/what inspires you most?
KS: I find inspiration everywhere – I still subscribe to several fashion magazines, and although some would argue that print is a dying art, I will never tire of it. I also read a lot of blogs and spend at least an hour each day on Pinterest – there's something appealing about being able to see fashion on REAL women – I think that's part of the reason that blogging has become such a huge industry.
CF: Any advice for new bloggers or college students starting a blog?
KS: First, have a clear vision of what you want your blog to be about and stick to it – make sure that it is authentic and in keeping with your lifestyle. I've received so many offers over the years from higher-end brands that were very tempting, but at the end of the day, that isn't me – I would never spend $1000 on a handbag or $200 on jeans.
Once you start thinking about your blog as a brand, you can make the hard decisions to say no to opportunities that aren't a good fit – even though it's difficult to turn down a great-paying collaboration, it's in your best interest to stay true to your brand. Readers will respect you more and it send a consistent message about who you are.
Second, only do it if you love it – not everyone in this arena is successful enough to earn a living by blogging. There are no guarantees, there are rude comments and it is sometimes a thankless job – make sure that you are truly passionate about it and will be happy regardless of the outcome.
CF: What's writing a blog really like? Could you describe a typical day?
KS: My day begins around 6:30 – I start with returning emails and reading the other blogs I follow. Then I update my Sales Alerts page and schedule my tweets and pins for the day. Because my site is all about finding great fashion for less, I try to carve out some time to look at the new arrivals each day at Forever 21, ASOS, H&M, etc., and pin them to my Affordable Finds board on Pinterest. After doing this for 3 years, I've learned that the really great budget-friendly styles (that look expensive) sell out quickly – so it's important to be the first to share them with people.
The rest of my day is spent building my editorial calendar, creating content for posts and going on photo shoots with my husband (weather-permitting). I just recently hired an intern who is a senior at RIT, and she has been a huge help in doing research for various upcoming projects. I won't lie, there are some long hours and working on weekends… particularly if my kids get sick, if my husband is traveling or I fall behind on my schedule. And because I work from home, it can be difficult to end my day at 5:00, especially when there are still tasks to be done. But like any job, it's important to keep a work/life balance for your own sanity – sometimes stepping away or taking a break for an afternoon is just what I need to get inspired and re-focused.
Your Thoughts?
Does Kimberly's story inspire you? What are your tricks for looking stylish on a college budget? Who should I interview next? Let me know in the comments section!