The 2013 award show season has arrived and CF is here to cover all the major events, starting with last night's Golden Globe Awards. We have a bunch of amazing fashion to discuss, so let's get to it! Read on to check out our fave (and least fave) looks of the night:
Top 5 Best-Dressed
In no particular order, here are my picks for best dressed at the 2013 Golden Globes:
Claire Danes in Versace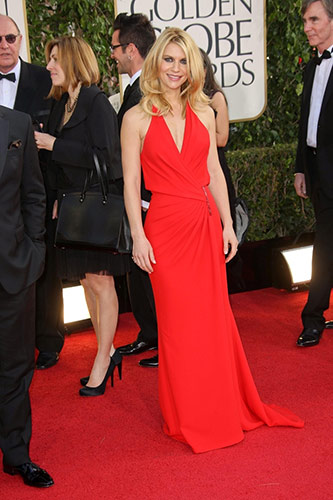 Click photo to enlarge. | Photo: PR Photos
Bright red dresses were a major trend at this year's ceremony, and Golden Globe winner Claire Danes wore my favorite crimson-colored gown of the night. This sultry Versace dress was the epitome of understated glam, with its sleek halter neck and minimal embellishments. Claire accessorized with sparkly drop earrings and wore her hair down in loose waves to complete this look.
Emily Blunt in Michael Kors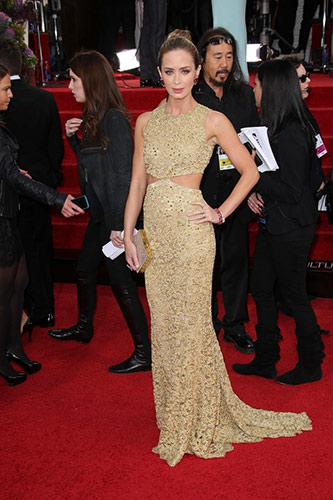 Click photo to enlarge. | Photo: PR Photos
The lovely Emily Blunt killed it last night in this embellished gold gown from Michael Kors. The intricate beading and mermaid silhouette created a luxe vibe, while the well-placed cutouts showed just the right amount of skin. Emily styled her hair into a chic bun, keeping the attention on her gorge gown, then added a pretty pop of color with pink Lorraine Schwartz jewels. She also proved that you can never have enough sparkle by accessorizing with a shimmering mirrored clutch.
Amanda Seyfried in Custom Givenchy Haute Couture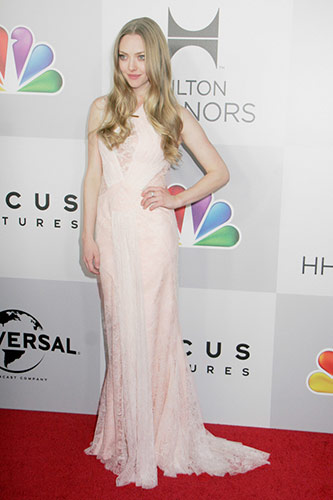 Click photo to enlarge. | Photo: PR Photos
Les Misérables' Amanda Seyfried definitely didn't disappoint in this beautiful custom Givenchy dress. The lacy, pale pink gown was a romantic and ulta-feminine choice, but I especially liked the little gold bar detail near the neckline. Soft waves and glittery eye makeup added the finishing touches to this look.
Kerry Washington in Miu Miu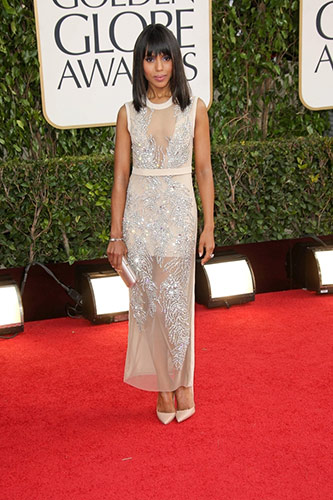 Click photo to enlarge. | Photo: PR Photos
Django Unchained star Kerry Washington caused a splash on the red carpet wearing a gorgeous sheer Miu Miu gown and nude pointy-toe pumps. She paired her dress with a gorgeous purple eyeshadow look and sleek hair that helped bring her outfit over the top.
Michelle Dockery in Alexandre Vaulthier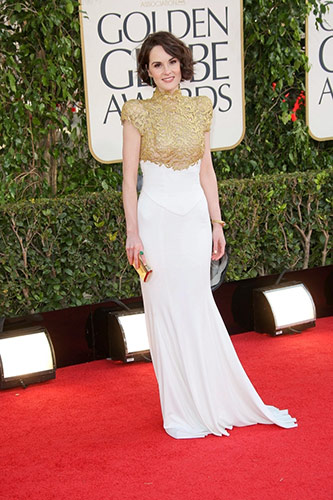 Click photo to enlarge. | Photo: PR Photos
Downton Abbey star Michelle Dockery made quite the statement in this gorgeous gilded gown by designer Alexandre Vaulthier. The stark white skirt juxtaposed with an exquisite structured gold lace top created a modern, yet romantic look that I absolutely loved. Michelle complemented the attention-grabbing frock with emerald and gold jewelry as well as a pair of deep red pointy-toe pumps.
Other Notable Ensembles
Although we wish we could, there simply isn't space to write about every single look from last night! However, here are four more noteworthy ensembles that made quite the buzz on the red carpet.
Anne Hathaway in Chanel Couture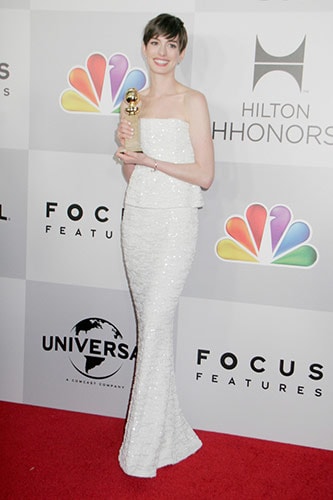 Click photo to enlarge. | Photo: PR Photos
Golden Globe winner Anne Hathaway looked simply radiant on the red carpet last night in this two-piece Chanel couture gown. The beaded, stark white dress showcases simplicity at its best, which Anne complemented with a natural-looking pink lip. Diamond studs and several bejeweled bracelets added the final touches. Did you like Anne's red carpet choice?
Jennifer Lawrence in Dior Haute Couture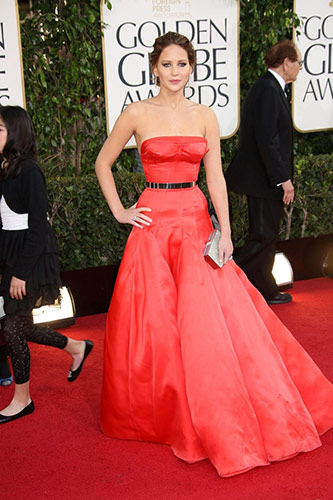 Click photo to enlarge. | Photo: PR Photos
Jennifer Lawrence's Dior gown was one of those dresses that you either absolutely loved or absolutely hated. This classic strapless dress is undeniably beautiful, however many fashion commentators thought that — especially from the side — the gown was ill-fitted in the bodice area. Jennifer also incorporated some mixed metallics with a waist-cinching gold belt, silver clutch and matching jewelry. What did you think of J. Law's gown?
Taylor Swift in Donna Karan Atelier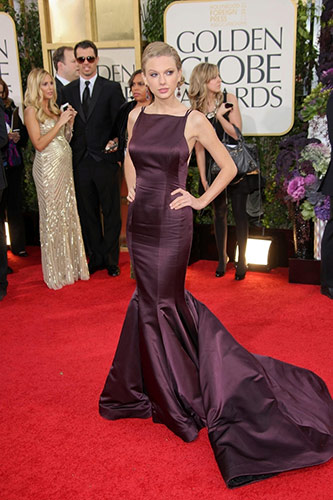 Click photo to enlarge. | Photo: PR Photos
Newly single Taylor Swift went all out for her first Golden Globes appearence with this plum-colored Donna Karan frock. With its dark color and sheer paneling down the side, this backless number is certainly a departure from T. Swift's typical red carpet style — and we like it! She also decided to pin back her signature bangs and wore the rest of her hair in a classic chignon. As far as accessories go, Taylor kept them to a minimum, choosing a pair of statement earrings that perfectly matched her gown.
Julianne Moore in Custom Tom Ford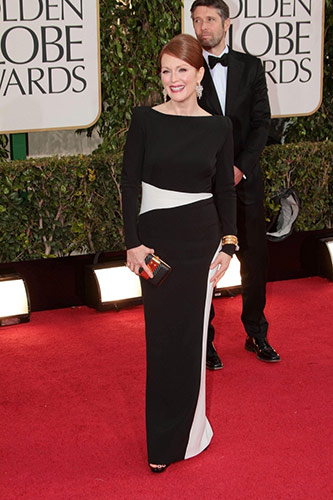 Click photo to enlarge. | Photo: PR Photos
Julianne Moore was able to snag a custom-made Tom Ford dress for her trip down the red carpet and scored this super-trendy black and white gown. The bateau neckline works nicely with the draped back, while the geometric shapes added interest. Juilianne wore her hair in an elegant updo, which really showed off her chandelier earrings. Also, we love the way she accessorized a gold bracelet over a long sleeved dress– very innovative!
Least Favorite Look
Unfortunately, we can't love 'em all. Here's one look I just didn't care for at last night's event.
Giuliana Rancic in Celia Kritharioti
E! Red Carpet host Guiliana Rancic opted for a velvet and lace Celia Kritharioti gown (click for the photo) that ended up being my least favorite look of the night. The dress itself is really pretty and unique, but— in my opinion– the styling was a misstep. G paired the high-necked gown with smokey eye, berry-colored lip and a tousled updo adorned with a jeweled headband. Each of the elements looked great on their own, but when worn together, it was a lot to take in at once. Do you agree with my choice or did you like Guiliana's red carpet look?
Your thoughts?
Now that we've told you what we think, tell us your opinion. Did you watch the Golden Globes last night? How fabulous were Tina and Amy!? Who wins your pick for best-dressed? Any looks you weren't loving? As always, remember to leave a comment below and let us know what you think!