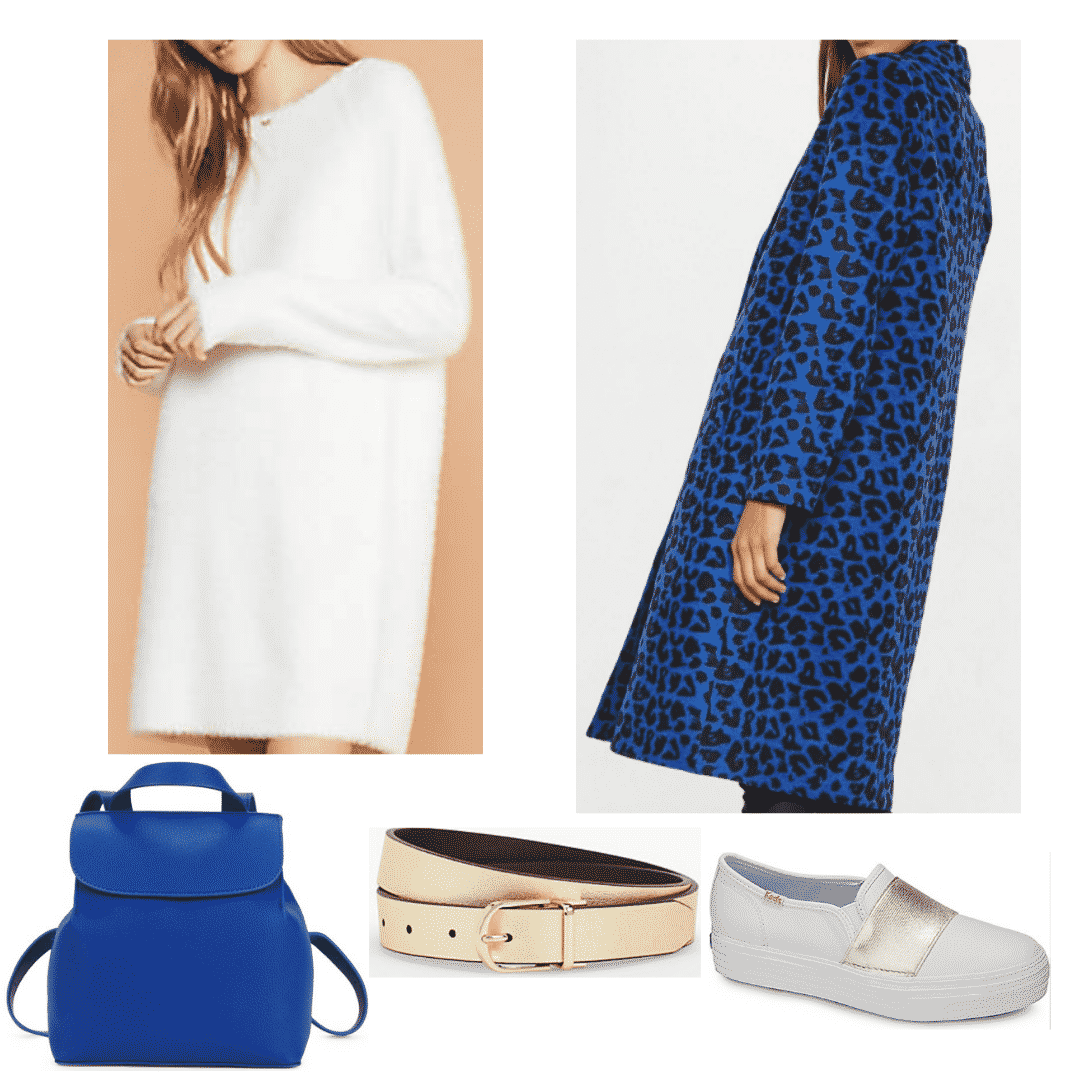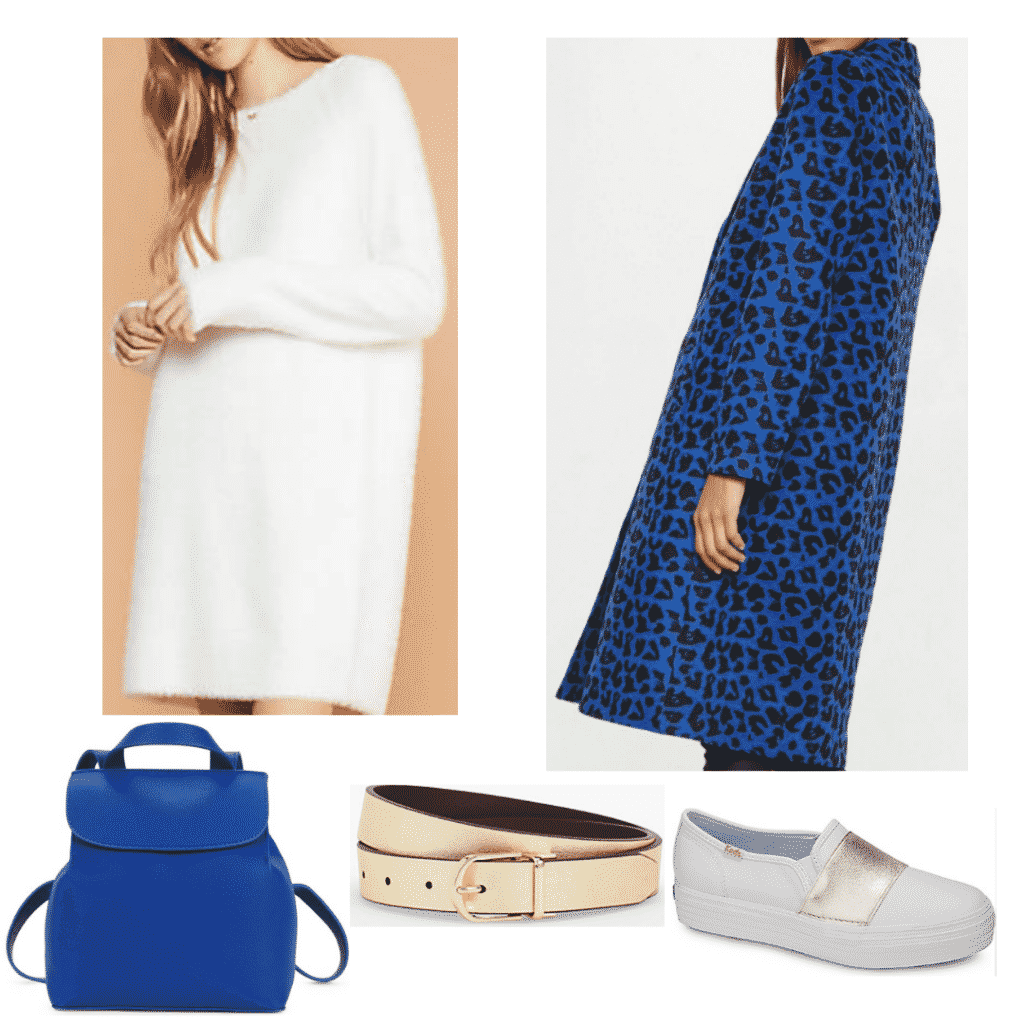 Some days we are drowning in homework, lectures, classes and work. We're expected to handle our social, academic, and professional lives with grace and excel at everything we attempt.
In short, we're expected to be Wonder Woman.
For the past few weeks, we've covered fashion on TV (see past posts on The Flash, Arrow, and Supergirl). On this week's Heroic Styles, we're going straight to the big screen and taking inspiration from Gal Gadot's Wonder Woman for those days when the pressure is too much and we need a little bit of divine help to get us through.
About Wonder Woman
Considered the greatest superheroine of all time, Wonder Woman is a character created by DC Comics, who made her first appearance in 1941.
Diana Prince, Wonder Woman's civilian alter-ego, is a warrior and one of the strongest characters in The Justice League. She's an experienced leader and a pacifist.
In spite of being a central character in the DC Universe and a founding member of various superhero team-ups, Wonder Woman was often relegated to being kidnapped or de-powered. In 1975, that changed, when the TV show Wonder Woman premiered and it turned Lynda Carter in the most iconic Wonder Woman actress ever.
Diana's style in the DC Extended Universe (DCEU)
In the past decade, Diana has been resurrected as a character on screen and is part of the new DC Extended Universe series of films.
Diana's first live-action DCEU cinematic debut was in Batman V. Superman on 2016, 75 years after her debut in the comics. Following that, she finally got her own movie in 2017.
Diana's style in Wonder Woman (2017) is comfortable for the period in which the movie takes place, yet stylish and put together.
In Batman V. Superman and Justice League, Diana's outfits are extremely polished and somewhat regal.
Here are three outfits inspired by Diana's looks in the DCEU:
Wonder Woman Style – Outfit #1: "How can a woman possibly fight in this?"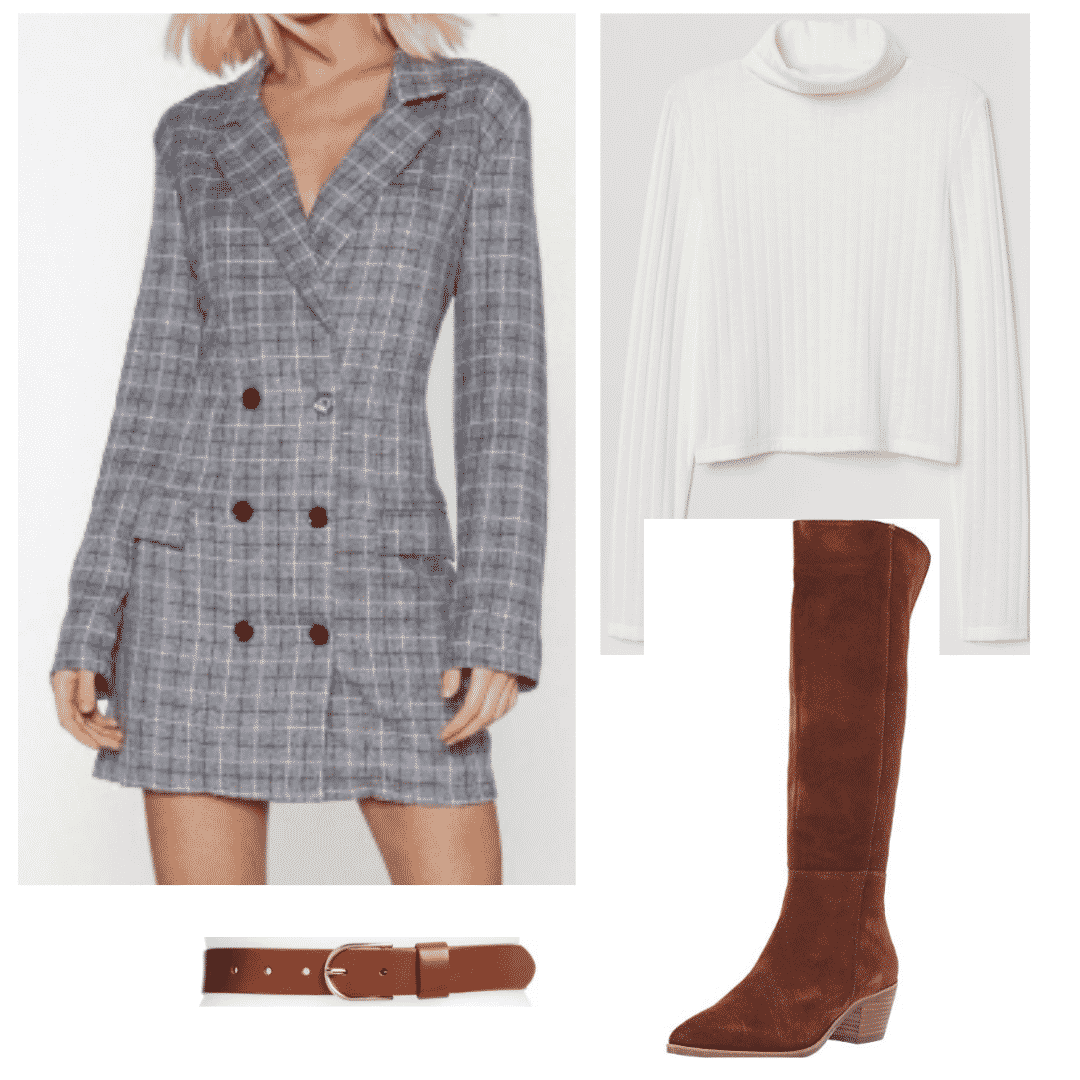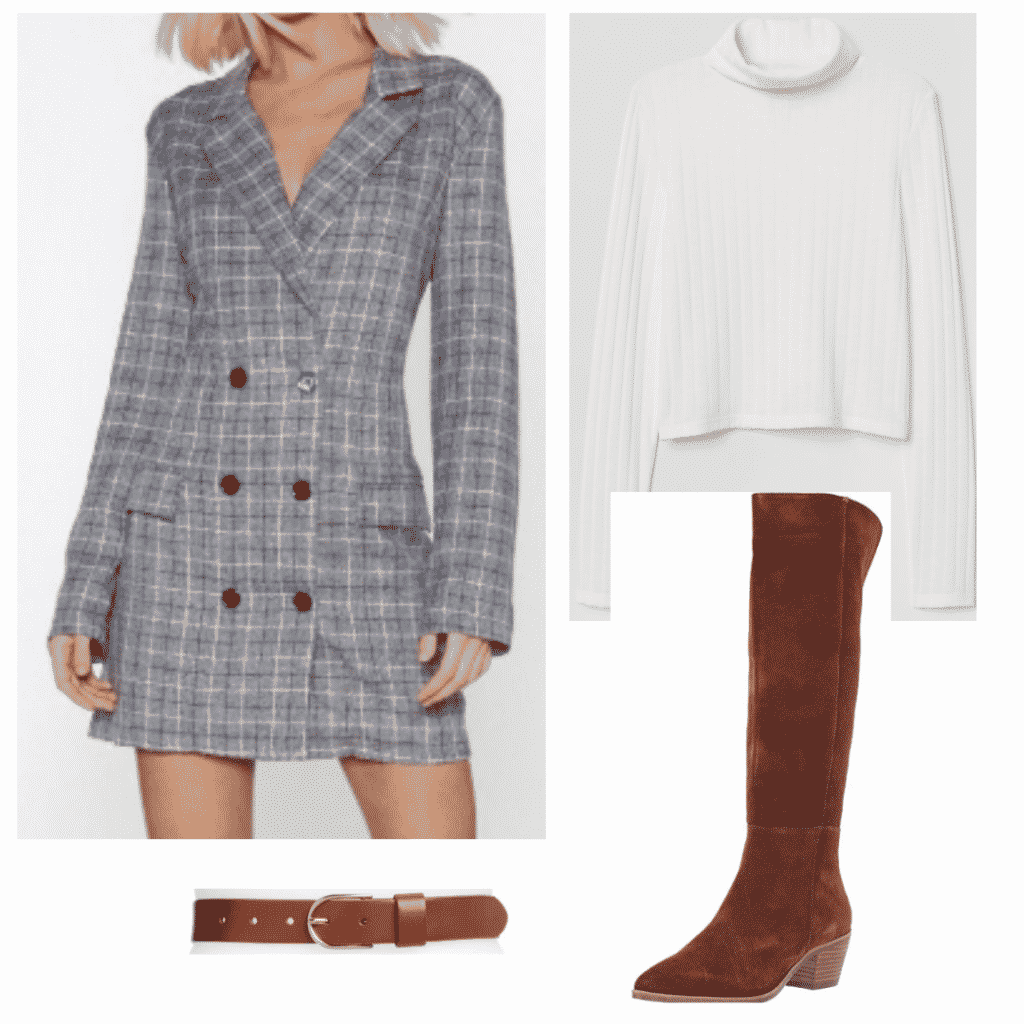 Products: Blazer dress – Nasty Gal, Turtleneck – H&M, Boots – Steve Madden, Belt – Nordstrom
Diana's first civilian outfit is the most comfortable one she could find in the early 20th century. It's a dress, but she can clearly move and fight in it. (She makes sure of this when she's buying it, to great comic effect.)
This outfit is a lot easier to put together than it looks, trust me. Use a tweed blazer dress to emulate Diana's matching blazer and full skirt. Belt it in the waist to give it shape with a simple brown belt.
Diana wears a button-up shirt underneath her dress, but I switched it for a white mock neck top to avoid creating an outfit that was too formal or office-like.
The brown knee-high boots are in the same shade as the belt to tie everything together and are both comfortable and perfect for this type of outfit.
Wonder Woman Style – Outfit #2: "What I do is not up to you."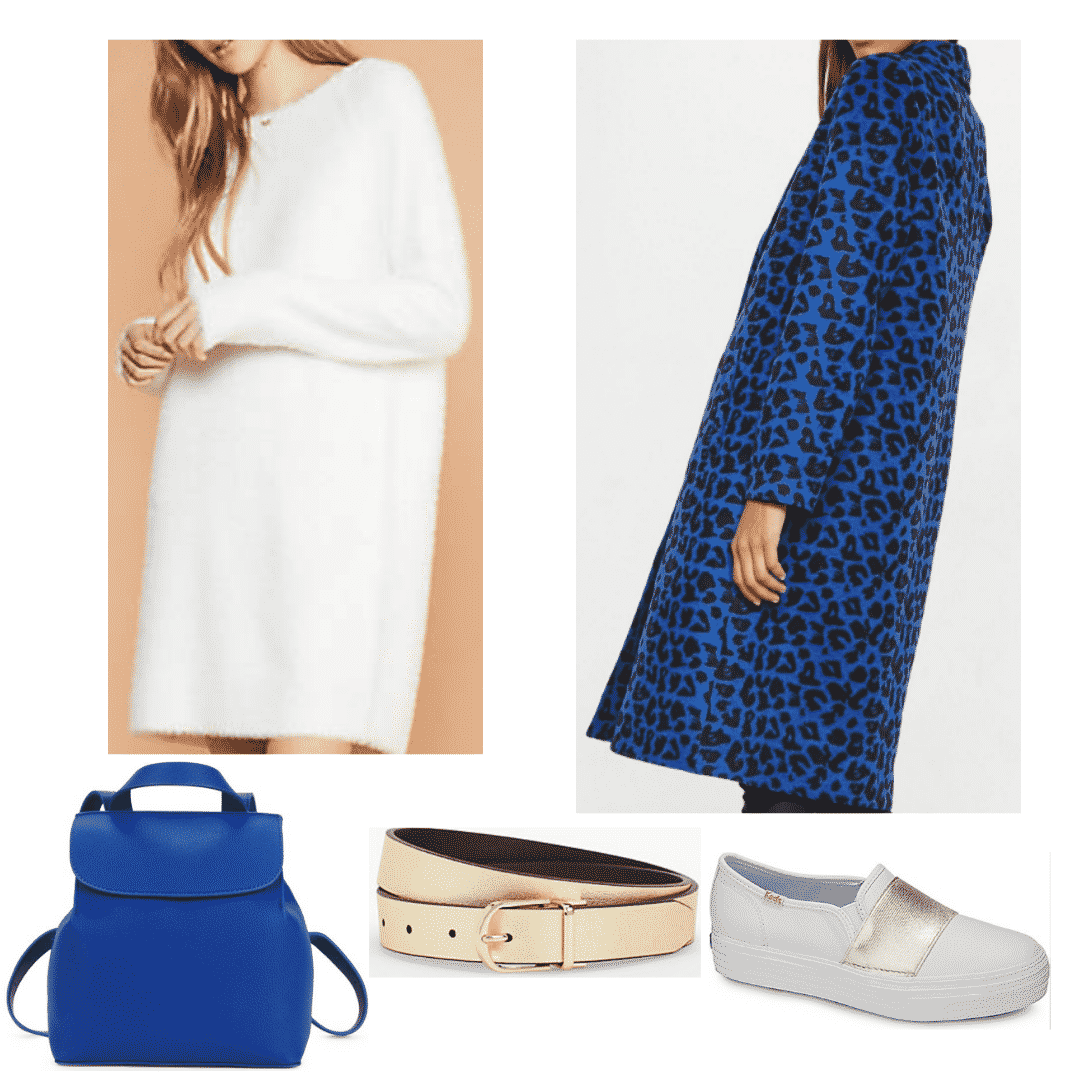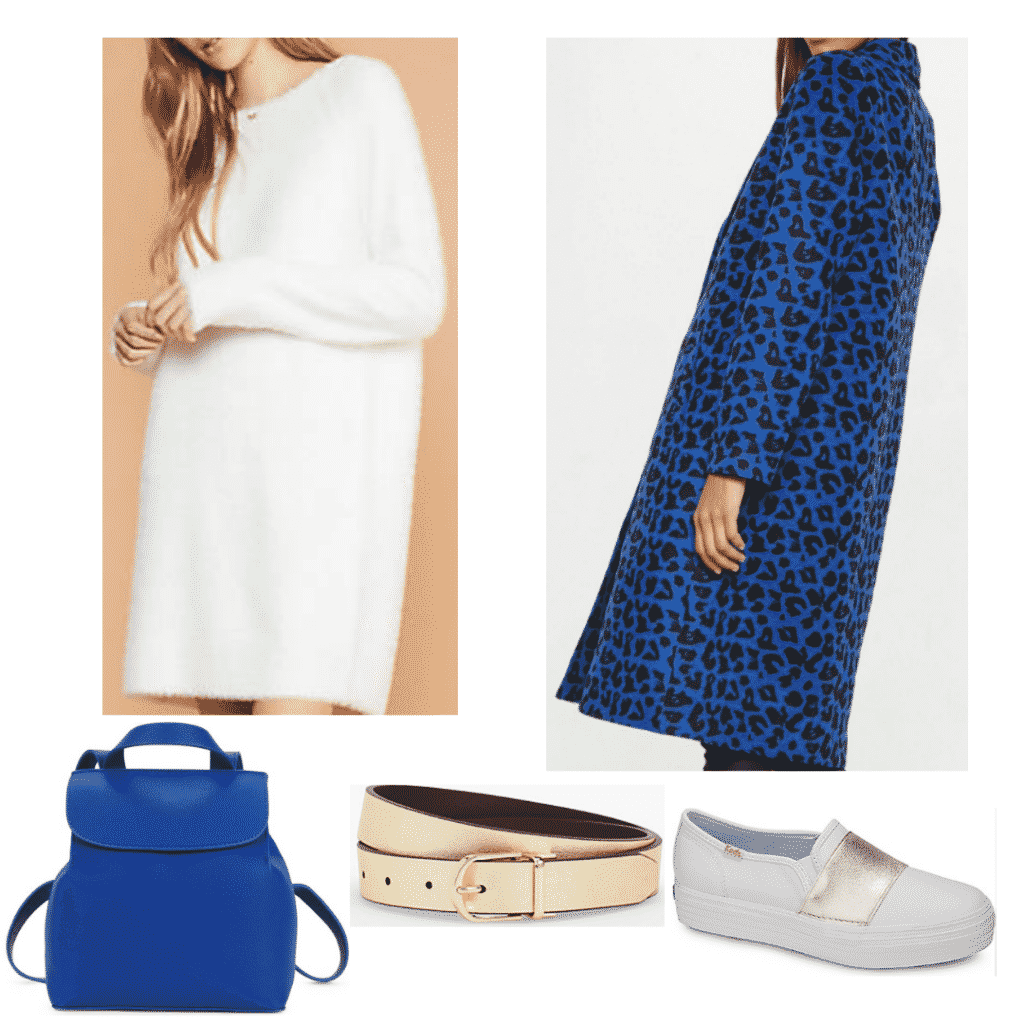 Products: Sweater dress – Loft, Backpack – Saks Off Fifth, Sneakers – Keds, Belt – Talbots, Coat – Missguided
For this look, I drew inspiration from two of Diana's full-glam, party looks.
The white sweater dress and the gold accessories emulate her white and gold dress from the 2016 film, but the cut and style of the dress keep it comfortable and perfect for a class or a night out. To belt it at the waist like Diana does, use a metallic gold belt.
The white slip-on sneakers with a golden accent are a perfect and comfortable replacement for Diana's high heels — this is a casual look, after all.
To emulate Diana's blue formal dress in her solo movie, we pull the color and use it for the coat and bag. The blue leopard print of the coat gives a modern and trendy vibe to an otherwise classic and neutral outfit. The blue backpack is the finishing touch and ties the whole outfit together.
Wonder Woman Style – Outfit #3: No Man's Land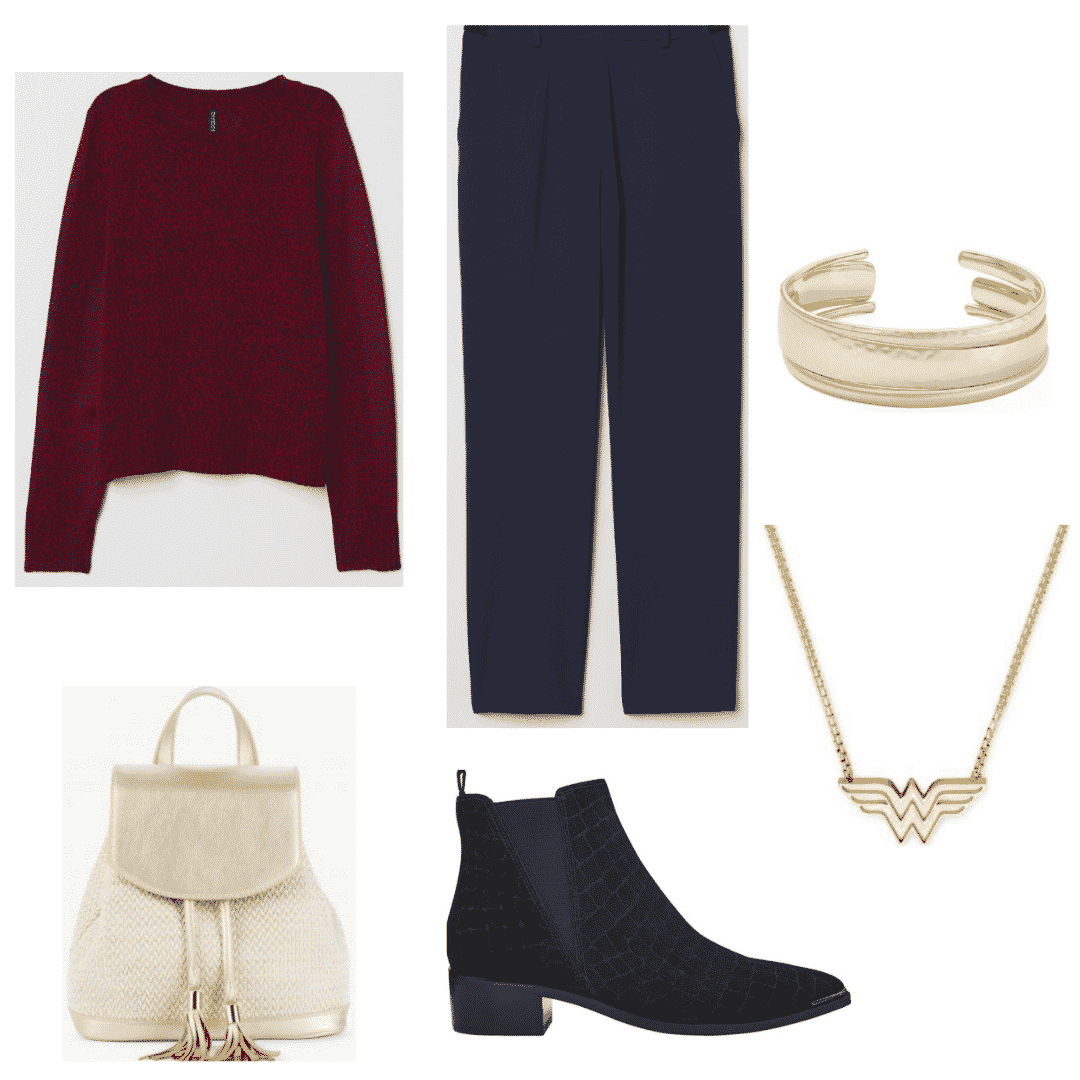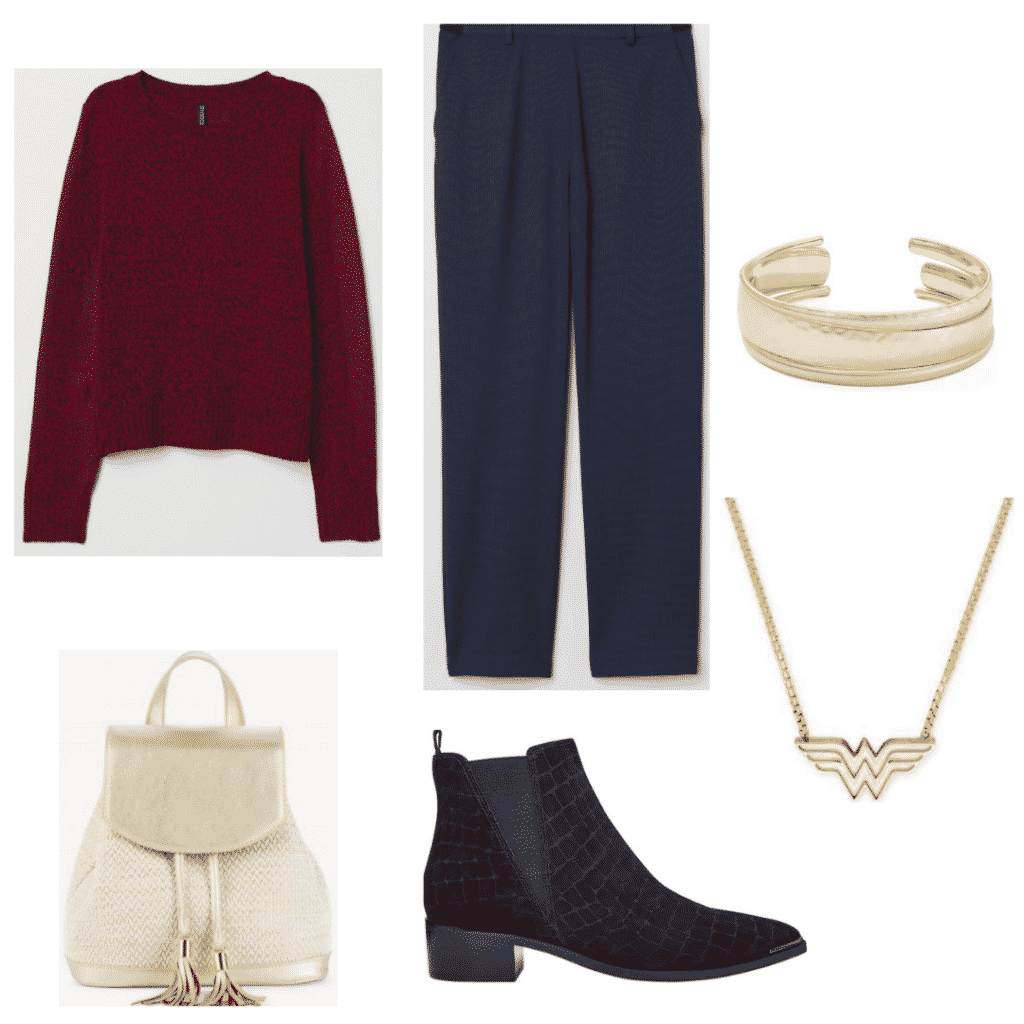 Products: Sweater – H&M, Pants – H&M, Booties – Saks Fifth Avenue, Backpack – Sole Society, Necklace – Warner Bros, Cuffs – Bloomingdale's
Wonder Woman is a warrior, so her suit is actually an armor that is more practical for her fighting style than it is appropriate for class.
The tight knit sweater is a mesh of red and blue, and looks amazing when paired with some pull-on navy blue pants.
The black velvet booties make the outfit look polished and put together, while keeping you comfortable. The accessories are all inspired by Diana's: the gold backpack represents the Lasso of Truth, the cuffs emulate her bracers, and the necklace has her symbol.
The base of this outfit can actually become your armor for day-to-day appointments: it can be dressed up for a job interview or the office with a blazer, dressed down for a class with a pair of sneakers, or adapted for a night out with heels and a leather jacket.
What do you guys think?
Do you like Wonder Woman? Which outfit was your favorite? Do you have suggestions on what hero or heroine would you like to see a post on? Let us know in the comments!