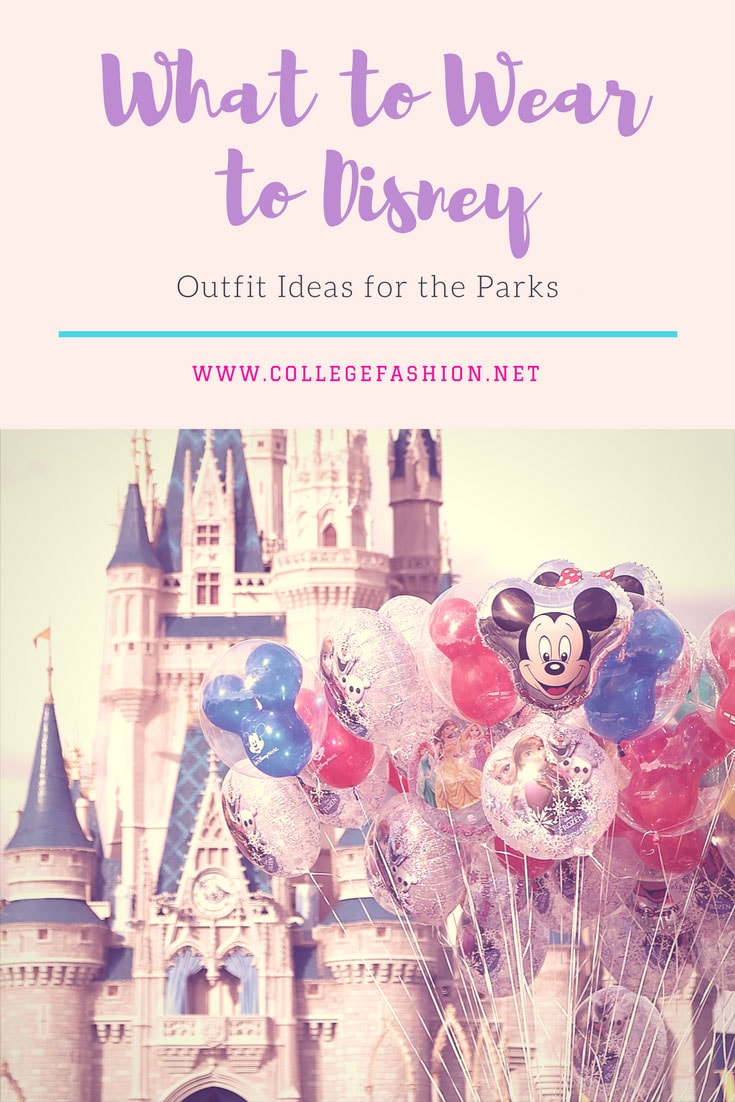 Summer break is coming up and some of us, including myself, are making the trek to Mickey Mouse's kingdom. We've already told you the best things to do at Disneyland and Walt Disney World, so now let's talk about what to wear!
Tips on what to wear to the Disney parks:
When going to Disney World, Disneyland, or any other resorts under the Disney kingdom, it's important to remember practicality. As much as I would love to wear my fanciest dress and my comfiest cardigan, weather and movement gets in the way of looking how you'd like to look.
Whether it's Orlando or California, the weather now is hot and unpredictable, and since most of the parks experience involves being outside and on your feet, it's important to take that into account when dressing for Disney.
So strap on your mouse ears and take notes from your favorite animated mouse, because today we're learning how to dress for Disney!
Note: I'm not talking about "Disneybounding", where people dress up in everyday outfits (known as Disneybounds) that are inspired by a particular character, but just the typical outfits that you might wear to a Disney park. For more on Disneybounding, see the article linked above and our Disney section, as well as some cute Disneybound outfits inspired by live-action Disney films.
Here is how Gigi Hadid styled herself for Disney!
How you can wear Disney fashion:
You don't have to look very far for some cute Disney outfits! Many of your favorite stores have some great Disney finds! Here are some ideas:
1. Colder Weather Disney Outfit Combo: Hoodie or Long Sleeve + Jeans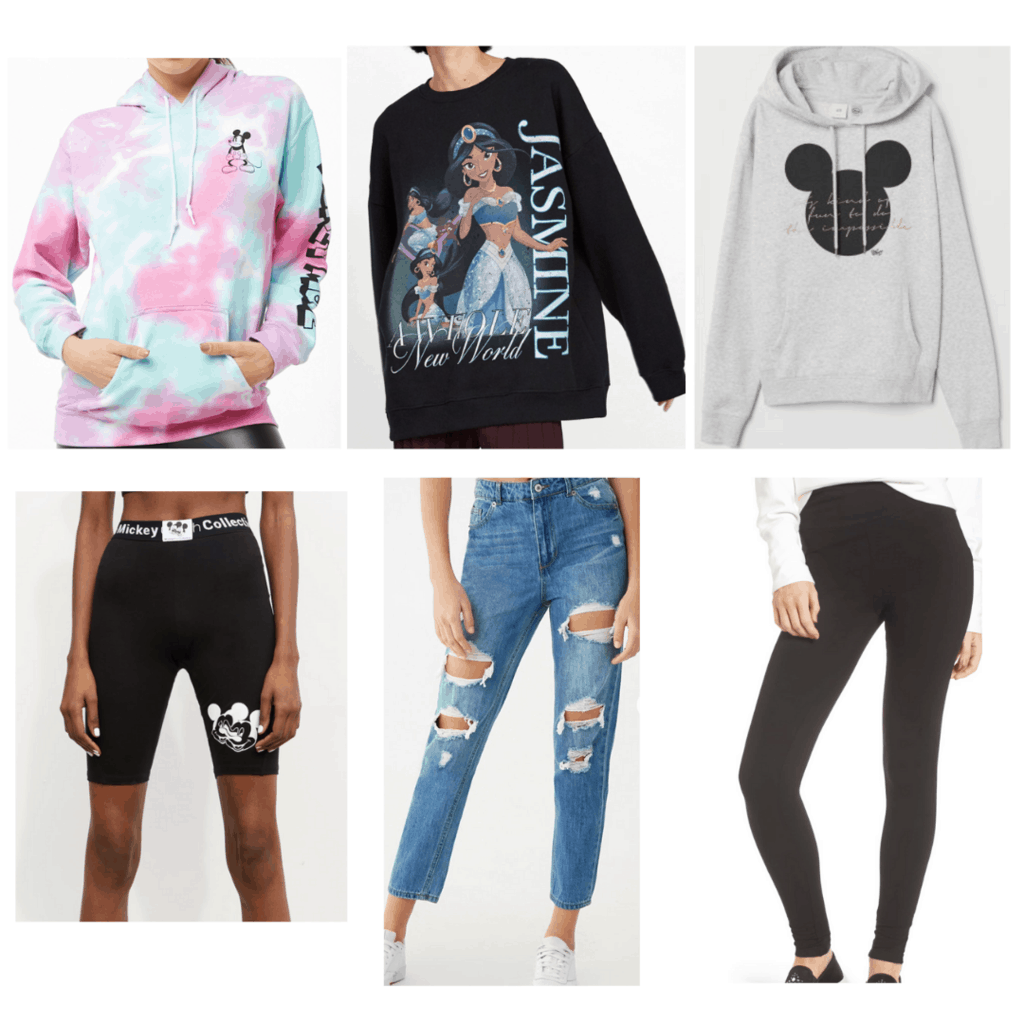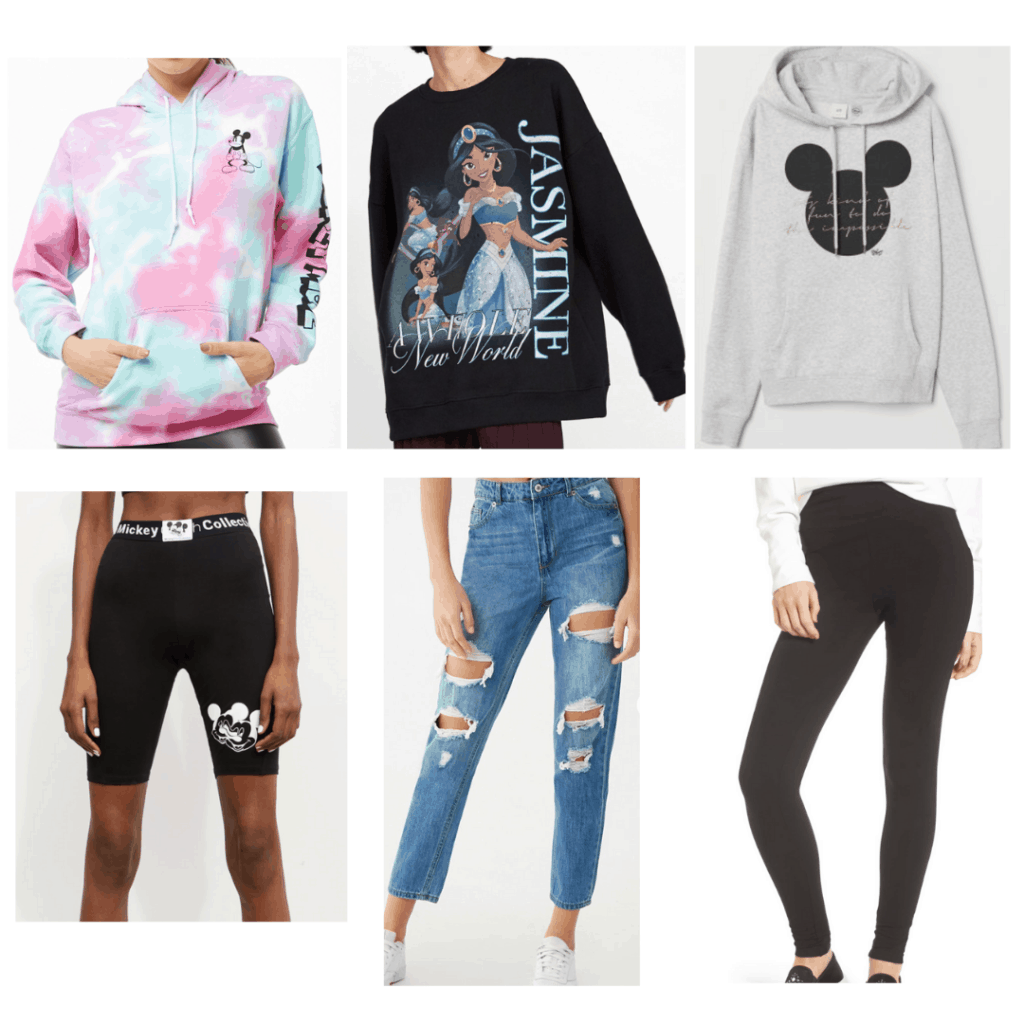 From left to right: Tie-Dye Sweatshirt – Forever 21, Biker Shorts – Zara, Jasmine Sweatshirt – Zara, Boyfriend Jeans – Forever 21, Mickey Sweatshirt – H&M, Leggings – Nordstrom
These three outfits are great for cooler weather in a Disney park! You can layer under the sweatshirts for an even warmer look.
These outfits are casual with a cute addition of Disney. Depending on how much Disney spirit you want to wear, you can accessorize them with more or keep them simple.
2. Warm Weather Outfit Combo: Ears + Disney Tee + Casual Bottoms
From left to right: Lion King Ears – Etsy, Snake Print Shirt – H&M, Green Denim – Forever 21, Fluffy Ears – Etsy, Mickey Shirt – Forever 21, Black Denim Shorts – Forever 21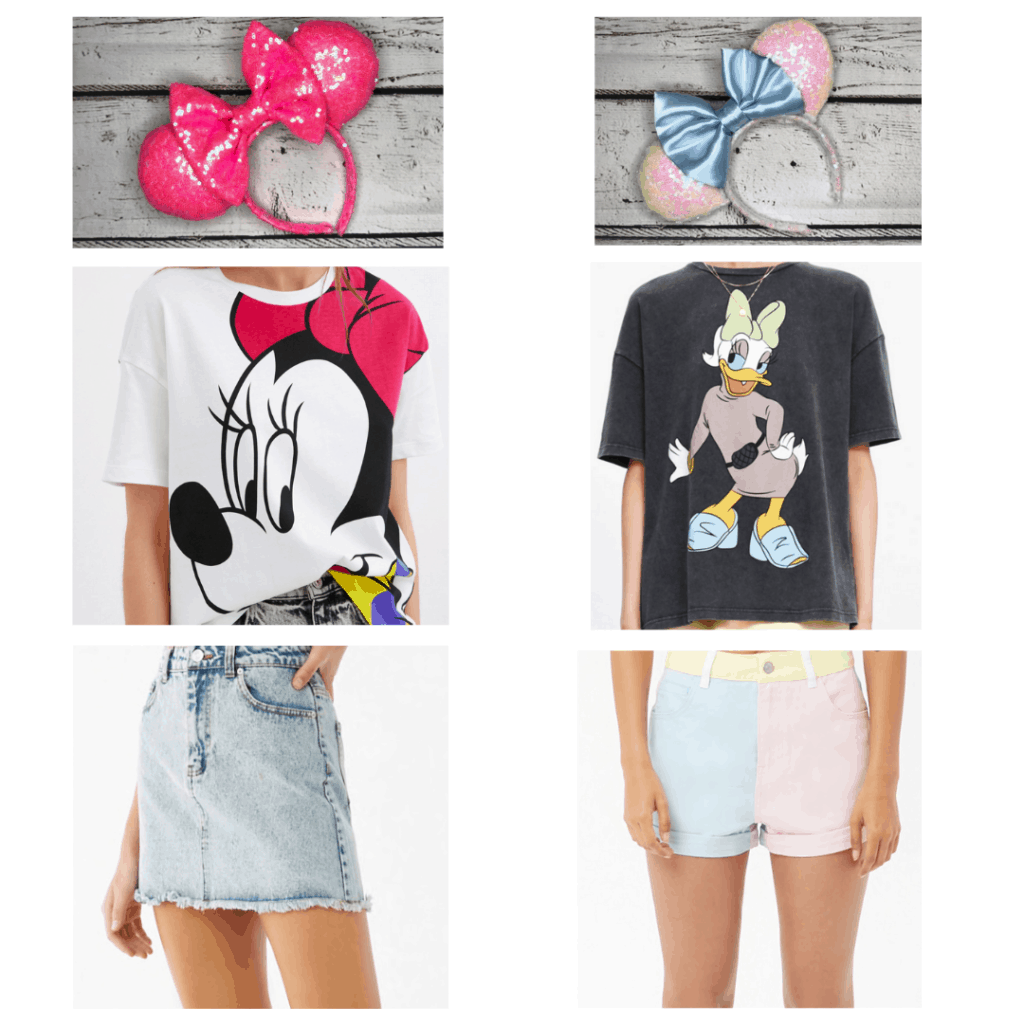 From left to right: Hot Pink Ears – Etsy, Minnie Shirt – Zara, Denim Skirt – Forever 21, White/Blue Ears – Etsy, Daisy Shirt – Zara, Pastel Shorts – Forever 21
Here are four outfits for a warmer day at Disney! There are so many adorable t-shirts out there, it's hard to pick just one. Try pairing your favorite tee with whatever cute, comfortable bottoms you'd like.
Also, I personally love to accessorize my looks with Minnie ears and a bunch of shops on Etsy make such cute ones like these! It can be fun to order custom ones and sometimes they are even more comfortable than the ears in the park!
3. Kid at Heart Outfit Idea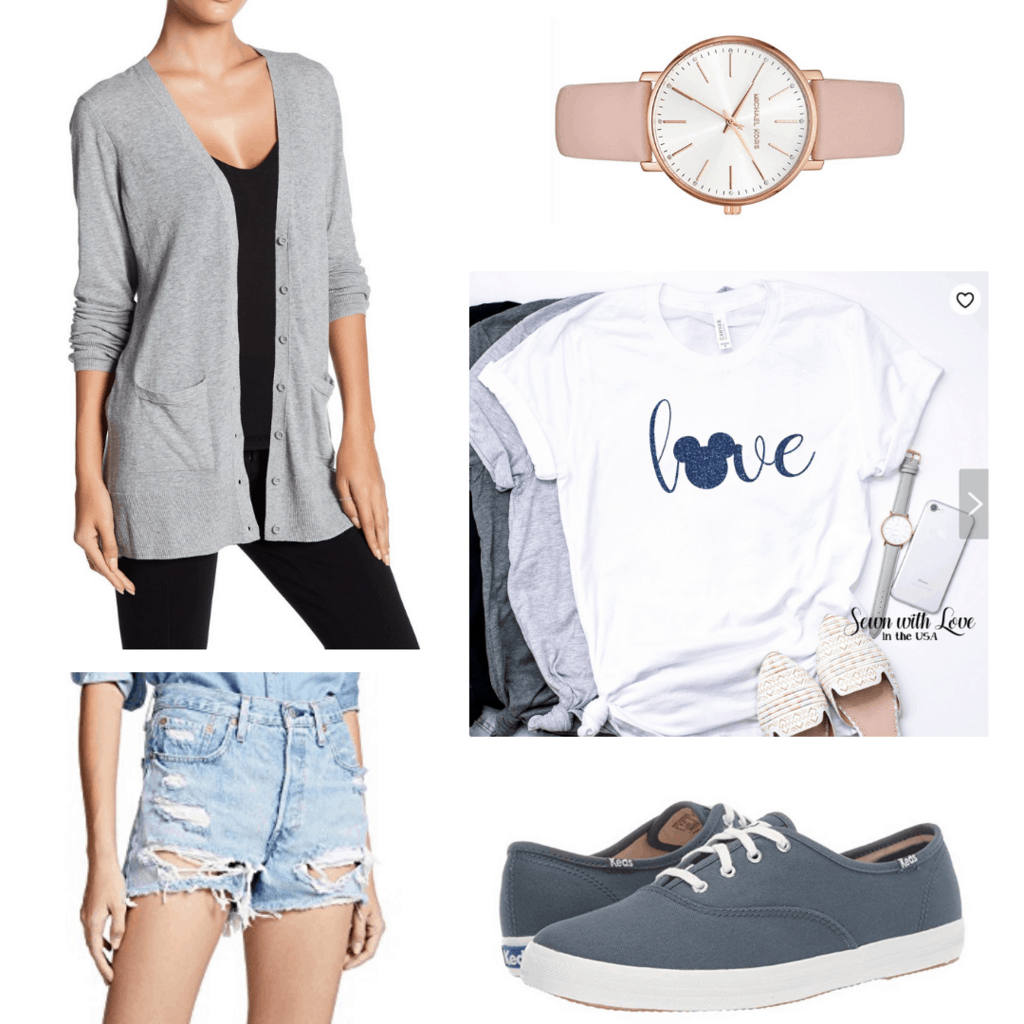 Products: Shoes – Keds, Shorts – Levi's, Watch – Amazon, Tee – Etsy, Cardigan – Nordstrom Rack
People visit Disney parks for different reasons. Some people really appreciate the work that goes into the films and music, some really love the food and rides. No matter what you go for, Disney has a way of bringing out the inner child in all of us!
Here's a look for your inner child. A fun Disney-themed t-shirt and distressed shorts are super casual but cute for any pictures you take on the trip. Keeping the schedule is also important during your Disney trip, so don't forget your watch!
Layering is important during this time of year, even in Florida or California. Tie a cardigan around your hips for your convenience and slip it on before watching the nighttime firework show.
Lastly, slip on some comfy sneakers that go with anything.
4. Strolling Down Disney Outfit Idea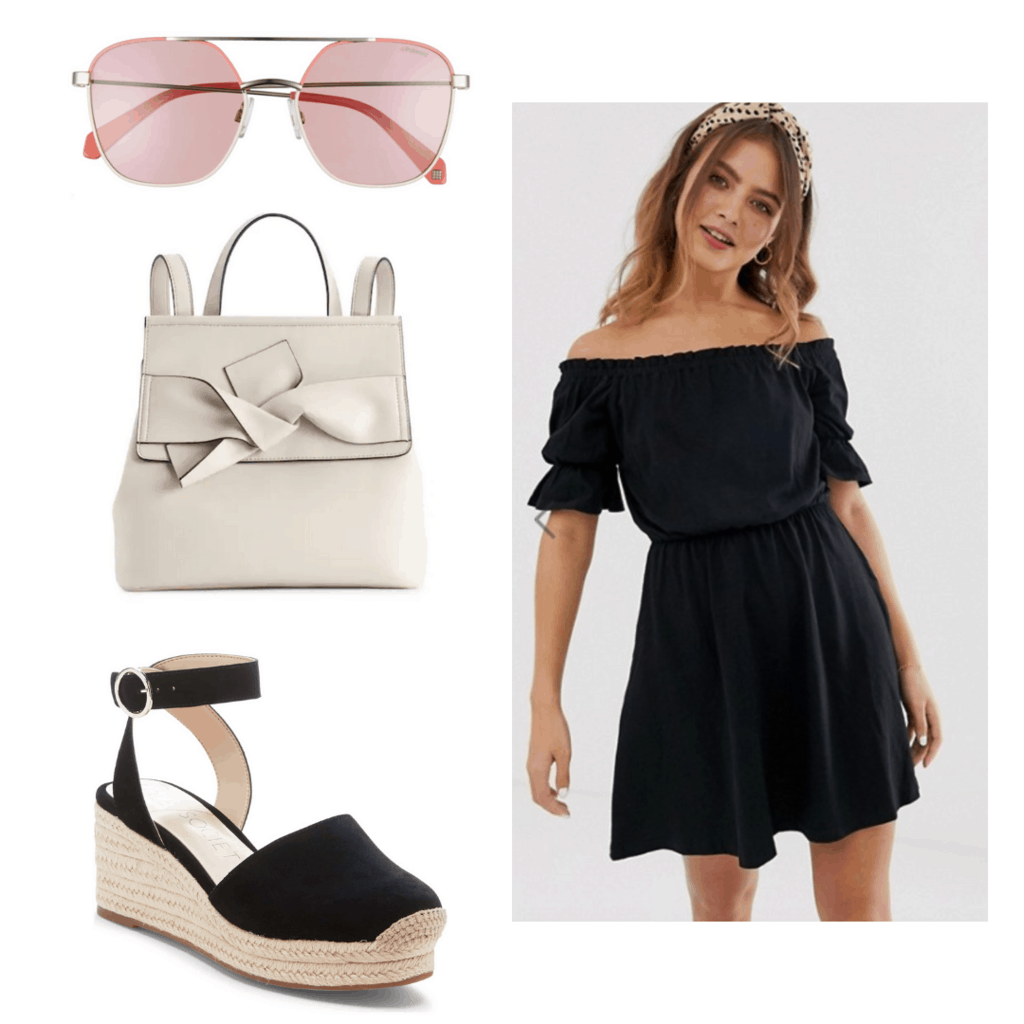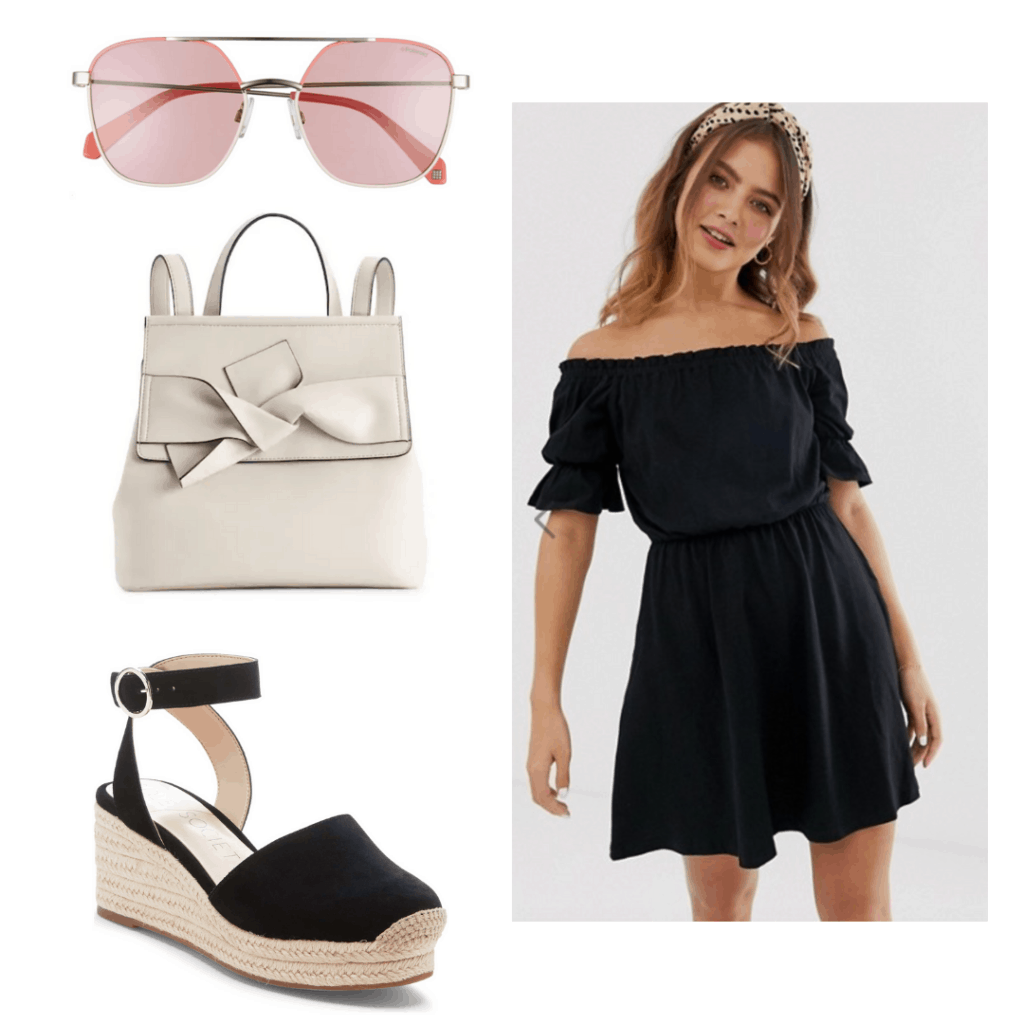 Products: Dress – ASOS, Shoes – Nordstrom, Sunglasses – Nordstrom, Mini Backpack – Kohl's
While practicality is the most important factor for a trip to a Disney park, you might also want to look cute and girly "for the gram." Luckily, it can be done with these trends that will last all season.
This look is for your inner Disney fashionista. A good way to stay cool and stylish during the spring is to rock a trendy dress, like this off-the-shoulder one with on-trend puff sleeves.
Two other trends that are pretty yet functional are mini backpacks that can be schlepped everywhere and rose tinted sunglasses to shield you from the glare of the sun. Finally, throw on some flat espadrilles for a fun and easy outfit.
5. Minnie Mouse in the House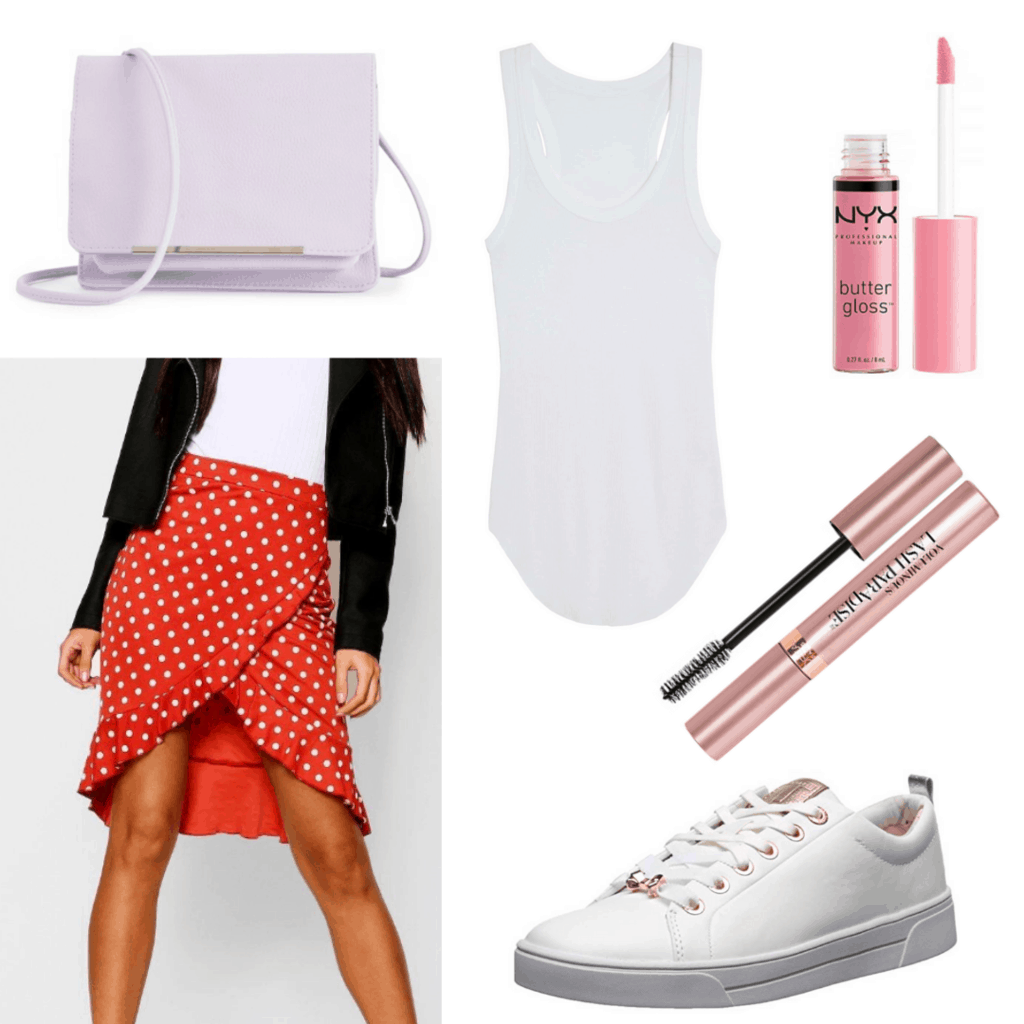 Products: Skirt – Boohoo, Sneakers – Amazon, Tank – Nordstrom, Bag – Kohl's, Lip Gloss – Ulta, Mascara – Ulta
Dressing up as the Disney characters, like the princesses or princes, is prohibited due to copyright and character rules. However, many Disney goers love to take inspiration from their favorite characters and transfer it to their outfit (aka Disneybounding, which we talked about earlier).
This outfit is more for the walking and shopping park goer rather than one that wants to go on all the rides, but at the end of the day if you're comfortable in it, wear it.
To take inspiration from Minnie Mouse for a not-quite Disneybound casual look, start off with a red polka-dot skirt and a white tank. For makeup, keep it minimal with a bit of mascara and lip gloss. Make the outfit a tad more practical with walking shoes and a sleek crossbody bag.
Bonus: Disney Accessories for Any Outfit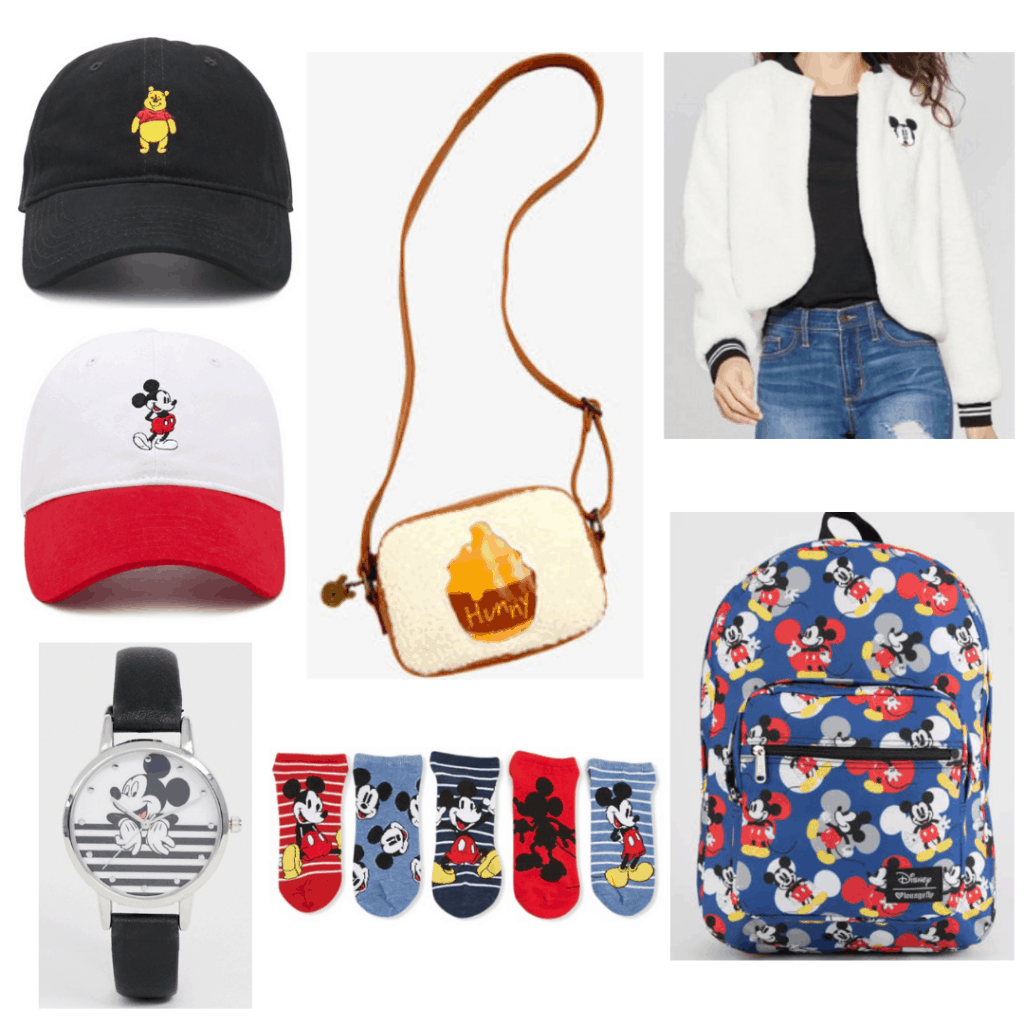 From left to right: Winnie the Pooh Hat – Forever 21, Winnie the Pooh Purse – Hot Topic, Mickey Sherpa Jacket – Target, Mickey Hat – Forever 21, Mickey Watch – Asos, Mickey Socks – Forever 21, Mickey Backpack – Tillys
Need a bag to carry around your Disney park must haves? Want to shade your eyes from the sun? There are so many fun Disney accessories for your next trip to the park!
Here are some great ideas of things that you can accessorize your Disney style with. Add them to any look for a hint of Disney.
What do you wear to the Disney parks?
Child or adult, Disney is magical. Going to the parks this year is the perfect way to have fun and relive the magic of heroes, princesses, palaces, and more. So whether or not you make the trek to a Disney park this year, take some fashion inspiration from the happiest place on Earth.
What do you usually wear on your Disney vacation? What are your favorite stores to buy Disney clothes at? Let me know in the comments below!