Did you know that it's possible to mix mature fashion pieces with juvenile ones? It may seem weird at first, but when mixed correctly, you can create some surprising outfit combinations. Today I will prove that it's possible by mixing the sophisticated, elegant vibe of Charlotte York from Sex and The City with the girly-glam style of Sharpay Evans from High School Musical.
Sharpay is a dramatic teenage girly girl with extremely expensive taste (and wealthy parents to buy her designer clothes). Her wardrobe is girly, bold, and glamorous. She wears a lot of pink, as well as sparkly items covered in sequins and embellishments. Her wardrobe is pretty over-the-top for a high school girl.
Charlotte, on the other hand, has a ladylike and classic fashion sense. She is often seen in jacket-and-skirt combos and carries structured handbags. She plays with color and print, but always looks classic and polished.
Now it's time for some girlishness mixed with some elegance. Scroll down for three outfits that are perfect for Summer.
Sharpay Evans x Charlotte York Outfit Inspiration 1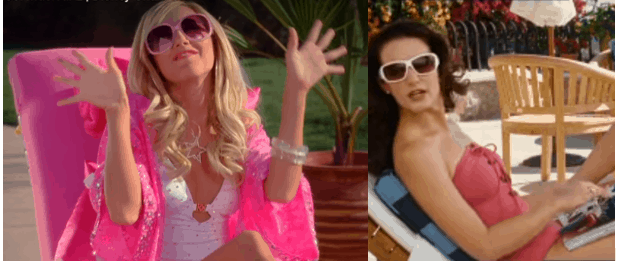 Summer is almost here, so that's why I included snaps of Sharpay and Charlotte wearing swimsuits. Both women have standout pool styles.
Sharpay looks ultra-glam as she wears a blingy white swimsuit, a pink studded kimono coverup, a star necklace, pink sunglasses, and sparkly bangles. Charlotte wears a rose pink lace-up swimsuit and white sunglasses for a grown-up feel.
A Fabulous Summer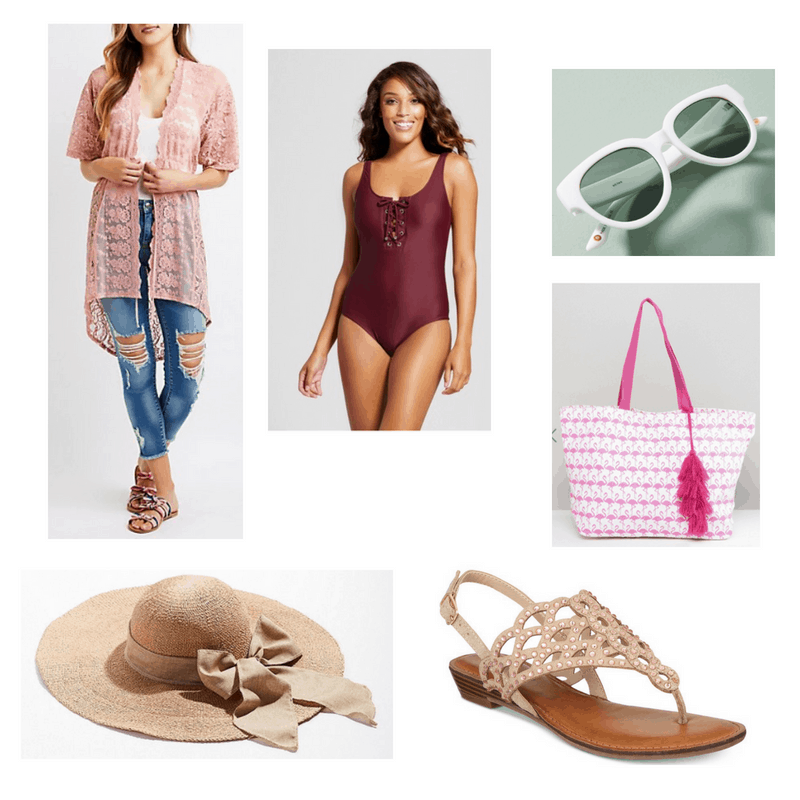 Products: Kimono – Charlotte Russe, Swimsuit – Target, Hat – Urban Outfitters, Sandals – Macy's, Sunglasses – Anthropologie, Tote Bag – ASOS
Here's an outfit inspired by both Sharpay and Charlotte's poolside looks that you  can wear by the pool or at the beach.
Lace-up is a trend that's been around for some time now. This lace-up swimsuit is not only trendy, it's simple, which Charlotte would love. A pink scalloped lace kimono cardigan throws in a splash of Sharpay-approved color and Charlotte-esque femininity. Sharpay loves anything sparkly, so why not add embellished sandals? They would be so pretty sparkling in the sun.
This floppy sun hat from Urban Outfitters has a bow, which Charlotte would go crazy for. White sunglasses inspired by Charlotte's sunglasses above would be great for protecting your eyes from the sun. In the song "Fabulous," Sharpay asks where her Pink Prada tote is. Because we're on a college girl budget, we aren't shopping at Prada, but we can reference those lyrics with a beach bag with a trendy tassel that is pink, even if it's not a designer bag. The bag also has flamingos on it — so cute!
Sharpay Evans x Charlotte York Outfit Inspiration 2
Charlotte's pink peplum dress was one of the best SATC fashion moments ever. Sharpay is obsessed with the color pink. So this post wouldn't be complete without a tribute to this girly hue.
Sharpay is seen above wearing a pink dress that looks like it'd be great for prom… while she walks her dog. Charlotte rocks pink peplum like no one else, and even throws in a matching handbag.
Pretty in Pink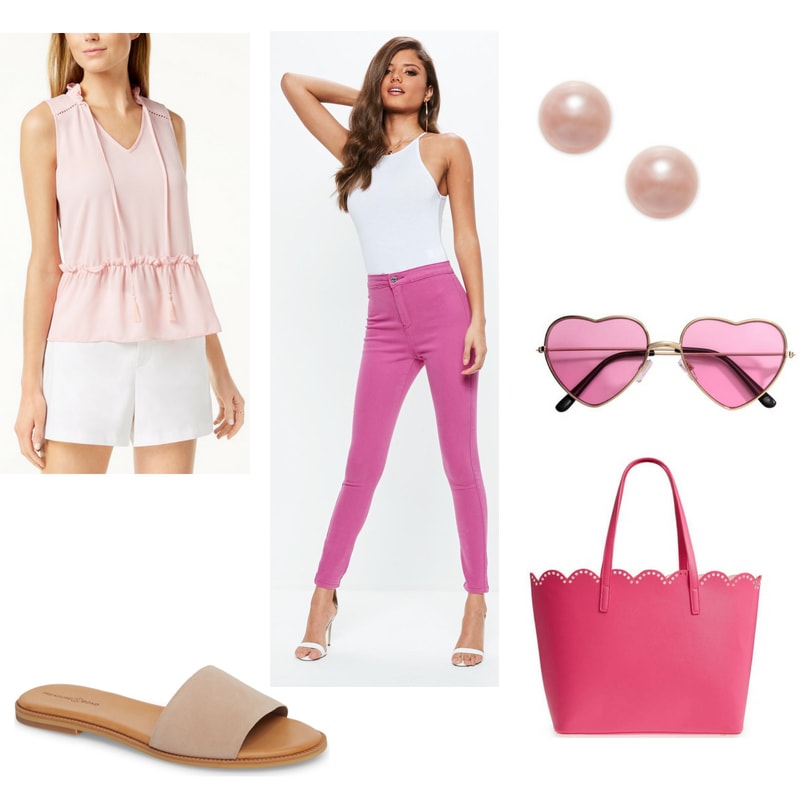 Products: Top – Macy's, Jeans – Missguided, Slides – Nordstrom, Sunglasses – H&M, Earrings – Macy's, Bag – Nordstrom
This look is mostly Sharpay because it's monochrome with so much pink, but I've added dashes of Charlotte to the look, including a pale pink peplum top that's a nod to her dress.
Skinny jeans and slides look great with peplum tops. The bright color on the high-waisted jeans provides great contrast against the more muted color on the top. Slide sandals are trendy yet comfortable and keep things from being too over-the-top. The muted pink and simple silhouette of the sandals puts in a pop of Charlotte.
Pearl earrings add Charlotte-esque sophistication while heart-shaped sunglasses are youthful à la Sharpay. A pink tote bag adds another dash of Sharpay boldness while the scalloped detail is very Charlotte.
Sharpay Evans x Charlotte York Outfit Inspiration 3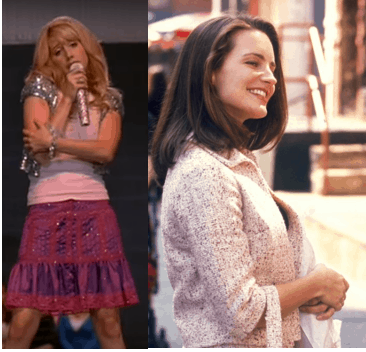 This post would not be complete without a picture of Sharpay wearing something sparkly. She wore a sequin shrug and sparkly skirt when she sang "What I've Been Looking For."
You may not see in the picture, but Charlotte actually wore a pink tweed skirt along with her pink tweed jacket. Like Sharpay, Charlotte likes to wear pink, just in a more toned down manner.
Sparkly Sophistication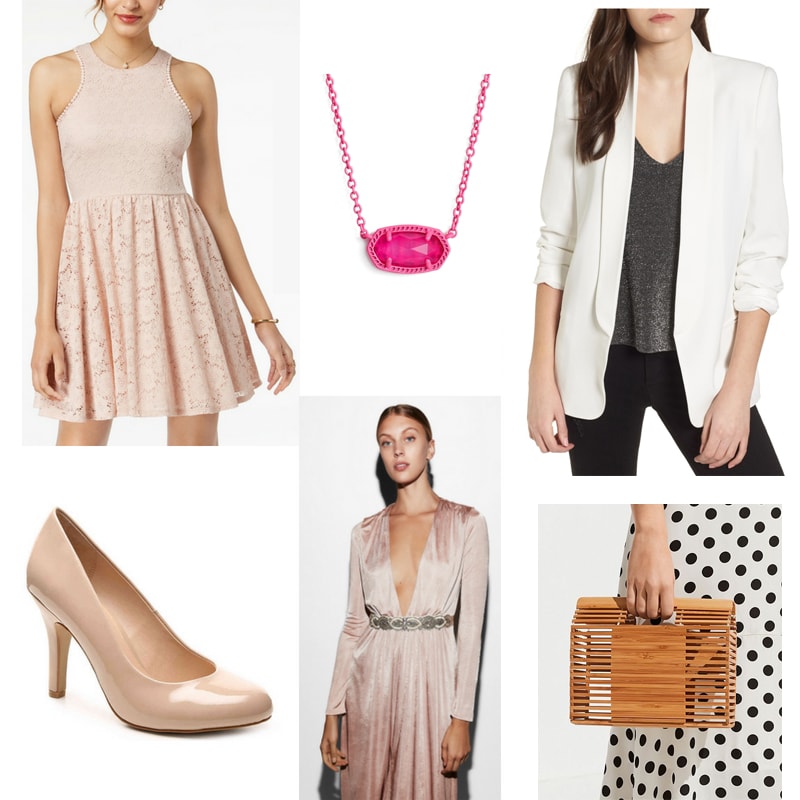 Products: Dress – Macy's, Jacket – Nordstrom, Pumps – DSW, Necklace – Nordstrom, Belt – Express, Clutch – Urban Outfitters
The feel of the outfit is very Charlotte, but the touches are really Sharpay.
A blush pink fit-and-flare dress combines the silhouette and lace for some Charlotte and the pink for a dash of Sharpay. Nude pumps are classic and ladylike, much like Charlotte's style.
A blazer in cream is all Charlotte, but the boyfriend fit of this one is trendy so Sharpay might like it too. An embellished belt adds sparkle to the look, as does a statement necklace in Sharpay-esque hot pink. Finally, this of-the-moment woven bag is sweet, structured, and preppy, so it's very Charlotte.
This outfit would be great for a fun night out with the girls, in true Charlotte form.
Did you enjoy it?
Did you like this week's crossover? What about the outfits? Did I effectively mix their styles together? Would you wear any of them? What crossovers do you want to see next? Please tell me in the comments.