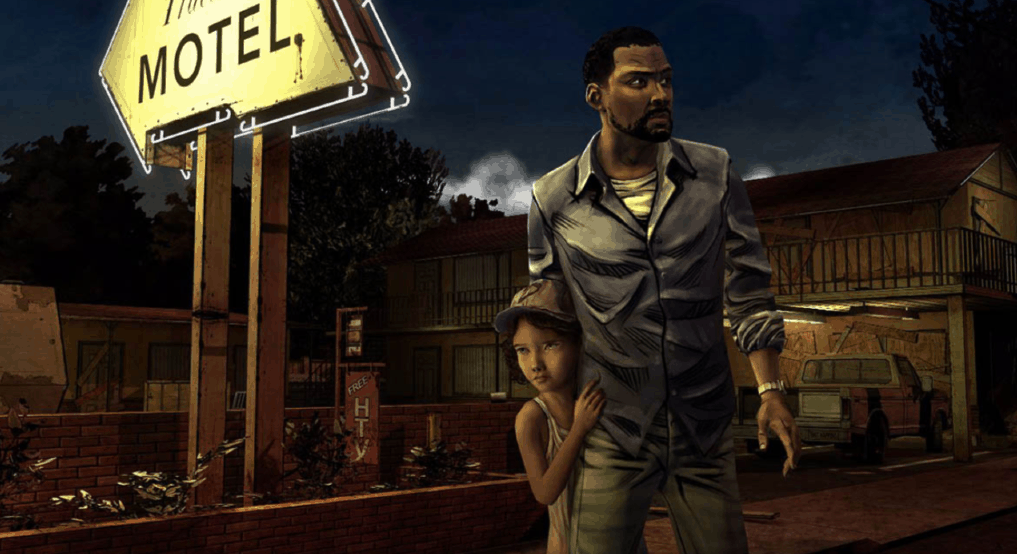 Unless you've been living under a rock for the past couple of years, you probably know what The Walking Dead is. However, for all of you that aren't as well versed in the video game community, The Walking Dead has become one of the most successful video game series in the last few years.
About the Walking Dead Game
Released in early 2012, The Walking Dead is an episodic adventure game that follows the story of a man named Lee, an escaped convict, who stumbles upon a young girl named Clementine. Seeing as even the most hardened criminals wouldn't leave a defenseless child alone during a zombie apocalypse, Lee decides to take her under his wing.
As you can see, this game differs completely from its televised counterpart and that's honestly the best part about the game. While the show heavily focuses on the apocalypse, the game is more about the connection between the characters and their relationships with each other.
This week we're going to be drawing inspiration from the characters of the "game-changing" series that put episodic adventure games on the market, The Walking Dead.
Lee
Lee is the main protagonist of the first game and the one who starts it all. Convicted of murdering his wife's lover, Lee, who we play as, starts the game in the back of a cop car. He's freed when the car crashes into a man at the start of the apocalypse and we follow his adventures from there.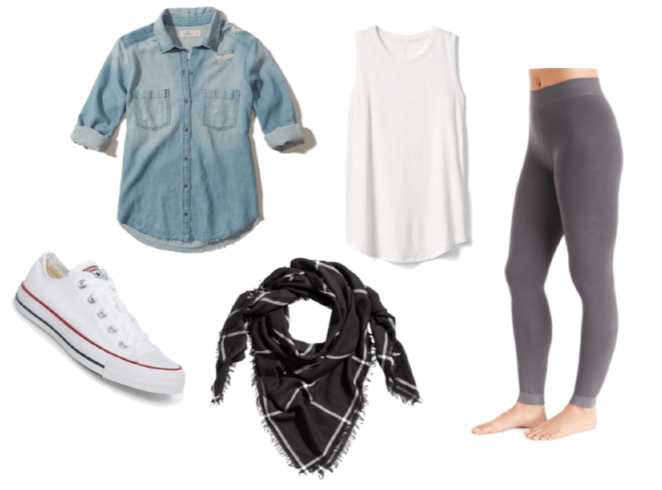 Products: Top – Hollister, Tank – Gap, Shoes – Nordstrom, Leggings – Kohl's, Scarf – H&M
While not everyone can afford to look their best when the world is basically ending, Lee doesn't look too bad. This is even through getting arrested and fighting for his life against zombies. Impressive!
Start off with a white sleeveless tank underneath a chambray top and pair it with some comfy grey leggings. Staying active is a necessity if you want to survive the apocalypse, so throw in some low-top, white Converse sneakers. Lastly, jazz your look up and keep warm by accessorizing with this black and white checkered scarf.
Clementine
Clementine is the little girl that Lee encounters after he escapes the accident. Nicknamed Clem, she is a polite, sweet and smart young girl that often acts as a moral compass for the group that she and Lee stumble upon. Though she's the youngest of the group, she speaks her mind when she feels comfortable and most of the time, she's correct with her assumptions.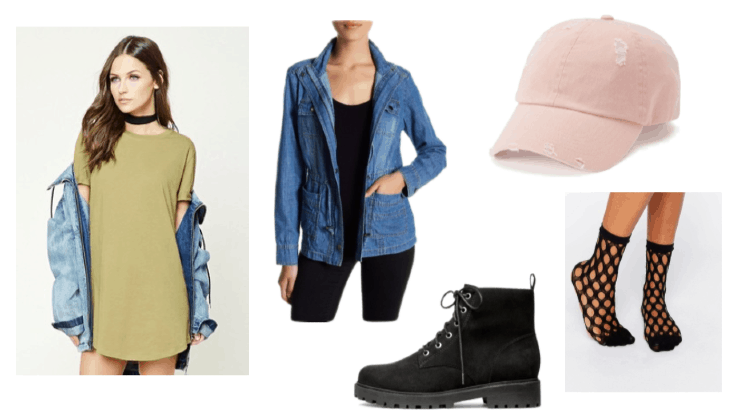 Products: Dress – Forever 21, Boots – H&M, Jacket – Nordstrom Rack, Socks – ASOS, Cap – Kohl's
Clementine's style is as sweet as she is. For this look, I decided to edge her girly look up a bit to reflect the tough personality that she keeps under wraps at times.
Pair a t-shirt dress with a cinched waist denim jacket to start. Short, black, rubber-soled boots are not only perfect and practical enough for sneaking around zombies, but they go with just about anything. They also go great with these black fishnet socks, which can be paired with just about anything.
Ever since Lee cut her hair, Clem never goes anywhere without her signature baseball cap, so try this distressed pink one to pay homage to that touching moment.
Kenny
You're either going to love or hate Kenny – no in between! Kenny is stubborn and short-tempered, which often leads to him acting reckless, but he can also be caring and sweet. His life's purpose is to protect those that he loves, even when times are tough.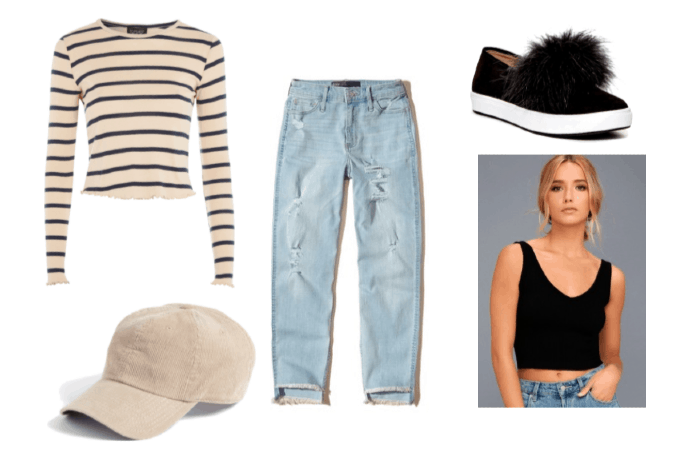 Products: Hat – Nordstrom, Top – Topshop, Tank – Lulu's, Sneakers – Nordstrom Rack, Jeans – Hollister
Kenny is all about keeping things casual and comfy, so start off with high-rise boyfriend jeans and a striped, long sleeve top. Accent that striped top by layering a black tank on top of it.
Next, throw in some faux-fur pom-pom sneakers to reflect the temperamental side of Kenny's personality. Finish the look by grabbing Kenny's signature baseball cap in a basic beige color.
What do you think?
Do you like The Walking Dead video game series? If so, which season of the game is your favorite? Let me know in the comments!