TV Fashion Recap is a biweekly column featuring the best of TV fashion. Every other week, we recreate our favorite outfits from the most recent episodes of all of the hottest shows. Stay tuned; we may feature your favorite show next!

Every other week, I break down the best of TV fashion, featuring my favorite looks from the last two weeks. This week, I was inspired by New Girl and Gotham. Read on to see both looks:
1. New Girl (Season 4, Episode 2): Jess' Chambray Dress and Red Bag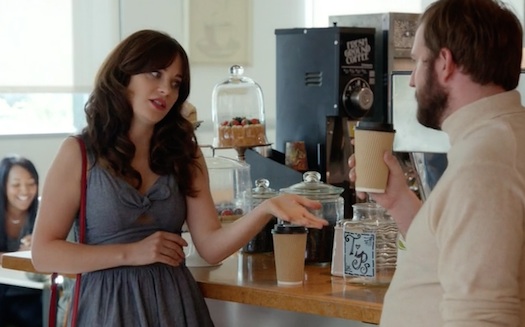 Photo Credit: Screen Capture
I'm a huge fan of New Girl. I identify with Zooey Deschanel's quirky and adorable character, Jess, despite being less "quirky" and more socially awkward and insanely clumsy. My standard response to cute guys asking me for my number is "What? Why?" and I've spilled purple nail polish in my hair. How, you ask? I still have no idea. But I like to pretend my antics are as cute and lovable as hers are.
Anyway, Jess is incredibly cute and it's hilarious to see her interact with her hilarious male roommates in this fun, light-hearted sitcom. But of course, it's hard to focus on the dialogue when I see such amazing fashion.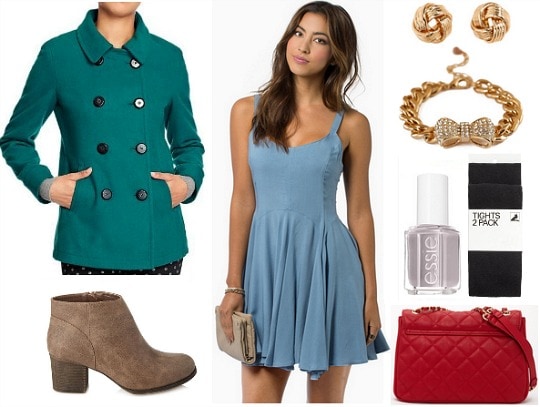 Product Info: Jacket, Dress, Earrings, Bracelet, Shoes, Nail Polish, Tights, Purse
Jess has a very retro/vintage, cutesy wardrobe, which I channeled in this fall-friendly version of her adorable outfit. To recreate the look, start with a chambrayskater dress and a small red bag. Add a pair of neutral-colored booties with black tights and a jewel-toned pea coat.
Slip on one or two pieces of jewelry – Jess would absolutely love this bow bracelet. Finish with a pinkish-gray nail polish, because Jess never leaves the house without painting her nails first! Looking at my nails, this is clearly something that I should start doing.
2. Gotham (Season 1, Episode 1): Barbara's Black-and-White Colorblocked Outfit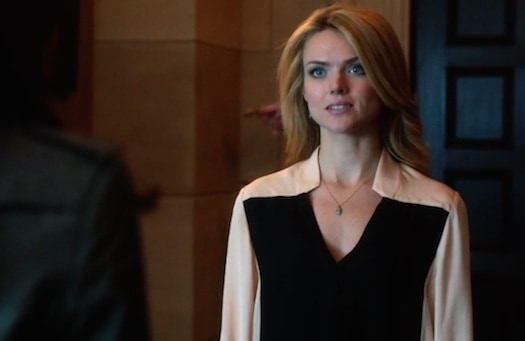 Photo Credit: Screen Capture
I may be Team Superman in the never-ending battle between Batman and Superman, but that doesn't mean I don't love Bruce Wayne. I was thrilled when I heard about Fox's new series, Gotham, which revolves around the young detective and eventual ally of Batman, James Gordon, and his early police work in the troubled Gotham City.
It also features Bruce Wayne as a cute little kid, before he became an arrogant, slimy playboy by day and a badass hero by night. It also explores the origins of Gotham's seedy yet beloved villains, like Catwoman, Poison Ivy, and the Scarecrow. Do I even need to say more? Probably not. But I will. If you're a fan of comic books, superheroes, or general awesomeness, you need to watch this show.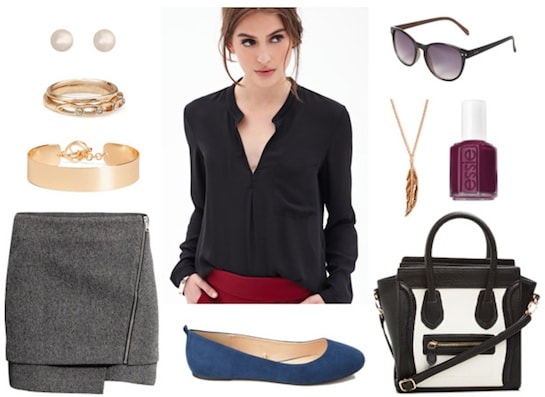 Product Info: Earrings, Rings, Bracelet, Skirt, Shirt, Shoes, Sunglasses, Necklace, Nail Polish, Purse
Barbara's look is classy and polished. To recreate her ensemble, start with a boxy, solid-colored blouse casually tucked into a tweed skirt. Carry a structured black-and-white purse (this $50 bag is a dead-ringer for a fashion blogger fave – the almost $4,000 Céline bags that forever populate my Instagram newsfeed) to add even more structure to the outfit.
Grab a pair of cute blue flats and paint on a few coats of a trendy burgundy nail polish, both of which add pops of youthful color to this classy outfit. Slip on a small pendant necklace to draw attention to the boxy neckline of the shirt, then accessorize with a few pieces of classic jewelry and a pair of sunglasses to pull the elegant look together.
Your thoughts?
What do you think of these looks? Did we miss any amazing outfits from the past week of TV? Which shows do you think deserve a spot on the next TV Fashion Recap post? Leave a comment below and tell us what you think!