Welcome to a special edition of Fashion Philosophy inspired by one of my personal heroes, journalist Nellie Bly. We'll be taking a look at this extraordinary woman's life and then exploring one of the things for which she is remembered: packing light while traveling.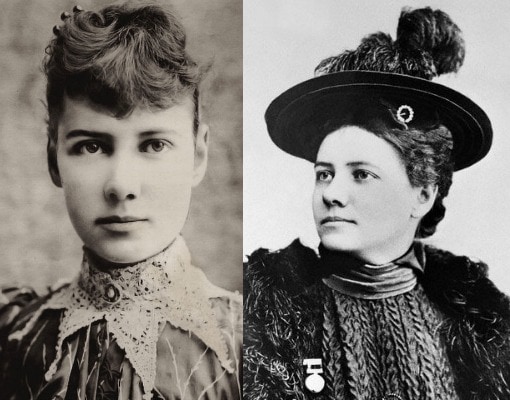 History 101: Nellie Bly
Nellie Bly was born on May 5, 1864 in Cochran Mill, Pennsylvania. Her real name was Elizabeth Jane Cochrane; Nellie Bly was her pen name and the name under which she is most well-known.
Nellie's father was a successful businessman and a good parent to Nellie and her four siblings. However, after his death, the family fell into poverty.
Nellie decided to go to college in an attempt to help provide for the family, but had to drop out when she couldn't afford to continue.
When Nellie was eighteen, The Pittsburg Dispatch published an extremely misogynistic article. Nellie, offended, wrote a provocative response to the article under a pseudonym. The editor of the newspaper was so impressed with the response that he asked whoever wrote it to come forward. Naturally, he was surprised when Nellie showed up in his office, but she managed to win him over and began to work for the paper as a journalist.
At the time, women typically used pen names while writing for newspapers. And thus Elizabeth became Nellie Bly, named after the subject of a popular song at the time.
Nellie worked for The Pittsburg Dispatch for a while until they moved her to the women's page. Wanting more hard-hitting work, Nellie quit and moved to New York City to work for the New York World.
One of Nellie's first assignments in New York – and one of her most famous – was her exposé on the atrocious conditions inside Bellevue Hospital, an insane asylum. She faked insanity, was committed, and lived in the asylum for ten days until the newspaper came to get her out. Her report on the lives of the patients was shocking and investigations of the asylum were soon underway.
In 1889, Nellie was inspired by the 1873 novel Around the World in Eighty Days, and decided to circumnavigate the globe. She not only wanted to see if traveling around the world in eighty days was possible – she was to do it faster.
Her travels were a huge sensation. Traveling via everything from ship to rickshaw, Nellie sent status reports back to New York from all over the globe. The New York World started taking bets on when she would arrive back in New York. She managed it in 72 days, 6 hours, 11 minutes, and 14 seconds. It was a new world record.
In 1885, Nellie married a millionaire. She was thirty, and he was seventy. Make of that what you will.
She became a leading female industrialist in the United States and even an inventor for many years. However, after her husband died and she was rendered bankrupt by embezzling employees, Nellie went back to journalism in 1920. She now worked for the New York Journal.
Nellie Bly died of pneumonia on January 27, 1922 at the age of 57.
Now, I know what you're thinking: while Nellie was awesome and ahead of her time, since she lived mostly in the Victorian and Edwardian eras. She also wasn't a fashion icon. And that's all true. However, after doing a bit of research about Nellie I learned something very interesting about her 72-day world travels.
Nellie took the trip alone, and her focus was speed. So, naturally, she didn't want to be lugging around several bags.
She wore a wool ghille cap, a scotch ulster coat, and a two-piece dress. She carried a 16" by 7" bag with her, filled with two hats, three veils, toiletries, needles, pins and thread, ink, pens, pencils and paper, slippers, a dressing gown, a cup and flask, a tennis blazer, handkerchiefs, a jar of cold cream, and, of course, extra underwear. Needless to say, Nellie packed light.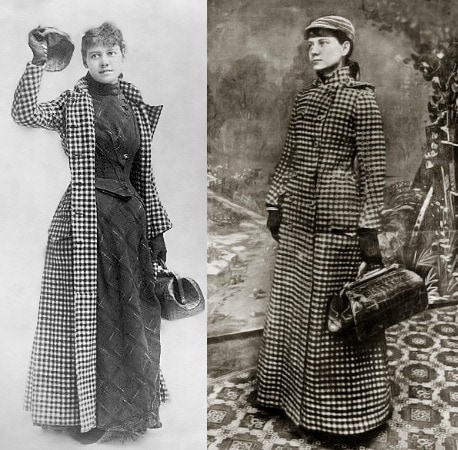 Nellie getting ready to go on her around the world trip. [Photo Credits: 1, 2]
Summer is just around the corner, and that means many of us will be going on vacation and struggling to decide what to pack. I say if Nellie managed to travel 72 days with only the above-mentioned items (and such a small bag!), we can manage long trips with capsule wardrobes.
Putting It All Together: A Capsule Travel Wardrobe à la Nellie Bly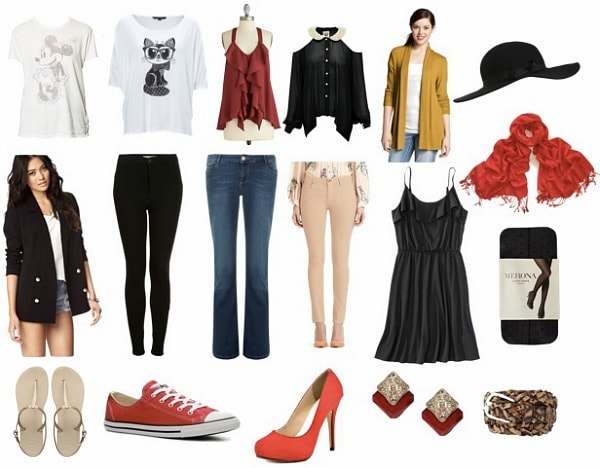 Minnie Mouse Shirt, Cat Shirt, Red Tank, Black Blouse, Cardigan, Hat, Scarf, Blazer, Black Jeans, Blue Jeans, Beige Jeans, Dress, Tights, Sandals, Sneakers, Heels, Earrings, Belt
Not including pajamas, swimwear, and underwear, here is a capsule wardrobe appropriate for a long trip – think two weeks and up. (If you're travelling for a shorter time than that, you don't even need to pack this much!) Nellie brought 20+ items on her trip, but I included 18 pieces above.
A few things to keep in mind while building your capsule wardrobe are the durability (because you'll have to wash them) and versatility of each item. For instance, the dress can be worn with the sandals to the beach or with the heels, blazer and earrings for a formal event. Also, to maximize your combination possibilities, pack neutral pieces and choose one or two accent colors. For this set, I chose red and a tiny pop of mustard yellow with the cardigan.
Below are some examples of outfits you can make from the above pieces. Keep in mind, though, that there are way more potential combinations.
First Weekend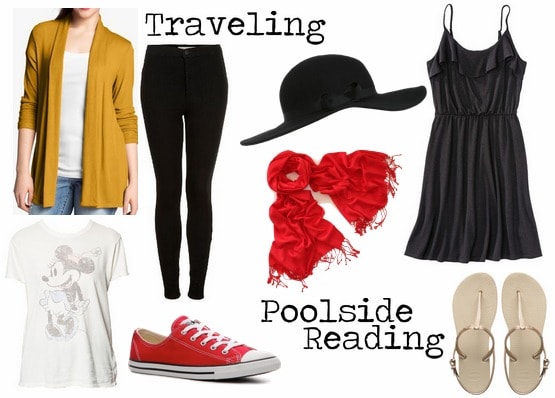 Cardigan, Shirt, Jeans, Sneakers, Hat, Scarf, Dress, Sandals
These two outfits incorporate use the hat and pashmina.
For traveling, you're going to want to stick to thin layers, so you can pile them on or take them off depending on the temperature. Black jeans are the most flattering, and when paired with a cardigan, t-shirt, sneakers, hat and scarf, it makes for a comfy, yet effortless ensemble.
The second outfit is for the day after you arrive at your destination. No doubt you'll be tired, so just sit back and relax poolside. Slip on a dress, sandals, a hat and scarf, and go enjoy the nice weather.
Daywear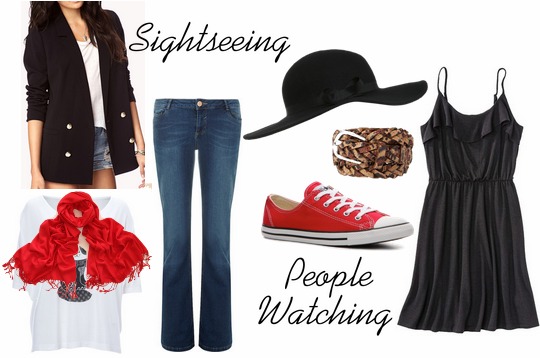 Blazer, Scarf, Shirt, Jeans, Hat, Belt, Sneakers, Dress
The next two outfits are for going out during the day. They both use the hat, belt, and sneakers.
For sightseeing, opt for comfort and easy style with jeans and a t-shirt, sneakers, and a blazer. Add a hat and scarf to accessorize. Tuck in the shirt and add a belt to polish up the look a bit.
If you're going to a new city, you'll probably want to grab a coffee somewhere and just soak in the atmosphere. For people-watching, throw on the black dress and sneakers. Wear the hat to protect yourself in the sun, then add the belt to define the waistline and add interest to the outfit.
Night Out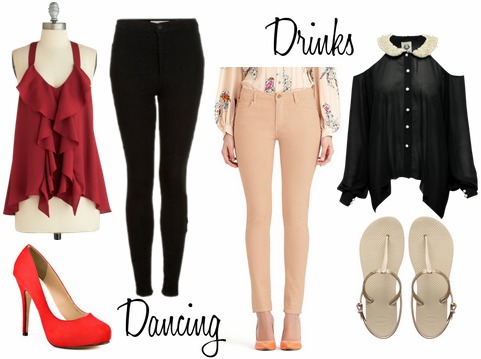 Red Tank, Heels, Black Jeans, Beige Jeans, Black Blouse, Sandals
If you're of age, you'll likely want to check out your destination's nightlife. Below, I've constructed two simple outfits.
The dancing outfit is a bit brighter, plus the ruffles on the tank add movement to the outfit. If you're going out for a drink with friends, I'd recommend going with a more simple, sophisticated outfit – the open shoulder top adds such a trendy touch.
(Sidenote: Be sure to check the legal drinking age of your destination before you go to avoid getting in trouble! I'm 19 and a half; here in Montreal, the legal drinking age is 18, and I've been able to buy alcohol for over a year. So when I went to Williamsburg last month, I almost forgot that I'm not old enough to drink in the U.S!)
Fancy Occasions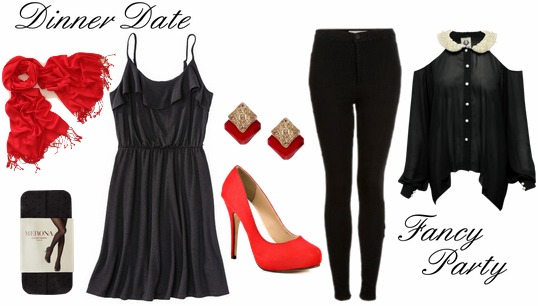 Scarf, Tights, Dress, Earrings, Heels, Black Blouse, Jeans
And lastly, in case you get invited out somewhere nice, here are a couple of fancier outfits that both use the red pumps and earrings.
For a dinner date, wear the tights under the dress and use the pashmina as a shawl to cover your shoulders. If you're expected to go to a swanky party, I'd recommend going with an understated and sexy look in the black blouse and jeans, using the heels and earrings as pops of color.
Thoughts?
And there you have it! A capsule wardrobe inspired by Nellie Bly and her practicality while circumnavigating the globe. What did you think of this post? What do you think of Nellie Bly? Where are you traveling this summer? Leave your comments below!