This post may contain affiliate links, which means we may receive a commission if you purchase through our links. Please
read our full disclosure here
.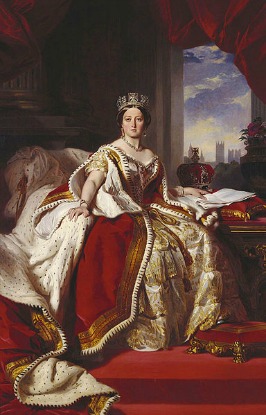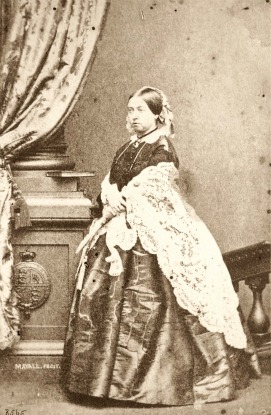 Welcome back to Fashion Philosophy! This week, by popular demand, we'll be talking about Queen Victoria and Victorian fashion in general.
I usually cover people and styles and I enjoy, but I'll admit that Victorian style isn't my cup of tea. I find it too elaborate and my own experiences with scoliosis have left me with a negative bias towards corsets.
So, this post was an interesting challenge – how to take the elements of a style that I dislike and use them to create outfits that I would actually wear. I had a lot of fun with this post, and I hope you'll like it too!
History 101: About Queen Victoria
Queen Victoria was born Alexandrina Victoria on May 24, 1819. Her parents were Prince Edward, Duke of Kent and Strathearn, and Princess Victoria of Saxe-Cobuug-Saalfeld.
By 1837, Victoria's father and his three older brothers had all died. Because Edward's brothers had not left any legitimate heirs, Victoria became queen at the age of 18.
In 1840, Victoria married Prince Albert of Saxe-Coburg and Gotha. The couple had nine children.
Fun fact: Victoria was a carrier of hemophilia, so when her nine children (many of whom were carriers of or had the disease) married royalty throughout Europe, hemophilia became a common disease among royal boys. Alexei Nikolaevich, Tsarevich of Russia was famous for his hemophilia and, not surprisingly, Victoria was his great-grandmother.
On December 14, 1861, Prince Albert died of typhoid fever. Victoria mourned him for the rest of her life.
Queen Victoria has the record for the longest reign of a British monarch and the longest reign of any female monarch, an astonishing 63 years, 7 months, and 2 days.
Elements of Victorian Fashion
Assuming a role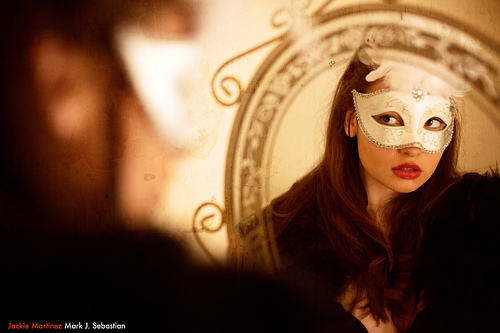 Fashion, for a proper Victorian lady, involved an incredibly strict set of rules and a remarkable set of layers. Once you had on your daywear – stockings, drawers, chemise, corset, crinoline, camisole, two petticoats, skirt, bodice, gloves, bonnet, boots, shawl, parasol, and reticule – your every movement was restricted. In other words, your clothes made you stand, move, and act like the culture's idea of "a lady".
Another theory that historians have about the time was that, beyond the physical effects, there may have also been a psychological effect on Victorian women by their clothing, which put them into the mindset of what was then considered a "proper lady". Weird, right?
Take inspiration from Victorian ladies in a progressive, non-restrictive way by making fashion choices that change your attitude by making you feel confident and beautiful – even a swipe of colorful lipstick or a great pair of jeans will do the trick!
Plenty of accessories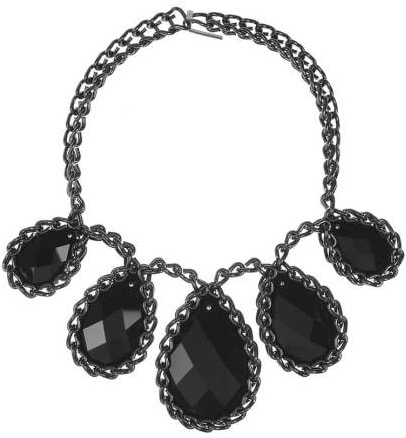 Source: Elle
As mentioned above, Victorian women were expected to wear plenty of accessories – from stockings to gloves to shoes to shawls to bonnets to purses. Though not absolutely essential, women often also carried their perfume and a fan with them everywhere they went.
You see where I'm going with this. If you want Victorian style with a modern twist, start piling on the necklacesor playing with fun scarves and shoes. The important thing, of course, is to show off your amazing personality – not hide it, the way Victorian women were expected to.
Mourning Fashion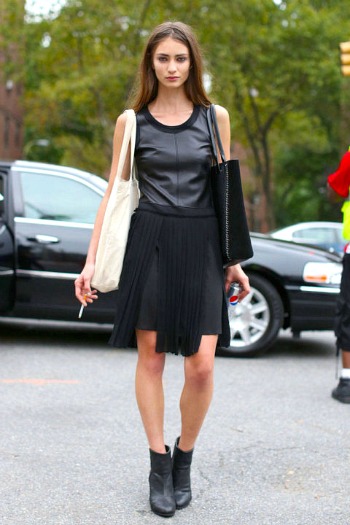 Source: Elle
In the Victorian era, mourning clothes were no laughing matter. There were strict rules – for both men and women – about what they should wear while in mourning. The colors of mourning at its various stages were black, white, and lilac.
I should also quickly mention mourning jewelry, which was quite popular back then. These special pieces were often made of jet, a black, matte stone. Mourning jewelry could also be intensely personal – oftentimes, locks of hair from the deceased would be used to decorate brooches, rings, and necklaces.
To channel the slightly gothic, slightly romantic practice of Victorian mourning, incorporate black, white, and lilac into your outfits and pay special attention to jewelry with personal and/or religious meaning to you.
Putting it All Together – "Victorian" Outfits to Inspire You in Any Situation
Victorian-Themed Party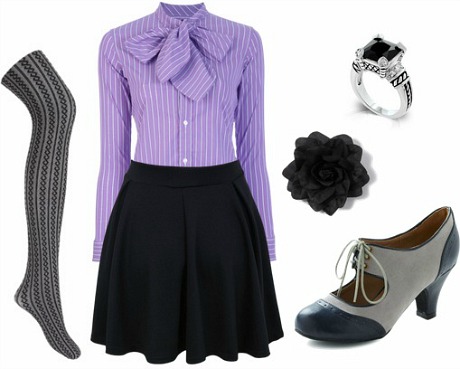 Product Info: Tights – Forever 21, Blouse – FarFetch, Skirt – Miss Selfridge, Ring – Fantasy Jewelry Box, Hair Flower – Forever 21, Shoes – ModCloth
I'm going to take some real liberties with the next few outfits, but I wanted to kick things off with the outfit that's most directly inspired by the Victorian era.
For this look, I kept the color scheme simple, using black, lilac, and a hint of white from the pinstriped blouse. Though the accessories are minimal, they pack a punch. The ring is inspired by jewelry made of jet and the heeled oxfords are a call-back to the boots Victorian women wore during the day. Finally, the patterned tights add modesty and interest, while the hair flower provides an extra feminine touch.
Young and Ambitious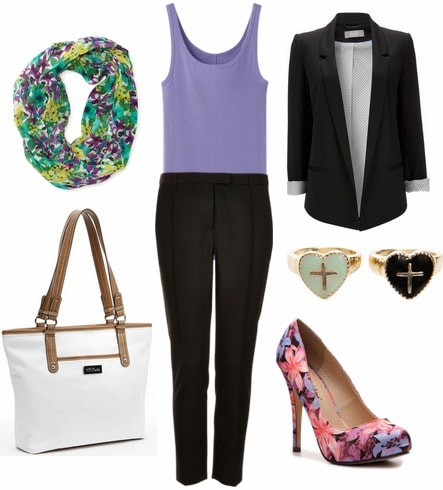 Product Info: Rings – Boohoo.com, Scarf – Aéropostale, Shirt – Uniqlo, Blazer – Wallis Fashion, Bag – Kohl's, Trousers – Topshop, Heels – DSW
This is an outfit to help boost your confidence when you're heading to that internship, going to a summer job interview, or making an important presentation at school.
I kept the same black, white, and lilac color scheme as the last outfit but decided to add some more color with contrasting floral prints in the scarf and shoes. I added these two rings as a subtle reference to mourning jewelry.
Laid-Back at a Festival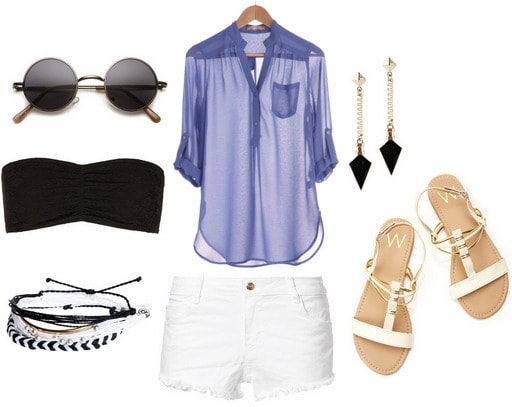 Product Info: Sunglasses – 80s Purple, Top – ModCloth, Bandeau – TopShop, Earrings – Aldo, Bracelets – Metro Park, Shorts – Zara, Sandals – Wallis Fashion
I tend to be a pretty driven individual, so I find it really hard to kick back and relax. When I do, though, I always opt for an unfussy, laid-back outfit that will help me to slow down a bit and be in the moment.
Once again, we're going with the same color scheme for that Victorian vibe. I chose round sunglasses not only because they're unexpected (my boyfriend thinks I look a bit scary in mine), but because they were also the only available shape for glasses in the 19th century. A pair of dangly earrings (black like jet!), a stack of friendship bracelets, and crochet sandals keep the look low-key but put-together.
Thoughts?
What do you think of Victorian style? Would your wear any of these outfits? Which one is your favorite? Who should I cover next? Leave a comment below!