I'm surprised that you don't see food and fashion linked together more frequently — after all, creating a unique style and creating a unique dish are both all about taking chances, thinking outside the box, and coming up with something that's pleasing to the senses.
Since cooking and watching food shows are my second favorite hobbies (fashion trumps all, of course!), I thought it would be really fun to count down the most stylish and colorful food personalities that are popular today. These ten chefs can not only cook their faces off, but manage to look chic and unique while doing so.
Let's dive right in!
10. Ree Drummond
The Pioneer Woman Cooks: Macaroni and Cheese
Ree Drummond, better known as the Pioneer Woman, is one part Laura Ingalls Wilder and two parts Lucille Ball!
Once a successful young professional in California, Ree came home to small-town Oklahoma for a holiday and met, then quickly fell in love with a hunky cowboy (who she tongue-in-cheek-ly calls the Malboro Man). In no time, Ree ditched her Louboutins and power suits and opted for a life in the country. Ree is regarded as one of the pioneers (hah!) of detailed photo recipe blogging, and now has a hugely popular website, several books, and a TV show on the Food Network.
Ree has a goofy and bubbly personality that shines through her blog posts, television appearances, and more. When I'm not in stitches over her sweet and funny remarks, I'm in awe at how beautiful and well put-together she looks.
Ree manages to evoke a rural and western style, without looking over-the-top. She often mixes boho tops and dresses into her wardrobe, which is a fresh and chic spin on western apparel. She frequently wears cowboy boots, but tones them down with drapey blouses and perfectly tailored slacks. She's also a fan of chunky jewelry, kaftans, and dark washed jeans. Ree looks snappy and stylish, but still appropriate for ranch life.
9. Jamie Oliver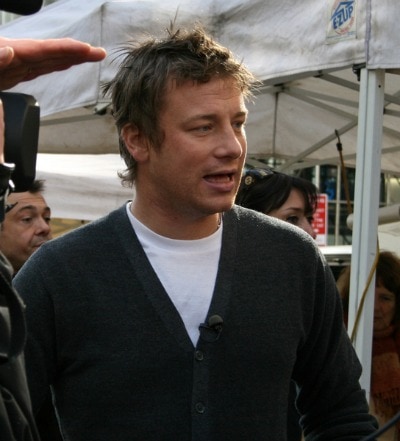 Photo: Wikimedia Commons
Better known as The Naked Chef, Jamie Oliver is credited for making cooking more accessible and appealing to a tougher, more manly crowd. He played up his British heritage and rowdy outlook on life, which quickly won over American audiences and earned him widespread popularity in his home country. Jamie is also passionate about healthy children, which is the focus of his most recent hit television show.
When Jamie makes television and event appearances, he has a very boyish, casual, and relaxed sort of style. He's typically seen in plaid shirts, chinos, casual jackets, and canvas sneakers. Jamie's real signature, though, is his messily shaped hair.
8. Martha Stewart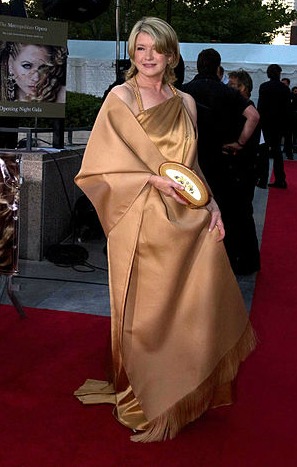 Photo: Wikimedia Commons
Is it just me, or are you also completely shocked every time you catch Martha Stewart on the Today Show? I've never seen a 72-year-old look as healthy and beautiful as she does!
We all know Martha as being the guru of everything domestic. From cooking to crafts, Martha has created her empire by teaching others how to be a great host and homemaker. But when Martha was young, she actually paid her way through school by taking on prestigious modeling jobs. Our girl Martha even posed for Chanel!
Nowadays, I'm impressed by the way she dresses age-appropriately, with styles that are not at all granny-esque. You'll never see Martha in a frumpy sweater or an ill-fitting skirt. Martha likes to wear sequined jackets, statement necklaces, silky ball gowns, leather jackets, tailored blazers, luxe scarves, and more. In the photo above, she's actually at the Met Gala — a.k.a. the Super Bowl for die-hard fashionistas.
7. Bobby Flay
Bobby Flay & Giada De Laurentiis | Interview | TimesTalks
Iron Chef Bobby Flay is one of the most accomplished chefs on this list.
In addition to owning several restaurants, starring in over a dozen shows on the Food Network, and — you know — earning the prestigious title of Iron Chef, Bobby manages to come off as one of the most unpretentious and cool chefs on television. He's a culinary expert, but strikes me as a cool uncle type.
When Bobby Flay is not in his chef whites, he can oftentimes be seen in suave three piece suits. Even on his grilling shows, Bobby's always seen in a pressed shirt, dress shoes, and slacks.
6. Rachael Ray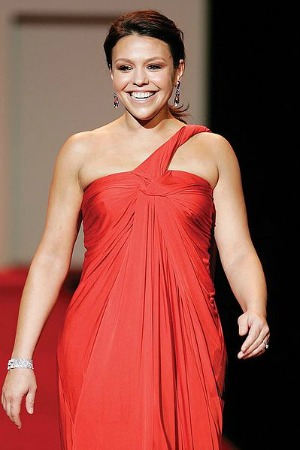 Photo: Wikimedia Commons
From practically coining the term EVOO to that surprising racy shoot with FHM, Rachael Ray is never one to let things be boring.
Although Rachael is known primarily for her 30 Minute Meals, she really rose to fame with a talk show produced by the one and only Oprah Winfrey. Now, Rachael is a domestic mogul, with several successful television shows and a lifestyle magazine. She's even been the recipient of a Daytime Emmy award!
Rachael does a fantastic job of dressing for her shape and looking chic while doing so. She's often seen in henleys, blazers, tailored khakis, fitted sweaters, and chic patterned scarves.
5. Justin Warner
DO OR DINE RESTAURANT - BROOKLYN NEW YORK - OWNER JUSTIN WARNER
2012 Food Network Star winner Justin Warner is the Tyler, the Creator of the cooking world. Justin is a total original, and isn't afraid to do something shocking or completely out of the ordinary when it comes to the dishes he's created. He's a self-professed culinary rebel and certainly lives up to that description!
Justin owns popular restaurant Do or Dine in Brooklyn, and his style reflects the trendy neighborhood. He's also interested in skateboarding and hip hop music, so those hobbies influence his wardrobe, too. Justin is often seen in neon graphic t-shirts, loud hoodies, skate sneakers, and colorful sunglasses. He's never afraid to mix bold patterns or colors and often tops his look off with a flatbill hat.
4. Ted Allen
Chopped After Hours: Leftovers | Food Network
Ted Allen broke into television as the wine and food connoisseur on Queer Eye for the Straight Guy. Now, he's the host of Food Network's most popular show, Chopped. Ted has authored two cookbooks and has been a longtime contributing writer for Esquire magazine. He's one of Food Network's go-to hosts for various special programs and competitions.
Ted Allen is typically seen in suits and ties, but he is bold about his shirt and tie combinations. On Chopped, he's often seen in patterned ties matched with patterned shirts, monochromatic combos, and unconventional color combinations. In addition, he's never seen without his signature thick-framed black glasses.
3. Padma Lakshmi
Carl's Jr. Commercial - Padma, Extended Version!.mp4
Host of Top Chef, model, cookbook author, and fierce lover of Carl's Jr, Padma Lakshmi tackles her wide variety of jobs with a crazy amount of glamour and style.
Padma's style outside of the kitchen is an unusual mix of sophistication and boho-inspiration. She's often seen in long dresses, drapey sweaters and cardigans, statement necklaces, wedge sandals, wavy hair, and bangle bracelets. She mixes tailored basics with ethnic extras, giving Padma a unique look that's totally "her."
2. Giada De Laurentiis
https://www.youtube.com/watch?v=OQUmrOTcXNc
Giada De Laurentiis may be pint-sized, but she has one of the biggest smiles and brightest personalities in the industry.
Giada is the star of several successful cooking shows, a regular correspondent on The Today Show, and the face of Clairol hair products. She specializes in Italian cooking, and I think we've all facetiously imitated her pronunciation of "pasta" and "mozzarella" before. Her husband Todd Thompson is a clothing designer for Anthropologie, so of course our girl Giada's bound to have some mad style!
Giada is frequently seen in fitted blouses and sweaters, perfectly tailored trousers, designer pumps, and perfectly cut jackets. Her signature, however, is her large collection of snappy casual to formal mini dresses. She's worn almost every shape, color, cut, and style of above-the-knee dress known to man, and pulls them all off swimmingly.
1. Alton Brown
Chewing the Fat: Alton Brown & Ed Levine, Part I
If Doctor Who was a chef, he'd be Alton Brown. AB is one of the most geek-chic personalities on television, and has a wardrobe that perfectly complements his persona.
Alton rose to fame on his long-running cooking show Good Eats. The show has been compared to Bill Nye The Science Guy because of his goofy monologues, detailed instructions, and the way he incorporated science and experiments into his cooking lessons.
Nowadays, you can find AB hosting Iron Chef America, Cutthroat Kitchen, and several other shows on Food Network, responding to tweets using Post-It notes, and hosting a super-interesting podcast that's appropriately named The Alton Browncast.
Alton Brown wears the most whimsical, inventive, and ballsy suit-and-bow-tie combinations I've ever seen. In fact, on his podcast he admitted to owning over 300 different bow ties! He's been seen in suits made in every fabric, from wool to tweed to velvet. Alton also isn't afraid to wear eye-catching shirts under his suits either. From paisley to plaid to houndstooth, AB had done it all, which makes him my number one pick for most stylish celeb chef.
What Do You Think?
Do you ever watch food television shows or read food blogs? Whose style do you admire? What are your favorite food blogs? Do you ever watch the Iron Chef or Food Network Star? What other countdowns would you like to see?
Leave a comment and tell us what you think!