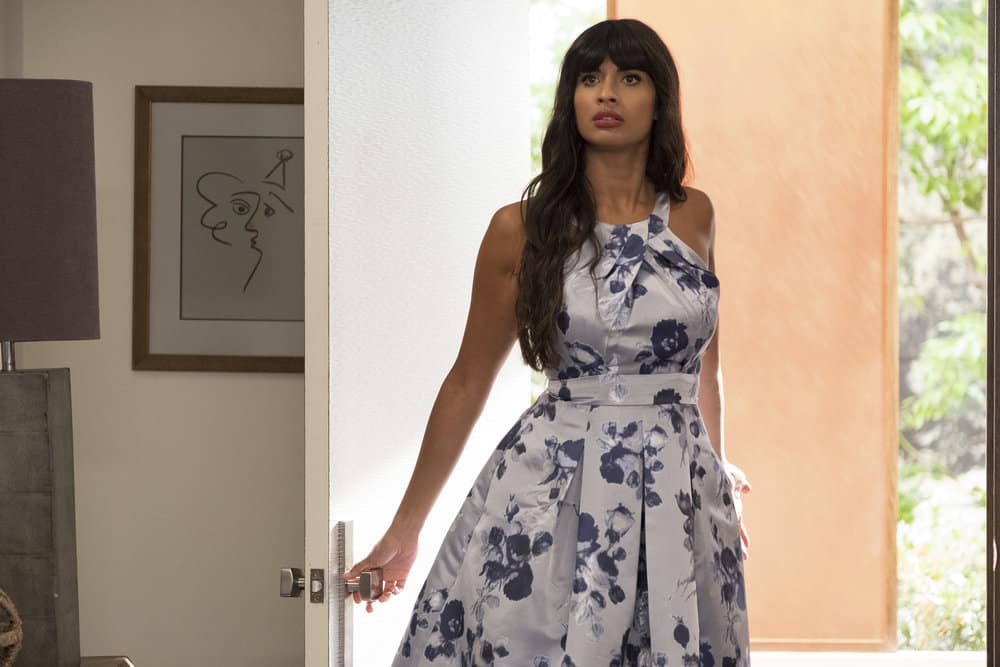 Note: This article, and many of the links featured in it, contains spoilers!
A couple of weeks ago, I did a post about fashion inspired by Eleanor Shellstrop from The Good Place (before you click, be warned: spoilers!).
As promised, I'm back with a new article about The Good Place style, this time focusing on Tahani Al-Jamil's style.
About Tahani Al-Jamil:
If you haven't seen the show, let me fill you in on what you need to know about Tahani:
Tahani Al-Jamil, played by Jameela Jamil, is a glamorous, posh, well-educated woman who was born in Pakistan, but grew up in England. She comes from a wealthy family and, during her life, she was a member of English high society. She is a wonderful hostess with impeccable manners and style.
In The Good Place, she befriends Eleanor, who develops a crush on her (which has led many fans to ship the duo). However despite Eleanor's feelings for Tahani, Tahani's beautiful appearance, along with the good deeds she accomplished during her life (most notably, raising $60 billion for charity), cause Eleanor to feel jealous and resentful towards her. (Remember, Eleanor is a self-described "Arizona trash bag" who knows she's definitely not supposed to be in The Good Place!)
Although Tahani puts on a flawless front for the other characters, it's soon revealed that she has some less-desirable traits.
For example, like Eleanor, Tahani also feels bitterness and resentfulness, although for her, these feelings are directed towards her strict parents. As we learn, her parents constantly pitted her against her younger sister Kamilah. Even in The Good Place, Tahani feels jealous of Kamilah, who was their parents' favorite.
Therefore, although Tahani performed many charitable acts during her life, her motivations weren't pure, as every "good" thing she did was driven by her desire to outdo her sister.
As well, even when she gets to The Good Place, Tahani's insecurity and shallowness can be seen in many instances. For example, she is overly focused on impressing others with lavish parties, and constantly (and hilariously) name-drops celebrities she met on Earth.
Tahani Al-Jamil Style:
Now that you know about Tahani's background, it's time to shift the focus onto her gorgeous style. I will show you how to achieve Tahani's style from The Good Place for yourself below!
Tahani Al-Jamil Outfit #1: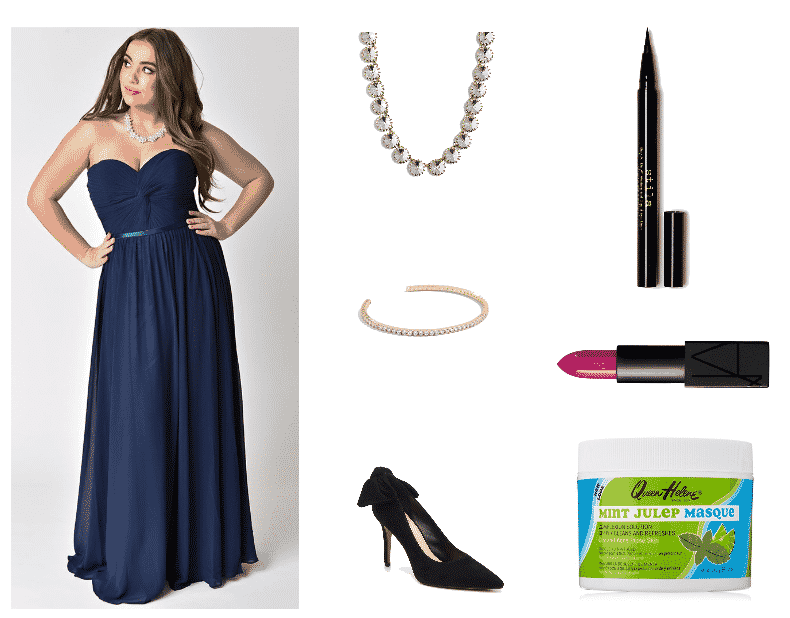 Products: Gown – Unique Vintage, Necklace – J.Crew Factory, Bracelet – Shopbop, Heels – DSW, Eyeliner – Stila, Lipstick – Nars, Face Mask – Amazon
Tahani's style on The Good Place is feminine, glamorous, and very posh.
Even in broad daylight, when everyone else is wearing normal, casual clothes, she is always wearing a midi-length cocktail dress or black-tie gown, with the occasional flowy midi/maxi skirt-and-fancy-top combo thrown in for good measure. Basically, you could say that Tahani is the definition of "extra," both in terms of personality and style!
For this look, I was inspired by the beautiful ensemble Tahani wears to host one of her parties in Season 1. I was even able to track down the exact gown that we see her wear to the event!
(Bonus: This dress costs just under $100 — a rarity for such an elegant, full-length piece! It's also available in a large variety of sizes and colors, in case navy blue isn't your thing.)
I paired the gown with a bold and sparkly statement necklace, one of Tahani's favorite accessories. I also picked out a subtler cuff bracelet to go with it. After all, let's face it, the matching bracelet, ring — and navy evening gloves! — that Tahani wears with her gown are a little over-the-top for most real-life events!
Although we can't see what kind of shoes Tahani is wearing with this outfit, whenever we do see her shoes, she is always in heels or wedges, even though, at approximately 5'11", she is already impressively tall. (So tall girls, don't be shy to rock those stilettos!)
Therefore, for this look, I chose a classy pair of black heels with cute bow details at the back that Tahani would undoubtedly love.
In terms of beauty, Tahani tends to keep the focus on her poreless, perfect skin, so if your skin has been feeling a little blah lately, use a pore-clearing face mask, such as the cheap and cheerful Queen Helene Mint Julep Masque, (which I reviewed here).
Once you're finished that, use a liquid liner, like the waterproof one by Stila shown here, to get Tahani's signature cat-eye look.
Finally, although Tahani normally rocks a natural-looking lip throughout The Good Place, she does sometimes like to switch things up with a muted reddish-coral or fuchsia lipstick. And, while Tahani looks great in all of the colors she wears throughout the series, I think she looks especially good in pink, which is why I chose "Stefania" by Nars to complete this gorgeous look.
Tahani Al-Jamil Outfit #2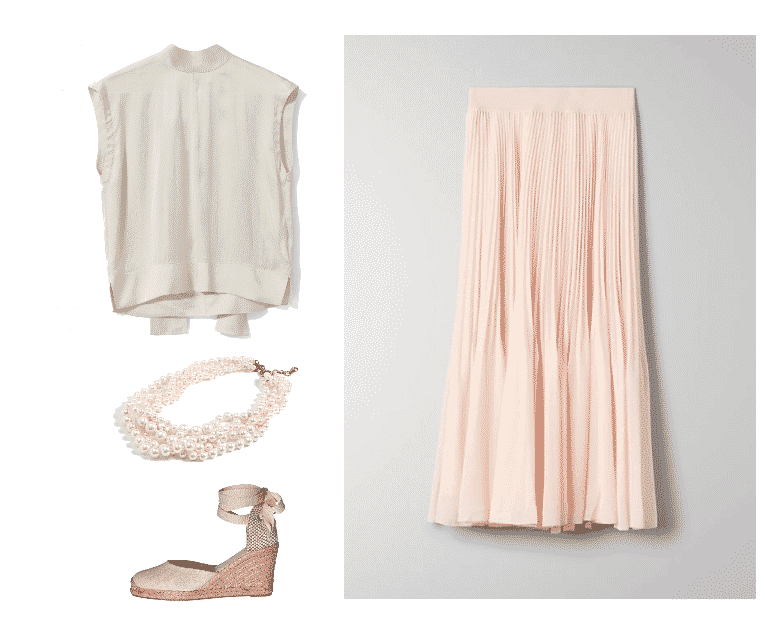 Products: Blouse – Everlane, Necklace – J.Crew, Wedges – Zappos, Skirt – Aritzia
As mentioned earlier, Tahani sometimes steers away from her gowns and midi dresses in favor of a flowy midi/maxi skirt and a fancy top.
For this outfit, I took a lot of inspiration from this look, which we see Tahani wearing during Season 2 of The Good Place.
To achieve a similar look, I decided to go with a ladylike high-neck sleeveless blouse, since halter tops in dressy fabrics, like the one that Tahani wears, are a little hard to come by. Bonus: This top ties in the back, a detail that Tahani would surely appreciate!
To add some embellishment, I chose a multi-strand pearl necklace. (Tahani sometimes wears necklaces of this style on the show.) However, any statement necklace with a soft color scheme would work here.
For a timeless and feminine look, tuck the top into a swingy, elegant pleated midi skirt in a delicate shade of pale pink that looks very similar to the one Tahani wears on the show.
Last of all, to make this look more appropriate for day, put on a pair of closed-toe espadrille wedges in a pink-y beige color. Tahani loves to wear similar styles on The Good Place.
Tahani Al-Jamil Outfit #3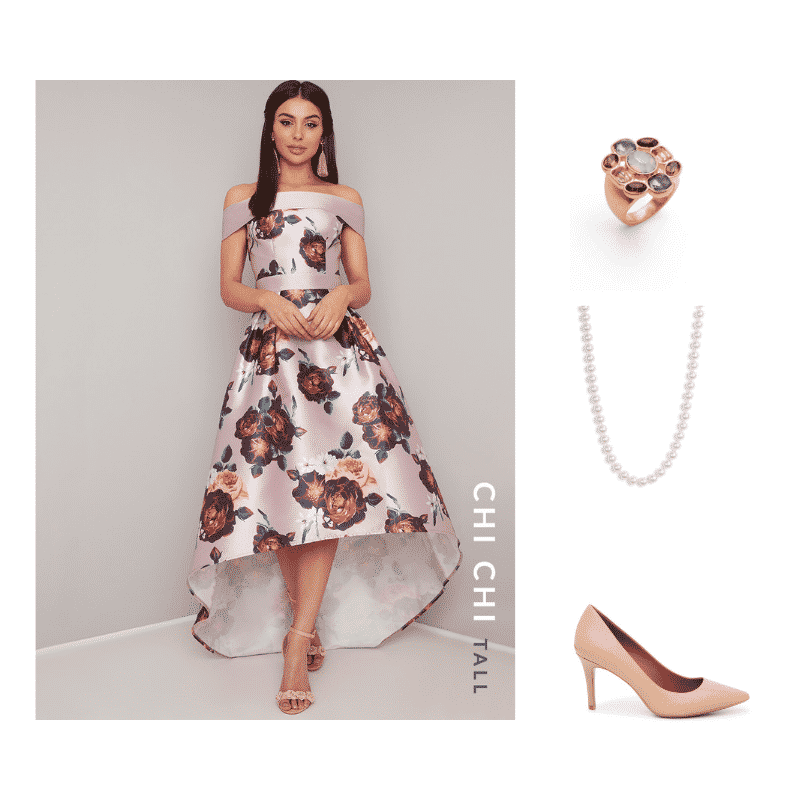 Products: Dress – Chi Chi London, Ring – Nordstrom, Necklace – Nordstrom, Heels – DSW
The final outfit doesn't take inspiration from any one of Tahani's outfits on The Good Place specifically, but rather from her overall style throughout the show.
While researching for this article, I learned that many of the dresses that Tahani wears are actually from ASOS! So, as soon as I found that out, I knew that I had to include at least one ASOS dress. I did that here with this beautiful and bold off-the-shoulder dress with a high-low hem, which resembles the gorgeous floral-printed pieces that Tahani loves.
Plus, this particular dress is made for tall women like Tahani, so no it's sure to look great on those who have trouble finding dresses that are the long enough. (Shorter women can always tailor the hem if necessary!)
(Note: When I went back to link the dress to the ASOS website, it was nearly sold out, so it is linked to the website of the designer of the dress, Chi Chi London, instead.)
Since this dress already has a lot going on, I added just two accessories. (We all know that Tahani would never dream of leaving the house in anything too loud!) I added a multi-colored cocktail ring, along with a simple, single-strand pearl necklace — the latter of which Tahani has worn in multiple episodes.
Finally, put on a pair of beige pointed-toe pumps, a Tahani Al-Jamil style staple. They're a classy way to round out this lovely look!
What do you think of Tahani's style?
Are you a fan of Tahani Al-Jamil's style? Given the opportunity, would you wear formalwear 24/7 like she does? Which of Tahani's looks is your favorite?
Let me know in the comments!